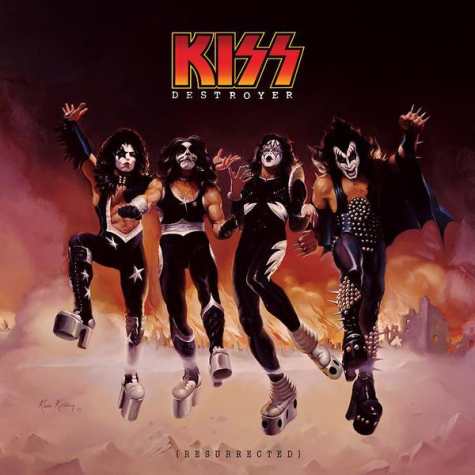 Buildings reduced to rubble. The jeering ring of electric guitars. Lots of black and white makeup. Yep, another KISS Katalogue title is koming...er, coming.
Universal has set an August 21 date for Destroyer: Resurrected, a new version of what might be the band's best-known studio effort. A project for Destroyer's 35th annversary last year has been in the cards for some time, and while the final effort - a sort of teaser for the band's upcoming Monster album this fall - is certainly far shorter on bonus material than some may have hoped, fans will certainly be able to experience a new spin on an old classic.
The first studio effort from the iconic quartet after their breakthrough Alive!, Destroyer is almost your archetypal KISS record: catchy riffs ("Detroit Rock City," "Shout It Out Loud,"), no shortage of theatricality ("God of Thunder") and a big sonic landscape from master producer Bob Ezrin. But it took an anomaly to send the record into the stratosphere; originally a B-side, the sentimental "Beth," co-written and sung by drummer Peter Criss, was a lushly arranged heartbreaker that sent lighters in the air and fingers on the telephone dial to request their local stations. The tune was the band's first and highest-charting Top 10 single (at No. 7), and took Destroyer to double-platinum status.
Destroyer: Resurrected gives the classic record a makeover, both inside and out. Not only is the original cover art by Ken Kelly reinstated (the alternate painting of the band triumphantly plowing through the wreckage of a city was initially considered too violent by Casablanca Records), but Ezrin has newly remixed the album, as well. In some cases, this involved the reinstatement of overdubs and sections left off the original masters, including extra vocals on "Beth" and an alternate guitar solo on "Sweet Pain," which provides the album's sole bonus track. (Ezrin recently did a great interview with KissFAQ that will likely influence your decision, one way or another, to give the reissue a shot.)
You can preorder Destroyer: Resurrected now, on CD or vinyl.
Destroyer: Resurrected (originally released as Casablanca Records NBLP 7025, 1976 - reissued Mercury/UMe, 2012)
Detroit Rock City
King of the Night Time World
God of Thunder
Great Expectations
Flaming Youth
Sweet Pain
Shout It Out Loud
Beth
Do You Love Me?
Rock and Roll Party
Sweet Pain (Alternate Guitar Solo) (bonus track)