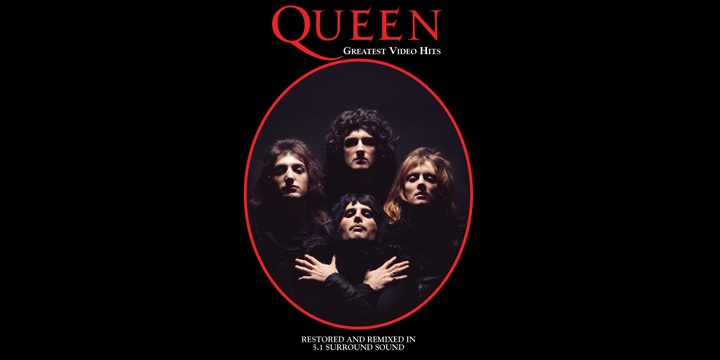 If news of the super deluxe edition of Freddie Mercury's Barcelona album didn't have enough Queen in it for you, you're in some luck now: a new compilation of the band's videos is headed to DVD at the end of the month.
The band's Greatest Video Hits is a new repackaging of two earlier compilations on disc - Greatest Video Hits 1 (2002) and Greatest Video Hits 2 (2003). Together, they chronicle just about all of the band's promo videos from the 1970s and 1980s. All clips were remastered and remixed in 5.1 DTS surround sound and feature commentary consisting of archival audio interviews with the late Mercury and retired bassist John Deacon as well as new interviews with guitarist Brian May and drummer Roger Taylor.
Some words of caution to buyers, however: while the sets are of course not complete (omitting promo footage from the band's final LP, 1991's Innuendo), fans have previously taken to task the video improvement; specifically, several of the clips have been converted from their original full frame aspect ratio (4:3) to a new widescreen (16:9) image. To achieve this, the original framing was cropped, which to some robs the videos of their original impact. Both original compilations were two-disc sets, as well, and this double-disc package omits those bonus discs and the bonus material they each carried.
If you're looking for a simple set of Queen videos, though, this could be the one to get when it hits American shores on August 28. Hit the jump for the full program; Amazon links will be provided as they are available.
Queen, Greatest Video Hits (Hollywood Records, 2012)
Disc 1: Greatest Video Hits 1 (previously released as part of Hollywood Records DVD 2061-69011-9, 2002)
Bohemian Rhapsody
Another One Bites the Dust
Killer Queen (Live on Top of the Pops)
Fat Bottomed Girls
Bicycle Race
You're My Best Friend
Don't Stop Me Now
Save Me
Crazy Little Thing Called Love
Somebody to Love
Spread Your Wings
Play the Game
Flash
Tie Your Mother Down
We Will Rock You
We Are the Champions
Disc 2: Greatest Video Hits 2 (previously released as part of Hollywood Records DVD 2061-69017-9, 2002)
A Kind of Magic
I Want It All
Radio Ga Ga
I Want to Break Free
Breakthru
Under Pressure
Scandal
Who Wants to Live Forever
The Miracle
It's a Hard Life
The Invisible Man
Las Palabras de Amor
Friends Will Be Friends
Body Language
Hammer to Fall
Princes of the Universe
One Vision