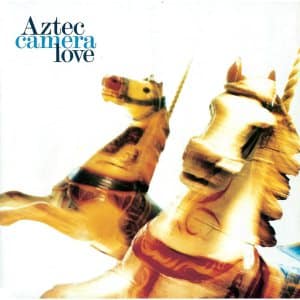 The brilliant, multifaceted work of Roddy Frame's Scottish pop band Aztec Camera will see significant expansion courtesy of the hardworking folks at Demon Music Group.
Aztec Camera's six studio albums, featuring singer/songwriter Frame and a rotating cast of musicians (including future Smiths second guitarist Craig Gannon, drummer Steve Jordan, keyboardist Tony Mansfield and others), will all be expanded by Edsel on August 27. Debut LP High Land, Hard Rain (released in 1983 on Rough Trade Records), Mark Knopfler-produced major-label debut Knife (1984) and final album Frestonia (1995) will all feature bonus tracks, including B-sides, remixes and live cuts, appended to the remastered discs. Middle albums Love (1987), Stray (1990) and Dreamland (1993) will all feature full bonus discs, with assorted goodies scattered throughout (Stray features copious remixes of hit single "Good Morning Britain," a collaboration with Mick Jones of The Clash, as well as non-LP track "Do I Love You?" from the Red Hot + Blue compilation to benefit AIDS research; Dreamland features an entire 1991 live show excerpted over four CD singles.)

While Demon's site has not listed every reissue title yet, it looks like all of them will feature deluxe casebound book packaging and liner notes featuring lyrics and new annotations by Terry Staunton of Uncut. (It's worth noting that Frame doesn't have anything to do with these reissues, but let slip to a fan on Twitter  that he is in talks with a "supercool US label about releasing the definitive set (w/ rarities, home demos etc)" in 2013.)
A hat tip to Super Deluxe Edition and Slicing Up Eyeballs for their great coverage of these titles. After the jump, check out the track lists and pre-order links courtesy of Amazon U.K.!
High Land, Hard Rain: Expanded Edition (originally released as Rough Trade LP ROUGH 47 (U.K.), 1983 - reissued Edsel EDSA5011 (U.K.), 2012)
Oblivious
The Boy Wonders
Walk Out to Winter
The Bugle Sounds Again
We Could Send Letters
Pillar to Post
Release
Lost Outside the Tunnel
Back On Board
Down the Dip
Queen's Tattoos (B-side to "Pillar to Post" - Rough Trade RT 112, 1982)
Haywire (12" B-side to "Oblivious" - Rough Trade RTT 122, 1983)
Orchid Girl (B-side to "Oblivious" - Rough Trade RT 122, 1983)
Set the Killing Free (B-side to "Walk Out to Winter" - Rough Trade RT 132, 1983)
Oblivious (12" Mix) (12" A-side - Rough Trade RTT 122, 1983)
Walk Out to Winter (12" Extended Version) (12" A-side - Rough Trade RTT 132, 1983)
Oblivious (12" Extended Remix) (12" A-side - WEA AZTEC 1T, 1983)
Knife: Expanded Edition (originally released as WEA LP WX8 (U.K.), 1984 - reissued Edsel EDSA5012 (U.K.), 2012)
Still On Fire
Just Like The USA
Head is Happy (Heart's Insane)
The Back Door to Heaven
All I Need is Everything
Backwards and Forwards
The Birth of the True
Knife
All I Need is Everything (7" Edit) (single A-side - WEA AC1, 1984)
Jump (B-side to "All I Need is Everything" - WEA AC1, 1984)
All I Need is Everything (Remix) (12" A-side - WEA AC1T, 1984)
Jump (Loaded Version) (12" B-side to "All I Need is Everything" - WEA AC1T, 1984)
Mattress of Wire (Live @ The Dominion Theatre, London - 10/16/1984) (12" B-side to "Still On Fire" - WEA AC2T, 1984)
Walk Out to Winter (Live @ The Dominion Theatre, London - 10/16/1984) (Live @ The Dominion Theatre, London - 10/16/1984) (12" B-side to "Still On Fire" - WEA AC2T, 1984)
The Bugle Sounds Again (Live @ The Dominion Theatre, London - 10/16/1984) (Live @ The Dominion Theatre, London - 10/16/1984) (12" B-side to "Still On Fire" - WEA AC2T, 1984)
Backwards and Forwards (Live @ The Dominion Theatre, London - 10/16/1984) (10" B-side to "Backwards and Forwards" - Sire 1-25285 (U.S.), 1985)
The Birth of the True (Live @ The Dominion Theatre, London - 10/16/1984) (10" B-side to "Backwards and Forwards" - Sire 1-25285 (U.S.), 1985)
Love: Deluxe Edition (Edsel EDSA5013 (U.K.), 2012)
Disc 1: Original LP (originally released as WEA LP WX 128 (U.K.), 1987)
Deep & Wide & Tall
How Men Are
Everybody is a Number One
More Than a Law
Somewhere in My Heart
Working in a Goldmine
One and One
Paradise
Killermont Street
Disc 2: Bonus material
Deep & Wide & Tall (Breakdown Mix) (12" A-side - WEA YZ 154T, 1987)
Bad Education (B-side to "Deep & Wide & Tall" - WEA YZ 154, 1987)
The Red Flag (B-side to "How Men Are" - WEA YZ 168, 1988)
Killermont Street (Live in Los Angeles - 12/8/1987)  (12" B-side to "How Men Are" - WEA YZ 168T, 1988)
Pillar to Post (Live in Los Angeles - 12/8/1987) (12" B-side to "How Men Are" - WEA YZ 168T, 1988)
Somewhere in My Heart (12" Remix) (12" A-side - WEA YZ 181T, 1988)
Everybody is a Number One (Boston '86 Version) (B-side to "Somewhere in My Heart" - WEA YZ 181, 1988)
Somewhere in My Heart (The Alternate Mix) (10" A-side - WEA YZ 181TE, 1988)
I Threw It All Away (Live @ The Colston Hall, Bristol - June 1988) (B-side to "Working in a Goldmine" - WEA YZ 199, 1988)
Working in a Goldmine (Instrumental) (12" B-side to "Working in a Goldmine" - WEA YZ 199T, 1988)
Stray: Deluxe Edition (Edsel EDSA5014 (U.K.), 2012)
Disc 1: Original LP (originally released as WEA LP WX 350 (U.K.), 1990)
Stray
The Crying Scene
Get Outta London
Over My Head
Good Morning Britain
How It Is
The Gentle Kind
Notting Hill Blues
Song for a Friend
Disc 2: Bonus material
Salvation (12" B-side to "The Crying Scene" - WEA YZ 492T, 1990)
True Colours (B-side to "The Crying Scene" - WEA YZ 492, 1990)
Consolation Prize (Live @ The Barrowlands, Glasgow - 8/4/1990) (CD single B-side - WEA YZ 521CD, 1990)
Do I Love You? (from Red Hot + Blue - Chrysalis CHR 1799, 1990)
Good Morning Britain (7" Mix) (single A-side - WEA YZ 521, 1990)
Good Morning Britain (Laylow Posse Hypno-Mix/Kitsch 'N' Sync Mix) (12" A-side - WEA YZ 521T, 1990)
Good Morning Britain (Laylow Posse Hypnomental/Instrumental Mix) (12" B-side - WEA YZ 521T, 1990)
Good Morning Britain (Laylow Posse Hypno-edit/Vocal Remix) (12" B-side - WEA YZ 521T, 1990)
Good Morning Britain (Mendelsohn Single Mix) (CD single A-side - WEA YZ 521CD, 1990)
Good Morning Britain (Morning Acid Mix) (CD single B-side - WEA YZ 521CD, 1990)
Dreamland: Deluxe Edition (Edsel EDSA5015 (U.K.), 2012)
Disc 1: Original LP (originally released as WEA LP 92492 (U.K.), 1993) + bonus track
Birds
Safe in Sorrow
Black Lucia
Let Your Love Decide
Spanish Horses
Dream Sweet Dreams
Pianos and Clocks
Sister Ann
Vertigo
Valium Summer
The Belle of the Ball
(If Paradise is) Half As Nice (with Andy Fairweather-Low) (from Ruby Trax: NME's Roaring Forty - New Musical Express NME40LP, 1992)
Disc 2: Live at Ronnie Scott's Club, London - 6/23/1991 (released as single B-sides to "Spanish Horses" (* = WEA YZ 688 CD1/CD2), 1992 and "Dream Sweet Dreams" (** = WEA YZ 740 CD3/CD4), 1993)
Birth of the True *
Song for a Friend *
Killermont Street *
Spanish Horses
Stray *
The Bugle Sounds Again *
Dolphins *
How Men Are **
Sister Ann **
Good Morning Britain **
Mattress of Wire
Let Your Love Decide **
Orchid Girl **
Just Like the USA (Live @ Sala Apolo, Barcelona - 5/5/1992) (B-side to "Spanish Horses" - WEA YZ 688, 1992)
Frestonia: Expanded Edition (Edsel ESDA5016 (U.K.), 2012)
Rainy Season
Sun
Crazy
On the Avenue
Imperfectly
Debutante
Beautiful Girl
Phenomenal World
Method of Love
Sunset
The Crying Scene (Live @ The Phoenix Festival - July 1995) (CD single B-side - WEA 007CD, 1995)
Black Lucia (Live @ The Phoenix Festival - July 1995) (CD single B-side - WEA 007CDX, 1995)
We Could Send Letters (Live @ The Phoenix Festival - July 1995) (CD single B-side - WEA 007CDX, 1995)
Rainy Season (Live @ The Phoenix Festival - July 1995) (CD single B-side - WEA 007CDX, 1995)