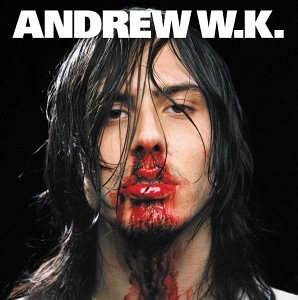 If you were paying attention to alternative rock in the early 2000s, the name "Andrew W.K." likely stirs up a boatload of emotions. Was he a fun-loving, hard-living, one man party machine? Was he a corporate construction? Was he a darker type of fraud, as suggested by producer "Steev Mike" (link NSFW and relatively nuts) who may actually just be W.K. playing a prank on his delightfully bewildered audience?
Whatever the case may be, Andrew W.K. is celebrating the recent 10th anniversary of his debut album, the hard-rocking I Get Wet, with a new deluxe edition filled with unreleased and truly off-the-wall bonus content.
Known for its hard-driving, almost violently upbeat songs ("She is Beautiful," "Party Hard," "It's Time to Party," "Fun Night") and shocking cover art (the image of the long-haired W.K. staring intently toward the viewer with his nose dripping blood all the way down his face is still pretty out there), I Get Wet wildly polarized critics - Pitchfork rated it an 0.6 out of 10 upon initial release, only to name it one of the 200 best albums of the decade - and made Andrew W.K.'s career as an experimental musician, partier, raconteur and motivational speaker (his latest speaking gig scheduled for next month is, no kidding, a My Little Pony convention).
For the double-disc reissue, W.K. commissioned new cover artwork (a photorealistic oil painting of the original sleeve by artist Gonzalo Garcia) on top of a booklet with new liner notes and unseen photos, and added a bonus disc of demos, alternate takes and live material. The live cuts are particularly notable, having been recorded through a specially-made system of microphones and monitors meant to amplify the sound to a much rawer degree, mimicking what the artist would hear while onstage. The cherry on top of this hard-partying sundae? A collector's edition, exclusive to U.S. residents, will feature an autographed booklet, an air freshener in the shape of Andrew W.K.'s bleeding nose from the LP sleeve and..."something"; an assortment of "mystery party items" including locks of hair, used plane tickets, receipts, pieces of cut-up jeans, photos and surely much, much more.
The packages are out on August 28; click below to place your orders - and if you do order the collector's set, do be sure to share what you got with your package.
Andrew W.K., I Get Wet: Deluxe Edition (Century Media, 2012)
Disc 1: Original LP (released as Island Records 314 586 588-2, 2001)
It's Time to Party
Party Hard
Girls Own Love
Ready to Die
Take It Off
I Love NYC
She is Beautiful
Party Til You Puke
Fun Night
Got to Do It
I Get Wet
Don't Stop Living in the Red
Disc 2: Bonus material (all previously unreleased)
It's Time to Party (Live)
It's Time to Party (1999 Version)
Party Hard (Live)
Party Hard (1999 Version)
Girls Own Love (Live)
Girls Own Love (1999 Version)
Ready to Die (Live)
Take It Off (Live)
I Love NYC (Live)
She is Beautiful (Live)
She is Beautiful (1999 Version)
Party Til You Puke (Live)
It Just Got Hotter (Sundogs Version)
Got to Do It (Keyboards Version)
I Get Wet (Live)
Don't Stop Living in the Red (1999 Version)