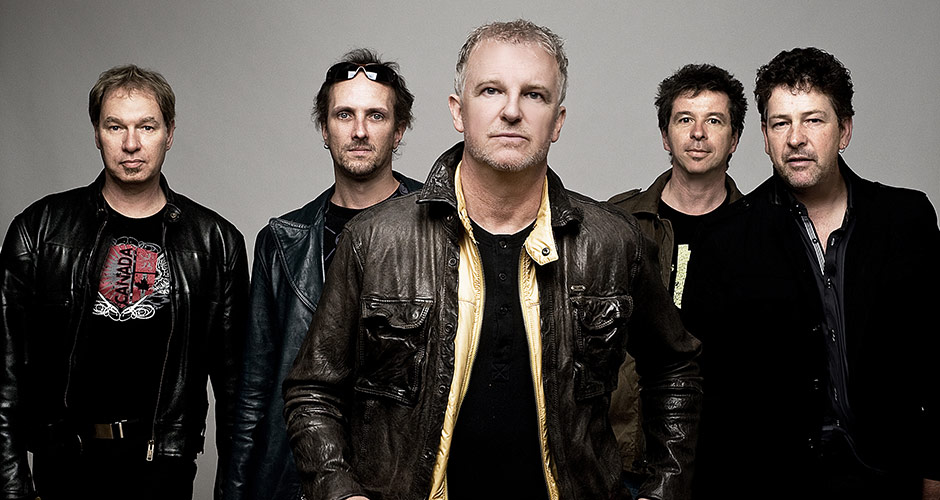 The band themselves likely wouldn't want it any other way, so we won't forget to tell you about some relatively recent catalogue projects that just arrived up north from rock band Glass Tiger.
The Canadian rockers shot to fame in the mid-'80s with the irresistibly catchy "Don't Forget Me (When I'm Gone)." With a synth-horn-fueled hook that could make the most stoic musician bop along, a dollop of perfect pop-rock production from co-writer Jim Vallance and an edgy vocal cameo from fellow Northern light Bryan Adams, "Don't Forget Me" is one of the decade's best buried treasures, topping the Canadian charts and peaking in the U.S. at No. 2. The album which held it, 1986's The Thin Red Line, also yielded sizable North American hits in "Someday" and "I Will Be There," Top 40 hits in America and Canada alike. Additionally, the band were nominated for a Best New Artist Grammy Award and won five Juno Awards in 1986 and 1987.
[youtube=http://www.youtube.com/watch?v=L3PHinGsWxs]
While the band's subsequent albums, Diamond Sun (1988) and Simple Mission (1991) never held America's attention as well as "Don't Forget Me," they were smash hits in their native country; Simple Mission spun off four Top 10 hits alone, including Top 5 tune "Animal Heart." After a solo career, lead singer Alan Frew reunited with his bandmates (save for original drummer Michael Hanson) in the 2000s, and Glass Tiger remains a strong Canadian live act.
The group, partnering with EMI Canada, has taken 2012 to both look back and forward with two new catalogue titles. The first is a deluxe anniversary edition of The Thin Red Line, featuring new artwork and a bonus disc of archival B-sides, remixes and unreleased demos. Some of that material, including a new, stripped-down version of the title track, appears on Then...NOW...Next, a new Glass Tiger compilation featuring singles from the band's three Capitol albums, two tracks from lead singer Alan Frew's 1994 solo disc Hold On and four new tracks, including Frew's solo acoustic take on The Beatles' "You've Got to Hide Your Love Away."
The deluxe Thin Red Line snuck up on us back in June, while Then...NOW...Next hit stores this Tuesday, August 21. Hit the jump to order both of them and check out the track lists!
The Thin Red Line: Anniversary Edition (EMI Canada 50999 636501 2 9, 2012)
Disc 1: Original LP (released as Capitol ST-6527, 1986)
Thin Red Line
Don't Forget Me (When I'm Gone)
Closer to You
Vanishing Tribe
Looking At a Picture
The Secret
Ancient Evenings
Ecstasy
Someday
I Will Be There
You're What I Look For
Disc 2: Bonus material
Thin Red Line (Reverence Mix) *
Don't Forget Me (When I'm Gone) (Writer's Demo) *
Don't Forget Me (When I'm Gone) (Single Mix) (single A-side - Capitol B-72992, 1986)
I Will Be There (Single Version) (single A-side - Capitol B-73021, 1986)
Touch & Go (Tokyo) (Demo) *
Someday (Writer's Demo) *
Someday (Extended Mix) (12" A-side - Capitol S-75165, 1986)
You're What I Look For (Live At Ontario Place) *
After the Dance (Live At Ontario Place) *
Do You Wanna Dance (with Me) (12" B-side to "Don't Forget Me (When I'm Gone)" - Capitol S-75142, 1986)
Thin Red Line (Single Version) (single A-side - Capitol B-72996, 1986)
Don't Forget Me (When I'm Gone) (Extended Mix) (12" A-side - Capitol S-75142, 1986)
Thin Red Line (Rather Red Mix) (12" B-side - Capitol S-75153, 1986)
* denotes previously unreleased track
Then...NOW...Next (EMI Canada 509999 73968 2 6, 2012)
I'm Still Searching (Single Version)
Thin Red Line (Reverence Mix)
My Song (Single Version)
Diamond Sun (Single Version)
I Take It Back
I Will Be There (Single Version)
My Town
Love is On the Way
Someday (Single Version)
Healing Hands (Radio Edit) - Alan Frew
Animal Heart
Don't Forget Me (When I'm Gone)
Stand Up (Give Yourself a Hand)
So Blind (Edited Version) - Alan Frew
You've Got to Hide Your Love Away - Alan Frew
Tracks 1 and 3-4 from Diamond Sun (Capitol, 1988)
Tracks 2, 6, 9 and 12 from The Thin Red Line (Capitol, 1986)
Tracks 5, 8, 13 and 15 are new tracks
Tracks 7 and 11 from Simple Mission (Capitol, 1991)
Tracks 10 and 14 from Hold On (EMI, 1994)