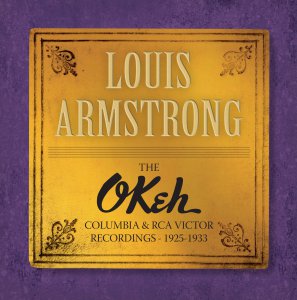 The roaring twenties are back!
Okay – or should that be OKeh? – in fairness, so are the thirties, forties, and fifties, thanks to four upcoming box sets spotlighting legendary jazz and blues stars.  Legacy Recordings adds to its growing Complete Albums Collection library on October 30 with these new volumes:
Louis Armstrong, The Complete OKeh, Columbia and RCA Victor Recordings 1925-1933 (OKeh/Columbia/RCA/Legacy) (10 CDs);
Charlie Christian, The Genius of the Electric Guitar (Columbia/ Legacy) (4 CDs);
Duke Ellington, The Complete Columbia Studio Albums Collection 1951-1958 (Columbia/ Legacy) (9 CDs); and
Bessie Smith, The Complete Columbia Recordings (Columbia/ Legacy) (10 CDs).
These titles follow up the recent releases from The Brecker Brothers, Etta James and Sarah Vaughan (all due in stores Tuesday) and like those titles and the other Complete Albums sets, these include original albums or compilations packaged in replica mini-LP sleeves.  In most cases, bonus tracks that have been appended to past Legacy reissues have been retained, and booklets have been prepared with new liner notes and full discographical information for each artist and title contained.  Virtually all of the CDs in the Complete Album Collection jazz series have been newly remastered by multiple Grammy-winning engineer Mark Wilder.
The beloved Louis Armstrong was last year the subject of a massive 10-CD box set spotlighting his entire career, a set which drew considerable attention when Elvis Costello proclaimed it a superior purchase to a similarly-priced set of his own material.  Well, Mr. Costello would likely approve of The Complete OKeh, Columbia and RCA Victor Recordings 1925-1933, with its ten CDs of some of the earliest recordings by the man alternately known as Satchmo or Pops.  This period yielded the famous Hot Fives and Hot Sevens recordings, among the most historically important and, indeed, entertaining, of Armstrong's long career during which he influenced virtually every musician who's ever picked up a horn.  Any understanding of popular music begins with these famous sessions, featured on the first three discs of this new set.  (A 2000 Legacy box set was previously dedicated to these recordings.)
CDs 1-7 of the new box replicate the contents of the first seven volumes of the now out-of-print Armstrong Columbia Jazz Masterpieces series, released 1988 to 1993; the first three discs are dedicated to the Hot Fives and Hot Sevens as recorded between 1925 and 1928.  CD 4 spotlights Pops' recordings alongside pianist Earl "Fatha" Hines with a variety of groups in 1927-1928, while CDs 5 and 6 cover the seminal 1929-1930 period during which time Armstrong recorded in New York and Los Angeles.  CDs 7 and 8 find Louis embracing the 1930s with open arms with sessions in Chicago, while the final two discs in the box pick up with his move to Victor in late 1932 with recordings made from Camden to Chicago!  The ten-CD set ends with Louis (and wife Lil on piano!) backing country –and-western pioneer Jimmie Rodgers on his "Blue Yodel No. 9," recorded in Los Angeles in July 1930.
Legacy notes that The Complete OKeh, Columbia and RCA Victor Recordings 1925-1933 does not include the recordings on which Armstrong served as a sideman during these years for artists such as  Maggie Jones and Lillie Delk Christian.  Ricky Riccardi, author of the must-read What a Wonderful World: The Magic of Louis Armstrong's Later Years (and keeper of a fine Armstrong blog), provides the new liner notes for the box.  Louis Armstrong returned to RCA Victor in 1946-1947 and Columbia in 1954-1956; perhaps those sessions will see release down the road!
After the jump, we'll explore the sets from Charlie Christian, Duke Ellington and Bessie Smith.  Plus: we have pre-order links for all titles!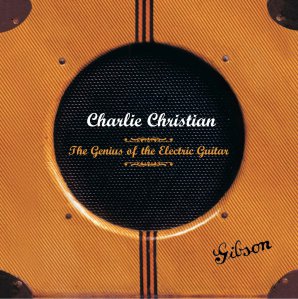 Charlie Christian's 4-CD The Genius of the Electric Guitar brings back into print the 2002 box set of the same name.  Rock and Roll Hall of Fame inductee Charlie Christian (1916-1942) was one of the key figures in establishing the guitar, and particularly the electric guitar, into the foreground as a solo instrument.   Serving in the Benny Goodman Sextet as of 1939, the first integrated group organized by a major American orchestra leader, Christian was discovered by Columbia staff producer (and brother-in-law of Benny Goodman) John Hammond.  This was truly an all-star aggregation, with Goodman leading Fletcher Henderson on piano, Lionel Hampton on vibraphone and Christian on electric guitar.  The group began recording for Columbia in New York in October 1939 and recorded through March 1941, and their 38 extant master takes (and 37 alternate takes) are heard on the first three CDs in this set.  CD 4 brings together tracks that Christian recorded in New York with the Metronome All Star Nine (Goodman, Harry James, Jack Teagarden, Benny Carter, Eddie Miller, Jess Stacy, Bob Haggart, and Gene Krupa – whew!)  and Goodman's full orchestra.  Though Christian perished in 1942 at the age of 25, he remains an important figure in jazz, swing and bebop , and even rock, as a result of his virtuosity on the electric guitar.  Christian's biographer Peter Broadbent supplies a biographical essay that first appeared in the 2002 box.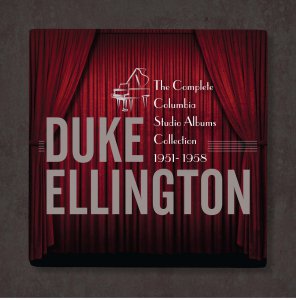 The third jazz legend in the Legacy series is still synonymous with elegance and sophistication.  Edward Kennedy, or "Duke," Ellington (1899-1974) would have earned a place in music history had he only arranged and introduced his close collaborator Billy Strayhorn's "Take the 'A' Train."  But that most famous of tunes barely scratches the surface where pianist, composer, arranger and bandleader Duke Ellington is concerned, and The Complete Columbia Studio Albums Collection 1951-1958 compiles nine albums from an important label affiliation in a long career.  Ellington's relationship with Columbia Records in the LP era commenced with 1951's Masterpieces, bringing record buyers up to date on some of the standards he had already crafted, songs like "Mood Indigo," "Sophisticated Lady," and "Solitude."  He continued in the same vein with 1952's Uptown ("Perdido," a sizzling, extended "Take the 'A' Train" with vocals by Betty Roche), an album that also included the two-part, 10-minute "Controversial Suite."  The six-part, 24-minute "Liberian Suite" was appended on later editions and is included on the new box.  1956's Blue Rose (recorded back at Columbia after an interim stint at Capitol) teamed Ellington with a singing star, the winsome Rosemary Clooney.
Duke continued to record for labels like Bethlehem, but reserved some of his most adventurous projects for prestigious Columbia.  A Drum is a Woman (1956) was an allegorical song cycle with narration and orchestral passages, and Such Sweet Thunder (1957) found Ellington and Strayhorn creating instrumental portraits of Shakespearean characters!  Ellington Indigos (1958) included both his orchestra's own favorites with those by composers such as Richard Rodgers and Cole Porter.  The same year's At the Bal Masque saw Ellington tackling an eclectic line-up of songs from "The Donkey Serenade" to "Who's Afraid of the Big Bad Wolf," and Black, Brown And Beige teamed Duke with a vocalist very different than Clooney: Mahalia Jackson.  The Cosmic Scene (1959), credited to Duke Ellington's Spacemen, looked to the past for cosmic inspiration, with renditions of "Body and Soul," "St. Louis Blues" and "Midnight Sun" among its tracks.  Ellington's relationship with Columbia continued into the 1960s; perhaps those albums will be the subject of another such collection!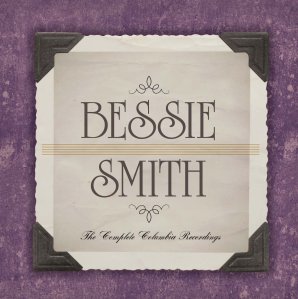 Finally, Legacy reissues the five double-CD volumes of Bessie Smith's Complete Recordings (1991-1996) in one dynamic new box set, The Complete Columbia Recordings.  We're talking roughly 160 blues-drenched songs recorded between 1923 and 1933 by the former singer with Ma Rainey's Rabbit Foot Minstrels.  Bessie Smith's blues, though, influenced the entirety of the American songbook, though she wouldn't live long enough (1894-1937) to see the extent of that influence.  Smith recorded such evergreens as "T'Ain't Nobody's Biz-ness If I Do," "Nobody Knows You When You're Down And Out," "I Need A Little Sugar In My Bowl," and "After You've Gone," and three Grammy Hall Of Fame inductees: "Down Hearted Blues," "St. Louis Blues," and "Empty Bed Blues."  Her sessions were populated by a "Who's Who" of sidemen, as well, including the aforementioned Mr. Armstrong and Mr. Goodman plus Clarence Williams, Fletcher Henderson, Eddie Lang, Jack Teagarden and many more.  Volume Five rounds up the "odds and ends" in Smith's discography, including the music of St. Louis Blues, the 1929 short film, and 79 minutes of documentary interviews conducted by biographer Chris Albertson.  Liner notes are by Ken Romanowski.
All of these sets arrive in stores on October 30 from Legacy Recordings, and can be pre-ordered below!  You can also visit PopMarket.com for a full assortment of Complete Albums Collection boxes, Daily Deals and much more.
Louis Armstrong, The Complete OKeh, Columbia and RCA Victor Recordings 1925-1933 (OKeh/Columbia/RCA/Legacy 8869794565 2, 2012)
Louis Armstrong & The Hot Fives – Volume 1 (1925-1926)
Louis Armstrong: The Hot Fives & Sevens – Volume 2 (1926-1927)
Louis Armstrong: The Hot Fives & Sevens – Volume 3 (1927-1928)
Louis Armstrong & Earl Hines (1927-1928)
Louis in New York (1929)
St. Louis Blues (1929-1930)
You're Driving Me Crazy (1930-1931)
Stardust (1931-1932)
Swing, You Cats (1932-1933)
Laughin' Louie (1933, 1932, 1930)
Charlie Christian, The Genius of the Electric Guitar (Columbia/ Legacy 88697 93035 2, 2012)
The Master Takes: Benny Goodman Sextet – 1939 / with The Alternate Takes
The Master Takes: Benny Goodman Sextet – 1940 / with The Alternate Takes
The Master Takes: Benny Goodman Sextet – 1940-41 / with The Alternate Takes
The Master Takes: the Metronome All Star Nine – 1940, Benny Goodman And His Orchestra – 1939-1941, The Sextet Breakdowns & False Starts, The Sextet Rehearsal Sequences, March 13, 1941 Jam Session
Duke Ellington, The Complete Columbia Studio Albums Collection 1951-1958 (Columbia/ Legacy 88697 93888 2)
Masterpieces By Ellington (1951)
Ellington Uptown (1952)
Blue Rose - Rosemary Clooney and Duke Ellington and His Orchestra (1956)
A Drum Is A Woman (1956)
Such Sweet Thunder (1957)
Ellington Indigos (1957)
Black, Brown And Beige feat. Mahalia Jackson (1958)
Duke Ellington at the Bal Masque (1958)
Duke Ellington's Spacemen: The Cosmic Scene (1958)
Bessie Smith, The Complete Columbia Recordings (Columbia/ Legacy 88725 40310 2, 2012)
The Complete Recordings Vol. 1 (1923-1924) (2 CDs)
The Complete Recordings Vol. 2 (1924-1925) (2 CDs)
The Complete Recordings Vol. 3 (1925-1928) (2 CDs)
The Complete Recordings Vol. 4 (1928-1931) (2 CDs)
The Complete Recordings Vol. 5 (1931, 1933, unissued takes, St. Louis Blues soundtrack, Ruby Smith Dialogue/An Interview with Chris Albertson)( 2 CDs)