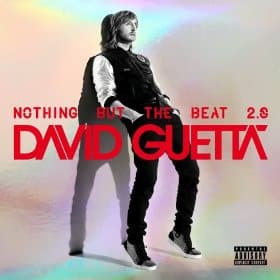 Parisian artist/producer/remixer David Guetta stepped back into the spotlight with last year's Top 5 album Nothing But the Beat - a collaboration between Guetta and some of the biggest names in R&B, rap and dance - and next week will present a greatly expanded edition of the album.
Nothing But the Beat 2.0 combines the floor-fillers of the original disc, including the hit singles "Without You" (a Top 5 smash with guest vocals from Usher), "Turn Me On" (featuring Nicki Minaj) and "Where Them Girls At" (featuring Minaj and Flo Rida), and pairs it with several "new" tracks. A few of them, including "Lunar," a collaboration with up-and-coming remixer Afrojack, and "The Alphabeat," were made available on an existing double-disc edition of Nothing But the Beat which featured the original "vocal album" and a  bonus electronic disc. One other track, "Wild One Two," is a recently-released remix of Flo Rida's "Wild Ones." But six tunes are all-new, including new single "She Wolf (Falling to Pieces)," a collaboration with dance-pop singer Sia (whose vocals propelled another Top 10 Beat hit, "Titanium"), as well as guest appearances by Ne-Yo, Akon, Tegan & Sara and others.
Guetta's new Beat is available next Tuesday, September 11, and you can place your orders after the jump.
David Guetta, Nothing But the Beat 2.0 (originally released as Astralwerks/Capitol 50999 679320 2 8, 2011 - reissued 50999 973998 2 7, 2012)
Titanium (feat. Sia)
Turn Me On (feat. Nicki Minaj)
She Wolf (Falling to Pieces) (feat. Sia)
Without You (feat. Usher)
I Can Only Imagine (feat. Chris Brown & Lil Wayne)
Play Hard (feat. Ne-Yo & Akon)
Wild One Two (Edit) - Jack Back feat. Nicky Romero & Sia
Just One Last Time (feat. Taped Rai)
In My Head (feat. Daddy's Groove & Nervo)
Where Them Girls At (feat. Nicki Minaj & Flo Rida)
Little Bad Girl (feat. Taio Cruz & Ludacris)
Sweat (Remix) - Snoop Dogg vs. David Guetta
Crank It Up (feat. Akon)
I Just Wanna F (feat. Timbaland & Dev)
Nothing Really Matters (feat. will.i.am)
Repeat (feat. Jessie J)
Night of Your Life (feat. Jennifer Hudson)
Every Chance We Get We Run (feat. Alesso and Tegan & Sara)
Sunshine (Edit) (feat. Avicii)
Lunar (Edit) (feat. Afrojack)
What the F***
Metropolis (Edit) (feat. Nicky Romero)
The Alphabeat (Edit)
Tracks 1-2, 4-5 and 10-17 from original LP
Track 3, 6, 8-9, 18 and 21 are new tracks
Original version of Track 7 from Big Beat single 075679962935, 2012
Original versions of Tracks 19-20 and 22-23 from "electronic album" bonus disc - Astralwerks/Capitol 50999 679320 2 3, 2011