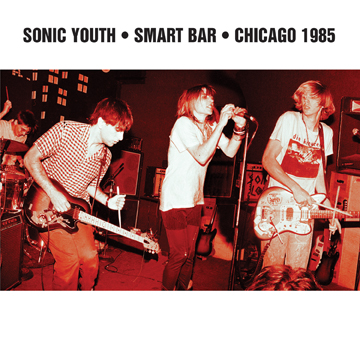 The future may be incredibly uncertain for iconic alt-rockers Sonic Youth, following last year's separation of founding members Thurston Moore and Kim Gordon. But fans will certainly be satiated with a forthcoming release of an archival concert from the band.
Smart Bar, Chicago 1985 captures the band in the midst of touring behind their sophomore album, Bad Moon Rising, released earlier that spring. On August 11, 1985, the band played Chicago's Smart Bar, armed with much of the new album in their set ("Death Valley '69," "Ghost Bitch," "I Love Her All the Time"), some non-LP material ("Hallowe'en," "Flower") and some material from not only debut LP Sonic Death ("Kill Yr Idols," "Brother James") but two songs that would be released on 1986's EVOL ("Secret Girl," "Expressway to Yr Skull"). There's also one never-before-released track, "Kat 'N' Hat," in the set list.
The set, recorded live to four-track and mastered by the band, features new liner notes by Gerald Cosloy (who worked with the band during their tenure at Homestead Records, who released Bad Moon Rising) and band engineer Aaron Mullin. It's set for release on the band's own Goofin' Records label as a CD, double-vinyl LP and download on November 14. May it hopefully be the first of several discussed Sonic Youth archival projects, including an unreleased 1986 concert film and deluxe reissue of 1987's Sister.
Hit the jump for the full track list and keep an eye out for pre-order links as they come in.
Smart Bar, Chicago 1985 (Goofin' Records, 2012)
Hallowe'en
Death Valley '69
Intro/Brave Men Run (in My Family)
I Love Her All the Time
Ghost Bitch
I'm Insane
Kat 'N' Hat
Brother James
Kill Yr Idols
Secret Girl
Flower
The Burning Spear
Expressway to Yr Skull
Making the Nature Scene