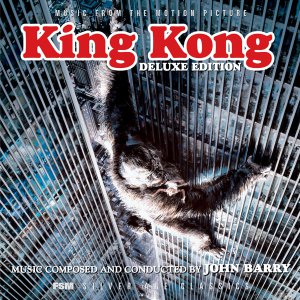 It all began with a lie - a very impressive, very big one.
On November 30, 1975, New York Times readers were treated to a full-color advertisement for producer Dino de Laurentiis' latest film project: a modern retelling of King Kong. "One year from today, Paramount Pictures and Dino de Laurentiis will bring to you the most exciting original motion picture event of all time," trumpeted the ad copy, blissfully ignorant of the true original, stop-motion-animated ape that ascended the Empire State Building to the thrill of moviegoers in 1933.
Nevertheless, the multimillion-dollar production, this time set around an oil company rig discovering the towering gorilla on a distant island (and foolishly bringing him back to Manhattan!), was quite the event in the winter of 1976. The Oscar-winning special effects were rather extraordinary for their time, between Rick Baker's surprisingly expressive performance in a custom ape suit and Carlo Rambaldi's life-size mechanical beast. The film was an early starring role for Jeff Bridges and the first for Jessica Lange, years before her Oscar-winning turn in Tootsie. Add to that more than a few banana bunches worth of merchandising, including models, games, T-shirts, posters, glassware and other ephemera, and it's easy to see why, modern critical drubbing aside, Kong-mania was a very real thing at the time.
And the score! Legendary composer John Barry created a score as big as the title character itself, alternating between urgent action cues during Kong's rampage through the jungles of Skull Island and New York City and lush cues for tender moments between Lange and Bridges as well as Lange and her other hairy co-star.
That soundtrack was a strong seller in its day - longtime fans have fond memories of the Reprise LP with fold-out poster insert - but took nearly 20 years to come out on CD from Film Score Monthly. And even then, fans clamored for a more complete presentation of the beautiful soundtrack. Now, with just one more title left to release from the venerable FSM label, Lukas Kendall's label has shone once again, issuing a two-disc set combining that original LP with the complete, 70-minute film score (newly mixed and mastered from the original tapes) and nearly a half-hour of unreleased alternate cues. Ace film score writer John Takis pens the liner notes in the 20-page booklet, augmented by many classic stills and advertisements for this cult classic.
Is there really "only one King Kong," as that fateful Times poster proclaimed? Perhaps not - but for soundtrack enthusiasts, this might be the big one. Full specs and order details for this unlimited release are after the jump!
John Barry, King Kong: Music from the Motion Picture - Deluxe Edition (Film Score Monthly Vol. 15, No. 5, 2012 - original film released 1976)

Disc 1: Film score
Main Title
Ship at Sea/Strange Tale/Hey Look
Montage
Fog Bank
The Island
Day Wall
Dwan Alone/Jack & Dwan
Night Wall Part 1
Night Wall Part 2
Celebration
Prisoner
Waterfall
Ravine
Acknowledge/Crater/Snake Fight
Chase/Trap
Capture
Super Tanker
Dwan Falls
Petrox Marching Band
Presentation
Kong Escapes
Into a Bar
Get Smashed/Alone in a Bar
Kong's Hand
Church Organ
World Trade Center
Jack in Pursuit
Kong's Heart Beat/End Title
Disc 2: Original soundtrack LP (originally released as Reprise LP MS-2260, 1976) and bonus material
The Opening
Maybe My Luck Has Changed
Arrival on the Island
Sacrifice—Hail to the King
Arthusa
Full Moon Domain—Beauty is a Beast
Breakout to Captivity
Incomprehensible Captivity
Kong Hits the Big Apple
Blackout in New York—How About Buying Me a Drink
Climb to Skull Island
The End is At Hand
The End
Main Title (Alternate)
Fog Bank (Alternate)
Day Wall (Alternate)
Night Wall Part 1 (Alternate)
Night Wall Part 2 (Alternate)
Trap (Alternate)
Presentation (Alternate #1)
Presentation (Alternate #2)
Finale (Alternate)
All tracks on Disc 1 and Disc 2, Tracks 14-22 previously unreleased.