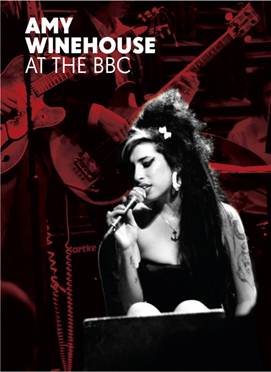 The work of talented, troubled British soul singer Amy Winehouse, who passed away last summer at the too-young age of 27, will be celebrated in box set form this year.
Following the solid listening experience of Lioness: Hidden Treasures, a single-disc outtakes compilation released last year, Universal Republic will release Amy Winehouse at The BBC, a 3-DVD/1-CD set showcasing the starlet's live performance history.
The set begins with A Tribute to Amy Winehouse by Jools Holland. The former Squeeze keyboardist and longtime British television personality was an avowed fan of Amy's, and featured her several times on his Later... series and annual Hootenanny variety shows. This playlist, compiled for the BBC after her death, features multiple performances from 2003 to 2007 and includes guest spots by Holland himself (who duets on standards "Teach Me Tonight" and "Tenderly" with Winehouse) and mod king Paul Weller (who covers "I Heard It Through the Grapevine" and Etta Jones' "Don't Go to Strangers" with her).
The second disc is the CD, a compilation of performances recorded by the BBC on various radio shows and music festivals. From early singles like "Fuck Me Pumps," recorded at the T in the Park Festival in 2004, to familiar hits ("Rehab," "You Know I'm No Good") and covers (Phil Spector's "To Know Him is to Love Him," The Zutons' "Valerie"), Winehouse's smoky voice is front and center here.
[youtube=http://www.youtube.com/watch?v=sq9R2KB5rUU]
The third disc spotlights a set recorded by Radio 1 at London's Porchester Hall in the summer of 2007. Back to Black had been released the fall before, and "Rehab" was starting to break Winehouse in the States; as such, this performance draws heavily from that seminal LP. Finally, one last DVD features a part-performance, part-documentary about Amy's 2006 trip to a small church (with a capacity of 85) in Dingle, County Kerry, Ireland. The performance, recorded for Irish music series Other Voices, features a set culled entirely from Back to Black and shows off Winehouse in one of the most unique venues of her career.
The box features new liner notes by Dan Cairns of The Sunday Times, and will feature a new interview with BBC producer Mark Cooper and a foreword from rapper Nas, a longtime admirer of Winehouse. All royalties from the set will be donated to The Amy Winehouse Foundation, a non-profit set up in Winehouse's memory to aid young people beset by health problems, disability or addiction.
Look for it in stores on November 19, and hit the jump for the full track list, as well as a look at a forthcoming box set featuring all three of Amy's studio albums.
As has been an ongoing tradition both here and abroad in record stores, major labels have taken to packaging multiple albums by an artist together for a nice price - no frills, just music. Universal Republic will be doing the same for Amy this fall with The Album Collection, featuring Frank (2003), Back to Black (2007) and the posthumous Lioness: Hidden Treasures. That box will be out everywhere on October 9.
Keep it here for an Amazon link for the BBC box, and view the track lists for both sets below.
Amy Winehouse at The BBC (Universal Republic, 2012)
Disc 1: A Tribute to Amy Winehouse by Jools Holland (DVD)
Stronger Than Me (Later... - 11/7/2003)
Take the Box (Later... - 11/7/2003)
Teach Me Tonight (feat. Jools Holland) (Hootenanny - 12/31/2004)
Rehab (Later... - 11/3/2006)
Tenderly (feat. Jools Holland) (Later... - 11/3/2006)
Tears Dry on Their Own (Later... - 11/3/2006)
Monkey Man (feat. Jools Holland) (Hootenanny - 1/5/2007)
I Heard It Through the Grapevine (feat. Paul Weller and Jools Holland) (Hootenanny - 1/5/2007)
Don't Go to Strangers (feat. Paul Weller and Jools Holland) (Hootenanny - 1/5/2007)
Love is a Losing Game (Mercury Prize Awards, 2007)
Disc 2: BBC Sessions (CD)
Know You Now (Leicester Summer Sundae - 8/15/2004)
Fuck Me Pumps (T in the Park - 7/11/2004)
In My Bed (T in the Park - 7/11/2004)
October Song (T in the Park - 7/11/2004)
Rehab (Pete Mitchell 2006)
You Know I'm No Good (Jo Whiley Live Lounge - 1/10/2007)
Just Friends (Big Band Special, BBC Radio 2 - 9/21/2009)
Love is a Losing Game (Jools Holland 2009)
Tears Dry on Their Own (Jo Whiley Live Lounge - 1/10/2007)
Best Friends, Right? (Leicester Summer Sundae - 8/15/2004)
I Should Care (The Stables 2004)
Lullaby of Birdland (The Stables 2004)
Valerie (Jo Whiley Live Lounge - 1/10/2007)
To Know Him is to Love Him (Pete Mitchell 2006)
Disc 3: BBC Radio 1 Live at Porchester Hall - 8/3/2007 (DVD)
Know You Now
Tears Dry on Their Own
 You Know I'm No Good
Just Friends
He Can Only Hold Her
I Heard Love is Blind
Rehab
Take the Box
Some Unholy War
Back to Black
Valerie
Addicted
Me & Mr Jones
Monkey Man
Disc 4: The Day She Came to Dingle (DVD)
Includes performances of:
Tears Dry on Their Own
You Know I'm No Good
Love is a Losing Game
Back to Black
Rehab
Me & Mr Jones
The Album Collection (Universal Republic, 2012)
Disc 1: Frank (originally released as Island 9865980 (U.K.), 2003/Universal Republic B0008926-02 (U.S.), 2007)
Intro/Stronger Than Me
You Sent Me Flying/Cherry
Know You Now
Fuck Me Pumps
I Heard Love is Blind
Moody's Mood for Love/Teo Licks
(There is) No Greater Love
In My Bed
Take the Box
October Song
What is It About Men
Amy, Amy, Amy/Outro
Brother
Mr Magic (Through the Smoke)
Disc 2: Back to Black (originally released as Island 1711241 (U.K.), 2006/Universal Republic B0008428-02 (U.S.), 2007)
Rehab
You Know I'm No Good
Me & Mr Jones
Just Friends
Back to Black
Love is a Losing Game
Tears Dry on Their Own
Wake Up Alone
Some Unholy War
He Can Only Hold Her
You Know I'm No Good (Remix feat. Ghostface Killah)
Disc 3: Lioness: Hidden Treasures (originally released as Island 2790436 (U.K.)/Universal Republic B0016394-02 (U.S.), 2011)
Our Day Will Come
Between the Cheats
Tears Dry (Early Version)
Will You Love Me Tomorrow?
Like Smoke (feat. Nas)
Valerie ('68 Version)
The Girl from Ipanema
Half Time
Wake Up Alone (Original Version)
Best Friends, Right?
Body & Soul (feat. Tony Bennett)
A Song for You