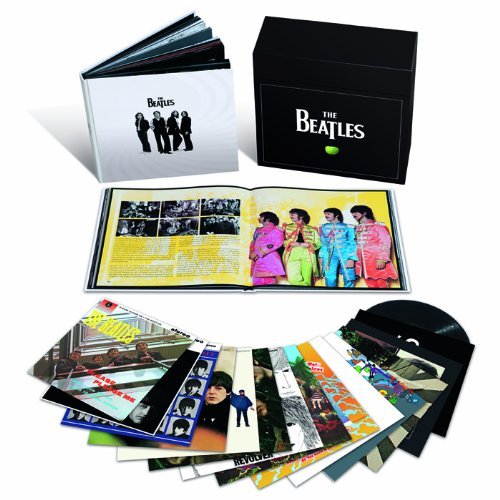 The wait is over.
This holiday season, vinyl enthusiasts and Beatlemaniacs everywhere will finally have a chance to hear 2009's long-awaited Beatles remasters on 180-gram vinyl.
All of the albums in The Fab Four's official discography - 1963's Please Please Me and With The Beatles, 1964's A Hard Day's Night and Beatles for Sale, 1965's Help! and Rubber Soul, 1966's Revolver, 1967's Sgt. Pepper's Lonely Hearts Club Band and the U.S. Magical Mystery Tour LP, 1968's self-titled "White Album," 1969's Yellow Submarine soundtrack and Abbey Road, 1970's Let It Be and the 1987 non-LP singles collection Past Masters - are getting pressed on vinyl and released in one deluxe box.
We'll let the press release detail the remastering and vinyl transferring process:
At the start of the restoration process, engineers conducted extensive tests before copying the analog master tapes into the digital realm using 24-bit/192 kHz resolution and a Prism A-D converter. Dust build-ups were removed from tape machine heads after the completion of each title. Artifacts such as electrical clicks, microphone vocal pops, excessive sibilance, and poor edits were improved upon as long as it was determined that doing so didn't at all damage the integrity of the songs. Similarly, de-noising technology was applied in only a few necessary spots and on a sum total of less than five of the entire 525 minutes of Beatles music. Compression was also used sparingly and only on the stereo versions to preserve the sanctity of the dynamics.

In cutting the digital masters to vinyl, stringent safeguards and procedures were employed. After cutting to lacquer, determined to be warmer and consistent than cutting to DMM, the next step was to use the Neumann VMS80 cutting lathe at Abbey Road. Following thorough mechanical and electrical tests to ensure it was operating in peak condition, engineer Sean Magee cut the LPs in chronological release order. He used the original 24-bit remasters rather than the 16-bit versions that were required for CD production. It was also decided to use the remasters that had not undergone 'limiting,' a procedure to increase the sound level.

Having made initial test cuts, Magee pinpointed any sound problems that can occur during playback of vinyl records. To rectify them, changes were made to the remasters with a Digital Audio Workstation. For example, each vinyl album was listened to for any 'sibilant episodes.' vocal distortion that can occur on consonant sounds such as S and T. These were corrected by reducing the level in the very small portion of sound causing the undesired effect.

Similarly, any likelihood of inner-groove distortion was addressed. As the stylus approaches the center of the record, it is liable to track the groove less accurately. This can affect the high-middle frequencies, producing a 'mushy' sound particularly noticeable on vocals. Using what Magee has described as 'surgical EQ,' problem frequencies were identified and reduced in level to compensate for this.

The last phase of the vinyl mastering process began with the arrival of the first batches of test pressings made from master lacquers that had been sent to the two pressing plant factories. Stringent quality tests identified any noise or click appearing on more than one test pressing in the same place. If this happened, it was clear that the undesired sounds had been introduced either during the cutting or the pressing stage and so the test records were rejected. In the quest to achieve the highest quality possible, the Abbey Road team worked closely with the pressing factories and the manufacturers of the lacquer and cutting styli.
Lest you think that's not lavish enough treatment for one of the most influential discographies in popular music history, the box will also come with a 252-page illustrated book written by Beatle authority Kevin Howlett, featuring chapters on each album as well as a discussion of the remastering and vinyl preparation process.
This set, limited to 50,000 copies worldwide, has a suggested retail price of $449.99, but Amazon has it for a cool $400.
(UPDATE 3:30 p.m.) Also announced today is a replica reissue of Parlophone single R-4949 - The Beatles' first U.K. single, which featured "Love Me Do" backed with "P.S. I Love You." (This version of "Love Me Do" was replaced on the Please Please Me album with a different take featuring session drummer Andy White; Ringo's playing did not immediately impress George Martin, who relegated him to tambourine duties on that take!) This 45, to celebrate 50 years of Beatles on vinyl, will be packaged in the same "fruit stripe" paper sleeve that the original was contained in. It will be limited to only 4,400 copies and will hit stores October 5 - exactly 50 years to the day the original single was released.