Welcome to another installment of Reissue Theory, where we reflect on notable albums and the reissues they could someday see.  Today, we celebrate the 30th anniversary of Epcot at Walt Disney World with a look back at its first and only Official Album!
"There's a great, big, beautiful tomorrow/Shining at the end of every day/There's a great, big, beautiful tomorrow/Just a dream away…"
Richard M. Sherman and Robert B. Sherman may have written those words, but Walt Disney lived them.  Less than two months before his untimely death in late 1966, Walt Disney took his place in front of the cameras for a short, promotional film describing his vision for an Experimental Prototype Community of Tomorrow.  EPCOT was designed as a utopian city of the future which 20,000 residents would call home as a PeopleMover or monorail whisked them to the workplace.  It would anchor Disney's "Florida Project," and its creator intended, in every way, to make tomorrow today.   Following Disney's unexpected death, his brother Roy O. Disney shepherded the newly-christened Walt Disney World to the opening of the Magic Kingdom and two resort hotels in 1971.  But EPCOT remained on the back burner without its chief visionary.
Today, October 1, 2012, marks the 30th anniversary of EPCOT Center, known today simply as Epcot.  Though EPCOT the city never became a reality, the theme park that opened on October 1, 1982 sought to embody the ideals of Disney's planned community in an immersive, interactive campus.  EPCOT's "Future World" area embraced and celebrated technology and innovation, while "World Showcase" brought nine countries (later expanded to eleven) to Florida with indigenous dining, retail and educational experiences.
Music, of course, was a major part of the EPCOT experience.  Walt Disney had always sought to give his theme parks a musical identity, much as he had given his films.  Though songwriters such as Robert Moline, Buddy Baker, Xavier Atencio and the Academy Award-winning team of Al Kasha and Joel Hirschhorn all penned songs for EPCOT Center, the heart and soul of the project's musical side may have been the team of Richard M. and Robert B. Sherman.  The composer-lyricists of "It's a Small World," "The Tiki Tiki Tiki Room" and "It's a Great Big Beautiful Tomorrow" supplied a number of songs for EPCOT Center, returning to the Walt Disney Company at the behest of legendary Disney imagineer Marty Sklar.  The Sherman brothers, Sklar intuited, would be able to bring their universal touch to tell the stories behind the very different pavilions being intended for EPCOT, both in Future World and World Showcase.  A handful of their contributions, as well as those by the above-named individuals, could be heard on a 1983 Disneyland Records release that is, to date, the only album released solely to consist of the music of EPCOT Center.  It was only released on LP and cassette, and never reissued or updated for commercial CD release, though a number of its tracks survived to later Walt Disney World compilation albums.
Hit the jump to explore The Official Album of Walt Disney World – EPCOT Center!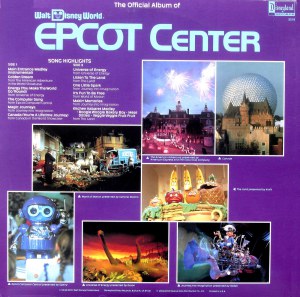 Various Artists, The Official Album of Walt Disney World - EPCOT Center (Disneyland Records 2519, 1983 – LP/Cassette)
Side 1
"Main Entrance Medley (Instrumental)"  (Various) –      3:22
"Golden Dream" – The American Adventure in the World Showcase  (Bright/Moline) – 3:27
"Energy (You Make the World Go 'Round)" (Moline) – Universe of Energy – 1:48
"The Computer Song" (Sherman/Sherman) – Epcot Computer Central – 2:32
"Magic Journeys" (Sherman/Sherman) – Journey Into Imagination – 3:36
"Canada (You're A Lifetime Journey)" (Moline) – Canada in the World Showcase – 3:22
Side 2
"Universe of Energy" (Kasha/Hirschhorn) – Universe of Energy – 2:14
"Listen to the Land"(Moline) – The Land – 2:59
"One Little Spark" (Sherman/Sherman) – Journey Into Imagination – 3:40
"It's Fun to Be Free" (Atencio/Baker) – World of Motion – 2:14
"Makin' Memories" (Sherman/Sherman) – Journey Into Imagination – 3:26
"Kitchen Kabaret Medley" (Hennesy/Baker) – The Land – 2:20

Boogie Woogie Bakery Boy
Meat Ditties
Veggie Veggie Fruit Fruit
The 12-track LP (with four out of twelve songs the work of the Shermans) wasn't divided into a Future World side and a World Showcase side (wouldn't that have been nifty?), as only two tracks came from the latter area of the park.  But thirty years later, some of these songs penned for EPCOT's opening and preserved on this original LP are still heard every day at the theme park, in one form or another.
One-third of the album is devoted to the songs of The Sherman Brothers.  Their infectious "One Little Spark," for the original Journey Into Imagination pavilion, is one of the most enduring songs on the LP.  It musically embodied the spirit of Figment, the little purple dragon that remains arguably the most beloved character to have originated at a Disney theme park.  Journey Into Imagination opened on March 5, 1983, just a few months after EPCOT's opening day, and the inquisitive Figment of our imaginations was a park mainstay until October 10, 1998, when the ride was closed for an update.  When Journey into Imagination opened the following year on October 1 as Journey Into Your Imagination, Figment had all but disappeared.  But you can't keep a good dragon down, and the impish character returned to the ride on June 2, 2002 in a prominent role.  "One Little Spark," too, returned, with new verses, to entertain another generation.
Two more Sherman songs premiered at the Journey Into Imagination pavilion.  The eerie if beautiful (and utterly atypical) "Magic Journeys" was written for a 3-D movie of the same name helmed by famed documentarian Murray Lerner, while the catchy "Makin' Memories" ("Takin' pictures is makin' memories!") could be heard in the film's pre-show area sponsored by the Kodak company.  (Richard Sherman admitted his song was "a subliminal commercial pitch for Kodak; no doubt the 'softest sell' in the history of singing commercials!")  Magic Journeys remained at EPCOT until Michael Jackson's intergalactic opus Captain EO came along in 1986; Magic Journeys migrated to the Magic Kingdom in 1987 and remained there for six years.
The fourth Sherman tune on The Official Album is one of the oddest in their songbook.  "The Computer Song" was written for The Astuter Computer Revue, the attraction with the dubious distinction of being the very first to close at EPCOT.  The Cockney-flavored song was performed by Ken Jennings, the Broadway performer who originated the role of Toby in Stephen Sondheim's Sweeney Todd, the Demon Barber of Fleet Street.  Jennings played "Earlie the Pearlie," and sang the jovial ode to the power of the computer.  (Its melody recalls the Shermans' "Jolly Holiday," from Mary Poppins!)  The song is incredibly quaint today, and perhaps even then; the entire attraction was overhauled after just a year and a few months.  But its simple lyrics were also quite prescient in ways that even the Sherman Brothers couldn't have predicted:
Nothing is astuter than a computer, when I need a helping hand!  Let me explain:
They keep on top of accommodations,
record and update reservations.
Coordinate telephone operations,
and help plan energy conservation.
They're really a great financial device,
payroll service is kept precise.
They protect attendance then give advice,
on personnel, food and merchandise!
The Sherman Brothers' "World Showcase March" (a.k.a. "Oh There's No Place Like World Showcase on the Face of the Whole Wide World") was also written for EPCOT's opening celebration, but has thus far eluded commercial release.  (You can read more about the kooky "Computer Song" here, including full lyrics!)
Other dearly-departed attractions are represented on The Official Album of EPCOT Center, including two from the original Universe of Energy: Al Kasha and Joel Hirschhorn's "Universe of Energy" and Bob Moline's "Energy (You Make the World Go 'Round)."  The original pavilion still stands today, but has been home to Ellen's Energy Adventure, starring Ellen DeGeneres, since 1996.  The World of Motion, like the Universe of Energy an opening-day attraction, closed in 1996.  But fans still have fond memories of the ride, designed by Ward Kimball, one of Walt Disney's "Nine Old Men," a select group of animation pioneers.  Its theme song, "It's Fun to Be Free," was written by Xavier Atencio and Buddy Baker, the team responsible for The Haunted Mansion's "Grim, Grinning Ghosts."  (With George Bruns, Atencio also composed "Yo-Ho, A Pirate's Life for Me" for Pirates of the Caribbean.)  The World of Motion  made way in 1996 for today's high-speed Test Track attraction.
Bob Moline also wrote "Listen to the Land," the theme to the boat ride of the same name at EPCOT's The Land pavilion.  In 1993, the original EPCOT ride was renamed Living with the Land, and it was slightly modified, including the deletion of the Moline song.  But it still can be heard in the Land pavilion's background music loop.  Though Living with the Land is still operational today, another tenant at the 2.5-million square foot Land area isn't: Kitchen Kabaret.  This clever (klever?) Audio-Animatronics show extolled the virtues of eating healthy with an original musical score, and it remained an EPCOT fixture until 1994, at which point it was replaced by the rock-and-roll parody show Food Rocks, with "appearances" from Pita Gabriel, Neil Moussaka and the Peach Boys!
The two World Showcase songs present on the LP are both still heard today at EPCOT.  Bob Moline's "Canada (You're a Lifetime Journey)" appeared at the original EPCOT Canada pavilion as part of the film O Canada!  When that Circle-Vision 360 film (which employed nine cameras for nine huge screens arranged in a circle) was updated in 2007, the song remained, albeit in re-recorded form.  "Golden Dream," from the American Adventure pavilion, also is still a prominent part of the American Adventure stage show, again in re-recorded form (circa 1993).  Bob Moline, again, wrote "Golden Dream," with Randy Bright.
Though The Official Album of EPCOT Center was outdated within a year of its release thanks to the shuttering of the Astuter Computer Revue, the park's music cries out for an updated and expanded version, which could include any number of additional songs.  We present to you, then, our Reissue Theory expansion of this classic Disneyland Records LP.  We've included songs that have been previously released so that you might be able to compile your own version, and have included tracks from attractions both retired (Horizons) and still thriving (Soarin')!  This isn't a complete survey of the music of EPCOT, however.  There's still plenty more treasure that could be mined for another Official Album, or even a commemorative box set.  (That includes the original mix of Michael Jackson's "Another Part of Me" and the full-length "We Are Here to Change the World," both from Captain EO. The latter tune, in an alternate mix, was released on Legacy's 2004 Ultimate Collection box for Jackson, while the former, of course, was one of the many, many singles off Bad!)   As with the ever-evolving theme park itself, the possibilities are endless.
Happy 30th Birthday, EPCOT!  The time is right to revisit EPCOT's original dedication by the Walt Disney Company's Card Walker: "To all who come to this place of joy, hope and friendship—welcome. EPCOT is inspired by Walt Disney's creative vision. Here, human achievements are celebrated through imagination, wonders of enterprise and concepts of a future that promises new and exciting benefits for all. May EPCOT Center entertain, inform and inspire and above all, may it instill a new sense of belief and pride in man's ability to shape a world that offers hope to people everywhere in the world."
Various Artists, The Official Album of Walt Disney World - EPCOT Center: 30th Anniversary Edition (Disneyland Records 2519, 1983 – LP/Cassette – proposed expansion 2012)
"Main Entrance Medley (Instrumental)"  (Various) – 3:22
"Golden Dream" – The American Adventure in the World Showcase  (Bright/Moline) – 3:27
"Energy (You Make the World Go 'Round)" (Moline) – Universe of Energy – 1:48
"The Computer Song" (Sherman/Sherman) – Epcot Computer Central – 2:32
"Magic Journeys" (Sherman/Sherman) – Journey Into Imagination – 3:36
"Canada (You're A Lifetime Journey)"(Moline) – Canada in the World Showcase – 3:22
"Universe of Energy" (Kasha/Hirschhorn) – Universe of Energy – 2:14
"Listen to the Land" (Moline)  – The Land – 2:59
"One Little Spark" (Sherman/Sherman) – Journey Into Imagination – 3:40
"It's Fun to Be Free" (Atencio/Baker) – World of Motion – 2:14
"Makin' Memories"(Sherman/Sherman)  – Journey Into Imagination – 3:26
"Kitchen Kabaret Medley"(Hennesy/Baker) – The Land – 2:20
"Tomorrow's Child" (Ovadia/Stougaard) – Spaceship Earth (1986-1994) – 3:57
"Spaceship Earth"  (Broughton) – Spaceship Earth (2008-present) – 10:52
"New Horizons" (Wilkins) – Horizons – 1:50
"Space" (Bellis) – Horizons – 1:20
"Legacy" (Woods) – EPCOT Entrance Area Music – 1:43
"Test Track" Medley (Wilkins) – Test Track – 3:57
"Destiny" (Masterson/Rawlings/Torch) – Mission: Space – 2:33
"Soarin'" (Goldsmith) – Soarin'- 4:41
"The Seas with Nemo and Friends" Medley (Newman/Anderson-Lopez/Lopez) – The Seas with Nemo and Friends – 4:44
"The Three Caballeros" (Esperon/Gilbert) – The Gran Fiesta Tour – 2:45
"We Go On" (Greenaway/Dorsey) - Illuminations - 2:27
"The World Showcase March" (Sherman/Sherman) – World Showcase (Bonus Track)
Tracks 1-12 from original album
Tracks 13, 15-16 can be heard on The Official Album of Disneyland and Walt Disney World, Walt Disney Records 60820-2, 1986
Tracks 14, 17-22 can be heard on Four Parks, One World: Walt Disney World Official Album, Walt Disney Records D000170402, 2008
Track 23 can be heard on Illuminations: Tapestry of Dreams, Buena Vista Records 60062-7, 2001
Track 24 previously unreleased