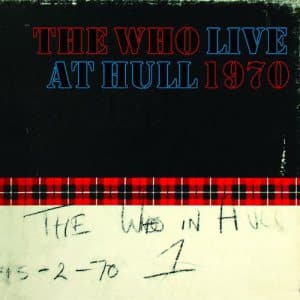 If you're sitting out next year's tour from The Who (this time centered on playing Quadrophenia in its entirety) but you still want to experience them live somehow, you're in luck, thanks to two upcoming catalogue titles for the holiday season.
Coming from Geffen/UMe on November 6, there's the first-ever standalone release of Live at Hull. The band's incendiary performance at Kingston Upon Hull on February 14, 1970 was considered by the group to be one of their best performances on the tour in promotion of their ambitious concept album Tommy. Unfortunately, despite great acoustics and a great reaction from the crowd, technical problems prevented John Entwistle's bass lines at the beginning of the set (from "Heaven and Hell" to "Substitute") from being properly recorded, and the decision was made to release a live album from the following night's show at the University of Leeds. (Live at Leeds, of course, peaked in the Top 5 on both sides of the Atlantic, sold more than two million copies in the U.S. and is still known as one of the greatest live albums of all time.)
The beloved Hull show was finally resurrected as part of UMe's super-deluxe version of Live at Leeds released in 2010 for the original album's 40th anniversary. For that release, the missing bass lines were filled in by grafting Entwistle's bass parts for the same songs at the Leeds show on the original recordings. This two-disc release - identical in set list to Leeds but for the omission of "Magic Bus" - now enables fans to listen to the show without going above budget on a super-sized box set.
After the jump, learn about a later live show from Eagle Rock that's coming to DVD for the first time!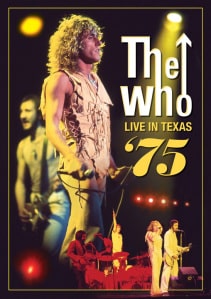 Five years after the Leeds and Hull shows, The Who were still going strong, releasing another strong rock album (Who's Next (1971)) and another concept piece (1973's Quadrophenia). Another straightforward rocker, 1975's The Who by Numbers featured pop hit "Squeeze Box" and a few hidden gems like "Slip Kid." That year, the band's latest tour took them to The Summit in Houston, Texas on November 20, 1975. Live footage from the 25-song set was recorded, but the sands of time had its way with the often-blurry quality of the set.
On October 9, that's about to change with the official release of The Who Live in Texas '75 from Eagle Rock Entertainment. The picture and sound have been entirely cleaned up, with the soundtrack restored in Dolby Digital Stereo under the supervision of Jon Astley, co-producer of the band's Who Are You (1978) and longtime overseer of the band's catalogue on CD and beyond.
Coupled with Townshend's forthcoming memoir, it's quite a time to be a Who fan. Amazon links and track lists are below.
Live at Hull 1970 (Geffen/UMe, 2012)
Disc 1
Heaven and Hell
I Can't Explain
Fortune Teller
Tattoo
Young Man Blues
Substitute
Happy Jack
I'm a Boy
A Quick One, While He's Away
Summertime Blues
Shakin' All Over
My Generation
Disc 2: Tommy
Overture
It's a Boy
1921
Amazing Journey
Sparks
Eyesight to the Blind
Christmas
The Acid Queen
Pinball Wizard
Do You Think It's Alright?
Fiddle About
Tommy, Can You Hear Me?
There's a Doctor
Go to the Mirror!
Smash the Mirror
Miracle Cure
Sally Simpson
I'm Free
Tommy's Holiday Camp
We're Not Gonna Take It
Live in Texas '75 (Eagle Rock, 2012)
Substitute
I Can't Explain
Squeeze Box
Baba O'Riley
Boris the Spider
Drowned
However Much I Booze
Dreaming from the Waist
Behind Blue Eyes
Amazing Journey
Sparks
Acid Queen
Fiddle About
Pinball Wizard
I'm Free
Tommy's Holiday Camp
We're Not Going To Take It/See Me, Feel Me/Listening to You
Summertime Blues
My Generation
Join Together
Naked Eye
Roadrunner
Won't Get Fooled Again
Magic Bus
My Generation Blues