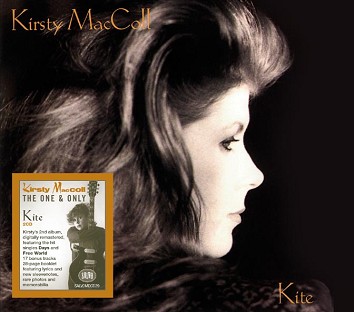 This week, Salvo Records takes a big step in getting people to stop saying they don't know about the late, famed British singer/songwriter Kirsty MacColl, by releasing new remastered and expanded editions of four of her albums.
The reissue campaign, titled Kirsty MacColl: The One and Only, happens in honor of what would have been MacColl's 53rd birthday. Salvo has prepped double-disc expansions of her albums Kite (1989), Electric Landlady (1991) and Titanic Days (1993), as well as the first-ever CD release of debut LP Desperate Character (1981).
MacColl's unique voice was first heard on her single for Stiff Records, the peppy "They Don't Know." Despite strong airplay, the single actually never charted on the U.K. charts, the victim of a distributor's strike keeping the single from experiencing any major sales. (In 1983, a cover by singer/actress Tracey Ullman, featuring MacColl on backing vocals, was a Top 10 hit in the U.K. and the United States.) After leaving Stiff, Kirsty cut her debut LP, 1981's Desperate Character, with the Top 20 hit "There's a Guy Works Down the Chip Shop Swears He's Elvis." Dropped by Polydor before she could release her follow-up album, MacColl signed to Stiff again, where she released singles including her biggest hit "A New England," originally recorded by Billy Bragg (and featuring new verses written for her by Bragg).
[youtube=http://www.youtube.com/watch?v=j9jbdgZidu8]
But when Stiff went bankrupt in 1986, MacColl again found herself without a label. That didn't stop her from working as a session vocalist, nor scoring another hit as featured vocalist on The Pogues' holiday chestnut "Fairytale of New York." Eventually, MacColl scored a new contract with Virgin, releasing the acclaimed albums Kite and Electric Landlady. Both records were produced by MacColl's then-husband, Steve Lillywhite, and featured a host of British rock luminaries, including David Gilmour and Johnny Marr. (MacColl covered The Smiths' "You Just Haven't Earned It Yet, Baby" in 1988, and Marr co-wrote and played guitar on several tracks of hers, including U.S. rock hit "Walking Down Madison.")
After 1993's Titanic Days, a one-off with ZTT Records, MacColl's writing turned increasingly to world music, including Cuban and other Latin-flavored styles. Unfortunately, her new direction was cut short in 2000, when, while diving off of Cozumel, Mexico, she was struck and killed by an errant boat. Her memory lives on, whether through catalogue projects (a three-disc retrospective and expanded editions of her Virgin and ZTT albums were released by EMI in 2005) or radio airplay.
For the new reissues, Salvo has not only put the original release of Desperate Character in print and on compact disc for the first time, but commissioned two-disc editions of her next three albums. Each feature a host of non-LP B-sides, tracks that did not feature on the previous expansions and even some unreleased material (an Electric Landlady outtake, an alternate remix of "Angel" and a live set on the Titanic Days expansion).
The One and Only album reissues are the first step in a MacColl reissue campaign; in 2013, Salvo will release a new compilation and a 2010 live tribute concert featuring Bragg, Alison Moyet, Catherine Tate and others. Meanwhile, these new reissues are available in the U.K. today (and shipping soon as imports to the U.S.)! Hit the jump for full track breakdowns and Amazon links, as always.
Desperate Character (originally released as Polydor POLS 1035 (U.K.), 1981 - reissued Salvo SALVOCD058 (U.K.), 2012)
Clock Goes Round
See That Girl
There's a Guy Works Down the Chip Shop Swears He's Elvis
Teenager in Love
Mexican Sofa
Until the Night
Falling for Faces
Just One Look
The Real Ripper
Hard to Believe
He Thinks I Still Care
There's a Guy Works Down the Chip Shop Swears He's Elvis (Country Version)
Kite: Deluxe Edition (Salvo SALVOMDCD29 (U.K.), 2012)
Disc 1: Original LP (originally released as Virgin KMLP1 (U.K.), 1989)
Innocence
Free World
Mother's Ruin
Days
No Victims
Fifteen Minutes
Don't Come the Cowboy with Me Sonny Jim!
Tread Lightly
What Do Pretty Girls Do?
Dancing in Limbo
The End of a Perfect Day
You and Me Baby
Disc 2: Bonus material
Closer to God? (B-side to "Free World" - Virgin KMA 1, 1989)
The End of a Perfect Day (Original Demo Version) (10" B-side to "Free World" - Virgin KMAN 1, 1989)
You Just Haven't Earned It Yet, Baby (12" B-side to "Free World" - Virgin KMAT 1, 1989)
La Foret De Mimosas (CD single B-side to "Free World" - Virgin KMACD 1, 1989)
Happy (B-side to "Days" - Virgin KMA 2, 1989)
El Paso (10" B-side to "Days" - Virgin KMAN 2, 1989)
Still Life (10" B-side to "Days" - Virgin KMAN 2, 1989)
Please Help Me, I'm Falling (CD single B-side to "Days" - Virgin KMACD 2, 1989)
Innocence (Single Remix) (single A-side - Virgin KMA 3, 1989)
Clubland (B-side to "Innocence" - Virgin KMA 3, 1989)
Don't Run Away from Me Now (10" B-side to "Innocence" - Virgin KMAN 3, 1989)
Innocence (Guilt Mix) (10" B-side to "Innocence" - Virgin KMAN 3, 1989)
No Victims (Guitar Heroes Mix) (12" B-side to "Innocence" - Virgin KMAT 3, 1989)
Other People's Hearts (B-side to "Don't Come the Cowboy with Me, Sonny Jim!" - Virgin KMA 4, 1990)
Complainte Pour Ste. Catherine (12" B-side to "Don't Come the Cowboy with Me, Sonny Jim!" - Virgin KMAT 4, 1990)
Am I Right? (from Virgin remaster KMREM1, 2005)
You Just Haven't Earned It Yet, Baby (Soundtrack Version) (from She's Having a Baby: Original Motion Picture Soundtrack - I.R.S. Records 460806, 1988)
Electric Landlady: Deluxe Edition (Salvo SALVOMDCD31, 2012)
Disc 1: Original LP (originally released as Virgin V-2663 (U.K.), 1991)
Walking Down Madison
All I Ever Wanted
Children of the Revolution
Halloween
My Affair
Lying Down
He Never Mentioned Love
We'll Never Pass This Way Again
The Hardest Word
Maybe It's Imaginary
My Way Home
The One and Only
Disc 2: Bonus material
One Good Thing (B-side to "Walking Down Madison" - Virgin VS-1348, 1991)
The Hardest Word (Alternate Take 3) *
Walking Down Madison (6am Ambient Mix) (12" A-side - Virgin VST-1348, 1991)
Walking Down Madison (Extended Urban Mix) (CD single A-side - Virgin VSCDG-1348, 1991)
Walking Down Madison (LP Extended Mix) (CD single B-side to "Walking Down Madison" - Virgin VSCDG-1348, 1991)
Darling, Let's Have Another Baby (with Billy Bragg) (CD single B-side to "Walking Down Madison" - Virgin VSCDG-1348, 1991)
All the Tears That I Cried (B-side to "My Affair" - Virgin VS-1354, 1991)
My Affair (Ladbroke Groove Mix) (12" A-side - Virgin VST-1354, 1991)
My Affair (Bass Sexy Mix) (12" B-side - Virgin VST-1354, 1991)
My Affair (Olive Groove Mix) (CD single B-side - Virgin VSCDG-1354, 1991)
Don't Go Near the Water (CD single B-side - Virgin VSCDG-1354, 1991)
All I Ever Wanted (Re-Recorded Single Version) (single A-side - Virgin VS-1373, 1991)
There's a Guy Works Down the Chip Shop Swears He's Elvis (Live Acoustic on BBC Radio 1's "Into the Night" - 6/26/1991) (B-side to "All I Ever Wanted" - Virgin VS-1373, 1991)
Walk Right Back (Live Acoustic on BBC Radio 1's "Into the Night" - 6/26/1991) (B-side to "All I Ever Wanted" - Virgin VS-1373, 1991)
Darling, Let's Have Another Baby (Live Acoustic on BBC Radio 1's "Into the Night" - 6/26/1991) (from What Do Pretty Girls Do? - Hux Records HUX 001, 1998)
A New England (with Billy Bragg) (Live Acoustic on BBC Radio 1's "Into the Night" - 6/26/1991) (from What Do Pretty Girls Do? - Hux Records HUX 001, 1998)
Titanic Days: Deluxe Edition (Salvo SALVOMDCD32, 2012)
Disc 1: Original LP (originally released as ZTT 94711 (U.K.), 1993)
You Know It's You
Soho Square
Angel
Last Day of Summer
Bad
Can't Stop Killing You
Titanic Days
Don't Go Home
Big Boy on a Saturday Night
Just Woke Up
Tomorrow Never Comes
Disc 2: Bonus material
Angel (Piano Mix) (CD single B-side - I.R.S. DPRO-6731 (U.S.), 1993)
Angel (Single Mix) (12" A-side - ZTT ZANG 46T, 1993)
Angel (Apollo 440 Remix) (12" B-side - ZTT ZANG 46T, 1993)
Angel (Stuart Crichton Remix) (12" B-side - ZTT ZANG 46T, 1993)
Angel (Into the Light Mix) (CD single B-side - ZTT ZANG 46CD, 1993)
Angel (Mysterious Mix) *
Tread Lightly (Live @ the Fleadh Festival - 6/10/1995) *
Caroline (Live @ the Fleadh Festival - 6/10/1995) *
They Don't Know (Live @ the Fleadh Festival - 6/10/1995) *
Innocence (Live @ the Fleadh Festival - 6/10/1995) *
Free World (Live @ the Fleadh Festival - 6/10/1995) *
Miss Otis Regrets (Live @ the Fleadh Festival - 6/10/1995) *
My Affair (Live @ the Fleadh Festival - 6/10/1995) *
Don't Come the Cowboy with Me, Sonny Jim! (Live @ the Fleadh Festival - 6/10/1995) *
Walking Down Madison (Live @ the Fleadh Festival - 6/10/1995) *
A New England (Live @ the Fleadh Festival - 6/10/1995) *
I Wanna Be Sedated (Live @ the Fleadh Festival - 6/10/1995) *
* denotes previously unreleased track