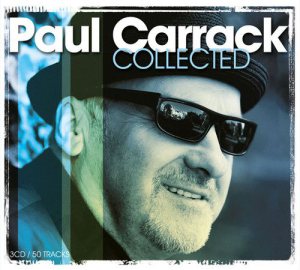 Like some sort of blue-eyed soul version of Zelig, Paul Carrack has been a fixture of British rock for decades. As frontman of pub-rock Ace, he took "How Long" to the U.K. Top 20 and to No. 3 on Billboard's U.S. chart. He joined Roxy Music for their reunion album Manifesto in 1979, then sang and played keyboards for Squeeze on their iconic East Side Story album in 1981, which yielded the unforgettable "Tempted."
Even while eking out a solo career post-Squeeze (enjoying U.S. hits with "Don't Shed a Tear" and "One Good Reason," the latter co-written by Squeeze lyricist Chris Difford) he was in no less than three notable bands: Nick Lowe and His Cowboy Outfit, a new venture for the venerable singer/songwriter/producer; Roger Waters' Bleeding Heart Band, which backed the ex-Pink Floyd leader on the When the Wind Blows soundtrack and Radio KAOS in 1987; and Mike + The Mechanics, the side-project of Genesis guitarist Mike Rutherford where he sang on hits "Silent Running" and the chart-topping ballad "The Living Years."
[youtube=http://www.youtube.com/watch?v=wAVl_IJV5eI]
As Carrack releases a new album, Good Feeling, this fall, Universal U.K. recently celebrated his diverse career with a three-disc set of Carrack's work. Collected covers Carrack's whole solo career, as well as the best of his work with Ace, Squeeze, Mike + The Mechanics and others. For serious collectors, it's worth noting that the third disc contains a lot of obscurities, including several non-LP B-sides.
Collected is available now, and yours to order from Amazon U.S. and Amazon U.K. (Thanks to super reader Ludo for the tip on this one!) Hit the jump for the full track list!
Collected (Universal (U.K.), 2012)
Disc 1
How Long - Ace
Tempted - Squeeze
Don't Shed a Tear
The Living Years - Mike + The Mechanics
Love Will Keep Us Alive (feat. Timothy B. Schmit)
Groovin'
When You Walk in the Room
Empty Space
Over My Shoulder - Mike + The Mechanics
When My Little Girl is Smiling
Satisfy My Soul
Eyes of Blue
Always Better with You
The Way I'm Feeling Tonight
A Time and Place - Mike + The Mechanics
It Ain't Over
Long Ago
Everybody Gets a Second Chance - Mike + The Mechanics
Disc 2
Dedicated
Loving You Tonight - Squeeze
Where Did I Go Wrong?
Silent Running (On Dangerous Ground) - Mike + The Mechanics
I Need You
I Live on a Battlefield
Ain't No Love in the Heart of the City
Now That You've Gone - Mike + The Mechanics
I Don't Want to Hear Anymore (feat. Don Henley and Timothy B. Schmit)
Time to Move On
One Good Reason
Another Cup of Coffee - Mike + The Mechanics
Better Than Nothing
Beauty's Only Skin Deep
No Doubt About It
Whenever I Stop - Mike + The Mechanics
Good Feelin' About It
Don't Let the Sun Catch You Crying (with The Royal Philharmonic Orchestra)
Disc 3
She's Soulful
Don't Dream It's Over (with Paul Young)
Burning Love (with Snowy White)
Your Own Special Way (with Steve Hackett)
Love Me As Hard As You Hurt Me
If You Believe in Me (from the film Beautiful Joe)
Too Late (with Bill Wyman & The Rhythm Kings)
Ride On (with Gare Du Nord)
Wish You Were Here (with Nick Lowe)
Can't Find My Way Home - Spin 1ne 2wo
Soul to Soul (with The London Community Gospel Choir)
He Ain't Heavy, He's My Brother
A Beggar on a Beach of Gold (Live in Liverpool)
If I Were You (Live in Liverpool)
Disc 1, Track 1 from Five-a-Side (Anchor, 1974)
Disc 1, Track 2 from East Side Story (A&M, 1981)
Disc 1, Tracks 3 and 7 and Disc 2, Track 11 from One Good Reason (Chrysalis, 1987)
Disc 1, Track 4 from Living Years (Atlantic/WEA, 1988)
Disc 1, Tracks 5 and 12 from Blue Views (I.R.S., 1995)
Disc 1, Track 6 from Groovin' (Carrack U.K., 2001)
Disc 1, Tracks 8 and 16 and Disc 2, Track 3 from It Ain't Over (Carrack U.K., 2003)
Disc 1, Tracks 9 and 18 and Disc 2, Track 12 from Beggar on a Beach of Gold (Atlantic/Virgin, 1995)
Disc 1, Tracks 10 and 17 and Disc 2, Track 17 from Good Feeling (Carrack U.K., 2012)
Disc 1, Track 11 and Disc 2, Track 13 from Satisfy My Soul (Carrack U.K., 2000)
Disc 1, Track 13 and Disc 2, Track 5 from Suburban Voodoo (Epic, 1982)
Disc 1, Track 14 from Beautiful World (Ark 21, 1997)
Disc 1, Track 15 from Word of Mouth (Atlantic/Virgin, 1991)
Disc 2, Tracks 1 and 6 from Groove Approved (Chrysalis, 1989)
Disc 2, Track 2 from Some Fantastic Place (A&M, 1993)
Disc 2, Track 4 from Mike + The Mechanics (Atlantic/WEA, 1985)
Disc 2, Tracks 7, 9-10 and 15 from I Know That Name (Carrack U.K., 2008)
Disc 2, Tracks 8 and 16 from Mike & The Mechanics (Virgin, 1999)
Disc 2, Track 14 from Nightbird (Vertigo, 1980)
Disc 2, Track 18 from A Different Hat (Carrack U.K., 2010)
Disc 3, Track 1 was the B-side to "Battlefield" (Chrysalis, 1989)
Disc 3, Tracks 2 and 8 from Old, New, Borrowed, Blue (Carrack U.K., 2007)
Disc 3, Track 3 was the B-side to "Eyes of Blue" (I.R.S., 1995)
Disc 3, Tracks 4 and 6 was the B-side to "Ain't No Love in the Heart of the City" (Go! Entertainment, 2008)
Disc 3, Track 5 was the B-side to "How Long" (I.R.S., 1995)
Disc 3, Track 7 from Anyway the Wind Blows (BMG, 1998)
Disc 3, Track 9 from The Abominable Showman (F-Beat, 1983)
Disc 3, Track 10 from Spin 1ne 2wo (Columbia, 1993)
Disc 3, Track 11 from iTunes single (BMG, 2010)
Disc 3, Track 12 from I Know That Name: Ultimate Edition (Carrack U.K., 2010)
Disc 3, Tracks 13-14 from Live in Liverpool (Carrack U.K., 2004)