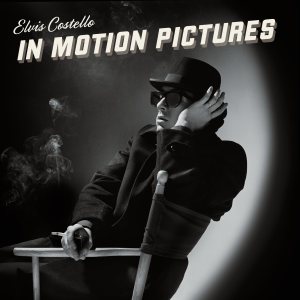 The lure of the screen has long been impossible for Elvis Costello to resist, beginning with his appearance in 1979's Americathon and continuing right through the present day.  The artist born Declan Patrick MacManus has appeared onscreen in motion pictures from Austin Powers: The Spy Who Shagged Me to Spice World, and written songs for even more films.   Although the prolific artist hasn't released a new studio album since 2010's National Ransom, Universal is seeing to it that there's some Costello under the tree at Christmastime.  On November 19, the label will release In Motion Pictures, a 15-track collection of songs that have appeared in films over the years, including some penned specifically for the silver screen.
Curated by the part-time Coward Brother himself, In Motion Pictures offers tracks both familiar and rare.  Most of the tracks have been anthologized elsewhere, though a couple of tracks might entice Costello collectors.  One such song is 2011's "Sparkling Day," written and performed by Costello for the Anne Hathaway-starring tearjerker One Day.  The soundtrack did not receive a CD release in the United States, so this compilation marks its commercial U.S. debut in a physical format.  Another comparatively rare track is "You Stole My Bell," previously included only on the soundtrack to Nicolas Cage's 2000 holiday film The Family Man.
From Costello's film debut in Americathon comes "Crawling to the U.S.A.," originally featured on the movie's soundtrack (alongside "(I Don't Want to Go to) Chelsea") and later included on various compilations and appended to the Rykodisc, Rhino and Universal reissues of This Year's Model.  Other early songs heard here include "Accidents Will Happen" from 1979's Armed Forces, memorably referenced in Steven Spielberg's 1982 fantasy E.T., "Miracle Man" from Costello's album debut My Aim is True and "Lover's Walk" from 1981's Trust album.  The latter songs were featured in Francis Ford Coppola's The Godfather: Part III and Neil LaBute's The Shape of Things, respectively.  Elvis scored a U.K. Top 20 hit, his first in sixteen years, with 1999's "She," a Charles Aznavour chanson recorded for the comedy Notting Hill.  The ballad, of course, appears on In Motion Pictures.  Another renowned composer is represented with Costello's recording of "Days," the Ray Davies song, from director Wim Wenders' 1991 Until the End of the World.
In 1996, Elvis Costello accepted an invitation from director Allison Anders to team up with one of his longtime heroes for her Brill Building-inspired film Grace of My Heart.  Costello and Burt Bacharach supplied Anders with one of the best movie songs ever to have been denied an Academy Award nomination: their powerfully dramatic "God Give Me Strength."  The collaboration between Costello and Bacharach led to an acclaimed joint album, 1998's Painted from Memory, as well as concert appearances and further pairings.  Costello contributed vocals to Bacharach's 2005 Columbia album At This Time and has been a loyal friend to Bacharach, appearing at numerous tributes over the years.  The duo also appeared onscreen together serenading Mike Myers' Austin Powers with "I'll Never Fall in Love Again" from 1999's Austin Powers: The Spy Who Shagged Me.  Alas, their groovy rendition of the song from Bacharach and Hal David's Promises, Promises (a highlight of the movie and also a staple of Costello's 1999 live performances) hasn't been included on the new compilation.
After the jump: what else is missing from In Motion Pictures?  Plus: the full track listing with discography, and a pre-order link!
Another notable omission from In Motion Pictures is "The Scarlet Tide," written by Costello and T-Bone Burnett for 2003's drama Cold Mountain.  Performed for the film by Allison Krauss, the song earned Costello an Academy Award nomination.  He recorded it on his 2004 studio album The Delivery Man.  Many other tracks could have made an appearance, such as Costello's version of Cole Porter's "Let's Misbehave" (from 2004's Porter biopic De-Lovely) and two true rarities: a performance of Cat Stevens' "Sitting" heard in The Invention of Lying (2009) and "Bright Blue Times," from Soft Sand, Blue Sea (1998).  Neither song has been released on record.
While In Motion Pictures isn't a definitive survey of Costello's movie music, it offers a cross-section of the man's diverse musical styles from his early days as a punk/New Wave pioneer to his current status as an elder statesman of popular song.  The compilation includes "an illuminating essay by a mysterious Tinseltown insider" (which alias shall Elvis take on now?) and a striking cover from the Trust album shoot by photographer Keith Morris.  In Motion Pictures arrives from Universal on November 22.  It can be ordered below!
Elvis Costello, In Motion Pictures (UMe, 2012)
Accidents Will Happen (E.T.: The Extra-Terrestrial, 1982)
Lover's Walk (The Shape of Things, 2003)
Miracle Man (The Godfather: Part III, 1990)
Life Shrinks (written for The War of the Buttons, 1994)
Crawling to the U.S.A. (Americathon, 1979)
Seven Day Weekend (with Jimmy Cliff) (Club Paradise, 1996)
Days (Until the End of the World, 1991)
I Want You (I Want You, 1998)
You Stole My Bell (The Family Man, 2000)
My Mood Swings (The Big Lebowski, 1998)
Oh Well (Prison Song, 2001)
God Give Me Strength (Grace of My Heart, 1996)
Sparkling Day (One Day, 2011)
She (Notting Hill, 1999)
A Town Called Big Nothing (Straight to Hell, 1987)
Track 1 from Armed Forces, Radar RAD 14 (U.K.)/Columbia 45709, 1979
Track 2 from Trust, F-Beat XXLP 11 (U.K.)/Columbia 37051, 1981
Track 3 from My Aim is True, Stiff SEEZ 3 (U.K.)/Columbia 35037 (U.S.), 1977
Track 4 first issued as B-side of "It's Time," also released on Brutal Youth (Deluxe Edition), Rhino R2 78390(U.S.)/Edsel (U.K.), 2002
Track 5 from Americathon: Original Motion Picture Soundtrack, Lorimar JS-36174, 1979
Track 6 from Club Paradise: Original Motion Picture Soundtrack, CBS SC-40404, 1986
Track 7 from Until the End of the World: Music from the Motion Picture Soundtrack, Warner Bros. 26707-1, 1991
Track 8 from Blood and Chocolate, Demon XFIEND 80 (U.K.)/Columbia CK 40518 (U.S.), 1986
Track 9 from The Family Man: Music from the Motion Picture, Sire 31151, 2000
Track 10 from The Big Lebowski: Original Motion Picture Soundtrack, Mercury 314-536-903-2, 1998
Track 11 from When I Was Cruel (UK/Japan editions) and Cruel Smile, Island 063388, 2002
Track 12 from Grace of My Heart: Original Motion Picture Soundtrack, MCA 11510, 1996
Track 13 from One Day: Original Motion Picture Soundtrack, U.S. digital-only release, 2011
Track 14 from Notting Hill: Music from the Motion Picture, Island 314 546 196-2, 1999
Track 15 from Straight to Hell: Original Soundtrack, Stiff HELL/DIABLO 1, 1987