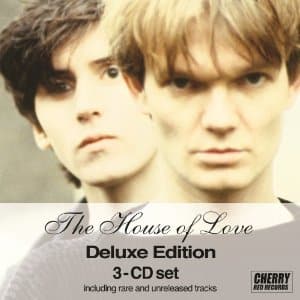 One of London's most preeminent indie bands of the 1980s, The House of Love, are partnering with Cherry Red for a triple-disc reissue of their first album in November.
The House of Love, originally released on Creation Records in 1988 after a clutch of critically-acclaimed singles, will now feature two discs of additional material culled from various singles and compilations, as well as 23 unreleased cuts, including live tracks, demos and alternate mixes.
During their tenure with Creation Records, The House of Love were widely touted to be the next great stadium rock act in England. Creative tensions, however, derailed the group during their major-label move to Fontana - shortly thereafter, the band's core members, singer Guy Chadwick and guitarist Terry Bickers, had split, with Bickers leaving the band midway through a tour - and by 1993 the group was defunct. However, the reconciled Chadwick and Bickers reformed the band some time later, releasing Days Run Away to critical plaudits in 2005 and continuing to write and tour throughout.
This remastered package, featuring new sleeve notes and unreleased photography, is available in the U.K. November 26. Order it on Amazon U.K. or Amazon U.S., and hit the jump for a full track list.
The House of Love: Deluxe Edition (Cherry Red CTRED545 (U.K.), 2012)
Disc 1: Original LP (originally released as Creation CRELP 34, 1988) and demos from bonus 7" (Creation single CREFRE 01)
Christine
Hope
Road
Sulphur
Man to Child
Salome
Love in a Car
Happy
Fisherman's Tale
Touch Me
Shine On (Demo)
Christine (Demo)
Disc 2: Singles, B-sides and rarities
Shine On
Love
Flow
Real
Plastic
Nothing to Me
The Hill
Loneliness is a Gun
The Hedonist
Welt
Destroy the Heart
Blind
Mr. Jo
Destroy the Heart (Demo)
Shine On (Fuck Version)
I Don't Know Why I Love You But I Do (Live)
Love in a Car (Live)
Destroy the Heart (Live)
I Wanna Be Your Dog (Live)
Disc 3: Demos and alternates
Shine On (Guy Chadwick Solo Demo)
Touch Me (Demo 1)
Real Animal (Demo)
Happy (Demo 1)
Hold on Me (16 Track Demo)
Christine (16 Track Demo)
Modern World (Demo)
Salome (Alternate Mix)
Man to Child (Alternate Mix)
Hope (Alternate Mix)
Love in a Car (Alternate Mix)
Touch Me (Alternate Mix)
Road (Alternate Mix)
Fisherman's Tale (Alternate Mix)
Happy (Demo 2)
Sulphur (Alternate Mix)
Real Animal (16 Track Demo)
Little Girl (alias Mr Jo)
Shine On (Band Demo)
Disc 2, Tracks 1-3 released as Creation 12" CRE-043T, 1987
Disc 2, Tracks 4-6 released as Creation 12" CRE-044T, 1987
Disc 2, Tracks 7-8 released on Creation 12" CRE-053T, 1988
Disc 2, Tracks 9-10 released on The House of Love compilation (Creation RTD/CRE 9-63 (DE), 1987)
Disc 2, Tracks 11-13 released as Creation 12" CRE-057T, 1988
Disc 2, Tracks 14-15 from Pensioners on Ecstasy compilation (Creation CRELP 082, 1990)
Disc 2, Track 15 also from promo flexidisc (Creation CREFRE 5, 1988)
Disc 2, Tracks 16-19 and all tracks on Disc 3 previously unreleased