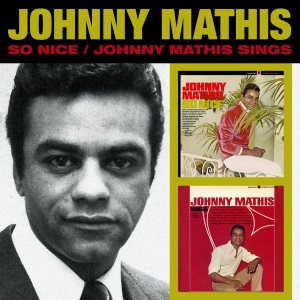 If you're in the market for any last-minute holiday gifts, Real Gone Music has got you covered.  The reissue specialists have announced their December slate of six titles, including three from an exciting new partnership!  As usual for the eclectic Real Goners, the releases cover a wide spectrum of genres, from traditional vocal pop to country, rock and jazz!  On December 4, the label will unveil these six titles: Johnny Mathis' So Nice/Johnny Mathis Sings;John Hartford's Aereo-Plain/Morning Bugle—The Complete Warner Bros. Recordings; Grateful Dead's Dick's Picks Vol. 26--4/26/69 Electric Theater, Chicago, IL 4/27/69 Labor Temple Minneapolis, MN; Gene Harris' Gene Harris/The Three Sounds/Gene Harris of the Three Sounds; Bobbi Humphrey's Dig This; and Jeremy Steig's Wayfaring Stranger.  The final three titles are being released in collaboration with Chicago music retailer Dusty Groove.
Real Gone concludes its reissue series of Johnny Mathis' Mercury albums with So Nice (1966) and Johnny Mathis Sings (1967).  So Nice (which hit No. 50 on the 1966 charts) took its title from Marcos Valle's bossa nova ballad, and Mathis drew other songs from Broadway musicals (three songs from the then-current smash Man of La Mancha) and the pop charts (Bacharach and David's "What the World Needs Now is Love," Bob Lind's "Elusive Butterfly.") Johnny Mathis Sings (which reached No. 103) was even more diverse, with more Bacharach and David ("Always Something There to Remind Me," "Saturday Sunshine") joined by Lennon and McCartney ("Eleanor Rigby") and Bobby Hebb ("Sunny").  Mathis also tackled contemporary film and theatre songs on his tenth and final set for Mercury Records.  Soon after the release of Sings, he was back at Columbia Records to start another chapter.  Both albums make their CD debut, remastered by Mark Wilder at Battery Studios and featuring liner notes written by James Ritz featuring quotes from Mathis himself.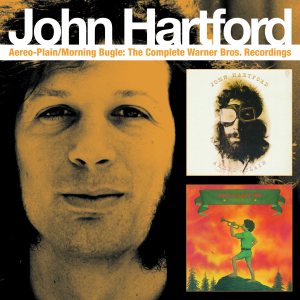 From a great singer to a great songwriter: Real Gone is also issuing, for the first time, The Complete Warner Bros. Recordings of John Hartford.  The "Gentle on My Mind" songwriter, having established onscreen fame paired with Glen Campbell and The Smothers Brothers on television, signed to Warner Bros. in 1971 and issued two singular long-players.  For 1971's Aereo-Plain, Hartford brought together fiddler Vassar Clements, dobroist Tut Taylor, guitarist Norman Blake and bassist Randy Scruggs to play a set that paved the way for the so-called "newgrass" movement of contemporary bluegrass music.  Despite its lack of commercial success, Hartford pressed ahead with 1972's Morning Bugle, on which he was joined by Blake and bassist Dave Holland.   Real Gone's definitive survey of Hartford's WB period includes eight previously unreleased tracks (four from each session), with notes by Hartford historian Andrew Vaughan and photos donated by the artist's family.
After the jump: The Grateful Dead, plus three lost gems from Real Gone and Dusty Groove!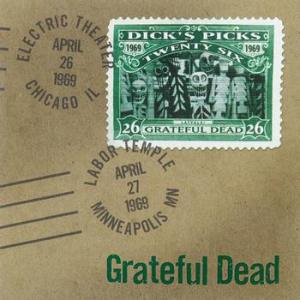 Another ongoing series continues with Real Gone's reissue of Grateful Dead's Dick's Picks Vol. 26--4/26/69 Electric Theater, Chicago, IL 4/27/69 Labor Temple Minneapolis, MN.  This volume of the long-running series was recorded early in the band's career, just a few months after the shows that formed Live Dead.  It, too, features the medley of "Dark Star"/"St. Stephen"/"The Eleven" medley that was so memorable on the 1969 Live Dead.  Dick's Picks Vol. 26--4/26/69 Electric Theater, Chicago, IL 4/27/69 Labor Temple Minneapolis, MN includesthe complete 100-minute set from the Labor Temple (April 7, 1969) which was bookended by two lengthy performances of "Turn On Your Lovelight."  The Chicago set is notable for preserving the band's rare performance of Jimmy Reed's blues classic "I Know It's a Sin."  This 2-CD volume makes its debut at general retail.
The Dusty Groove label is back, and it's relaunching via Real Gone with three new reissues!  All three titles originated on the Blue Note label in the early part of the 1970s and should be of more than passing interest to soul/jazz fans.  The first offering is a two-for-one package with renowned pianist Gene Harris' Gene Harris/The Three Sounds paired with Gene Harris of the Three Sounds.  The former featured arrangements and compositions by Monk Higgins, plus a cover of The Beatles' "Eleanor Rigby," and despite its title, did not involve members of Harris' original Three Sounds. The title of 1972's Gene Harris of the Three Sounds emphasized his freedom from the group, and included songs from Bill Withers, Lis Bonfa, Duke Ellington and Benny Golson.  Pat Thomas provides new liner notes.
Flautist Bobbi Humphrey's sophomore effort for Blue Note, 1972's Dig This, finds the Dizzy Gillespie discovery supported by the arrangements of Alphonse Mouzon, Horace Ott, and Wade Marcus.  Humphrey shines on songs from Dave Grusin, Kenny Barron, Bill Withers (again!) and Stevie Wonder, among others.  Ron Carter joins on bass and David Spinozza contributes guitar.   Real Gone's release includes the original album artwork, plus new notes by Pat Thomas.
Another flautist, Jeremy Steig, is the subject of the third Real Gone/Dusty Groove release.  Wayfaring Stranger offers six tracks of soulful, funky jazz, and finds Steig joined by Eddie Gomez on bass, Don Allas on drums and Sam Brown on guitar.  Sonny Lester produced the LP for Blue Note.  It's been reissued with new liner notes by Pat Thomas and the original gatefold art featuring Gomez's original notes!  Trivia time: Steig's father is William Steig, creator of Shrek; Jeremy appeared in Shrek Forever After as "The Pied Pipe" in tribute to his late dad!
All six titles arrive in stores on December 4 from Real Gone Music and can be ordered at the links above!