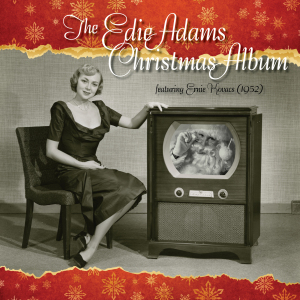 Welcome to 2012's Second Disc Holiday Gift Guide!  We'll use these special reviews to highlight not only seasonally-themed releases, but box sets, deluxe reissues and other special titles that might make the perfect gifts under your tree this holiday season!
Groucho Marx once observed that "marriage is a wonderful institution," before adding, "but who wants to live in an institution?"  A few lucky couples have not only thrived in that institution, however, but also in the world of comedy: Gracie Allen and George Burns, Anne Meara and Jerry Stiller, Edie Adams and Ernie Kovacs.  A renaissance man, Kovacs was a comedian, actor, author, clown, surrealist, and pioneer of the television camera, and even served as host of what's widely acknowledged as television's first "morning show," broadcast out of Philadelphia over NBC.  His wife, Adams, was no second banana.  An accomplished actress and singer, the Juilliard and Columbia School of Drama graduate was crowned "Miss U.S. Television" in 1950, and appeared alongside Milton Berle and Arthur Godfrey prior to being spotted by the producer of Kovacs' then-local show in Philadelphia. In one of his last interviews, Kovacs quipped, "I wish I could say I was the big shot that hired her, but it was my show in name only; the producer had all the say. Later on I did have something to say and I said it: Let's get married.'" Kovacs and Adams tied the knot in 1954; their marriage was only cut short by Kovacs' death in 1962.  (Adams remarried twice, and died in 2008, aged 81.)  Now, thanks to Omnivore Recordings and Shout! Factory, the beloved duo is in the spotlight once again on two delightful new releases.
The Edie Adams Christmas Album featuring Ernie Kovacs 1952 (OVCD-42) shows off both sides of the winsome, young Adams.  She's as comfortable with a lovely, subtle reading of Mel Torme and Robert Wells' "The Christmas Song" as she is with a tongue-in-cheek "Household Holiday Blues" in which she joshes around with her brash comic foil Kovacs.  The album's fifteen tracks, in which Adams sings to piano accompaniment, are all derived from the month of December 1952 for the Kovacs Unlimited television program and make their first appearance on CD (or in any audio format) here.
The song selection is wonderfully varied, from familiar secular tunes ("The Christmas Song," "Winter Wonderland," "Let It Snow!  Let It Snow!  Let It Snow!") to spiritual selections ( "I Wonder as I Wander") and lesser-known songs (Al Stillman and Victor Young's "It's Christmas Time," also recorded by artists including Carpenters).  Adams' pristine and expressive soprano is engaging on both the ballads and the up-tempo cuts, including the jazzy "Santa Claus is Coming to Town" and "Let It Snow."  As on "Household Holiday Blues," Adams is joined by Kovacs on the former.  Ernie's most expressive turn, however, is on the Jay Livingston/Ray Evans classic "Silver Bells."  Although Kovacs was no Bing Crosby, he holds his own with Adams, and their heartfelt duet is one of the album's highlights.
Some comedy features on the disc, of course.  A very brief rendition of "A Marshmallow World" has Adams engaging in some goofing mid-song, and Ernie's patter leads into "Santa Claus is Coming to Town."  Adams adopts an Irish brogue for "Christmas in Killarney," most famously recorded by Crosby just a year earlier at Decca.  But music takes the center stage.  Wartime standard "I'll Be Home for Christmas" is poignant in Adams' rendition.  Another treat is Adams singing the seldom-recorded verse to Jule Styne and Sammy Cahn's "Let It Snow!"  She also throws in a bit of Frank Loesser's "Baby, It's Cold Outside" on that song, and does justice to the composer/lyricist's torchy perennial, "What Are You Doing New Year's Eve."
There's plenty of heart in this sweet, vintage holiday fest.  Due to the age and origin of the recordings, there are audio imperfections that are difficult to ignore.  But the "pops, ticks and general surface noise" truthfully acknowledged in the notes hardly detract from the warm and nostalgic performances.  Reuben Cohen and Gavin Lurssen have remastered the audio to as best a quality as is possible.  Edie Adams' son, Josh Mills, contributes his personal reminisces about his mom.  His touching recollections about his mom's holiday fervor and the celebrity friends that populated his childhood (including both halves of the onscreen Odd Couple, Jack Lemmon and Walter Matthau) add up to an essential part of the album, attractively designed with retro flavor by Greg Allen.
After the jump: there's much more on Edie and Ernie as we look at Shout! Factory's exciting new DVD release from these legends of television!
For the perfect visual complement to The Edie Adams Christmas Album, you don't have to look any further than a new DVD set from Shout! Factory.  The Ernie Kovacs Collection Volume 2 (SF-13601) follows up Shout's 2011 inaugural volume, and like that edition is a cornucopia of Kovacs' innovative, ahead-of-their-time comic gifts as seen on various programs.  Its three DVDs include roughly nine hours of incredibly rare Kovacs material.  At its centerpiece are eight loopy episodes of the NBC morning program The Ernie Kovacs Show. Broadcast from 30 Rock, it aired on the peacock network from December 12, 1955 through July 27, 1956 in the 10:30 a.m. to 11:00 a.m. time slot.
It's hard to imagine Kovacs' absurdist humor in a morning show slot; Today or Good Morning America this most certainly isn't.  In an episode's opening segment, Kovacs sits at a desk on a dungeon set, jokes with the studio audience, takes viewer mail and reads "offbeat" news items.  The house band consists of some very musical monkeys, and the dungeon's suit of armor is even a little wily!  The master of all this madness is wholly aware of the viewers at home, too.  In one episode, the image becomes fuzzy and Kovacs explains, "When I talk nasty to the director, he puts me out of focus!"  He has an easy rapport with his co-stars including Adams, naturally, and announcer Bill Wendell.  "Anything goes" must have been the credo.  Following the introductory segment, Kovacs and company then present sketches and musical numbers.  These comic vignettes might feature puppets, or Kovacs adopting the outlandish guises of Irving Wong, Tin Pan Alley songwriter; Matzoh Hepplewhite, magician; or Skodney Silsky, high-pitched Hollywood reporter.  The musical numbers include Adams' lovely "Toora Loora Loora," for the episode broadcast the day before St. Patrick's Day starring "Ernie O'Kovacs."
The first two DVDs here include eight episodes of that show, bolstered by a whopping eighteen bonus sketches showing off even more of Kovacs' range of wacky characters.  (Adams' impressive work in these sketches should be noted, too!)  A couple feature Kovacs as the effete poet Percy Dovetonsils, whose long-lost LP saw release earlier this year from Omnivore.  Alas, these episodes - so lovingly preserved by Adams in her archives - are plagued by the same boogeyman as so many other cherished TV-on-DVD titles: music rights.  As a result, many episodes have had songs and commercials excised from the otherwise-complete broadcasts.  Video quality is variable from episode to episode, but all are eminently watchable.
The third disc of rarities includes three episodes (of an existing 48+) of the oddball ABC Television game show hosted by Kovacs, Take a Good Look.  The format is a variation on that of many other games of the time (think What's My Line or I've Got a Secret) with three panelists posing questions at a guest.  But with Kovacs in charge, nothing is ever quite orthodox.  The panelists are presented with kooky video clues at which they will "take a good look."  Kovacs appears in these as a variety of eccentric characters and the panelists need to discern the clue in the mini-performance and its attendant sight gags.  These rather avant-garde 1960-1961 programs feature numerous stars joining host Kovacs.  Adams appears on the panel on all three episodes, joined by other notables such as Tony Randall, Cesar Romero and Hans Conried.  Mystery guests include Clarence "Ducky" Nash (the voice of Donald Duck), legendary filmmaker Mack Sennett, the young Carl Reiner, and even Nick and Nora's famous pooch, Asta!  It's hard to imagine the star without his trademark cigar, so it's appropriate that his creative sketch-commercials for Dutch Masters cigars are intact on the game show broadcasts.
This disc is rounded out with a variety of features that should perk up any fan of Kovacs.  A 1961 interview from the Canadian Broadcasting Company's The Lively Arts offers the comedian up-close, as do some personal home movies of Ernie and Edie on a golf outing with The Great One himself, their friend Jackie Gleason.  A 2011, Harry Shearer-moderated panel discussion at Hollywood's American Cinematheque puts all of the material seen here into perspective, with the actor joined by those who actually worked with Kovacs (Jolene Brand, on the panel with her husband George Schlatter of Laugh-In fame) and those influenced by him (Merrill Markoe, Bob Odenkirk).
Another tantalizing treat is the pilot for the Screen Gems series Medicine Man, a 1961 western sitcom with Ernie as a conniving conman (is there any other kind?) looking after his eight-year old nephew (Kevin Brodie).  Kovacs starred opposite none other than Buster Keaton as his accomplice: an all-but-mute - and very non-PC - Indian!  Screen Gems would have better luck later with series like Bewitched, I Dream of Jeannie and The Monkees, but this rare pilot offers a valuable and entertaining glimpse of what might have been.  Its transfer from the original elements lends it exceptional video quality, and it's a charming diversion, if utterly traditional by Ernie's standards.  Two trailers for films featuring Kovacs are an added bonus.
Kovacs family historian Ben Model, who also appears on the Cinematheque panel, offers liner notes in the DVD set's enclosed booklet.  It's all handsomely housed in a slipcased, standard-sized DVD keepcase. Fans who who order from ShoutFactory.com will also receive an exclusive bonus DVD containing seven more episodes of Take A Good Look, all unseen since their original broadcast.
It's often said "they don't make 'em like that anymore."  Well, if you'd like to see how they did make 'em, once upon a time, you won't want to miss these vintage television treats of comedy, music and fun.
You can order The Edie Adams Christmas Album here, and The Ernie Kovacs Collection Volume One and Volume Two at these links!