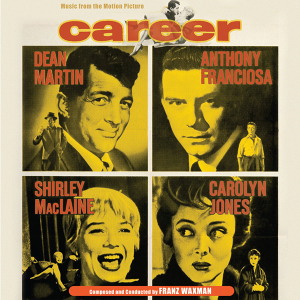 Releasing vintage film scores has long been "all in a night's work" for the Kritzerland label.  In June, Kritzerland issued Andre Previn's score to the 1962 comedy All in a Night's Work, a Paramount Picture starring Dean Martin and Shirley MacLaine.  That was hardly the first onscreen pairing between the two offscreen pals, however.  Dino and MacLaine first lit up the screen together in 1955's Artists and Models, MacLaine's second film and the fourteenth starring the Martin and Lewis comedy team.  In 1958, Martin and MacLaine appeared opposite another Rat Packer, Frank Sinatra, in Some Came Running, and in 1959 came Career.  This groundbreaking drama based on James Lee's off-Broadway play was brought to the screen by Paramount with a score by Franz Waxman (Rebecca, Suspicion), and that score is being released for the very first time by Kritzerland.
Martin and MacLaine were joined by a cast including Anthony Franciosa, Carolyn Jones, Joan Blackman, and Robert Middleton. The film was directed by Joseph Anthony, who previously worked with MacLaine on the film adaptation of Thornton Wilder's The Matchmaker.  A powerful blacklist drama co-written by blacklisted screenwriter Dalton Trumbo (Roman Holiday), the brave Career was rewarded with three Academy Award nominations - Best Art Direction (Hal Pereira, Walter H. Tyler, Samuel M. Comer, Arthur Krams), Best Cinematography (Joseph LaShelle), and Best Costume Design (Edith Head).
Kritzerland describes Franz Waxman's score as "absolutely thrilling…from the exciting opening chords that lead directly into the big city them.  It is the kind of dramatic scoring that Waxman did so brilliantly. He gets inside the drama and the characters - the yearning, the hunger, the nastiness, the competiveness, the romance, the first taste of success, the bitter taste of failure after failure - it's brilliant music from start to finish."  Waxman was in the midst of a true golden age in the 1950s, during which period he also scored Billy Wilder's Paramount classic Sunset Boulevard and other renowned classics like A Place in the Sun, Mister Roberts, Peyton Place and Rear Window, the latter with his old collaborator Alfred Hitchcock.  Though unrecognized for Career, Waxman took home the gold statuette for both Sunset and A Place in the Sun.
What bonuses will you find on this new CD?  Hit the jump!  Plus: the full track listing and pre-order link!
Waxman's score for Career is presented complete and in stereo from the original session tapes stored in the Paramount vaults. A section of bonus material has also been appended, including the source music song "(Love Is a) Career" by Sammy Cahn and James Van Heusen, and a dance music cue composed by Gus Levene, plus a couple of cues from the mono music stem.
Career is slated to ship the second week in December from Kritzerland and is available for pre-order now by clicking below!
Franz Waxman, Career: Original Motion Picture Soundtrack (Kritzerland, 2012)
Main Title
Out of the Past/Cold Water Flat
The Surprise
Man and Wife
Preparations/The First Quarrel
Sharon/Sharon Proposes
My Way of Life/Another Obstacle
The Smell of Success/Sad News
Two Up on Me
Detroit Theatre
Hysterical Proposal/Across the Threshold
Never So Good/Divorce Parts 1 & 2
Defeated Again
Korea War
A New Start/Back from the Past
Discovering the Obvious/The Road to Success/Finale
(Love is a) Career – Vocal Version (Cahn/Van Heusen)
Night Club Dance No. 1 (Gus Levene)
(Love is a) Career – Film (Cahn/Van Heusen)
The Surprise (Film)
Never So Good/The Divorce (Film)