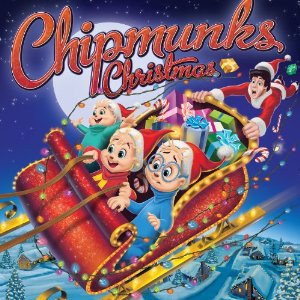 There's only one "Christmas Song" – chestnuts roasting on an open fire, and all that.  And there's only one "Chipmunk Song" – in which Alvin never gets his much hoped-for hula hoop.  What began as a novelty for Ross Bagdasarian, a.k.a. David Seville, led to three Grammy Awards for "The Chipmunk Song" alone and a chart-topping berth.  Indeed, it remains the only Christmas song to have ever reached No. 1 on the Billboard pop chart.  But that wasn't all for Alvin, Simon and Theodore, with two successful television series, four theatrical films and dozens of albums to their names.  Yet the cornerstone of the Chipmunk legacy just might be the two Christmas albums recorded by Bagdasarian's rodent troupe: 1961's Christmas with the Chipmunks and 1963's Volume Two.  Those Liberty Records albums have never gone out of print in one version or another, and for 2012, Liberty successor Capitol has spruced them up yet again for the brand new release Chipmunks Christmas (Badgasarian/Capitol 5099997914327).
To keep track of the holiday music made by impetuous Alvin, brainy Simon and lovable Theodore is somewhat of a daunting task.  The two original LPs each contained twelve tracks (including the 1958 "Chipmunk Song" single) which have been packaged and repackaged over the years.  The animated group then returned to the Christmas songbook with 1981's A Chipmunk Christmas soundtrack album and 1994's A Very Merry Chipmunk.  The best representation on CD of the core 24 tracks (other than the out-of-print but not too hard-to-find CDs of both original albums) came from Capitol in 2007.  That year's Christmas with the Chipmunks contained all the tracks plus an offbeat 1968 remake of "The Chipmunk Song" with fellow Liberty artists Canned Heat.  Other editions, before and after '07, have dropped, added and resequenced songs, and this year's model is no exception.  The new Chipmunks Christmas offers eighteen tracks: sixteen from the original Liberty LPs plus 1994's "Here Comes Christmas" from A Very Merry Chipmunk and 2008's "Ho Ho Ho" from Undeniable, a studio album released on the heels of 2007's smash hit film Alvin and the Chipmunks.  (That album also found Alvin, Simon and Theodore warbling tunes by Bon Jovi, Bob Marley and even Led Zeppelin!)  Though it's incomplete as to the core Liberty recordings, the new Chipmunks Christmas is a perfect stocking stuffer for the kids at Christmas, or for the kids in all of us.
Only a Scrooge would be completely immune to the charms of the Chipmunks' squeaky seasonal standards.  Most of the songs here are Christmas classics but Ross Bagdasarian, Sr. contributed one other original in addition to "The Chipmunk Song": a sideways rewrite of that single entitled "Wonderful Day."  In his arrangements of traditional staples like "The Twelve Days of Christmas" (c. 1780) and "Up on the Housetop" (c. 1864) and more recent Tin Pan Alley tunes such as "It's Beginning to Look a Lot Like Christmas" (1951) and "Frosty the Snowman" (1950), Bagdasarian brought plenty of personality to his well-defined Chipmunk characters and to his "own" role as the ever-exasperated David Seville.  The production values and orchestrations on these albums were top-notch, something not to be taken for granted in the realm of children's recordings.
The music is varied, too; Bagdasarian/Seville takes the lead on Meredith Willson's "It's Beginning…" with Alvin taking a verse and the Chipmunks supporting him on background vocals.  There's repartee between Seville and the Chipmunks on tracks including "Rudolph the Red-Nosed Reindeer," in which Bagdasarian introduces another voice: that of the titular reindeer.  Alvin, Simon and Theodore each take a verse on the jaunty "Up on the Housetop."  Bagdasarian and company even play it straight for a pleasantly wistful rendition of Irving Berlin's "White Christmas" sung by Dave and Ralph Blane and Hugh Martin's "Have Yourself a Merry Little Christmas," always the most melancholy of holiday songs.
What's new on Chipmunks Christmas?  Hit the jump for that, and more!
The two "new" songs, "Here Comes Christmas" and "Ho Ho Ho," are the work of Bagdasarian's son Ross Jr. and his wife Janice Karman.  (Karman, the voice behind The Chipettes, also wrote "Ho Ho Ho.")  Both have carried on the family business; Ross Sr. passed away in 1972.)  These songs are unmistakably of a different era than the other sixteen, but they're enjoyable, particularly "Here Comes Christmas."  It's a bit jarring to hear the Chipmunks singing about iPods and Dave imploring them to "suck it up" on "Ho Ho Ho," but the success of the recent films clearly proves that the younger set still digs the three chipmunks.  And don't they still look pretty good for being over 50?
Every one of the twelve songs from the original Christmas with the Chipmunks is here, with the exception of "Silver Bells," so the new Chipmunks Christmas might bring back memories for those with old, well-worn LPs in the household.  Ron McMaster has remastered each track, and there's new and colorful artwork unique to this edition.  But whether Alvin, Simon and Theodore's music is a longtime tradition in your home or you're starting a tradition now with the next generation, the three scrappy Chipmunks make great company.
Alvin and the Chipmunks, Chipmunks Christmas (Bagdasarian/Capitol 5099997914327, 2012)
Here Comes Santa Claus
The Chipmunk Song (Christmas Don't Be Late)
Jingle Bells
It's Beginning to Look a Lot Like Christmas
Rudolph the Red-Nosed Reindeer
Up on the Housetop
Wonderful Day
Over the River and Through the Woods
All I Want For Christmas (Is My Two Front Teeth)
White Christmas
The Twelve Days of Christmas
Santa Claus is Comin' to Town
Have Yourself a Merry Little Christmas
Deck the Halls
Frosty the Snowman
Here Comes Christmas
Ho Ho Ho
We Wish You a Merry Christmas
Tracks 1-6, 8, 10, 12, 15 & 18 from Christmas with the Chipmunks, Liberty, 1961
Tracks 7, 9, 11 & 13-14 from Christmas with the Chipmunks, Volume 2, Liberty, 1963
Track 16 from A Very Merry Chipmunk, Chipmunk Records, 1994
Track 17 from Undeniable, Razor & Tie, 2008