If you're a resident of the storm-ravaged East Coast, you might have recently found yourself singing, "We need a little Christmas, right this very minute! "  I know I have.  As happens every year around this same time, holiday albums have already begun to fill the shelves, with new albums arriving from artists old and new as well as reissues from Christmases past.  In 2011, Legacy Recordings issued The Classic Christmas Album for Tony Bennett, combining tracks from Bennett's three holiday-themed albums with rare offerings and one-offs.   This year, the Classic Christmas Album series has expanded to include offerings from five diverse artists, building on the template established by the Bennett set.  Elvis Presley, John Denver, Barry Manilow, Willie Nelson and Kenny G all have made their mark in Christmas music, and these new (and very reasonably priced) compilations make an enjoyable place to start with each of their holiday-themed catalogues.  And two of the titles are even more of a treat, as the Willie Nelson and Luther Vandross sets are actually resequenced and expanded editions of the artists' seminal Christmas LPs.
It's simply impossible to go wrong when you combine one of the great voices of our time with some of the greatest songs of our time.  Hence, you can't go wrong with Luther Vandross' Classic Christmas Album (Epic/Legacy 88691 96832 2).  His entire 1995 album This is Christmas is the centerpiece of this release, and its ten tracks have been supplemented by some very well-chosen bonuses.  Producers Leo Sacks and Jeff James have added Vandross' Quincy Jones-produced take on "The Christmas Song" from 1992's A Very Special Christmas, the original Cotillion recordings of "May Christmas Bring You Happiness" and "At Christmas Time" from 1976, and one previously unreleased track: Vandross and Chaka Khan's duet of "Have Yourself a Merry Little Christmas" from the 1998 Soul Train Christmas Starfest.
This is Christmas, produced by Vandross with contributions from longtime collaborators Nat Adderley Jr. and Marcus Miller, offered ten tracks of slick soul, with Vandross' impassioned vocals set to gleaming and modern arrangements.  The unmistakable Vandross pipes are most resonant on the classic songs: Hugh Martin and Ralph Blane's "Have Yourself a Merry Little Christmas," with its melancholy undercurrent, or Richard Rodgers and Oscar Hammerstein II's evocative "My Favorite Things."  These timeless songs have aged better than, say, "The Mistletoe Jam," with the singer seductively intoning, "Girl, get over here and come under this mistletoe with me!" and the chorus imploring, "Everybody kiss somebody!"  Vandross veers a bit close to parody on that up-tempo, pop-soul confection, but he's more successful when applying his velvet tones to his other originals like the big ballad "With a Christmas Heart" or the fun, Motown-styled "I Listen to the Bells" with the brassy Darlene Love and the equally legendary Cissy Houston (who is audible on a number of the album's tracks).  You'll also savor the unmistakable tenor sax of the Big Man, Clarence Clemons on "Bells."  Vandross is reverent on a stately, martial "O Come All Ye Faithful," the most atypical track on This is Christmas.
The "bonus tracks" are all strong additions.  Vandross and Chaka Khan are both emotive on "Have Yourself a Merry Little Christmas," and the two Cotillion songs (originally credited to Vandross' group Luther) are both real gems.  "May Christmas Bring You Happiness" is a big, funky, R&B production while "At Christmas Time" is a sweet, traditional soul ballad arranged by Motown stalwart Paul Riser.
After the jump: take a sleigh ride with Willie Nelson, Barry Manilow, Kenny G, John Denver and The King!
Like the Vandross set, the Classic Christmas Album from Willie Nelson (Columbia/Legacy 88725 44531 2) is also built around a complete album, in this case Nelson's seminal Pretty Paper.  All twelve songs from the 1979 Columbia LP, produced by Nelson's Stardust collaborator Booker T. Jones, appear among the new compilation's sixteen tracks.  Producer Gregg Geller has looked outside the box for the album's remaining selections, drawing "A Dreamer's Holiday" (though written by Kim Gannon of "I'll Be Home for Christmas" fame, not quite a Christmas song) from 1983's Jones-produced standards set Without a Song,  two songs from Nelson's 1997 Finer Arts Records holiday offering Hill Country Christmas, and one from the Chips Moman-helmed What a Wonderful World, from 1988: its title track, not quite a holiday song, but certainly one that's generous of spirit appropriate to the season.
The laconic cowboy with a warmly expressive drawl proved a perfect interpreter of seasonal standards with Pretty Paper, as he had with the greater whole of the American Songbook with Stardust.  It's certainly one of the great Christmas albums of all time, in any genre, largely thanks to Nelson's willingness to explore these songs in his own style while still remaining respectful of the songs' roots and their authors' intentions.  With Booker T's moody organ as accompaniment, Nelson gracefully sings a low-key "White Christmas" of which Irving Berlin would surely have approved.  Similarly, "Santa Claus is Coming to Town" and "Jingle Bells" are rendered with casual ease by the singer as burbling organ lends a light, carnival-esque air.   When Nelson's trademark guitar appears, it's as an old friend might.  His gentle style welcomes the listener around the campfire as the troubadour sings and plays with directness and little embellishment.  Nelson is happy and inviting on "Frosty the Snowman" and "Rudolph the Red-Nosed Reindeer," and nostalgic on Roy Orbison's "Pretty Paper."  These tracks are as genial now as they were in 1979.
Nelson is joined by his sister Bobbie for the two 1997 tracks, "Away in a Manger" and "Joy to the World." Willie's voice is remarkably unchanged.  Bobbie lends unwavering support on piano, which lends these recordings a different character than the guitar-and-organ songs from Pretty Paper.  Vic Anesini has remastered each track with subtlety, and the sonic upgrade for the Pretty Paper tracks was indeed, worth the wait.
The most-anthologized of these five artists is Elvis Presley, and his 17-track Classic Christmas Album (RCA/Legacy 88725 45538 2) entry is the least essential of the group.  Presley's Christmas repertoire has been collected in every conceivable repackaging already, perhaps most notably RCA's 1994 If Every Day Was Like Christmas.  That collection is still available, and its 24 tracks make the most generous compilation yet released of The King at Christmas, even including four alternate takes.  But Classic Christmas Album does boast one significant component which that set lacks: the crisp remastering of Vic Anesini.  Anesini's overhaul of the Elvis catalogue has improved every recent Presley release from Legacy, and this is no exception.  The improved sound might alone warrant a purchase.
Classic Christmas Album offers two posthumous duets ("I'll Be Home for Christmas" with Carrie Underwood and "Blue Christmas" with Martina McBride) first released in2006, twelve years after the release of If Every Day, but these do little to enhance or detract from the artist's towering legacy.  What's left, then, is a reasonable place to start one's immersion in the King's Christmas magic.  Elvis' Christmas Album, his fourth overall studio LP, consisted of eight Christmas songs and four gospel traditionals which had previously been released on the Peace in the Valley EP. Seven of those eight tunes (all save "I'll Be Home for Christmas," only heard in the Underwood duet) reappear on his Classic Christmas Album. Seven more tracks come from his second holiday long-player, 1971's The Wonderful World of Christmas, which was itself expanded last year by Follow That Dream. The1966 single "If Every Day Was Like Christmas" completes the collection of both secular and spiritual tunes.
There's obviously much to cherish from the 1957 release, from the controversial take on "White Christmas" which so appalled the song's composer, Irving Berlin, to Presley's definitive reading of "Blue Christmas" (thankfully included along with the McBride duet) and his R&B holiday perennial "Santa Bring My Baby Back (To Me)."  Jerry Leiber and Mike Stoller's torrid "Santa Claus is Back in Town" is just as delicious.  The 1971 selections are much less raw but no less enjoyable, including the twangy "Winter Wonderland" and a reverent "O Come All Ye Faithful."
Smooth saxophonist Kenny G needs no introduction.  The best-selling musician has released numerous holiday albums since 1994's Miracles: The Holiday Album, and it's no wonder why. In 1997, Miracles was named by Billboard as the best-selling Christmas album of the entire Nielsen/SoundScan era which began in 1991. By last Christmas, 2011, the multi-platinum best-seller had sold more than 7 million copies in the U.S. alone. For this Classic Christmas Album (Arista/Legacy 88725 41311 2), the line-up is straightforward: five tracks from Miracles, seven tracks from its follow-up Faith two from 2002's Wishes and another two from 2005's The Greatest Holiday Classics.  (Four new tracks were included on that 16-track compilation.)
Kenny G's style is pure instrumental pop; one can't even describe it as smooth jazz, as the improvisatory element of jazz is largely absent from these sixteen tracks.  But the sax man's fluid style is as recognizable as that of the most famous vocalists of our time, and those who enjoy his trademark tones (on both soprano and tenor saxophones) won't be disappointed.  He's supported by both an orchestra and a number of top session stalwarts, among them Greg Phillinganes on keys, Paulinho Da Costa on percussion and Randy Waldman on piano.  Kenny G's soft and tasteful trek through some of the most famous Christmas songs of all time is heavy on Tin Pan Alley tunes ("Winter Wonderland," "White Christmas," "Silver Bells") alongside some sacred material, too ("Silent Night," "Joy to the World").  For the millions of listeners who flocked to Miracles, Classic Christmas Album (remastered by Maria Triana) might be among their favorite things.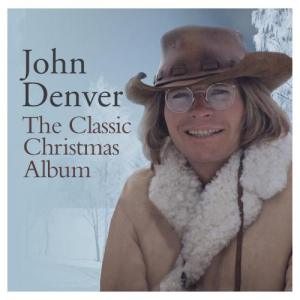 Actor, humanitarian, singer – John Denver wore many hats, but he'll always be remembered for his string of lite-country/pop hits like "Sunshine on My Shoulders," "Take Me Home, Country Roads," "Thank God I'm a Country Boy" and perhaps his most enduring song, "Leaving on a Jet Plane."  Armed with his guitar and his gentle, distinctive voice, the troubadour brought warmth to whatever he chose to record.  His Classic Christmas Album entry (RCA/Legacy 88725 43775 2) is a sampler of his enduring Christmas songs, with six tracks from his beloved 1975 Rocky Mountain Christmas plus one tune from its expanded CD edition. In addition, two tracks have been included from Denver's A Christmas Together, his 1979 holiday foray with Jim Henson's Muppets, two from his 1990 Christmas Like a Lullaby and four from 2001's Christmas in Concert.  John Denver's Christmas songs were quiet, pretty and nostalgic, but his holiday repertoire makes for one of the most eclectic entries in this series.
This Classic Christmas Album is light on secular Christmas staples, although "The Christmas Song," "White Christmas," "Blue Christmas," "Jingle Bells" and "Have Yourself a Merry Little Christmas" are all present in low-key renditions.  At the heart of this compilation are Denver's more off-the-beaten-path songs: Steve Weisberg's "Christmas for Cowboys," Denver's own "Christmas Like a Lullaby" and "Aspenglow" and folk hero Tom Paxton's "The Marvelous Toy."  And then there's the quintessentially C&W plea "Please, Daddy (Don't Get Drunk This Christmas)" which Denver imbues with a bit of humor as he drawls over the barroom-style backing.  And he's earnest on a medley including his "Alfie, The Christmas Tree," set to an orchestral piece by Denver's collaborator, composer Lee Holdridge.  What's it all about?  "Say a prayer for the wind, and the water, and the wood, and those who live there, too…"  Denver was sweetly getting across his message of tolerance for all things in nature.  He's backed by The Muppets on "It's in Everyone of Us," but is straightforward and reverent on "Coventry Carol" and "What Child is This," both performed with lush, string-laden backing, and the latter with a children's chorus.  Nobody could accuse Denver of not wearing his heart on his sleeve, and that quality comes through here.  Vic Anesini has remastered each track here.
Is there a more unlikely candidate for "The Voice of Christmas" than Brooklyn's own Barry Manilow?  Yet the superstar entertainer has become a happy fixture of the holiday season, appearing at tree lightings, Thanksgiving Day parades, on television specials, and of course, in stores.  All told, Manilow has recorded three very different holiday albums between 1990 and 2007, and all three can be sampled on his Classic Christmas Album (Arista/Legacy 88725 43774 2).  Thoughtfully compiled by Bill Pitzonka with Manilow, it offers a cross-section of the artist's work as singer, songwriter, arranger and producer.
He made his first memorable contribution to the holiday songbook with his own composition "It's Just Another New Year's Eve," co-written with Marty Panzer ("It's a Miracle," "This One's for You," "Even Now"). A favorite of the late Dick Clark to ring in January 1 on his New Year's Rockin' Eve, the sensitive, reflective ballad is included in the original 1977 Barry Manilow Live version co-produced by Ron Dante.  It's the oldest track here, and the newest is also a Manilow original.  "Christmas is Just Around the Corner" was written for the 2008 animated special Cranberry Christmas, and is an infectious showstopper in the theatrical tradition so beloved by Manilow.  Just try not to tap your toes!  It's as joyful as "New Year's Eve" is wistful.
Four tracks make an appearance from Manilow' first holiday collection, 1990's Because It's Christmas.  The most diverse of Manilow's Christmas albums, it blended original songs alongside familiar favorites, incorporating big-band, jazz and orchestral elements into a seamless whole.  Title song "Because It's Christmas," written by Manilow with Sussman and Jack Feldman, is a big production complete with choir, but it's kept grounded by the heartfelt, quintessentially sweeping melody and sincerity in Manilow's vocal.  (Note that the version here is an edit from the album version, and cuts the introductory segment of Handel's "Messiah.") On the late-night, bluesy side is "I Guess There Ain't No Santa Claus," with a delicious and sardonic Johnny Mercer lyric set to music by the artist: "Like the clock on the shelf/I hold hands with myself...I've got wine, I've got cheer/I've got nobody here/I guess there ain't no Santa Claus…Well they sure got it right when they sing 'Silent Night'/I guess there ain't no Santa Claus!"  The most traditional cuts on Classic Christmas Album hail from 2002's A Christmas Gift of Love.  The largely orchestral set was almost entirely composed of standards with one original, the string-laden title track (like that of Because It's Christmas, written by Manilow, Sussman and Feldman), plus a revival of Joni Mitchell's "River."  Both songs appear here along with five others.  One of those is "Santa Claus is Coming to Town."  As he had with "Jingle Bells" on Because It's Christmas (also selected for inclusion here), Manilow paid homage to Bing Crosby and the Andrews Sisters with a new recording in their style.
Only two tracks appear from the adventurous 2007 In the Swing of Christmas.  Originally a Hallmark exclusive, it's the most jazz-oriented of his three holiday LPs, with accompaniment by The Randy Kerber Trio and MaD Fusion.  An inventive "Silver Bells," in which Manilow himself performs all of the intricately-arranged vocals, opens the compilation here.  In 2009, Arista reissued In the Swing, with two bonus tracks.  Both of them (the bouncy "Christmas is Just Around the Corner" and a rollicking big-band treatment of "Rudolph, the Red-Nosed Reindeer" in which Elton John, Billy Joel and Sting are name-checked!) reappear here.  They're more comfortable fits on this album than on the expanded In the Swing itself, where they clashed with the intimate jazz material.
Manilow's Classic Christmas Album is a delightful romp through the singer's holiday catalogue.  One only wishes that the opportunity had been taken to include "It Came Upon the Midnight Clear," originally a Hallmark-exclusive bonus download for In the Swing of Christmas which remains unreleased on CD.  Maria Triana and Mark Wilder have beautifully remastered these chestnuts.  You should certainly get you into that Christmas swing by album's end.
With uniformly excellent sound and enough holiday cheer to go around, Legacy's Classic Christmas Albums are well worth exploring.  (The lack of liner notes is the series' one disappointment, though the presence of discographical information for each selection is a welcome touch.)  They're terrific values in this year's typically-crowded crop of holiday collections.  Pass the egg nog and cue up the hi-fi!