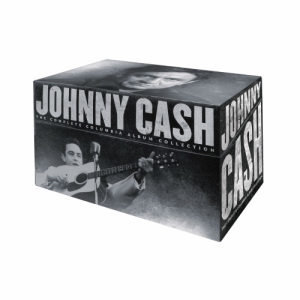 Are you ready to add some Black to the red and green this Christmas?  If you are, you'll be richly rewarded thanks to Columbia Records and Legacy Recordings' Johnny Cash: The Complete Columbia Album Collection (88697 91047 2, 2012).  It's no easy feat to distill the essence of an artist into one package, let alone when the artist in question is John R. Cash.   Yet this collection spanning 33 years (1957-1990), 61 albums and 63 CDs succeeds in revealing the man behind the black in all his many personas: God-loving spiritual truth-seeker, dedicated family man, empathetic folk hero, uninhibited wild man, outlaw cowboy.  So powerful a storyteller was Johnny Cash that many casual fans, even today, still believe he shot a man in Reno just to watch him die.  No matter that "Folsom Prison Blues" was "only" a song; to quote from Cash's fourth Columbia long-player, Now There Was a Song!  There are many such triumphant songs here, along with many hidden gems and some missteps, too.  But once you immerse yourself in the three-plus decades of music created by this American original, you'll likely find yourself thinking: "Now There was a Life!"
The Complete Columbia Album Collection by its nature only touches briefly on Cash's first blush of fame at Sam Phillips' Sun Records, and not at all on his dramatic rebirth as an elder statesman of rock and country at Rick Rubin's American Recordings.  But it's striking how consistent the artist was throughout his entire career.  His first few Columbia albums introduced a pattern that he would continue until the very end.  The Fabulous Johnny Cash (1958) blended J.R. Cash originals with songs of his contemporaries; Hymns by Johnny Cash (1959) took in sacred songs.  Songs of Our Soil (also 1959) focused on folk ballads, and Now There was a Song! (1960) explored the music of Cash's forebears including Hank Williams and Ernest Tubb.  Ride This Train from later that year was his first true concept album, this one centering on the American west.  Each one of those album formats would be revisited by Cash time and time again, with all of those musical adventures included on the new box set.  There would be other excursions, too, into holiday collections, soundtrack recordings, live albums, and collaborative efforts with friends, family and friends who were close enough to be family.  But some things remained consistent through Cash's 28-year tenure at Columbia Records: that resonant bass-baritone, love of God and country, and a refusal to capitulate to the times.  "To thine own self be true," Cash quoted in a 1993 interview, and likely in others, too.  So there's no Johnny Cash Disco Album here, and no Johnny Cash Sings the Swinging Hits of Today, either.  Instead, you'll just find 63 discs of country-folk-rock-pop-gospel that might as well be filed simply under "Johnny Cash."  Even if you own the exemplary, bonus-packed Bear Family box sets chronicling the artist's first decade, this set is a necessary companion.
We're diving in, after the jump!  Won't you join us?
The first 19 albums in the set are all presented in their rare, original mono mixes.  Like all of the albums here, these titles have been crisply remastered by Vic Anesini.  A full 35 titles in the box are being released for the very first time on CD in the U.S., and these lesser-known entries in the Cash catalogue offer ample rewards and plenty of surprises.  Many of these "lost albums" come from the 1970s, and it's easy to see why the singer would have been regarded as a "man out of time" during this period.  Though mileage may vary on these albums, none are wholly uninteresting or lack one or two great moments.
There are only minor nods to production techniques of the era, although one hidden treasure is 1975's John R. Cash.  Produced by Gary Klein (Barbra Streisand, Glen Campbell, Dolly Parton), it features arrangements by Nick DeCaro and musical support from stellar LA session pros like Russ Titelman, Jerry Cole, James Burton and even the young David Foster.  Fellow singer/songwriters Ry Cooder and David Allan Coe also show up, and Klein encouraged Cash to explore some pop/rock songs that might have been unfamiliar to country listeners.  This wasn't his first foray into this kind of material; 1974's The Junkie and the Juicehead Minus Me had Cash taking on Cat Stevens' "Fathers and Sons" as "Fathers and Daughters," and Cash had famously championed Bob Dylan in the sixties.  On John R. Cash, though, he asserts a place in the folk pantheon for Robbie Robertson's "The Night They Drove Old Dixie Down," and even better, brings striking verisimilitude to Randy Newman's "My Old Kentucky Home."  He also delivers a particularly sympathetic reading of Tim Hardin's "The Lady Came from Baltimore," and tackles Albert Hammond's songbook with "Smokey Factory Blues."  (The "It Never Rains in Southern California" man actually produced some tracks for Cash in 1973, including his own "Praise the Lord and Pass the Soup" as a duet with the Oak Ridge Boys.)  The most atypical track is son-in-law Jack Routh's "Hard Times Comin'," perhaps the closest Cash ever came to AM-ready soft rock.  Although Cash was uncomfortable with the album and its recording process, it can be viewed with the passage of time as a not entirely unsuccessful stab at connecting with a younger audience, and is all the more laudable for that.  There are no embarrassing moments on John R. Cash; rather, the album shows just how adaptable that authoritative voice really was.  Rick Rubin would famously revitalize Cash in his twilight years by pairing him with rock songs, but Brian Ahern and the album Johnny 99 were there first, in 1983, with the singer taking on Bruce Springsteen's title track and "Highway Patrolman."
You can also take in each of Cash's concept albums.  Some are "merely" well-compiled collections of similarly-themed songs: spirituals, folk ballads, train songs or western songs, to name a few.  Others show off the full range of the singer's ambitions, with sprawling narratives told via both story and song.  1967's From Sea to Shining Sea has previously been overlooked on U.S. CD, an entirely self-penned song cycle drawing on the artist's experiences in various U.S. states from Tennessee ("The Flint Arrowhead" and "Another Song to Sing") to Florida ("Shrimpin' Sailin'").  Try listening back-to-back with 1977's The Rambler, another concept album about travelling in which Cash intersperses another set of wholly original songs with dialogue from characters portrayed by Jack Routh, Routh's then-wife (and Cash's stepdaughter) Carlene Carter, and the young Rosanne Cash.  Like Springsteen after him, Johnny Cash's vision of America always began and ended with its people and their contributions to the land and the national identity.  The compassion of his signature song "The Man in Black" is very much in evidence on his concept albums, whether secular or spiritual in nature.
Sealed copies of 1968's The Holy Land on CDnow sell for nearly as much as this entire box set.  The Holy Land is a poignant, earnest travelogue narrated by Cash and his wife June "recorded on location" with titles like "Land of Israel," "This is Nazareth" and the spoken-word "My Wife June at the Sea of Galilee."  It makes a fine companion to 1973's The Gospel Road, the soundtrack to the 20th Century Fox film starring Cash which recounted the story of Jesus Christ.  The film was also shot on location.  A couple of other soundtrack recordings are worth rediscovering, both from 1970: Cash's song score for I Walk the Line, including a re-recording of that famous tune which inspired the movie, and Little Fauss and Big Halsy.
But those epic concept albums and off-the-beaten path soundtracks still aren't the whole story.  The Man in Black persona that adorns so many posters and T-shirts naturally fails to take into account Cash's sense of humor.  1967's Everybody Loves a Nut is a welcome new addition to the U.S. Cash CD catalogue.  It's anchored by a number of songs from Cash's longtime friend Jack Clement that show the singer indulging in a bit of fun.  The zany title track ("Everybody loves a nut/The whole world loves a weirdo") sits comfortably alongside "The One on the Left is on the Right," which skews politically-inclined folk groups but has a bite itself.  And it's not hard to picture Cash perched beside his sideman Del Wood's rollicking barroom piano, entertaining the entire saloon with "Dirty Old Egg Sucking Hound" about a dog in the hen house!  To top it all off, Mad Magazine legend Jack Davis supplied the wild LP's cover art (of course reprinted on the album's mini-LP sleeve).  1976's One Piece at a Time was titled after the clever if larcenous little ditty by Wayne Kemp, and Cash and Kemp were rewarded with a No. 1 country single for their trouble.  Of course, Cash was also frequently playful in his duets with June Carter Cash.  Though their Carryin' On (1967) received a prior release on U.S. CD from Legacy, the belated 1973 follow-up Johnny Cash and His Woman appears for the first time here.
Singing with June and the Carter Family brought out the best in Johnny Cash.  So did performing in front of a live audience. His have been well-documented on CD, with Legacy having offered deluxe box set editions of landmark LPs At Folsom Prison (1968) and At San Quentin (1969).  Even the Swedish concert, At Osteraker Prison, (1972) received an expanded issue overseas, and in 2002, Legacy unearthed Live at Madison Square Garden for release.  (The album, recorded in 1969, is included here.)  With The Complete Columbia Album Collection, 1975's London-recorded Strawberry Cake and 1978's Concert in Prague (released in 1983) take their place alongside the others on CD.  A final live curio here is 1981's West German concert The Survivors, in which Cash is joined by two more members of The Million Dollar Quartet, one-time Sun labelmates Jerry Lee Lewis and Carl Perkins.  That trio reunited with Roy Orbison as their No. 4 for a subsequent album, Class of '55, on another label.  These later concerts don't have the same palpable frisson as the prison shows, but there's a certain delight to hearing the very Midwestern Cash singing "Destination Victoria Station" for his London audiences on Strawberry Cake.  Sure, the song tied in to a popular American restaurant chain of the same name, and Cash re-recorded a number of his old train songs for a Destination Victoria Station LP released on Columbia Special Products.  (That offbeat LP is, alas, not included here.)  But he offers the new song to London for its own Victoria Station and introduces it with a charming monologue on Strawberry Cake.  The Prague show is a more or less standard set, with big hits ("Folsom Prison Blues," "Ring of Fire," "I Walk the Line," "Sunday Morning Coming Down"), and railroad and cowboy song medleys all handled agreeably by Cash and the Tennessee Three.  Pianist Earle Poole Ball plays Floyd Cramer's melodic "Last Date" on this LP, very much in Cramer's own style.
The Tennessee Three, of course, is a major presence on these discs.  Cash's stalwart group began as the Tennessee Two, with Luther Perkins on guitar and Marshall Grant on bass.  They backed Cash on the box set's very first disc, his Columbia debut The Fabulous Johnny Cash.  By 1962, two became Three with W.S. "Fluke" Holland on drums.  When Perkins died in 1968, Bob Wootton filled his considerable shoes and the boom-chicka-boom continued, unabated.  Marshall Grant departed the ranks in 1980, but prior to that point, the Tennessee Two or Three had accompanied Cash on nearly every single Columbia album.  Holland and Wootton continued on and off with Cash from that point on, with only Wootton appearing on Johnny 99 and the group disappearing from the studio discs made thereafter.  Nearly as prominent a presence in the box set is The Carter Family, with Mother Maybelle (who died in 1978) and Cash evincing a particularly strong rapport.  Keeping it all in the family, of course, Cash even worked with Nick Lowe on 1980's Rockabilly Blues.  Lowe, Carlene Carter's second husband following Jack Routh, produced his own song "Without Love" for Cash, and brought along the rockabilly revivalists of Rockpile for good measure on this underrated LP effort  Also on Rockabilly Blues, Cash duets with wife June on his daughter Rosanne's then-husband Rodney Crowell's "One Way Rider."  Whew!
All albums included in The Complete Columbia Album Collection are presented in their original album versions, meaning that there are no additional bonus tracks on any of these discs.  It's refreshing to reacquaint oneself with the original LP versions of At Folsom Prison and At San Quentin, but some of the alternates and outtakes appended to past Legacy reissues are, indeed, missed.  There is bonus material in the box, however.  In addition to the 59 core albums, two new collections have been curated for this set.  The original Sun album Johnny Cash with His Hot and Blue Guitar has, in effect, received an expanded edition here.  His 1957 LP debut's twelve tracks have been augmented by sixteen more Sun selections for a thorough (if incomplete) survey of Cash's Sun tenure.  "I Walk the Line," "Folsom Prison Blues," "Give My Love to Rose," "Hey Porter," "Wreck of the Old 97" and "Big River" were all re-recorded by Cash for Columbia for the 1964 album I Walk the Line (Disc 12 here), but the deluxe Hot and Blue Guitar features the never-bettered Sun originals for comparison's sake.  The box closes out with two discs entitled Singles, Plus.  This new compilation rounds up the non-LP singles recorded by Cash for Columbia between 1958 ("All Over Again") and 1985 ("The Human Condition") and adds a selection of Cash's guest appearances from albums by Bob Dylan, The Earl Scruggs Revue, and Ray Charles.  Not every one of his duets is here, of course; too bad the world hasn't had the chance to rediscover his most unusual harmonizing with Julie Andrews (!) on "Love Me Tender" (!!) from Andrews' 1982 non-Columbia LP of the same name.  As it had with the Tennessee Three and the Carter Family, the mutual respect between Cash and his chosen musical partners clearly ran deep.
What's missing in this summation of a life in music?  The alternate and outtake bonus tracks from Legacy's previous CD reissues have been dropped.  Mono mixes have superseded stereo on the first 19 albums here.  In addition, none of Cash's gospel albums for labels other than Columbia proper have been included, such as those for the Cachet, Priority and Word labels.  (For these albums, seek out Legacy's Bootleg Volume 4: The Soul of Truth, released earlier in 2011.  It's a necessary supplement to this box set, and includes three such albums in full, in addition to the usual Bootleg-style ephemera.)   Another "missing" title is The Lure of the Grand Canyon, co-credited to Cash and Columbia's popular bandleader Andre Kostelanetz.  The 1961 album was built around an orchestral recording of Ferde Grofe's "Grand Canyon Suite" in five movements, followed by an eleven-minute, spoken-word recitation by Cash.  Should this be considered an official part of the Cash canon?  That's up for debate; even Bear Family Records overlooked the title in its 1994 box set dedicated to Cash's concept albums.  Unavailable on CD, The Lure of the Grand Canyon is a curio, and seemingly destined to remain one.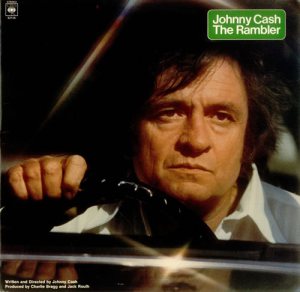 The Complete Columbia Album Collection is impressively housed in a lift-off box, with each album's original sleeve replicated in mini-LP form.  In a nice touch, original gatefold covers have been retained, too.   Rich Kienzle provides an introductory essay in the roughly 200-page softcover book, and a few pages have been dedicated to each album containing full-color cover artwork plus the track listing, discographical/chart annotation and personnel information.  Kienzle doesn't gloss over Cash's final days at Columbia, which saw the artist dismissed by Columbia Nashville Vice President and General Manager Rick Blackburn in 1986 after a 28-year tenure.  He picked up a new label (Mercury) almost immediately, and even returned to Columbia for 1989's Highwayman 2, the final non-archival album in the box set.  In retrospect, Cash seems as pivotal a part of the Columbia roster as other long-run champs like Bob Dylan, Barbra Streisand, Tony Bennett, Miles Davis, Johnny Mathis or Bruce Springsteen.  But Cash himself professed to understand the label's position at the time, and indeed, the music industry was in a very different place in 1986.
What remains is the music created during his extraordinary time at Columbia.  None of the sensationalism that sometimes plagued Cash's career can be found here, just the enduring songs that are as much a part of the tapestry of America as those by Stephen Foster or Hank Williams.  In the song "Let There Be Country" from One Piece at a Time, Cash and co-writer Shel Silverstein name-check Tom T. Hall, Willie Nelson, George Jones, Porter Wagoner, Kitty Wells and Ernest Tubb, among other country music fixtures of the past and present.  Johnny Cash was always acutely aware of tradition, both as a musician and as an American.  He wasn't afraid to celebrate his lineage and his country while giving a voice to the disenfranchised and misunderstood.  Cash has taken his place among the deceased likes of Tubb, Wells and Wagoner, but his singular voice still rings, loud and clear. The Complete Columbia Album Collection will likely remain the ultimate tribute to John R. Cash.
You can order The Complete Columbia Album Collection here!