It's been an incredibly busy morning for the Kritzerland label!  While you have the chance to win some of Kritzerland's best releases of 2012 today only for Second Discmas, the soundtrack specialists have just announced three new limited edition albums to close out the year: a two-fer from Elmer Bernstein and Nathan Van Cleave of Hud and The Lonely Man, respectively, plus another from Alex North and Adolph Deutsch of Hot Spell and The Rainmaker, and finally, a special Encore Edition release of Pino Donaggio's score to Carrie!  All three titles feature some incredibly rare film music, including a complete alternate recording of Bernstein's short, unusual score to Hud, and Tennessee Ernie Ford's rendition of the title song to The Lonely Man.
After the jump: the complete details on all three sets, including pre-order links!
The complete press releases for all three titles follow.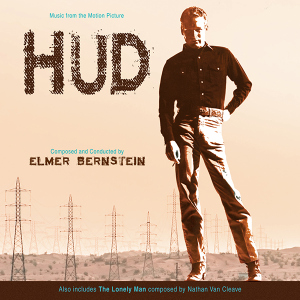 Elmer Bernstein, Hud and Nathan Van Cleave, The Lonely Man
Based on the 1961 novel Horseman, Pass By by Larry McMurtry (The Last Picture Show, Terms of Endearment), Hudfeatured a powerhouse cast – including Paul Newman, Melvyn Douglas, Patricia Neal and Brandon de Wilde. With a great screenplay by Irving Ravetch and Harriet Frank Jr., direction by Martin Ritt, and striking black-and-white photography by the brilliant James Wong Howe, Hud leaps off the screen from first frame to last. Bosley Crowther's review in The New York Times was typical, trumpeting Hud as the year's "most powerful film." The film was nominated for seven Academy Awards and won three – for Best Supporting Actress (the superb Patricia Neal), Best Supporting Actor (Melvyn Douglas) and Best Cinematography (James Wong Howe).
Elmer Bernstein's score for Hud runs approximately six minutes, making it one of the shortest film scores ever. But what a six minutes it is – in fact, it's perfection and just right for the film. Bernstein recorded his six minutes twice: once with a 12-piece ensemble, and then, a week later, re-orchestrated (by Bob Bain) for three guitars. Presumably the revision was at Ritt's request for a smaller and even more intimate sound – which really was the right choice. The music is sparse, yes, but it's potent every time it appears. There's also some source music in the film – car radios, jukeboxes, records.
For this first ever release of the score to Hud, we present not only the film version of the score, but also the alternate version scored for chamber orchestra, as well as some source music cues. It was a wonderful discovery to find it on the session masters housed in the Paramount vaults, and the tapes were in excellent condition.
In looking for something to pair with Hud, we found a truly beautiful score by Nathan Van Cleave for the 1957 western The Lonely Man. Starring Jack Palance and Anthony Perkins (with a great supporting cast of character actors including Elisha Cook Jr., Robert Middleton, Neville Brand, Claude Akins and Lee Van Cleef), The Lonely Man is a stark and somber western about a former gunslinger and his attempts to do something for the son who hates him and from whom he's been estranged for years. Well directed by Henry Levin (April Love, Journey to the Center of the Earth, Where the Boys Are, The Wonderful World of the Brothers Grimm) and stunningly photographed in VistaVision and black-and-white by Lionel Lindon, The Lonely Man may not be well known today, but it's a solid film and one well worth seeking out.
Nathan Van Cleave's score is a major discovery, as you'll hear on this CD. Van Cleave had been at Paramount for years, orchestrating some of their biggest hits. But he was also an expert composer, and over the years he turned in wonderful scores for such films as The Colossus of New York, The Space Children and Robinson Crusoe on Mars, and provided music for such classic TV shows as The Twilight Zone, Wagon Train, Have Gun – Will Travel, Perry Mason and I Spy.
For The Lonely Man, Van Cleave came up with a beautiful main theme, for which Jack Brooks provided lyrics; Tennessee Ernie Ford sings the song in the film. The score has real depth and its secondary themes are dramatic, elegiac and poignant, giving the film a strong spine. The Lonely Man is a world premiere release on CD and is presented complete from tapes housed in the Paramount vaults. A few cues were taken from the music stem. We hope you'll enjoy discovering this really terrific music.
Hud/The Lonely Man is limited to 1,000 copies only. The price is $19.98, plus shipping.  CDs will ship the second week of February.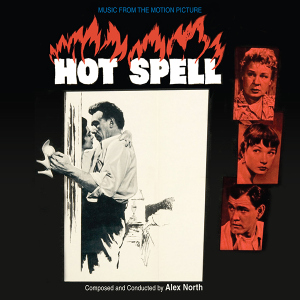 Alex North, Hot Spell and Adolph Deutsch, The Rainmaker
How many women star in their first movie at age fifty-four – and win an Oscar for doing so? Well, that's what happened to Shirley Booth when she made her film debut for Paramount, reprising her Tony Award-winning role in William Inge's Come Back, Little Sheba. Booth had already had a hugely successful theatre career and stage work is what she preferred, making only a total of five films before going on to become a TV star in the hit series Hazel. She made her final two films in 1958 and both of them are represented on this world premiere CD release.
Hot Spell had a powerhouse cast; in addition to Booth, the film starred Anthony Quinn, Shirley MacLaine, Earl Holliman and Eileen Heckart. The film's screenplay by James Poe is clearly in Tennessee Williams and William Inge territory. Booth has a field day with her role – delusional, flighty, and eternally optimistic in the face of the drama around her. Quinn is powerful in his role as someone who doesn't want to be clung to and whose mid-life crisis results in tragedy for everyone. MacLaine was wonderfully fresh and unique at this point in her career – there wasn't anyone else quite like her working in movies – and Holliman and Heckart both shine.
The score for Hot Spell was by the brilliant Alex North. By that point in his career, North had been composing for Hollywood films since 1951, when he came out swinging with three incredible scores – The 13th Letter, A Streetcar Named Desire and Death of a Salesman (he received Oscar nominations for both Streetcar and Salesman). North's Hot Spell score is all yearning, delusion and heartbreak. His music brilliantly illuminates the drama and the characters – their hopes, their dreams, their heartaches. Thanks to North and the actors (as well as the excellent writing and directing), what could have easily devolved into a melodramatic potboiler becomes a compelling character-driven drama.
Shirley Booth's other star turn that year was the polar opposite of Hot Spell: the delightful film adaptation of Thornton Wilder's popular stage success, The Matchmaker. Paramount brought it to the screen, starring Booth as Dolly Gallagher Levi, Paul Ford as Horace Vandergelder, Anthony Perkins as Cornelius, Shirley MacLaine as Irene, and Robert Morse reprising his stage role as Barnaby. The screenplay was by the great John Michael Hayes (Rear Window, The Man Who Knew Too Much) and the film was directed by Joseph Anthony, who, the year before, had brought the play The Rainmaker to the screen for Paramount. Of course, it would be just a few years later when The Matchmaker would undergo yet another transformation, this time being turned into a big, splashy hit Broadway musical, Hello, Dolly!.
Helping the fun immeasurably is the score by Adolph Deutsch, which captures the homespun Americana beautifully. His music includes quotes from traditional music of the era ("Buffalo Gals"), but is also filled with his own wonderful, melodic themes. Deutsch wittily underscores the monologues of various characters delivered straight to the camera, or budding love, and Dolly's machinations to bring everyone together in blissful happiness – including her own. Adolph Deutsch was a really unsung film composer, especially considering the large number of huge hit films he worked on. Although his name is not that well known today, he wrote some absolutely stellar scores during his long career, including the music for such all-time classics asThey Drive by Night, High Sierra, The Maltese Falcon, The Mask of Dimitrios, Father of the Bride, Tea and Sympathy, Some Like it Hot and The Apartment.
So, two great Golden Age scores – one steamy and tragic, one charming and delightful – by two great composers: Alex North and Adolph Deutsch.  Hot Spell/The Matchmaker is limited to 1,000 copies only. The price is $19.98, plus shipping.   CDs will ship the second week of February.
Pino Donaggio, Carrie: Encore Edition
In 1976, director Brian De Palma had already established a reputation as a cult director of such films as Greetings, Hi, Mom, and more importantly, Sisters, Phantom of the Paradise, and Obsession. But it was his film of Stephen King's classic, best-selling first novel Carrie that would catapult him into major director status.
De Palma got everything right – the casting (an amazing group of actors, including Sissy Spacek, Piper Laurie, Amy Irving, William Katt, John Travolta, Nancy Allen, P.J. Soles, and Betty Buckley), the adaptation by Lawrence D. Cohen, the art direction (Jack Fisk and Bill Kenney), camerawork (Mario Tosi), editing (Paul Hirsch) – everything just came together magically and perfectly. The film also has a sly sense of humor and it's just fun in a way horror films seldom are – thrills, chills, laughs, and one of the most amazing jump-out-of-your seat scares in the history of cinema.
Horror films are rarely nominated for Academy Awards, but Carrie was one of the exceptions with Sissy Spacek getting a Best Actress nod and Piper Laurie getting one for Best Supporting Actress. Over the years, the film has never lost on iota of its popularity, thanks to numerous releases on every home video format, most recently on Blu-ray.
Of all the decisions De Palma made, one of the most important was choosing Pino Donaggio as composer. De Palma had used Bernard Herrmann on two of his films – Sisters and Obsession, but Herrmann had passed away in 1975. In 1976, Donaggio only had one major film to his credit, but his score to that film was masterful – Nicholas Roeg's Don't Look Now. However De Palma came to choose Donaggio, it was a perfect marriage of composer and film. Donaggio's score hits all the right notes – he brings out every emotion and all the subtext, with great suspense and horror music, plaintive and yearning music for the character of Carrie, two songs for the prom sequence (with lyrics by Merritt Malloy) that help make that sequence so magical and memorable, and light and infectious music for the calisthenics sequence and the scene at the tux shop. It is, in fact, a perfect score, a masterpiece of film scoring, with unforgettable themes that capture every nuance of the film.
United Artists released the soundtrack album on LP. It was an odd presentation in that almost all of the music was from the film's second half, save for the main title sequence (which was repeated verbatim at the end of the album). The album ran thirty-five minutes. That LP was released twice on CD – first by Ryko (with dialogue snippets included to pad out the running time), and then by Varese Sarabande (with the dialogue snippets gone). Ryko used the album master, and the Varese was a clone of the Ryko release (the pop songs used in the film were not available to them or to us).
For this very special Encore Edition, we are pleased to present what was CD 1 of our previous 2-CD release (the second CD was simply the third release of the LP tracks and we are not including that disc in this 1-CD release) – the complete score to Carrie – every note of great music, in film order, remixed from the original sixteen track session tapes housed in the MGM vaults. We also found two instrumentals of the songs, which we've included as bonus tracks.  This release is limited to 1,000 copies only. CD will ship the second week of February – however, preorders placed directly through Kritzerland usually ship one to five weeks earlier (with an average of four weeks.)
You can pre-order all titles by clicking on each album's artwork or visiting Kritzerland here!