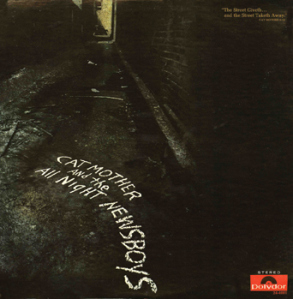 From a lost classic produced by Jimi Hendrix to Grateful Dead playing Warren Zevon, Real Gone Music's February release slate has a little bit of soul, rock, pop, blues and even poetry!  The label founded by Gordon Anderson and Gabby Castellana has an impressive line-up of titles due on February 26, including the first-ever standalone CD reissue of the Richard Perry-produced Reprise debut of Fanny (the first all-female rock group signed to a major label), a definitive 2-CD singles collection from blues great Freddie King, two expanded albums from poet and musician Rod McKuen, and the Jimi Hendrix-helmed LP from Cat Mother and the All Night Newsboys.  (They don't make band names like that anymore, do they?)  And that's not all.  There's more from Grateful Dead and The Hello People!
Plus: eagle-eyed readers might have noticed that Real Gone's two promised collections of Patty Duke's four United Artists albums have disappeared from the January 29 release calendar.  These two releases have been rescheduled for February 26.
Hit the jump for the press release for Real Gone's February schedule, plus pre-order links to all titles!
LOS ANGELES, CALIFORNIA - It's hard to overstate the importance of Fanny's self-titled 1970 debut album. For the first time, a group of women (sisters June and Jean Millington, Alice De Buhr and Nickey Barclay) wrote and sang their own songs, played their own instruments and, perhaps most importantly, rocked just as hard as any male band out there. And, as the first all female band signed to a major label (Reprise) and with superstar producer Richard Perry at the board, these four women seemed poised for stardom. But, without a reference point with which to review them, the rock press was less than kind, often dismissing them as a novelty act. Fanny would have to become that reference point, and so they did for the generations of female rockers to come after them, from Joan Jett to Girlschool to Courtney Love and beyond. They were truly the Godmothers of Chick Rock. Now, Real Gone Music is proud to reissue, for the first time on a stand-alone CD, the self-titled debut release from Fanny, complete with the original gatefold album art and sporting new liner notes from none other than June Millington with contributions from Alice De Buhr and Jean Millington, whose tales will take you inside the studio and out to the front lines of rock's feminist makeover. Grrl power starts here!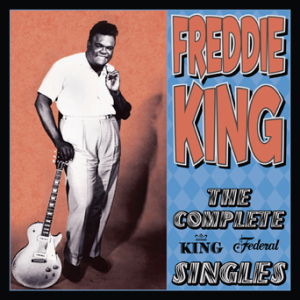 Rolling Stone ranked him the #15 greatest guitarist of all time. His sharp treble tone, hooky melodic licks and innovative fingerpicking style-using metal banjo picks on electric guitar-were a profound influence on such British guitar gods as Eric Clapton, Jeff Beck, Peter Green and Mick Taylor. And his live performances were so incendiary, so unstoppable-and his build so imposing-that he was nicknamed "The Texas Cannonball." Yet to date, no collection has focused on the original single sides Freddie King cut for the King and Federal labels in the '60s, the blistering tracks that made his reputation and continue to be the centerpiece of his recorded legacy. The Complete King Federal Singles rounds up all 54 of those original single sides and carefully packed them on to two CDs for about 155 minutes of pure blues guitar heat, featuring such hits as "Hideaway," "Lonesome Whistle Blues," "San-Ho-Zay!" and "I'm Tore Down." Notes by Freddie King expert Bill Dahl, photos and pristine mastering complete as concentrated a dose of blues guitar greatness as you will ever find.
Poet, writer, performer, songwriter, singer, producer, actor-Rod McKuen was the true Renaissance man of the '60s generation. However, despite having notched a number of charting albums, almost all of McKuen's recorded work remains out of print. Now, by special arrangement with the artist himself, Real Gone Music is releasing two signature albums from Rod McKuen's career, complete with a bounty of bonus tracks from his private archive, personally annotated and remastered under his supervision. Recorded on his 36th birthday on April 29, 1969, the double live album Sold Out At Carnegie Hall was the highest-charting (double platinum) release of Rod McKuen's career, and exposed a whole new audience to the man's multifaceted talent. This Real Gone reissue of this landmark live recording adds an unreleased track, marking the most complete version of this legendary concert that has ever been released, and also offers 13 tracks from his triumphant, platinum-selling Back to Carnegie Hall album, recorded on his 40th birthday in 1973. And McKuen's 1967 release Listen to the Warm, which was based on his poetry book of the same name-then the bestselling poetry book of all time-was his first charting album. Our Real Gone reissue presents over a dozen bonus tracks-all never before available in the U.S.-that in effect create an unreleased Listen To The Warm Volume Two.
Though the 1969 debut release from Cat Mother and the All Night Newsboys was co-produced by none other than Jimi Hendrix (they were long-time friends, the band opened for the Experience on tour, and had the misfortune of sharing the same manager, Mike Jeffrey), Cat Mother was far more than a footnote to a superstar's career. Not only did The Street Giveth...and the Street Taketh Away score a Top 40 hit with "Good Old Rock 'N Roll," but it's also a marvelously eclectic affair beloved by record collectors of every stripe - just do a quick Google search - with elements of folk, country and late '60s riff rock alongside the hit's tongue-in-cheek revivalism. This album's been briefly reissued on CD twice before and commands huge sums online; it's not JUST for Hendrix completists (though they will want it, too).
There was a lot more to The Hello People than just whiteface. Their roots actually trace back to the father of French mime, Etienne Decroux. During the '60s, Decroux taught painting to a group of musicians, who learned to paint so quickly that Decroux reasoned that musicians could also learn mime and apply it in some new way to create a new form. Thus inspired, the manager of the musicians Decroux had taught, Lou Futterman, then put together The Hello People, who went on to appear on The Tonight Show and The Smothers Brothers Comedy Hour, tour with Todd Rundgren during the '70s, and release four albums for Philips and ABC-Dunhill during the late '60s and early '70s. Fusion, their second (1968) album for Philips, is easily their best; it features "Anthem," whose stark, antiwar lyrics ("So I'm going to prison for what I believe/I'm going to prison so I can be free") penned by band songwriter W.S. "Sonny" Tongue (who had been incarcerated for resisting the draft) led to its being banned in a number of radio markets. Our Real Gone reissue includes the original gatefold art and adds new liner notes; it's the first album from this one-of-a-kind group ever released on CD.
The latest august addition to Real Gone's reissues of Grateful Dead live shows, Dick's Picks 25 - May 10, 1978 New Haven, CT / May 11, 1978 Springfield, MA hails from an extended East Coast run in the Spring of 1978, offering a pair of Dead shows that, with the loving touch of Bear and Betty Cantor-Jackson at the controls, rank as one of the most beautifully recorded entries in the Dick's Picks series. Both concerts-which appear here minus just two and three songs, respectively-find the group in exceptionally lyrical form on ballads like "Loser," "Stella Blue," "Looks Like Rain" and "They Love Each Other." Also not to be missed is a superlative, slowed-down version of "Friend of the Devil" and the rare performance of Warren Zevon's "Werewolves of London" as an encore (the band only played it about a dozen times live). Full of diamonds for Deadheads.
The full list of February 26 releases from Real Gone Music follows with pre-order links!
February 26 Releases from Real Gone Music
Freddie King, The Complete King Federal Singles (2-CD Set)
Rod McKuen, Sold Out at Carnegie Hall (2-CD Deluxe Edition)
Rod McKuen, Listen to the Warm (Deluxe Edition)
Cat Mother and the All Night Newsboys, The Street Giveth...and the Street Taketh Away
Grateful Dead, Dick's Picks 25 - May 10, 1978 New Haven, CT / May 11, 1978 Springfield, MA (4-CD Set)
Patty Duke, Don't Just Stand There/Patty
Patty Duke, Sings Songs from Valley of the Dolls/Sings Folk Songs