What do a beloved Broadway musical and an iconic sci-fi epic have to do with dance music pioneer Boris Midney?  Plenty, as it turns out.  Midney, a producer and arranger who came to prominence in the disco era with his expansive 48-track productions, recorded under a number of guises:  Caress, Beautiful Bend, Masquerade, Double Discovery, to name a few.  And The Demon Music Group's Harmless Records imprint indeed does have a double discovery!  On January 26 in the U.K. and one week later in the U.S., an expanded reissue of two era-defining disco platters will arrive in one package: 1979's Evita, recorded under the Festival name and known to many simply as Disco Evita, and the following year's reinvented The Empire Strikes Back, released under Midney's own name.
Andrew Lloyd Webber and Tim Rice's 1976 concept album Evita, based on the life and times of Argentina's controversial First Lady Eva Perón, starred Julie Covington in the title role.  Covington led a cast that also included Mike d'Abo and Paul Jones of Manfred Mann, future Les Miserables star Colm Wilkinson, pop crooner Tony Christie and actress/singer Barbara Dickson.  The success of Evita was immediate, with Covington earning the No. 1 spot on the U.K. pop charts with her stirring rendition of "Don't Cry For Me, Argentina."  A stage production directed by Harold Prince and starring Elaine Paige followed in the West End in 1978, and Prince's production arrived in New York the following year with Patti LuPone in the title role.  Impresario Robert Stigwood, an early champion of Lloyd Webber and Rice's work, produced Evita in both London and New York, and through his RSO Records, had further designs on the musical.
Stigwood enlisted Boris Midney to create a disco version of the Evita score, which was released on RSO in 1979 under the name of Festival.  Festival's Evita continued the musical's success streak, becoming a No. 1 Billboard Disco Album and yielding 12-inch, club-ready mixes of a special medley (over 20 minutes, spread on two sides of a single) and of "Don't Cry for Me, Argentina."  Harmless' reissue appends both sides of the "Evita: Special Dance Music Version" as well as the 7-inch mix of "Argentina" and the song's Mexican 12-inch mix.  Due to the success of the so-called Disco Evita, Stigwood enlisted Midney to turn his attention not to another rock opera, but to a space opera instead.
Mike picks up the story of Midney's The Empire Strikes Back after the jump!
For whatever reason - the inescapable late '70s pull of disco, the quick, crafty reflexes of producer/Star Wars acolyte Domenico "Meco" Monardo - the long, strange history of Star Wars music dabbles heavily in disco. Meco's Star Wars and Other Galactic Funk LP (and the resultant "Star Wars/Cantina Band" single) were enormous hits in 1977, with the single topping the U.S. charts for a week in autumn of that year. (The original Oscar-winning version of John Williams' iconic theme could only peak at the outer reaches of the Top 10.) Far from shake his head at the crass commercialism on display, George Lucas sanctioned the release of a Meco-produced Empire Strikes Back disco compilation and a Star Wars holiday album in 1980.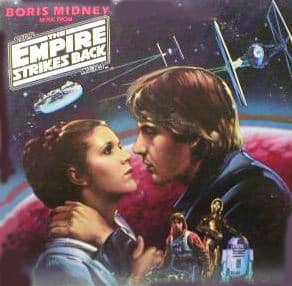 But Midney got his time to shine adapting the stirring score of The Empire Strikes Back for dance floors that same year - and for RSO Records, as well. (Counting Meco's two efforts, Midney's adaptation, and the double album of original orchestral score from the film, RSO may as well have renamed themselves "ESB" for the time being.) Perhaps unfairly lost in the shuffle of all that product, Midney's take on Empire - featuring adaptations of the main title theme and motifs for Yoda, Darth Vader and Han Solo and Princess Leia's burgeoning romance - maintains the dance-floor ready pace of Meco's work, but isn't afraid to deviate from the source material, be it through instrumentation (lots of low-end and bubbly synthesizers are on display here) or arrangement (it takes a full 90 seconds before the listener recognizes the fearful chords of "The Imperial March" in its five-minutes-and-change chart).
Midney's Empire doesn't include any bonus tracks on the Harmless reissue, but taken with the discofied Evita, the set makes for an incredible curio of two classic scores and one beloved arranger. Pre-order the set and enjoy the track list below!
Festival / Boris Midney, Evita: Special Edition / The Empire Strikes Back (Harmless DRCCDX012, 2013)
CD 1: Festival, Evita (RSO Records RS-1-3061, 1979)
Buenos Aires
I'd Be Surprisingly Good for You
Don't Cry For Me, Argentina
High Flying, Adored
Rainbow High
She is a Diamond
Eva's Theme (Lady Woman)  (written by Boris Midney)
Evita – Special Dance Music Version Pt. 1 (Original RSO Promo 12" Mix) (RPO 1020-A, 1979)
Evita – Special Dance Music Version Pt. 2 (Original RSO Promo 12" Mix) (RPO 1020-B, 1979)
Don't Cry For Me, Argentina (Original 7" Mix) (RSO RS-1020, 1979)
Don't Cry For Me, Argentina (Mexican 12" Mix) (RSO 3022, 1979)
All tracks written by Andrew Lloyd Webber and Tim Rice except Track 7 and portions of Tracks 8 & 9.
CD 2: Boris Midney, The Empire Strikes Back (RSO Records RS-1-3079, 1980)
Yoda's Theme
The Imperial March (Darth Vader's Theme)
Han Solo and the Princess (Love Theme)
Star Wars (Main Theme)
All tracks written by John Williams.