It never should have worked.
Since its formation in 1967, Fleetwood Mac had endured radical personnel changes, a stylistic shift from blues to rock, even a challenge from a "fake Mac" claiming to be the band in concert.  When guitarist-songwriter-vocalist Bob Welch became the latest member to pass through the Fleetwood Mac revolving door, Mick Fleetwood and the husband and wife team of John and Christine McVie invited two young Californians to bolster the line-up.  Lindsey Buckingham and his then-girlfriend Stevie Nicks first appeared on 1975's self-titled album, which signified a new start for the identity crisis-stricken band.  With "Rhiannon," "Landslide," "Over My Head" and "Say You Love Me," the all-new Fleetwood Mac launched the group into the stratosphere.  Its slow ascent up the charts culminated in a No.1 berth on the Billboard 200 over one year after entering the chart.  The stage had been set for Rumours, which would handily surpass its predecessor's great success.
Whether by design or accident, everybody knows the story of Rumours by now.  The relationship between Buckingham and Nicks was coming apart at the seams, while the threads of Christine and John McVie's marriage were also fraying.  Not long after the album's release, Nicks found herself in the arms of Fleetwood, his own marriage having recently crumbled.  In other words, all five members of the band were involved in break-ups and other torrid affairs of the heart while crafting (by most calculations) one of the ten best-selling albums of all time.  The seeds for dissension were there, especially once the L.A. music business culture of hedonism took its toll, but so were the seeds of great strength.  The two-woman, three-man band boasted three strong songwriters, who also happened to be its three vocalists.  Buckingham and Nicks were from California, the other three members were from the United Kingdom.  Each member's sensibilities were singular, but when they marshaled their powers, it was clear that the sum of their parts was greater than any one individual's.  (The same could be said for Eagles, the group deposed by Fleetwood Mac when Rumours replaced Hotel California at the top of the U.S. chart.)
Warner Music's new expanded editions of Rumours (available in 3-CD and 4-CD/1-LP/1-DVD configurations) revisit its creation in high style.  It's reductive to label Rumours solely as a "break-up" album, so these new deluxe reissues smartly concentrate not on the personal drama but rather on the music, which sounds as fresh and immediate today as it must have in 1977.  The familiarity of such songs as "Go Your Own Way" or "You Make Loving Fun" might make it difficult to appreciate them anew, but the reissue's producers have opened up the Mac vaults to shed light on each step of the recording process and into the genesis of even these radio staples.
Hit the jump to dive in!
There's an element of voyeurism at play while spinning Rumours, the slightly uncomfortable feeling that you're bearing witness to somebody else's frank interpersonal dialogue: "I know there's nothing to say/Someone has taken my place..." is answered by "Now here you go again/You say you want your freedom/Well, who am I to keep you down?"  But the genius of the album, produced by the band with Richard Dashut and Ken Caillat, is that even the bitterest pills to swallow are transformed into tasty pop nuggets.  Sonically, it's slick without being sugary, and actually quite varied, from the folksy, plaintive lament of "Never Going Back Again" - guitar and voice with minimal adornment - to the bright pop of "Go Your Own Way."  Both songs were written by Lindsey Buckingham, and while the former offers a slight note of hope, the latter is so irresistible that it makes "going your own way" sound like quite an attractive proposition despite the pained lyric to the contrary.
The album's most tender moments belong to Christine McVie.  McVie is starkly romantic on "Songbird," and somehow both sultry and ebullient on "You Make Loving Fun."  Richly melodic yet eschewing a standard verse-chorus structure, "You Make Loving Fun" is elegant in its directness yet boasts one of the album's most complex arrangements.  McVie, of course, also supplied the album with "Don't Stop," which became an anthem for Clinton-era America, and still shines with its (seemingly un-ironic) optimism.  The fourth of McVie's songs on Rumours, "Oh, Daddy," takes a darker approach than the rest, and is one of the comparatively lesser-known gems on the best-selling album.
Christine McVie's big, open-hearted songs are contrasted with the mysterious, evocative and lithe compositions of Stevie Nicks.  "Dreams" was worthy of instant pop immortality with its refrain of "Thunder only happens when it's raining/Players only love you when they're playing/Say...women...they will come and they will go/When the rain washes you clean, you'll know."  The song cuts to the bone with no fuss.  Nicks' "I Don't Want to Know" is another upbeat song masking turmoil ("I don't want to know the reasons why/Love keeps right on walking down the line/I don't want to stand between you and love/Honey, I just want you to feel fine"), a recurring approach on Rumours.  The song replaced Nicks' "Silver Springs" on the original LP; though that fine song was relegated to B-side status, it became a part of the album proper in the CD age.  While it's appeared in the past as part of the album sequence, it's included here as a bonus track following "Gold Dust Woman."  (Completists might wish to note that "Gold Dust Woman" is heard in the same mix as on the 2004 reissue, which differed from that of earlier CD pressings.  "Silver Springs," too, has long differed on CD from the original vinyl single mix, and this reissue is no exception.)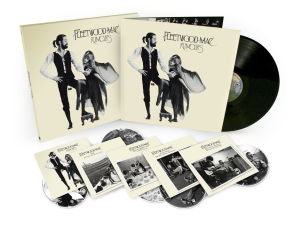 The band might be best epitomized, however, by the dark, primal mantra of "The Chain": "And if you don't love me now/You will never love me again/I can still hear you saying/You would never break the chain."  The song was assembled from parts of existing compositions, hence the group songwriting credit, and the bonus discs offer an opportunity to sample the songs that became "The Chain."  Everything about Rumours today seems in perfect order, right down to the fact that each of the band's three songwriters had one hit single off the album: Nicks' "Dreams," Buckingham's "Go Your Own Way" and McVie's "You Make Loving Fun."  But Rumours is a true band effort, with no strings, horns, or additional players.  The productions aren't big but are endlessly inventive, with the vocalists' distinctive harmonies meshing with the tight playing of the rhythm section.  Though Mick Fleetwood and John McVie don't sing, they're hardly unsung.  (In addition to his musical contributions, John McVie also reportedly gave the album its appropriate title.)  The original Rumours album is included on both CD and LP, though the vinyl version does not make room for "Silver Springs."
A 2004 trawl through the vaults (R2 73882) yielded 18 tracks (11 "Roughs and Demos," 5 "Early Demos" and 2 "Jam Sessions"), and the 2013 producers deserve credit for including that original bonus disc in the super deluxe box.  The new edition adds 16 more tracks to chart the evolution of Rumours, and this CD is available in both the super deluxe and 3-CD configurations.  These newly-unearthed recordings are, by and large, lean and mean, stripping Rumours to its (emotional) core.  They also reveal a band alternately sloppy and precise as they work out the melodies, rhythms and feels of these future classics.  This new disc, titled More from the Recording Sessions, offers a peek into the development of every one of the album's songs except for a pair from Christine McVie's pen, "You Make Loving Fun" and "Don't Stop."  (Early versions of both of these, however, are represented on the held-over Recording Sessions, Roughs and Outtakes disc.)  Two versions of "Never Going Back Again," "Keep Me There," and "Songbird" give plenty of room for comparison.
The most familiar songs are unsurprisingly the most revealing in their early forms. How thrilling to hear "Dreams" (Take 2) minus a "finished" production, Nicks' crystal voice cutting through a lo-fi soundscape like a knife.  The stripped-down arrangement, sans harmonies and the full arrangement, wouldn't have made for a radio-friendly single, but does make for haunting, fascinating listening.  Similarly, "Go Your Own Way" lacks harmonies, with Buckingham yelping a lead, but there's a certain primal force to his recording.  Songs are in various states of completion here.  Studio chatter is preserved on an embryonic "Second Hand News" in which Lindsey seems to be sounding out the tentative lyrics, and there's a false start on "I Don't Want to Know."  On Christine McVie's "Oh, Daddy," she's nailed the husky vocal and slow burn of the piece, but she's still working it out, speaking periodically during the song to make notes to herself and her bandmates.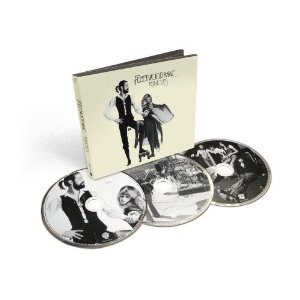 Christine's "Keep Me There" was one of the songs fundamental to the birth of "The Chain."  It's heard twice on the new More from the Recording Sessions, and is also present on Recording Sessions, Roughs and Outtakes, too, as "Butter Cookie (Keep Me There)."  Neither version on the new disc is fully formed, but the vocal version with the band is nearly good enough for release.  (The "Butter Cookie" version has vocals, too.)  The instrumental take is propelled by a bluesy piano part, scorching guitar and drums.  Also incorporated into the final "The Chain" was Nicks' original song of the same name.  As heard on More from the Recording Sessions, it's almost wholly different than the finished song, though "And if you don't love me now..." was retained for the group composition.
Outtakes "Planets of the Universe" and "Doesn't Anything Last" both also appear on the Sessions, Roughs and Outtakes disc in different versions.  The voice-and-piano "Planets" was, of course, later reworked by Nicks for her Trouble in Shangri-La studio album (2001), while "Anything" is a Buckingham-Nicks duet, barely a minute in length but lyrically a perfect match for Rumours: "Last time I saw her, she didn't have anything to say/That hurts/Time has a funny way of turning things around/Doesn't anything last?"  Alas, no recording dates are provided for each track on either of these bonus discs, making it difficult to discern which demo or early take came first.  Perhaps the group wished the music to speak for itself, but some commentary on these roughs would also have been illuminating.
The final audio bonus, a live disc, affords a chance to hear the fresh Rumours material in a set also including tracks from Fleetwood Mac ("Monday Morning," "World Turning," "Rhiannon").  This single-disc concert has been cobbled together from four performances from the 1977 world tour.  These performances are a little more rough-and-tumble than their studio equivalents, but are reasonable replications rather than reinventions, in most cases.  It's hard not to enjoy this five-piece Mac in its prime, feeding off the energy of appreciative audiences.  Vocals are naturally a bit rawer live, but Nicks' piercing, distinct tones actually shine through a bit more on the harmonies than on the studio equivalents.  Tight band interplay is evident, particularly in the McVie/Fleetwood rhythm section, with each man so attuned to the other since the band's earliest days.  "World Turning" (from Fleetwood Mac) leaves room for solos and jamming.  Surprisingly, "Oh, Daddy" more than retains its intimacy and beauty on the live stage; less surprisingly, "Rhiannon" is imbued with a blazing intensity.  Introduced by Nicks' familiar "This is a song about a witch," the nearly eight-minute rendition is one of the tracks here that differs significantly from the original.
Longtime fans will particularly welcome the inclusion of a DVD which officially premieres the 1977 mini-documentary The Rosebud Film.  The 30-minute featurette was directed by the Mac's cameraman Michael Collins, who reportedly captured hours of footage from the Rumours era.  Presented with stereo and 5.1 surround options, Rosebud combines performances from an outdoor show in Santa Barbara with soundstage rehearsal takes and behind-the-scenes banter.  It's hard to detect any tension between band members as they run through the likes of "Rhiannon" and "Go Your Own Way," or as they smoke, laugh, and chat with one another offstage.  Yet while performing, the intensity comes through, whether in Buckingham's ferocious guitar playing or Nicks' stalking about the stage, embodying Rhiannon.  The grainy film is eminently watchable and offers some revealing moments such as when Christine and Lindsey address the question of whether fame has changed the band members.  An impromptu, lighthearted sing-along of the title phrase of "Put Your Head On My Shoulder" also showcases their easy camaraderie.  As a glimpse of the band in action, Rosebud is a fascinating supplement to the box set, and a more than adequate teaser for a new film about the period supposedly being crafted by Collins.
The sturdily-slipcased 4-CD/1-DVD/1-LP edition is attractively packaged, though not overly elaborate.  It contains an LP-sized 20-page booklet with entertaining new liner notes from eminent scribe David Wild and track-by-track annotations told to Wild by Buckingham and Nicks.  The booklet is lavishly illustrated and only lacks specific recording information for the bonus tracks.  The five discs are each housed in individual sleeves, stored in slots in the gatefold jacket.  Each disc has a uniform design, while the LP replicates the famous "Burbank, Home of Warner Bros. Records" label.  Bill Inglot and Dan Hersch remastered the album in 2004, and they share the credit here, as well.  Inglot and Brian Kehew are responsible for mixing the newly-discovered session material as well as the live disc.  (The 3-CD digipak edition includes the original album plus the new session and live discs, for a true bargain.  If you already owned the 2004 edition and pick up this new 3-CD set, you'll own everything in the super deluxe box save the DVD and vinyl.)  Believe the rumo(u)rs: this is one anniversary edition done right.