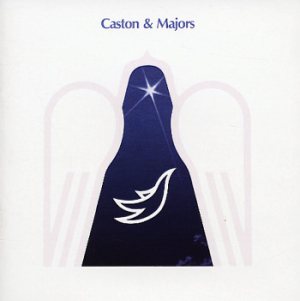 Like a fine meal, Caston and Majors begins with an appetizer.  "Child of Love," on cursory listening, is "just" a bright pop song with a funky groove, employing booming drums, surging strings and a catchy chorus ("Rise now, child of love/No time for wastin'/Rise now, child of love/Stop hesitatin'...") along with a "Hey, hey" cheer that invites singing along.  But a closer listen to the lyrics finds songwriters Leonard Caston and Kathy Wakefield giving voice to a higher power: "You must be a messenger of my truth now/Go and spread my word."  The line is prophetic; Leonard Caston and his then- and current-wife Carolyn Majors indeed spread His word on the entirety of the 1974 album that bore their name.  One of the most unusual offerings to bear the Motown label, the inspirational song cycle - billed in one ad as "a sensory awakening" - is equal parts West Grand Boulevard and Broadway.  In its CD debut from Big Break Records (CDBBR 0217), it's also revealed as an ambitious concept album of great beauty and passion.
Music with a spiritual bent was nothing new to the Sound of Young America.  After a few such singles trickled out on Motown and Tamla, Berry Gordy established the Divinity imprint in late 1961/early 1962.  Though Divinity only eked out a handful of 45s before shuttering in 1963, Motown never completely turned its back on gospel.  In those early days, LPs arrived from The Rev. Columbus Mann and The Gospel Stars.  1968's In Loving Memory LP saw The Temptations, Gladys Knight and the Pips, Diana Ross and the Supremes, Marvin Gaye and others tackling spirituals, while Rock Gospel: The Key to the Kingdom included performances from The Jackson 5, Valerie Simpson, Gaye, Knight, The Supremes and others.  In 2012, Motown even issued a digital compilation of unreleased gospel recordings circa 1962.  If only the Motown brass had thought to issue Caston and Majors on a reactivated Divinity label, it would have been a most appropriate move.
Motown veteran Caston, a protégé of the great Frank Wilson, had already recorded an album which paved the way for Caston and Majors.  Jesus Christ's Greatest Hits from "The God Squad featuring Leonard Caston" was released in 1972 on Motown's rock-oriented Rare Earth label, and included renditions of songs ranging from "I Don't Know How to Love Him" (from Jesus Christ Superstar) to George Harrison's "My Sweet Lord."  The brash young spirit of then-current musicals like JCS and Godspell (not to mention the lesser-known likes of Salvation and Rock Nativity) was in the air.  Producer and arranger Caston set out with Caston and Majors to create a gospel-soul musical revue on record that could hold its own alongside those theatrical endeavors.  He enlisted co-writers Kathy Wakefield, Mattie Lynks, Terri McFadden and Errol Sober, along with orchestrators Jimmie Haskell and Jerry Long to bring his epic vision to life.  Caston and Majors shared vocals, and another Motown star, Syreeta, even dropped by to lend her pipes.  Instrumental support was provided by, among others, percussionist King Errisson, Funk Brother James Jamerson and the young Jay Graydon.
Hit the jump to dig deeper into Caston and Majors!
The varied songs on Caston and Majors range from personal, intimate reflections on God to big anthems with a universal bent.  The dramatic "There's Fear," the thunderous second track, bears little resemblance to pop, soul or even the blend known simply as "Motown."  Carolyn Majors' powerful, emotive vocals take on a near-operatic intensity, aided by the grandiose orchestrations of Jimmie Haskell.  A mini-overture introduces the song, rendering "Child of Love" as a pre-curtain prologue or teaser, and its melodic tissue serves as an outro, as well.  Indeed, each track segues right into the next with evocative orchestrated passages, underlining the unity of Caston and Majors.  The lengthy, adventurous "Let There Be Love" is just as dramatic as "There's Fear," though much more in a pop vein.  It goes all the way back to retell the creation story, and it's not heard to hear a bit of the Supremes' style in its chorus vocals.  (Caston knew from The Supremes as co-writer with Wakefield of the group's post-Diana Ross hit "Nathan Jones.")
"Satisfied Mind" shares a bright melodic sensibility with Godspell; that musical, of course, was written by Stephen Schwartz, who had a Motown connection of his own.  It also espouses a positive sentiment that celebrates gospel and music itself ("No need to worry, you can be free/Pack all your troubles and leave them behind/No need for sadness, you can be happy/You can have peace and a satisfied mind/If you sing, sing...").  That same open-hearted quality appears again and again, most famously on "I'll Keep My Light in My Window."  The Caston/Terri McFaddin song was also recorded at various times by Diana Ross and Marvin Gaye (as a duet), The Temptations and Smokey Robinson.  Outside of Hitsville USA, Ben Vereen and Maria Muldaur were among the artists who latched onto this anthemic, empathetic call to lend a helping hand to a neighbor in need and "to make a world of love."  The triumphant song of survival, "Everything is All Right Now," sets its credo to a true Detroit rhythm: "Ain't no way that evil can touch my heart/I've got good things on my mind!"
Lyrically, the songs of Caston and Majors stay in a spiritual pocket, but musically, the album is greatly varied.  "No One Will Know," a plea to "help me find peace within," is an ethereal spin on doo-wop.  As he reveals in J. Matthew Cobb's new liner notes, Caston intended the song of devotion to have a "Broadway and vaudeville" feel.  But its pop-soul melody veers into Burt Bacharach territory with a exuberant horn arrangement and then into the realm of sunshine pop, with the vaudeville-style brass to which Caston referred.
The CD debut of Caston and Majors should be exciting enough both to longtime fans of the album and those discovering its unique charms for the first time.  (Yes, the word "unique" is overused, but it's certainly appropriate here.)  Reissue producer Wayne A. Dickson has sweetened the pot, however, by adding a whopping nine tracks, all previously unreleased, which were intended for a follow-up LP.  These songs find Caston and Majors recording another song suite with very much the same approach, right down to the lack of pauses between songs.
"Keep your face smiling, my mother's son/Don't you know your life has just begun?" Caston sings smoothly, to pounding piano and a big, heavenly choir on "Mother's Son," the opener to this shelved cantata.  Its chords bring to mind Cat Stevens' "Wild World" (1970) and even Todd Rundgren's "Can We Still Be Friends" (1978) while its optimistic lyric recalls the previous LP.  Caston demands attention with "What About the Price," a cautionary tale set to an insistent, stomping rhythm.  "Don't throw your soul away," he persuasively warns, "just 'cause somebody tells you they can give you heaven on earth today!"  Even more stirring is the shifting, half-spoken/half-sung "Melody (This is Hell)" which has the immediacy of a sermon.
The nature in which these songs are intertwined is revealed in the centerpiece of the unreleased LP, a three-song mini-suite.  Caston bears his heart to his wife in the soulful, sweet "Carolyn Ann," and apparently it worked, as Caston and Majors are still together, serving as musical pastors in Harrisburg, Pennsylvania.  His declaration of love ("Since the day I first gave you my love, I've tried to make myself a better man/Because to me, you're a treasure worth more than all I own/To life my life without you is to live my life alone....") is immediately followed by Carolyn's response.  "If I Can" is filled with humility, though her vocals soar at their most theatrical.  "I will make your load much lighter...if I can," she affirms.  Their duet "We're Together" concludes the musical dialogue, but Caston and Majors still had much to say for the album's final two songs.
In the foreboding "Don't Let," they dramatize a prayer to stave off the advances of the Prince of Darkness (also given frightening voice in the song).  Though one lyric brings to mind Godspell again ("Please guide me day by day..."), this almost eight-minute song is by far the darkest piece on either album.  The album then concludes, as the first one did, with an uplifting finale - in this case, "I've Got to Fly."
Though it doesn't replicate the elaborate original LP packaging, Big Break's first-time reissue is handsomely packaged as per the label's norm with photographs, advertisements and images of 45s.  J. Matthew Cobb's excellent liner notes offer a definitive account of the album's making, drawing on the participation of Leonard Caston and Carolyn Majors-Caston.  The only elements missing from the notes are information on, and an assessment of, the unreleased album.  (In addition, the credits list Kathy Wakefield as co-writer for all songs on the album, but the correct credits can be found on the reprinted back cover of the original LP.)  Nick Robbins has nicely remastered all songs.
This impressive reissue is surely a feather in the cap of the Big Break team.  A major discovery, it raises the question of how an album as distinctive as this could have disappeared for so long.  That, of course, leads to other questions: might a different title, more descriptively reflecting its contents, have better served the LP?  Was it just too distinctive for a commercial audience?  And is it gospel?  Is it Christian pop?  Is it R&B?  Is it soul?  Truth to tell, it doesn't matter.  Caston and Majors defies easy categorization, but one choice is, indeed, easy.  If you're a fan of any of those genres, or indeed of the music of the Motor City, you'll find a lot to love about Caston and Majors.
You can order Caston and Majors at the links below!
Leonard Caston and Carolyn Majors, Caston and Majors (Motown M6-814S1, 1974 - reissued Big Break Records CDBBR 0217, 2013) (Amazon U.K.)
Child of Love
There's Fear
Satisfied Mind (Sing)
Let There Be Love
I'll Keep My Light in My Window
No One Will Know
Say You Love Me True
Everything is All Right Now
Mother's Son
What About the Price
Melody (This is Hell)
I'm Flying Your Sky
Carolyn Ann
If I Can
We're Together
Don't Let
I've Got to Fly
Tracks 9-17 are previously unreleased.