Paul McCartney has always been one for tradition.
Last year, Macca used the annual Record Store Day campaign to preview his deluxe Archive Collection release of 1971's Ram with a vinyl replica single of "Another Day" b/w "Oh Woman, Oh Why."  This year, the reveal of McCartney's RSD exclusive confirmed the news that diehards have been expecting since the Archive Collection first began: the 1976 chart-topping triple-album Wings Over America is coming on May 27 (Europe) and May 28 (North America) to the lavish Archive Collection series.  Wings Over America will be preceded by the April 20 RSD release of a 12-inch EP of the live "Maybe I'm Amazed."  As on the original release, Side One includes "Maybe" in full and edited versions in mono, and Side Two presents the full and edited versions in stereo.
When "Maybe I'm Amazed" first appeared on 1970's McCartney, a lush standout on a rather spare collection of homemade songs, it quickly gained popularity, but McCartney declined to officially release it as a single.  It wasn't until the 1976 live version from Wings Over America came along that McCartney relented.  His ode to the lovely Linda then scaled the charts to No. 10 in the United States and No. 28 in the United Kingdom.
"Maybe I'm Amazed" was just one highlight of the expansive, electrifying career retrospective that was Wings Over America, however.  The deluxe edition of Wings looks to be the mightiest entry yet in McCartney's box set series, with 3 CDs, 1 DVD and 4 books!  The original album only will also be released in a standard 2-CD edition and as a 3-LP set.  In addition, the long-awaited Rockshow film will receive standalone issues on Blu-ray and DVD!
Hit the jump for all of the specs!
Following well-received jaunts through smaller venues including 1972's Wings University Tour and Wings Over Europe Tour, Paul McCartney's new band was ready to embark on its most ambitious tour yet.  Wings Over the World took in three continents, 66 concerts and roughly one million fans beginning on September 9, 1975.  On May 3, 1976, the group made its debut in America with the "Wings Over America" leg, marking McCartney's first concert appearances in the U.S. since Beatlemania.  He was joined by wife Linda plus Denny Laine, Jimmy McCullough and Joe English plus a four-person horn section.  Between that Fort Worth date to the leg's conclusion on June 23 in Inglewood, California, Wings played 31 dates for 600,000 American fans.  Wings then took the summer off before returning for five more European shows in September including a grand "Wings Over Wembley" finale back home in England.
Wings Over America was originally planned by McCartney as a two-record set, but as he freely acknowledges, a bootleg 3-LP version of the Inglewood show on June 23 spurred him on to release an official 3-vinyl set.  As the bootleg included "Go Now" from Denny Laine's Moody Blues days - a song only performed during the California stand - so did the official release.  Compiled from a number of professionally recorded shows from the tour, Wings Over America arrived in stores on December 10, 1976 and reached No. 1 in the U.S. in early 1977, becoming the final of five consecutive No. 1 albums for Wings.  (It was a U.K. No. 8 album.)  Most notably, the high-energy, stadium-rock shows found McCartney fully embracing his Beatles legacy.  He included the five Beatles songs he performed on the tour: "Lady Madonna," "The Long and Winding Road," "I've Just Seen a Face," "Blackbird" and of course, "Yesterday."  The adventurous set also saw Wings cover Paul Simon ("Richard Cory") and run through their biggest hits ("Live and Let Die," "Band on the Run," "Silly Love Songs," "My Love").
Wings Over America flew into record shops on CD in 1984 from Columbia Records as a 2-CD set; when McCartney departed Columbia for his old home of EMI, Wings Over America went out-of-print and was subsequently reissued by EMI.  A 1999 Toshiba-EMI reissue from Japan reinstated the 3-disc format of the original LP set.  Yet all compact disc editions are now commanding high prices on the secondhand market.
The 3-CD/1-DVD/4-book box set contains:
The original Wings over America album remastered on 2 CDs at Abbey Road;
A bonus audio disc recorded live at San Francisco's Cow Palace;
A bonus DVD containing the 75-minute Wings Over the World television program and the photo gallery montage entitled Photographer's Pass;
A 110-page commemorative tour book with new interviews and liner notes from David Fricke as well as copious backstage photos;
The 'Wings over America' leatherette-bound 'Tour Itinerary' containing memorabilia facsimiles: printed 8X10 glossy band photos, a backstage pass, the invitation to the end-of-tour party at the Harold Lloyd Estate in Beverly Hills, concert tickets, original album artwork, tour posters, set lists, lyrics, press materials and more;
An entire book of Linda McCartney photography featuring Paul and the band circa the spring of 1976; and
The Ocean View, an hardbound compendium of drawings and sketches by artist Humphrey Ocean that captures the band on tour..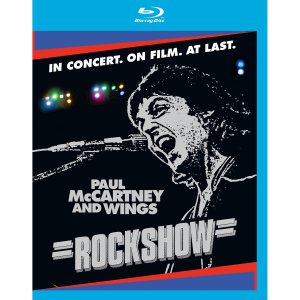 But that's not all coming from the Macca camp.
Rockshow, the 1980 concert film from the 1976 Wings Over America tour, featured thirty songs from the tour from the New York, Seattle and Los Angeles stands.  Though it's been released on VHS, Beta (yes, Beta!) and laserdisc, the upcoming DVD and BD releases from Eagle Rock Entertainment will mark its debut in those formats.  Past home video releases have edited six songs from the original 125-minute length, resulting in a 102-minute running time.  Seven songs were issued on DVD as part of the McCartney Years set, including "Rockshow," one of the cut songs from the other home video issues.
The complete, full-length concert has been fully restored from the original 35mm film and also boasts restored and remastered sound, including a 5.1 surround mix for the first time.  It arrives on June 10 in Europe and June 11 in North America.
The film will also be screened theatrically on May 15; visit rockshowonscreen.com for details.
Full track listings for all of the associated Wings Over America releases can be found below!
Paul McCartney and Wings, The Paul McCartney Archive Collection: Wings Over America (Deluxe Edition) (Hear Music, 2013) (Amazon U.K. link TBD)
CD 1
Venus and Mars/Rock Show/Jet
Let Me Roll It
Spirits of Ancient Egypt
Medicine Jar
Maybe I'm Amazed
Call Me Back Again
Lady Madonna
The Long and Winding Road
Live and Let Die
Picasso's Last Words (Drink to Me)
Richard Cory
Bluebird
I've Just Seen a Face
Blackbird
Yesterday
CD 2
You Gave Me the Answer
Magneto and Titanium Man
Go Now
My Love
Listen to What the Man Said
Let 'Em In
Time to Hide
Silly Love Songs
Beware My Love
Letting Go
Band on the Run
Hi Hi Hi
Soily
CD 3: Live at the Cow Palace
Let Me Roll It
Maybe I'm Amazed
Lady Madonna
Live and Let Die
Picasso's Last Words
Bluebird
Blackbird
Yesterday
DVD: Wings Over the World (75 minutes) plus Photo Gallery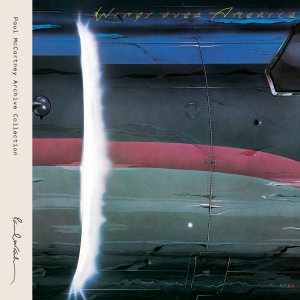 Paul McCartney and Wings, Wings Over America (Standard Edition) (Capitol SWCO 11593, 1976 – reissued Hear Music, 2013) (Amazon U.S.) (Amazon U.K.)
Contents are identical to CDs 1 & 2, above.
Wings, Wings Over America (Capitol SWCO 11593, 1976 – reissued 2013, three vinyl LPs) (Amazon U.S.) (Amazon U.K.)
Side One
Venus and Mars/Rock Show/Jet
Let Me Roll It
Spirits of Ancient Egypt
Medicine Jar
Side Two
Maybe I'm Amazed
Call Me Back Again
Lady Madonna
The Long and Winding Road
Live and Let Die
Side Three
Picasso's Last Words (Drink to Me)
Richard Cory
Bluebird
I've Just Seen a Face
Blackbird
Yesterday
Side Four
You Gave Me the Answer
Magneto and Titanium Man
Go Now
My Love
Listen to What the Man Said
Side Five
Let 'Em In
Time to Hide
Silly Love Songs
Beware My Love
Side Six
Letting Go
Band on the Run
Hi Hi Hi
Soily
Paul McCartney and Wings, Rockshow (Eagle Rock Entertainment, 2013) (Amazon U.K. link) (Amazon U.S. link TBD)
Venus And Mars / Rock Show / Jet
Let Me Roll It
Spirits of Ancient Egypt
Medicine Jar
Maybe I'm Amazed
Call Me Back Again
Lady Madonna
The Long and Winding Road
Live and Let Die
Picasso's Last Words
Richard Cory
Bluebird
I've Just Seen a Face
Blackbird
Yesterday
You Gave Me the Answer
Magneto and Titanium Man
Go Now
My Love
Listen To What The Man Said
Let 'Em In
Time To Hide
Silly Love Songs
Beware My Love
Letting Go
Band on the Run
Hi Hi Hi
Soily
Wings, Maybe I'm Amazed (Capitol PRO-8574/SPRO-8577, 1976 - reissued 2013)
Maybe I'm Amazed (Mono – Short Version)
Maybe I'm Amazed (Mono – Album Version)
Maybe I'm Amazed (Stereo – Short Version)
Maybe I'm Amazed (Stereo – Album Version)