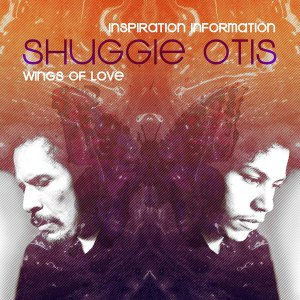 How to describe the career trajectory of Shuggie Otis?  The son of Johnny Otis, the "Godfather of Rhythm and Blues," Shuggie (born Johnny Alexander Veliotes Jr.) displayed prodigious talent on the guitar from an early age.  He began performing with his father before he reached his teenage years, played for the likes of Al Kooper and Frank Zappa, and even joined with dad Johnny in 1969 for some off-color ribaldry as two-thirds of Snatch and the Poontangs. Otis then landed at Epic Records for a three-album stint between 1970 (Here Comes Shuggie Otis) and 1974 (Inspiration Information).   Inspiration registered as barely a blip in the lower reaches of the Billboard 200.  In 1977, he scored a hit via The Brothers Johnson's recording of his "Strawberry Letter," introduced on 1972's Freedom Flight.  But then he was gone.  In 2001, David Byrne championed his lost musical hero with the reissue of Inspiration Information on his Luaka Bop label. The idiosyncratic amalgam of funk, soul, jazz and blues attracted a new generation of fans, but Otis didn't capitalize on its newfound notoriety with any new music.  Flash forward to 2012.  Otis embarked on a tour and confirmed the expanded reissue on Epic and Legacy Recordings of Inspiration Information.  It's finally arrived, paired in one package with Wings of Love, a new album of thirteen previously unreleased songs recorded between 1975 and 2000 (88697 74700 2).
Whereas Otis' previous two albums were produced by his father and featured musicians including Plas Johnson, Wilton Felder, Al McKibbon, George Duke and Aynsley Dunbar, Inspiration found Otis acting as a one-man band in the style of Todd Rundgren, Stevie Wonder, Emmit Rhodes, Paul McCartney, and later, Prince.  (Only strings and horns were supplied by outside players.)  To compare Otis to any of those gentlemen, though, is doing a disservice both to them and to Otis.  Inspiration is, undoubtedly, a singular album.  Yet this doggedly non-commercial sonic fantasia doesn't quite fit into any one musical genre and even today plays like a patchwork quilt, albeit one crafted by a creative, preternaturally gifted artist.
Lyrics take a back seat to music on Otis' obviously personal journey, and indeed, a number of the album's tracks are pure instrumentals.  On the songs with both music and lyrics, the vocals are often buried in the mix, making them difficult to completely decipher.  And even melody is subordinate to arrangement on many tracks here.  Pop likely wasn't Otis' aim, and he wasn't a natural melodist like Rundgren or McCartney.  The title track of Inspiration, perhaps the album's strongest, is a funk tour de force of intertwined lead and background vocals, organ, guitar, bass and drums, a spacey ode to one who is "making me happier…now I am snappier."  What gives Inspiration a sound unlike almost any other circa 1974, though, is Otis' extensive use of the Maestro Rhythm King analog drum machine.  His wasn't the first use of the device in soul music; Sly and the Family Stone famously employed it on 1971's There's a Riot Goin' On.  On the sweetly-sung, lyrically-epistolary "Island Letter," the Rhythm King lends a near-bossa nova feel that turns exotic with layers of strings, percussion, guitar, organ and electric piano.  It's easy to see why these liquid, fantastically illusive grooves became so attractive in later years to artists utilizing samples.  Like "Island Letter," "Sparkle City" is transporting, in this case to an urban dreamscape that might exist only in Otis' head.  When he sings, "Now come time for me to run/Sorry people, but I'm not the one/So I think I'll have to split and let you think about it," was he matter-of-factly previewing his retirement from the musical rat race?
A reggae-ish vibe pervades "Aht Uh Mi Head."  The lyrics are simple ("Aht uh mi head/It's glowing…Aht uh mi head 'cause I heard something said in a word/From your voice did I hear/Only choice dear?") but strings lend it a majestic if unsettling feel.  "Happy House," the original Side Two opener, is a little over a minute long but is a trip through the radio in Otis' head, switching from style to style with brief snatches of funk.  The rest of the side is dominated by instrumentals in a sort of fusion suite.  "Rainy Day" is the most evocative.  It's quite lovely, as Otis' fluid and soulful lead guitar lines are supported by snatches of lush orchestration.  (There's a touch of Wes Montgomery or George Benson in his style here.)  "XL-30" is leaner and tougher, with its insistent beat and stabs of organ.  "Pling!" is almost ambient music, emphasizing the hypnotic, repeated beat with subdued brass and burbling keys.  The album closer, "Not Available," has Otis' guitar at the fore, but is as shifting in tone as the earlier "Happy House."
Inspiration Information demands repeated listens and still isn't wholly satisfying, with all-too-brief compositions and lyrically-undercooked songs both seeming to cry out for further development.  But it's subtly fascinating, and ephemerally beautiful.  It's also a vivid portrait of where Shuggie Otis was in 1974: ahead of his time and aht uh his head.  The first disc of Legacy's reissue appends four previously unissued bonus tracks recorded between 1971 and 1977.  "Miss Pretty" is another slight, lean song, but "Magic" (1971) is a delicious funk brew with Otis drawling over a typically taut track with a bit of Allen Toussaint style.  "Things We Like to Do" (1977) expands Otis' sound palette when he marries another exotic beat to high harmonies that could have been influenced by Brian Wilson in trippy, lo-fi mode.  "Castle Top Jam" isn't really a jam in the improvisational sense, still seeming tightly arranged, but its musicianship and whispered vocal groove are as worthy as any cut on Inspiration proper.
For those disciples of Shuggie who already owned the Luaka Bop reissue of Inspiration, the main attraction here might be Wings of Love, a collection newly curated by Otis of his previously unreleased music.  It's heartening to know that when Otis dropped off the radar, he was still creating music and beating (literally and figuratively) to his own drummer.  We take flight on these Wings after the jump!
Like Inspiration, Wings has a hazy and unfinished feel which is compounded by its very nature: these songs weren't necessarily intended to be aired together.  Most of its tracks also sound much more like demos than fully-fledged productions, but there are nonetheless a few that should add to Otis' legend and mystique.  And perhaps surprisingly, Wings of Love is even more immediately accessible than its predecessor.
The consistency of these songs is both impressive and distressing.  Otis' musical prescience is obvious;  tracks like the soulful, carnally-minded "Tryin' to Get Close to You" and "Don't You Run Away" have the hallmarks of eighties R&B despite having been recorded in 1976 and 1977, respectively.  Yet there's not a marked stylistic difference between those songs, and say, the glossy pop-R&B of "Give Me a Chance" recorded a full decade later, in 1987.  (In any event, it's clear that Otis and another iconic one-man band, Prince, were clearly on the same wavelength.)
"Give Me Something Good" (1977) is a funk workout fueled by synths and a growling vocal that reflects Otis' blues roots, while the catchy, disco-flecked "Special" has the same slick feel as "Give Me a Chance."   The strongest songs on Wings of Love are the most stylistically atypical.  The ballad "Walkin' Down the Country" (1977) sounds tailor-made as a demo for a harmony group thanks to Otis' multi-tracked vocals.  "Fawn," from 1987, is another sweetly romantic track which could have made some noise on contemporary radio of the time in a more fleshed out arrangement.  Though synths and beats drive much of Wings of Love, there's still room for jazz stretching on "Doin' What's Right" (which also alludes to Inspiration Information in its lyrics) and the 11+ minute album centerpiece "Wings of Love" (from 1990, one of the more recent songs here).  "Wings" has an anthemic, power ballad-esque quality ("Why don't you take my hand and we'll fly on our wings of love") as its melody builds and grows, accented by Otis' still-virtuosic guitar licks.  It's in a gleaming pop vein despite its unconventional length.  There's more of the artist's Hendrix-esque searing guitar, too, in "Fireball of Love."
"Black Belt Sheriff" was recorded live in California in 2000, but in Otis' introduction, he mentions it as having been written in 1978.  This sprawling blues-folk epic, with its inscrutable yet passionately sung lyrics, features just Otis and his acoustic guitar.  (Here, too, Shuggie quotes Inspiration Information, clearly a touchstone in his career.)  The stripped-down treatment of this curious song makes for a breath of fresh air amidst all of the drum machine beats and synthesizers elsewhere; it gets to the essence of Shuggie Otis, fragile and offbeat and captivating and frustrating.
As expertly produced by Rob Santos and Kelly Gateson, and remastered by Vic Anesini, Inspiration Information/Wings of Love is, needless to say, an important addition to Shuggie Otis' all-too-small discography.  The generous 28-page booklet features an introduction by Raphael Saadiq and two informative if hyperbolic essays from Chris Campion, drawing on quotes from the artist.  But it's easy to see why Campion is so excited about the return of Shuggie Otis; the proof is on the discs.  Had Otis continued creating music at a prolific rate, he might have pursued even more outré avenues melding styles to his own personal vision, or he might have settled into a certain comfortable groove via any of the genres with which he felt familiarity.  Having "dropped out," though, he's left behind a diminutive and delicate body of work to be dissected, discovered and re-discovered.  Taken together, his output is a collection of recordings that will likely provide Inspiration to anyone who has sat in a home studio with an Inspiration – and the Information - to create something wholly original.
You can order Inspiration Information/Wings of Love by clicking here!