More treats are on the way for fans and collectors of rare cast albums and film soundtracks thanks to the ongoing work of the Masterworks Broadway and Kritzerland labels.
As part of its ongoing digital/CD-on-demand program, Masterworks is offering two of the most unexpected cast recordings from the label's considerable library.  On May 7, Stanley Silverman and Richard Foreman's Elephant Steps: A Fearful Radio Show makes its digital/CD(-R) debut, while on June 4, Moose Charlap and Alvin Cooperman's Clownaround also receives its first-ever reissue.
Elephant Steps, from composer Stanley Silverman and lyricist/librettist/director Richard Foreman, was first produced at the Tanglewood music festival in 1968, the same year avant-garde pioneer Foreman founded his Ontological-Hysteric Theater.  Billed as "Multi-Media Pop-Opera Extravaganza with Pop Singers, Opera Singers, Orchestra, Rock Band, Electronic Tape, Raga Group, Tape Recorder, Gypsy Ensemble, and Elephants all under the direction of Michael Tilson Thomas," Elephant Steps told the tale of Hartman.  The liner notes to the original LP release described it as follows: "Hartman is looking for enlightenment. He has a mysterious guru by the name of Reinhardt. The reactionary factions keep warning him to stop seeing Reinhardt, but Hartman persists. After visiting Nighttown, and then being abducted and grilled in a radio station, where he dreams of returning to his childhood, he finally climbs a ladder, looks in the window of Reinhardt's house, and what he sees brings him illumination."
The production was well-received upon its debut.  It was Foreman's first major directing experience ("except my little play at the Cinematheque," he once wrote) as well as Tilson Thomas' first time at the podium.   Time opined that it "sounded like a giant radio with its dials spinning crazily.... It had a cohesive rhythm of its own and succeeded in gripping the attention of the Tanglewood audience through its sheer theatrical flair." New York pronounced it "The best piece of new music I've heard in concert all year."
Paul Simon was among the music-theatre piece's fans.  Simon had taken guitar lessons from Stanley Silverman (with whom he would work many years later on his own musical, The Capeman) and Foreman recalled the singer-songwriter asking him, "Richard, if all your dreams came true, what would happen with Elephant Steps?"  Simon apparently lost interest after receiving Foreman's reply, which the director deemed "pretentious" in retrospect: "There are three or four people in New York whose opinions I really respect.  If those people liked it, that would be enough for me."  Foreman added somewhat ruefully when writing of the conversation, "If I'd said 'I think this could be as big as The Beatles,' we probably would have had a major production on Broadway."
The psychedelic, mixed-means theatre of Elephant Steps – blending "sound and light, language and music, images and movement, graphics and films, incense and machinery, props and performers" – finally made it to New York in 1970, albeit not on Broadway.  Foreman and Silverman went on to collaborate on numerous occasions, and of course, Tilson Thomas went on to further conducting triumphs.  Actress Marilyn Sokol and chorus member Patti Austin both also achieved fame.  The Columbia Records 1974 cast recording of Elephant Steps – with orchestrations by Harold Wheeler of Dreamgirls and Dancing with the Stars fame - will be released exclusively for purchase via MasterworksBroadway.com on May 7 in a limited quantity of physical CD-Rs as well as digital download.  The CD will be available via Manufacture-On-Demand through Arkiv Music on June 4th, and downloads through digital service providers will be made available at that time, too.
After the jump: details on Clownaround and The World of Suzie Wong!
Also on June 4 at Masterworks Broadway's own website, the label will reissue the cast recording to 1972's Clownaround, "A Funny Kind of Musical for the Entire Family." The spectacle was conceived by Alvin Cooperman, a successful television executive and producer (The Untouchables) who also wrote its book and lyrics.  Cooperman enlisted many familiar names to bring his dream of a circus musical to life.  The music was by Mark "Moose" Charlap, one of the composers of Broadway's Peter Pan and of other musicals including the notorious flops Whoop-Up, Kelly and The Conquering Hero.  (Charlap also is known today as the father of jazz pianist Bill Charlap.)  The legendary Sean Kenny (Oliver!) provided the production design.  Ruth Buzzi, of Laugh-In fame, was among the large cast of 70+ performers.  In the musical's biggest coup, none other than Gene Kelly directed, though he didn't choreograph.  Songs from the score include "You're a Clown," "Clown Alley" and "Clowns Say Goodnight (But Not Goodbye)."
RCA recorded Clownaround with an unidentified studio cast for LPs to be sold at venues where the show was performed.  (Buzzi is not heard on the recording.)  4,000 records were pressed by the label.  The tour launched in April, 1972 at Oakland, California's Coliseum, with plans to end up at Madison Square Garden. Instead, the production played 14 performances and then closed permanently.   When the closing took place, all remaining copies of the cast recording were reportedly sent back to RCA.  Those copies were destroyed, and Clownaround subsequently became one of the rarest of all cast recording LPs.  Masterworks' digital/CD-R reissue is the first time the recording has been available in any format since the show's original run in 1972.
Clownaround will be released via MasterworksBroadway.com on June 4 in a limited quantity of physical CD-Rs as well as digital download.  On July 2, Arkiv Music will begin offering the CD-Rs and the album will also be available to all digital service providers.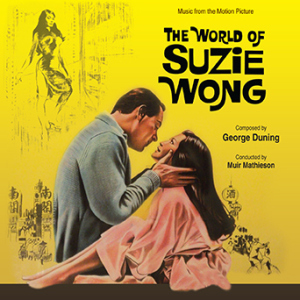 Last – but certainly not least – is the first-ever complete release of George Duning's score to the 1960 drama The World of Suzie Wong.  Richard Mason's original book first led to a stage version which opened in 1958 at Broadway's Broadhurst Theatre and then to a Paramount Pictures film.  Director Richard Quine's screen adaptation starred William Holden, Nancy Kwan and Sylvia Syms in the story of an American architect's romance with a woman forced into prostitution on the streets of Hong Kong.
George Duning was Quine's natural choice to score the film.  The two men had been working together since Quine's first film, The Sunny Side of the Street.  Their collaboration continued with My Sister Eileen, Full of Life, Operation Mad Ball, Bell, Book and Candle, It Happened to Jane and Strangers When We Meet.  In the words of CD producer Bruce Kimmel, "Duning had an innate musical sense of what made Quine's films tick, and their collaboration together produced some unique and wonderful film scores, of which Suzie Wong is a classic example. It is filled with Duning's incredible gift for melody, starting with his stunning main theme and working its way through some of the best dramatic scoring Duning ever did, right up there with Picnic."  The renowned team of James Van Heusen and Sammy Cahn also wrote a song for the film called "Suzie Wong (The Cloud Song)," and Duning utilized that as a secondary theme throughout the score. For source music, Duning composed a number of original pieces as well as arranging choice standards.
The soundtrack to The World of Suzie Wong was released on RCA Records in 1960, with 35 minutes of score highlights (including source music cues). For this release, Kritzerland has presented Duning's entire score in film sequence, including Duning's original source music cues.  In the bonus section, you'll find all of the non-Duning source cues as well as the LP version of the main title and selected other alternates, odds and ends.  Kritzerland has derived this release from the original three-track album masters as well as the original scoring masters, all in stereo sound.
The World of Suzie Wong is limited to 1000 copies only and is available now for pre-order directly via Kritzerland.  CDs will ship the second week of June, but preorders placed at Kritzerland usually ship one to five weeks early (with an average of four weeks).  As a special bonus, a limited quantity of orders will be signed by Nancy Kwan, and autographed copies will be reserved on a first-come, first-serve basis as orders are received!
Richard Foreman and Stanley Silverman, Elephant Steps: A Fearful Radio Show (Columbia Masterworks M2X 33044, 1974 – reissued Masterworks Broadway, 2013)
Elephant Drone / Elephants (Stop Me From Shaking)
Elephant Heartbeats
Don't You Believe? / My Ears
All Shook Up
Read My Palms / My Hands Are Inside the Wall / Gavotte
Gypsy Tango / Shoot Them
You're on the Radio / Radio Waves
Read My Palm / Watch Me Move / I'm No Closer / Look at My Hands
Stop Seeing Reinhardt
Entr'acte / Watch Me Put My Right Foot Through the Door
I Am No Longer Beautiful / Beautiful As Is / We Sit in the Window
One and Two!
Midnight Sun
Photograph Song
Madrigals
I Live in That Room / Vaudeville Chase / Stirring Soup / A Strange Thing
Reinhardt
Mark "Moose" Charlap and Alvin Cooperman, Clownaround (RCA LSP-4741, 1972 – reissued Masterworks Broadway, 2013)
Clowns
You're a Clown
Here Are Your Children
Silhouette (Paper Heart)
Animal Band
Balloon
Thingamajig
Laugh Song
Sunny Day
I Need a Slip
Clown Alley
Clowns Say Goodnight (Not Goodbye)
George Duning, The World of Suzie Wong: Original Soundtrack Recording (Kritzerland KR-20024-4, 2013)
Main Title*/Suzie Sulks*
Suzie Leaves*/Mei Ling – Virgin*/Hong Kong Streets*
Balcony View
At the Namkok
Gwenny Lee
Suzie Wong Blues
Robert the Artist (outtake)/Suzie's Story*/Spoiled Kiss
Suzie Wong Mambo
Robert Miffed*
Aberdeen Caper*
Love Theme from Suzie Wong (outtake)
Suzie Siren
Love Declared*
The Ceremonial Robes*
Suzie's Baby/Robert's Compassion
Hurt Pride/Ah Tung/Groove for Suzie #1/Robert Searching*/More Searching*
Groove for Susie #2
Hong Kong Disaster/Temple Yard
End Title*
Main Title (Album Version)*
Out of Nowhere (Green–Heyman) (Album Version)
I'm in the Mood for Love (McHugh–Fields)
Spoiled Kiss/Hit the Road to Dreamland (Arlen–Mercer)
Lover (Rodgers–Hart)
Out of Nowhere (Film Version)  (Green–Heyman)
Sing You Sinners (Coslow–Harling)
Aberdeen Caper Part I*
Aberdeen Caper Part II*
Chinese Zither #2*
Portions originally released on RCA LSO-1059, 1960.
Tracks 20-29 are bonus tracks.
(*) Track includes "Suzie Wong (The Cloud Song)" by Cahn/Van Heusen