Everybody knows the music of Henry Mancini, whether the slinky jazz of "The Pink Panther Theme," the wistful nostalgia of "Moon River" or the jaunty charm of "Baby Elephant Walk."  But thanks to the dedication of labels like Intrada, Kritzerland, La-La Land and Quartet Records, more and more listeners are getting to know Henry Mancini the musical dramatist.  2012 saw a staggering number of Mancini soundtracks on CD – many appearing for the first time in complete form - arguably making him the best-represented classic film composer of the year.  And five months in, 2013 looks to be just as impressive a year for the versatile Mancini's impressive output.  Following its landmark reissue of his score to Vittorio De Sica's doomed romance Sunflower, Quartet Records has just issued the first-ever soundtrack album to one of Mancini's final projects: director Rockne S. O'Bannon's 1990 thriller Fear.  Not to be outdone, Intrada has just released a true holy grail for film score buffs: the original score to Blake Edwards' 1962 drama Days of Wine and Roses.  Like Fear, the music of Days of Wine and Roses has never been released in its original form until now.
Though best-known for his slapstick comedies and biting wit, Blake Edwards was equally at home with the darker side of human nature.  (Often Edwards' best work was both bleak and funny.)  He tapped Mancini - a close collaborator for 35 years -  to provide the score for Days of Wine and Roses, a look at one couple's descent into the depths of alcoholism.  Mancini and lyricist Johnny Mercer provided the film, starring Jack Lemmon, Lee Remick and Jack Klugman, with an Academy Award-winning title song which has been recorded by many of the all-time greats such as Frank Sinatra, Tony Bennett and Andy Williams.  Whereas Mancini re-recorded many of his classic scores of that era for the pop market at RCA Victor, no "soundtrack album" was ever released for Wine and Roses.  But there was much more to discover than just the title song.
Intrada's premiere release, produced in cooperation with Warner Bros. Pictures and the Mancini Estate, presents the many colors of his orchestral score.  It's largely built around variations of the title theme, including a striking guitar solo treatment and an elegiac rendition with strings.  Yet hauntingly dramatic cues sit alongside lighter, jazzy source pieces typical of his never-bettered classic-period sound.  In "Man Meets Girl," Mancini veers from mournful to seductive to unsettling, all in the same cue; the omnious "No Guts" epitomizes the tension that courses through the score.  There's relief in source cues like the jazzy "Hi-Fi," in which gentle vibes and piano mingle with flute and guitar.
This multi-layered score is mastered from the original mono tapes as mixed for the motion picture.  Intrada's release also includes a number of bonus tracks and source music cues of popular songs written by Cole Porter and the team of Al Dubin and Harry Warren.  Jim Lochner and Douglass Fake have provided copious liner notes.  No explanation is necessary, though - this is prime Mancini at his peak, merging his natural gift for melody with atmosphere and drama.   Intrada's limited edition will be available as long as "quantities and interest remain."  It can be ordered by clicking on the image above, or at the link after the jump!
Following the jump, we have the scoop on Fear, plus track listings and links for both titles!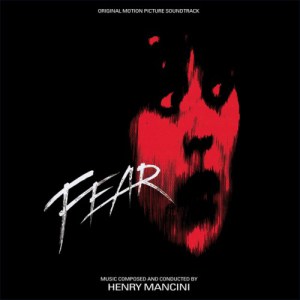 Ally Sheedy, Lauren Hutton and Michael O'Keefe starred in writer-director Rockne O'Bannon's psychological thriller about a psychic investigator whose special gift can connect her to murderers even as they commit their crimes. She's semi-retired when she's contacted by a killer with psychic powers of his own.  Soon, a cat-and-mouse game ensues which leads the two to a climactic showdown in a Hall of Mirrors where she must face not only the killer but her own fear.
Henry Mancini was no stranger to such dark territory, having crafted intense scores for films like Experiment in Terror, Wait Until Dark and  The Night Visitor.  In a sense, too, Fear was a spiritual heir to Mancini's rejected score to Alfred Hitchcock's Frenzy, another spine-tingling chiller.  The composer combined tense, evocative cues with electronic touches and even some of his trademark musical humor for Fear, but the score was almost never heard.  A soundtrack album was scrapped when the film didn't premiere in cinemas, and only "Casey's Theme" appeared on CD, re-recorded as part of the RCA album Mancini in Surround.  Quartet's 1000-unit limited edition presents the entire original score plus source music for nearly 65 minutes of late-career Mancini, still in full control of his considerable scoring powers.  The 12-page color booklet includes notes and track-by-track analysis by Gergely Hubai who drew on a new interview with the director of Fear.
For two different sides of Henry Mancini, separated by nearly 30 years, you can order Days of Wine and Roses and Fear at the links below directly from the labels, or at ScreenArchives.com.
Henry Mancini, Days of Wine and Roses: Original Motion Picture Soundtrack (1962, released as Intrada Special Collection Volume 242, 2013)
Days of Wine and Roses (Main Title)
Days of Wine and Roses (Guitar Source, Take 2)
Man Meets Girl
Hi-Fi II
Hi-Fi I
Gorgeous and Guilty
Kissed in the Greenhouse
Silly
Some Laughs
Off-Scene Hi-Fi
They Fired Me
Vanilla, Part I
Vanilla, Part II
Crazy Smell
Get in the Tub, Part I
Get in the Tub, Part II
A Gone Mommy
No Guts
A Sad Pop
I Want to Come Home
Cocktail Hour
Navel Engagement (Turkish Combo)
Days of Wine and Roses (Guitar Source, Take I)
What is This Thing Called Love (Cole Porter)
I Only Have Eyes for You (Warren/Dubin)
September in the Rain (Warren/Dubin)
Play Off for Trailer
Henry Mancini, Fear: Original Motion Picture Soundtrack (1990, released by Quartet, 2013)
Casey's Theme
Main Title
The Urge
Deadly Delivery
Snoopy
Ice Cream Truck
Jack's Tune
Contact
His First Call
Hand to Hand
Mr. Fear Strikes Again
Live Killing
Low Life
Trespasser
Visions of Fear
Her Greatest Fear
He Knows
Peek-a-Boo
Hall of Mirrors
The Chamber of Fear
Mr. Fear Goes Down
Casey's Theme (End Titles)
Carnival Source I
Carnival Source II
Carnival Source III
Carnival Source IV
Jack's Tune (Wild)
Airplane Source
Daybreak America Source
ActionLine News Source