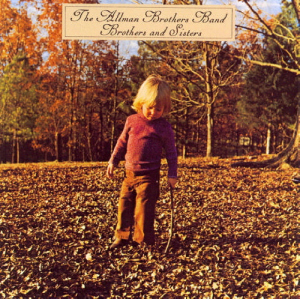 Though it was The Allman Brothers Band's fifth album, 1973's Brothers and Sisters actually marked a rebirth.  The tight-knit unit had weathered the tragic deaths of leader Duane Allman and Berry Oakley in 1971 and 1972, respectively.  The 1972 double album Eat a Peach would be the last to feature Duane's inimitable slide guitar, as he died during its recording.  And Oakley perished as sessions for Brothers and Sisters were occurring.  Yet the band soldiered on, and even flourished.  The completed Brothers and Sisters became a No. 1 album on the Billboard 200 (remaining in the top spot for five weeks) and spawned a No. 2 Pop single, "Ramblin' Man."  Now, forty years on, the album is being celebrated by Universal's Mercury label with a new anniversary reissue.  On June 25, a remastered edition of the platinum seller will arrive in four formats: vinyl, CD, 2-CD Deluxe Edition, and 4-CD Super Deluxe Edition.
The original album, clocking in at less than forty minutes, tightened the band's expansive musical style into something leaner, meaner and even more accessible.  But that didn't mean that the group toned down its expressive, distinct, blues-based musicianship.  Gregg Allman (vocals/organ/rhythm guitar), Dickey Betts (vocals/lead and slide guitars/dobro), Jai Johnny Johanson – or "Jaimoe" (drums/congas) and Butch Trucks (drums/percussion/tympani/congas) were joined by new recruits Chuck Leavell (piano/keyboards/vocals) and Lamar Williams (bass).  Berry's Oakley's original contributions, of course, remained on the album, including bass on Betts' hit single "Ramblin' Man."  Betts came into his own as a songwriter on Brothers and Sisters, writing the entirety of the second side.   The upbeat instrumental "Jessica," the radio-friendly "Southbound" (sung by Gregg) and the country-flecked "Pony Boy" added up to a virtual suite.  The original Capricorn Records release, produced by Johnny Sandlin with the band, featured a gatefold photograph of the Allman Brothers' extended family, underscoring the ties that still bound the band despite its losses.  (Vaylor Trucks, son of Butch, appeared on the bucolic front cover, and Brittany Oakley, daughter of Berry, appeared on the rear artwork.)
What will you find on Mercury's 40th anniversary editions?  Hit the jump to find out.  Plus: a full track listing and pre-order link!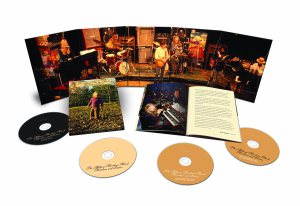 Naturally, the four-disc super deluxe edition is the centerpiece of the reissue campaign.  The first CD features the remastered original album.  CD 2 is dedicated to previously unissued jams, rehearsals and outtakes totaling nine tracks: rehearsals of "Wasted Words," "Trouble No More," "One Way Out," "I'm Gonna Move to the Outskirts of Town" and "Done Somebody Wrong"; outtakes of the instrumental "Southbound," "Double Cross" and "Early Morning Blues," and the recently-discovered performance, "A Minor Jam." The third and fourth CDs preserve the entire live concert from Bill Graham's Winterland Ballroom in San Francisco on September 26, 1973.  "Wasted Words," "Ramblin' Man," "Come and Go Blues," "Southbound" and "Jessica" from Brothers and Sisters were among the songs performed that night.  Only six out of seventeen tracks from this concert have already been commercially released.
If the four-disc edition strikes you as too much of a good thing, Mercury also has a slimmed-down 2-CD edition coming, which drops the concert discs.  And just the remastered original album will be available on vinyl and CD.  (All CD content will be available digitally, as well.)
The upcoming reissue of Brothers and Sisters looks to make a fine companion to the release earlier this year of the definitive Duane Allman compendium, Skydog: The Duane Allman Retrospective.  All formats are due on June 25, and can be pre-ordered below!
The Allman Brothers Band, Brothers and Sisters: 40th Anniversary Edition (Universal, 2013)
4-CD Super Deluxe Edition : Amazon U.S. / Amazon U.K.
2-CD Edition (CDs 1 & 2, below) : Amazon U.S. / Amazon U.K.
Original Album CD Remaster : Amazon U.S. / Amazon U.K.
Original Album Vinyl Remaster: Amazon U.S. / Amazon U.K.
CD 1: The Original Album (originally released as Capricorn CP 0111, 1973)
Wasted Words
Ramblin' Man
Come And Go Blues
Jelly Jelly
Southbound
Jessica
Pony Boy
CD 2: Rehearsals, Jams and Outtakes (all tracks previously unreleased)
Wasted Words
Trouble No More
Southbound
One Way Out
I'm Gonna Move to the Outskirts of Town
Done Somebody Wrong
Double Cross – Gregg Allman & The Allman Brothers Band
Early Morning Blues – The Allman Brothers Band & Gregg Allman
A Minor Jam
CD 3: In Concert: Live at Winterland, 9/26/73
Introduction by Bill Graham
Wasted Words
Done Somebody Wrong
One Way Out
Stormy Monday
Midnight Rider
Ramblin' Man
In Memory Of Elizabeth Reed
Statesboro Blues
Come And Go Blues
CD 4: In Concert, Continued
Southbound
Jessica
You Don't Love Me / Amazing Grace
Les Brers In A Minor
Blue Sky
Trouble No More
Whipping Post
All tracks on CD 3 & CD 4 are previously unreleased except CD 3, Tracks 1, 2, 4, 7-8 and CD 4, Track 1