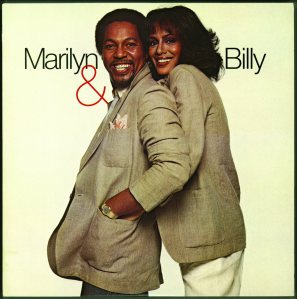 The July slate for Real Gone Music has been announced, and things are really heating up!  We've already filled you in at length about the pair of anthologies coming your way from Dionne Warwick, We Need To Go Back: The Unissued Warner Bros. Masters and The Complete Warner Bros. Singles, two of the most ambitious releases yet from the prolific label.  But that's not all.  Real Gone is completing their July 30 release schedule with a pair of long-awaited titles from Marilyn McCoo and Billy Davis, Jr., another pair from George Clinton's Parlet, and two truly outré gems from Tonto's Expanding Head Band (!) and the Brian Eno-produced Portsmouth Sinfonia.
Real Gone is heading into another Dimension for another pair of reissues - the 5th Dimension, to be exact.  When Marilyn McCoo and Billy Davis, Jr. departed the "champagne soul" vocal group to pursue success as a husband-and-wife recording career, they were quickly rewarded with the success of "You Don't Have to Be a Star (To Be in My Show)."  The song written by James Dean and John Glover, from their I Hope We Get to Love in Time LP, reached No. 1 on both the Pop and R&B charts, winning them a Grammy Award and going Top 10 in the U.K., as well.  But while I Hope We Get to Love in Time has been reissued on CD twice - once by Razor & Tie and once by Collectors' Choice Music - its two follow-ups have languished on vinyl.  Real Gone is bringing - at last! - The Two of Us (1977) and Marilyn and Billy (1978) to CD for the very first time.  The former has been expanded with the non-LP singles "I'm So Glad I Found You" and "There's Got to Be a Happy Ending," as well as with Billy Davis's solo singles "Light a Candle" and "Three Steps from True Love."  One bonus track adorns Marilyn and Billy, the extended 12-inch mix of "Shine On Silver Moon."  Mike Ragogna provides new liner notes for both reissues, and both albums have been remastered at Battery Studios.  Marilyn McCoo and Billy Davis, Jr. remain partners in marriage and music today, and these albums find them in their pop-soul vocal prime.
Hit the jump to dive into the rest of the Real Gone schedule, including pre-order links!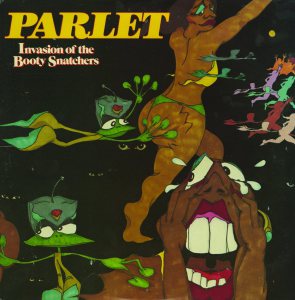 On the other end of the spectrum is a pair of releases from the all-girl funk group Parlet.  An offshoot of Parliament/Funkadelic, Parlet was led by Jeanette Washington and Debbie Wright, the first female members of the band.  The trio was rounded out by Mallia Franklin for 1978's Casablanca Records debut Pleasure Principle.  By the time of 1979's Invasion of the Booty Snatchers, Franklin and Wright had departed to be replaced by Shirley Hayden and Janice Evans.  In both configurations, though, Parlet was a vehicle for the wild and funky musical concepts of George Clinton, who was joined on Booty Snatchers by Holland-Dozier-Holland's longtime associate Ronald Dunbar.  Clinton is joined on the albums by Bootsy Collins, Glenn Goins, Bernie Worrell, Fred Wesley, and Gary Shider, among others. P-Funk's former Minister of Information, Tom Vickers, supplies new liner notes and memorabilia images for the return of these long out-of-print CDs.  Ronald "Stozo" Edwards, who supplied the original artwork for Booty Snatchers, has even contributed a new illustration.  Maria Triana has remastered at Battery Studios, and it all adds up to the definitive reissues of these funk floor-fillers.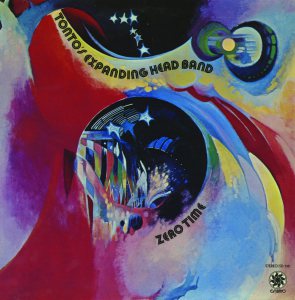 This summer, Tonto returns to the big screen in the personage of Johnny Depp.  But Real Gone isn't talking about the Lone Ranger's pal.  No, this Tonto is T.O.N.T.O., or The Original New Timbral Orchestra.  According to the Real Goners, it's "still the largest multitimbral polyphonic analog synthesizer in the world," which means that it can play simultaneous notes with different tone quality.  Thanks to synthesizer designer Malcolm Cecil, producer Robert Margouleff and their group Tonto's Expanding Head Band, the instrument was featured by Stevie Wonder on Music of My Mind, Talking Book and Innervisions and also appeared on albums by Weather Report, Stephen Stills, Quincy Jones, Steve Hillage and others.  Real Gone has unearthed Zero Time, the 1971 Embryo Records debut release from Tonto's Expanding Head Band, for its first ever domestic CD reissue.  Malcolm Cecil has remastered the album from the original analog tapes, and Richie Unterberger writes new liner notes with exclusive quotes from Cecil and photos from his archive.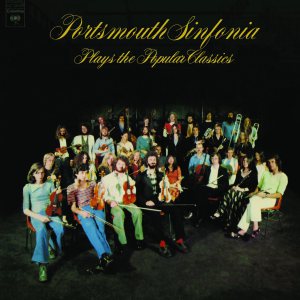 Last but not least comes what might be the oddest entry yet in Real Gone's growing catalogue.  Portsmouth Sinfonia was the brainchild of composer Gavin Bryars, who wished to bring classical music to the masses - by involving the masses.  He seized upon the frankly unusual notion of forming an orchestra composed of non-musicians, or of musicians playing a totally unfamiliar instrument.  He then led that orchestra in renditions of well-known classical pieces despite the fact that most of the orchestra members couldn't sight-read.  According to Real Gone, "the result was, ironically, hailed by some in the classical establishment as a profound exploration of the nature of music, as the trained musicians kept the orchestra more or less hewing close to the melody, while the untrained players' earnest attempts to perform the compositions, and the resulting missed notes, formed atonal 'clouds of sound' with a bare suggestion of the piece."  Others merely felt that Portsmouth Sinfonia was "the world's worst orchestra."  But something about Bryars' vision caught on.  The group played a sold-out concert at London's Royal Albert Hall, landed a recording contract, and caught the ear of one Brian Eno.  The ambient music innovator and soundscape creator extraordinaire produced Portsmouth Sinfonia's 1974 debut Plays the Popular Classics, and even joined the aggregation to play clarinet!  Real Gone's reissue is the first-ever rediscovery of this offbeat album, and includes new liner notes from Tom Pickles in addition to the original notes by Eno and conductor John Farley.  Fans of The Langley Schools Music Project or even The Shaggs might want to check this out...chances are you've never heard another album quite like this one!
All of the above-mentioned titles are set for July 30 release from Real Gone Music, and can be pre-ordered at the links below!
Real Gone Music - July 30 Releases
Dionne Warwick, The Complete Warner Bros. Singles (Amazon U.S. / Amazon U.K.)
Dionne Warwick, We Need to Go Back -- The Unissued Warner Bros. Masters (Amazon U.S. / Amazon U.K.)
Marilyn McCoo & Billy Davis, Jr., The Two of Us (Expanded Edition) (Amazon U.S. / Amazon U.K.)
Marilyn McCoo & Billy Davis, Jr., Marilyn & Billy (Expanded Edition) (Amazon U.S. / Amazon U.K.)
Parlet, Pleasure Principle (Amazon U.S. / Amazon U.K.)
Parlet, Invasion of the Booty Snatchers (Amazon U.S. / Amazon U.K.)
Tonto's Expanding Head Band, Zero Time (Amazon U.S. / Amazon U.K.)
Portsmouth Sinfonia, Plays the Popular Classics (Amazon U.S. / Amazon U.K.)