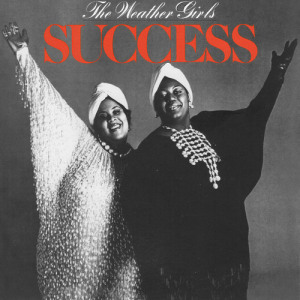 Everything about The Weather Girls' debut album, Success, was big.  The 1983 LP was the brainchild of producer/songwriter Paul Jabara, who modestly noted on the LP's back cover, "After working with Barbra, Donna and Diana – I began to get spoiled – I felt I could only work with 'giants in the industry!' I think I found them!"  And so the "Last Dance" and "No More Tears (Enough is Enough)" auteur turned his attention to Two Tons o' Fun.   Izora Rhodes Armstead and Martha Wash had toured with the one and only "Queen of Disco" Sylvester under that moniker between 1977 and 1981, and the name accurately reflected their big voices, outsized personalities and large girth.  But they were anointed in the title track of Success as "the toast of the eighties, The Weather Girls!"  Success – featuring, of course, "It's Raining Men" - has just been reissued by the Cherry Pop label in a definitive remastered edition (CRPOP 124), adding eight rare tracks to its original six.
Jabara's lavish productions were never known for their subtlety, and so the title song "Success" began with a Twentieth Century Fox-esque brass fanfare, a lion's roar, and soaring horns and strings courtesy of Broadway veteran and current Dancing with the Stars musical director Harold Wheeler (Promises, Promises, Dreamgirls).  Co-written by Jabara and Bob Esty (Cher's "Take Me Home"), "Success" plays like the Hollywood version of a Broadway musical finale in which the girls conquer the world…or at least, the stages of New York's Radio City Music Hall, Studio 54, and The Palace Theatre!  Esty and Jabara even briefly quoted the title song of Henry Krieger's Dreamgirls, which was surely no coincidence.  Dreamgirls' book and lyrics were written by Tom Eyen, who collaborated with Jabara on the notorious 1973 musical Rachael Lily Rosenbloom (And Don't You Ever Forget It).
Equal parts brass and sass, Success rarely takes a breather from the camp-infused fun.  Hit the jump for much more, including order links and the full track listing!
"Hungry for Love" begins with the Cole Porter inspiration of "I Love Paris," but the wittily risqué Porter was largely more subtle than composer-lyricist Jabara is here!  Wash and Rhodes have good, clean, dirty fun with the bawdy number.  The same goes for the energetic "Dear Santa (Bring Me a Man This Christmas)," in which they ask "Mr. C" for a little extra something under the tree this year.  Wheeler and rhythm arranger Ray Chew (today, the musical director of American Idol) pull out all of the stops for the song written by Jabara and Paul Shaffer, as do the Weather Girls with their full-out vocals as they ask to "turn the lights down low and let it snow!"  Santa also makes a special appearance on the track, offering a rather provocative ho ho ho for the love-starved, fun-loving ladies.  The musical in-jokes continue, too, with the song's introduction suggesting Mel Torme and Robert Wells' venerable "The Christmas Song."
Jabara and Shaffer also contributed The Weather Girls' signature song, "It's Raining Men."  An infectious dance anthem and a tongue-in-cheek paean to getting "soaking wet," it crossed lines of generation, sexuality, and gender.  "Men" went straight to the top of the U.S. Disco charts and also managed a not-unimpressive No. 46 Pop and No. 34 R&B chart placement.   Shaffer, longtime bandleader for David Letterman at both NBC and CBS, recalled in 2009 that "Paul Jabara called me up and said, 'I've got a great song for Donna Summer. I want you to write the song with me. What do you think about 'It's Raining Men'?' We wrote it in one afternoon. Lyrically she hated it, because she had become a born-again Christian. She thought it was blasphemous. She called Paul and said, 'I hate the song. Oh, we've lost you.' And then she sent him a Bible the next day. Paul went on to find Two Tons o' Fun and they tore it up!"  They certainly did, savoring each moment of Esty and Jabara's club-ready arrangement.  One wonders if the girls ever thanked Donna Summer for taking a pass on the song!
The most atypical track on Success is Esty and Jabara's soaring "Hope," an upbeat inspirational song in a pop-gospel vein.  It boasts some of the most impressive and impassioned vocals on the album.  The only song not written or co-written by Jabara was the finale, Richard Rodgers and Oscar Hammerstein II's "I'm Gonna Wash That Man Right Outa My Hair."  The song from 1949's South Pacific was actually a perfect lyrical fit for The Weather Girls, closing the album on a high note.  Rodgers, ever a stickler for fidelity to his musical notes as written, surely would have disapproved of the melodic liberties taken by Jabara and The Girls, but the sleekly modernized rendition speaks to the timelessness of his song.
Success featured the crème of the crop of session players and background vocalists (guitarist David Spinozza, bassist Lee Sklar, singers Patti Austin, Deniece Williams and Lani Groves), adding to its overall luster.  Jabara devised an ideal setting to make use of Wash and Rhodes' gospel roots in a stylized if irreverent R&B setting, and updated his disco sound for a new decade while retaining the same sense of anything-goes liberation.  It's showbiz, sure…but showbiz with a soulful heart.
Success, produced for reissue by Wayne A. Dickson of Cherry Pop's sister label Big Break Records, is packed with extra songs taken from the various singles issued in conjunction with the album.  "It's Raining Men" is heard three times, in its 12-inch, 12-inch instrumental, and 7-inch versions.  "Success" is presented twice, in its "Larger than Life" Remix and 12-inch Long Version (which is actually one minute shorter than the majestic album version!).  "I'm Gonna Wash That Man Right Outa My Hair" is here in 12-inch form, and "Dear Santa" is heard in its instrumental mix.  The disc is capped off by the 8+ minute, 12-inch medley of "It's Raining Men" and "I'm Gonna Wash That Man…"  (The non-LP B-side "Ladies' Hot Line" isn't included here.  Perhaps it will feature on an expanded edition of the 1983 Paul Jabara and Friends LP, where it took a spot alongside "It's Raining Men" and "Hope.")   All tracks have been splendidly remastered by Nick Robbins.  Stephen "SPAZ" Schnee has contributed new liner notes to the booklet, which also offers the original LP art and a number of colorful single sleeves.
Nothing succeeds like Success…or like excess.  Cherry Pop has celebrated The Weather Girls' light-hearted musical party platter in style with this enjoyably decadent new reissue.
The Weather Girls, Success (Columbia LP BFC-39887, 1983 – reissued Cherry Pop CRPOP 124, 2013) (Amazon U.S. / Amazon U.K.)
Success
Hungry for Love
Dear Santa (Bring Me a Man This Christmas)
Hope
It's Raining Men
I'm Gonna Wash That Man Right Outa My Hair
Success (12-Inch Larger Than Life Remix) (CBS TA 4401, 1984)
It's Raining Men (12-Inch Vocal Version) (Columbia 44-03181, 1983)
I'm Gonna Wash That Man Right Outa My Hair (12-Inch Mix) (Columbia 44-04024, 1983)
Success (12-Inch Long Version) (CBS A 4401, 1984)
It's Raining Men (12-Inch Instrumental Mix) (Columbia 44-03181, 1983)
Dear Santa (Bring Me a Man This Christmas) (Instrumental Version) (Columbia AS 1790, 1983)
It's Raining Men (Single Mix) (Columbia 38-03354, 1983)
It's Raining Men/I'm Gonna Wash That Man Right Outa My Hair (12-Inch Medley) (CBS TA 2924, 1984)