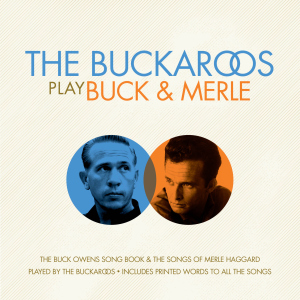 "Who's going to want to listen to the band with Don [Rich] playing the melody line to the song, when you could hear Buck [Owens] doing the real deal?" queried drummer Willie Cantu of The Buckaroos when called upon to record 1965's all-instrumental The Buck Owens Song Book.  Capitol Records surely thought there would be an audience for the LP, proclaiming on its back cover that "you too can sing Buck's country-western songs to the rousing, rhythmic playing of his buddy Don Rich and The Buckaroos!"  The original album has been out of print for many years now, but Omnivore Recordings is now giving you the chance to immerse yourself in the Bakersfield Sound.  The Buck Owens Song Book has been paired with The Buckaroos' The Songs of Merle Haggard (1971) as The Buckaroos Play Buck & Merle (OVCD-65).  Both Play Buck & Merle and the new expanded reissue of Buckaroo Don Rich's That Fiddlin' Man (OVCD-66) continue the Omnivore label's celebration of Bakersfield, California's favorite sons (and favorite songs).
Even sans lyrics, one gets the gist of Buck Owens' spirited music thanks to the Buckaroos' fine and faithful playing on The Buck Owens Song Book.  Don Rich (fiddle/guitar) was joined by Doyle Holly (guitar), Tom Brumley (steel guitar), Bob Morris (bass) and Willie Cantu (drums) for the set of twelve Owens classics.  Many of Owens' most beloved favorites were reprised by the band, including the breezy "Act Naturally" and rollicking "I've Got a Tiger by the Tail."  The performances are alternately rousing and reflective, with the group's distinctively rootsy, down-home sound.  These songs weren't recorded in a jazz style, so there's little improvisation and few individual showcases.  But there's plenty of delightful interplay from a tight and twangy group whose members were clearly attuned to one another.  Rich, of course, stands out, as does Tom Brumley, whose distinctive "Brumley Touch" on the steel guitar adds dimension to tracks including the wistful "Together Again."  The quintessential country weepers like "Second Fiddle" ("Will there never come a day/When I won't have to play the part/Of second fiddle in your heart?") and "Don't Let Her Know" ("Laugh, dance and sing, so she won't notice/The hurt that's still burning deep inside/And don't let her see the way I tremble/Don't let her know how much I cried") still resonate in the Buckaroos' sympathetic hands.
Roughly six years later, a new group of Buckaroos – still under the direction of Don Rich – recorded The Songs of Merle Haggard, recognizing the former Buckaroo who actually is said to have given the group its name.  For this LP, Rich was joined by his bandmates Jim Shaw (piano/organ/harmonica/Jew's harp), Doyle Curtsinger (bass/mandolin), Ronnie Jackson (banjo/rhythm guitar) and Jerry Wiggins (drums/percussion) on a selection from Hag's great songbook.  There are notable differences between the two tribute albums, and not just because of the new personnel or Haggard's rather more edgy material.  The Buckaroos employ vocals on The Songs of Merle Haggard, usually only on the choruses, and in a tasteful harmony style far-removed from the outlaw great's own style.
Jim Shaw's organ adds a new color to the Haggard album, but the Buckaroos' sound is still filled with traditional Bakersfield twang led by Rich's varied guitar tones.  Rich can be aggressive or romantic, leading sadly romantic songs like "Silver Wings" ("Silver wings shining in the sunlight/Roaring engines headed somewhere in flight/They're taking you away and leaving me lonely/Silver wings slowly fading out of sight") as well as politically incendiary ones like "The Fightin' Side of Me" (with its famous "If you don't love it, leave it" riposte) and the oft-misunderstood "Okie from Muskogee."  Ronnie Jackson gets to flex his banjo muscles on the rip-roaring, purely instrumental "Legend of Bonnie and Clyde," and the sound from the band and pianist Shaw is altogether lovely on the evocative memory play "Hungry Eyes."  One of Haggard's favorite themes, drinking, is represented with "Swinging Doors," and The Buckaroos vividly bring its barroom setting to life with their rendition.
The original liner notes for both albums are reprinted in Omnivore's new release, along with full lyrics for both albums.  (The original Haggard LP didn't contain printed lyrics, so these are a very welcome extra.)  The package, nicely designed by Greg Allen with a tip of the hat to the original Buck Owens Song Book style, also includes an illuminating Q&A session with Buckaroos Cantu, Curtsinger and Shaw.  (The latter two Buckaroos still perform every Friday and Saturday evening at Owens' Crystal Palace in Bakersfield!)
After the jump, we're taking a look at That Fiddlin' Man from the late, great Don Rich!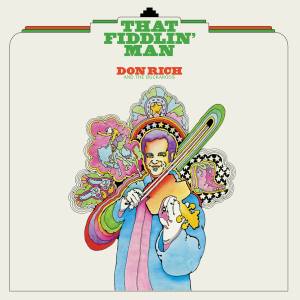 Don Rich is out front as That Fiddlin' Man on the 1971 Capitol album of the same name.  The LP was actually a compilation, and in the spirit of the original, Omnivore has bolstered its ten cuts with ten more.  All of its songs have been derived from The Buckaroos' substantial album catalogue as well as the band's instrumental solos on Buck Owens' own albums, released between 1963 and 1970.  The other members of The Buckaroos may have changed, but Rich's crystalline and confident instrumental voice remained.  Much of the band's success as a viable recording act in its own right can be attributed to Rich's familiar sound, one that blended so beautifully with his fellow musicians.  The Buckaroos recorded numerous albums for Capitol and even scored success on the country charts with their single releases.
As a songwriter, Rich is represented by thirteen of the twenty tracks on the new That Fiddlin' Man, a couple of which he co-wrote with Owens ("Cajun Fiddle" and "Kern County Breakdown").  Owens' "The Way That I Love You" (and his arrangement of the traditional "Bile 'Em Cabbage Down") also appears, and Buck can be heard playing guitar alongside his Buckaroos on a great many tracks, as well.  The fun-loving, playful spirit described in the new liner notes by Rich's children Vic and Vance Ulrich is apparent on songs like "Orange Blossom Special" (a concert staple) and his own "Down on the Bayou."  (Though born in Olympia, Washington, Don Rich clearly had an affinity with New Orleans as evidenced by "Cajun Fiddle," "Catfish Capers," "Louisiana Waltz," "Down on the Bayou" and "Going Home to the Bayou.")  There's a temptation to get up and join the rompin', stompin' hoedown on such energetic cuts as "Saturday Night" and "Pretty Girl Hoe Down," not to mention the ebullient (and punningly-named) "Buckersfield Breakdown."  One can picture a gathering of friends and family at a rural watering hole set to a soundtrack of Rich's "Fishin' Reel."
Rich's cleverness on his instrument comes through on his diverse choice of material, from self-penned waltzes ("Dublin Waltz," "Louisiana Waltz") to the atypical, haunting traditional "Greensleeves" and even a polka (the aptly-named "Fiddle Polka").  He could be reserved, or toss off one rapid-fire hot lick after another, but the energy level never flagged.  The quieter moments are among the most affecting; there's a pronounced cry in Rich's usually bright instrumental voice on Bob Wills' "A Maiden's Prayer" and Owens' touching "The Way That I Love You."
The original liner notes to That Fiddlin' Man join the new reflections from Rich's children.  The attractive package includes full discographical information and, in a nice touch, an image of each album from which a song is taken.  Both The Buckaroos Play Buck & Merle and That Fiddlin' Man have been splendidly remastered by Gavin Lurssen and Reuben Cohen.
Though the sound and style of country-and-western music have changed significantly over the years, the robust Americana of Buck Owens, Don Rich and The Buckaroos remains timeless.  You won't regret joining Omnivore on a warmly nostalgic excursion to the honky-tonk environs of Bakersfield.
You can order both titles just by clicking on the cover images, above!