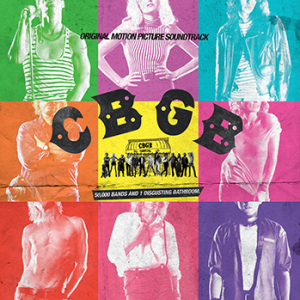 Though CBGB closed its doors at 315 Bowery on October 15, 2006 following a concert by Patti Smith, the legendary New York club never truly disappeared.  Though plans to open a new location in Las Vegas fell through - some might say, mercifully! - Hilly Krystal's famous club has survived in spirit.  CBGB Radio launched in 2010, the CBGB Festival of music hit the Big Apple in 2012, and the original awning even migrated to Cleveland's Rock and Roll Hall of Fame.  This October, CBGB gets another lease on life with the release of director Randall Miler's big-screen CBGB, starring Alan Rickman as the colorful proprietor Kristal.  The star of stage (Private Lives) and screen (Harry Potter) is joined by an ensemble including Johnny Galecki, Rupert Grint, Bradley Whitford, Malin Ackerman and Ryan Hurst for the film opening October 11 in New York, Los Angeles and other select cities.
No great rock film is complete, however, without a great soundtrack.  Omnivore Recordings and Rhino Records are teaming up to bring this musical portrait of CBGB to life.  On October 8, Omnivore will release CBGB: Original Motion Picture Soundtrack on CD and 2-LP vinyl, with the first vinyl edition to be pressed on translucent pink vinyl.  With Omnivore handling the physical release, Rhino will issue the digital version of the album.  Exclusive digital-only tracks are promised.
Though Hilly Kristal originally planned CBGB as a home for Country, BlueGrass and Blues, it wasn't long after the club's founding in 1973 that it became a hotbed for New York's vivid underground music scene.  Punk, new wave, and later, hardcore all became closely identified with CBGB, and the nightspot became part of the big city's lifeblood.  The Patti Smith Group, Joan Jett, The B-52s, Blondie, Talking Heads and the Ramones all made splashes on Kristal's small but immensely influential stage.
What will you find on the soundtrack album?  Just hit the jump!  We'll also have the full track listing and pre-order links!
The soundtrack album takes in music from artists who influenced the CBGB scene (The Velvet Underground, MC5, The Count Five, The Stooges) plus tracks from those acts closely identified with the club (Television, Wayne County, The Dictators).  Some of the most iconic groups of all time are featured here, too (The Police, Talking Heads, New York Dolls).  The album also contains a performance by Kristal himself ("Birds and the Bees") and a new recording of "Sunday Girl" by Blondie.  It adds up to an essential punk primer but also to a document of a time and place that likely won't soon be forgotten by popular culture.
Omnivore's soundtrack CD and LP hits stores on October 8, in time for the CBGB Music Festival to once again hit the Big Apple on October 9-13.  The film opens on October 11, as well.  Amazon links are not yet available, but you can order right now from Omnivore.  We'll update with Amazon links as soon as they become active.  Watch this space, too, for further details on Rhino's deluxe digital edition.
Various Artists, CBGB: Original Motion Picture Soundtrack (Omnivore Recordings, 2013)
Life During Wartime - Talking Heads
Kick Out the Jams (Uncensored Version) - MC5
Chatterbox - New York Dolls
Careful - Television
Blank Generation - Richard Hell & The Voidoids
Slow Death - Flamin' Groovies
I Can't Stand It - The Velvet Underground
Out of Control - Wayne County & The Electric Chairs
Psychotic Reaction - The Count Five
All For the Love of Rock 'n' Roll (Live) - Tuff Darts
All By Myself - Johnny Thunders & The Heartbreakers
California Sun (Original Demo) - The Dictators
Caught With the Meat in Your Mouth - Dead Boys
I Got Knocked Down (But I'll Get Up) - Joey Ramone
Get Outta My Way - The Laughing Dogs
Sunday Girl (2013 Version) - Blondie
I Wanna Be Your Dog - The Stooges
Sonic Reducer - Dead Boys
Roxanne - The Police
Birds and the Bees - Hilly Kristal