Sly Stone was a sponge.
After leading Bobby "Do You Wanna Dance" Freeman to a hit record with 1965's "C'mon and Swim," the writer-producer-artist formerly known as Sylvester Stewart knew he had hit on a good thing.  Hence, "I Just Learned to Swim."  Then, "Scat Swim."  But on the latter, Stone was already showing off his stylistic diversity, interrupting the beat to "slow it down a little so everybody can swim" and then speeding it back up again.  He had soaked up the fertile creative atmosphere in the Bay Area, studying the music of those around him and learning what made a hit record.  The prodigiously gifted young man had studied music theory and composition at junior college and had already served as a disk jockey and producer at Autumn Records before signing with his new, gender- and racially-integrated band The Family Stone at Epic Records; the rest, as they say, is history.
Sly and the Family Stone matchlessly melded raucous group vocals over a background of throbbing horns, thumping bass and churchy organ, providing a timely soundtrack to a decade of upheaval.  The sounds created by Stone and co. between 1967 and 1975 - give or take a few years on either side - have never been too far from the mainstream of popular culture, with the band's greatest hits remaining in frequent rotation on radio, on television and film soundtracks, and in the hands of hip-hop artists seeking that perfect sample.  Likewise, the core catalogue of Sly and the Family Stone has been a mainstay on compact disc, and the band's first seven albums were issued in remastered editions in 2007.  Though those were collected in one box set, the Family Stone's ouevre had never been anthologized in one career-spanning retrospective...until now.  Higher!, from Epic Records and Legacy Recordings (88697 53665 2), is a succinct, compelling 4-CD journey of discovery with Sly, his brother Freddie on vocals and guitar, his sister Rose on piano/keyboards, Jerry Martini on saxophone, Greg Errico on drums, Cynthia Robinson on trumpet, Larry Graham on bass and their cohorts.  Including familiar hits, deep cuts, rare mixes and a number of previously unissued tracks, it makes a potent case that Sly and the Family Stone was the right band for a turbulent time.  The group gleefully shattered both boundaries and expectations with a blend of soul, rock, R&B, psychedelia, jazz and funk, and made major strides in bringing the latter form into the mainstream.
Go Higher after the jump!
The chronologically-assembled package, produced by Bob Irwin, traces Stone's career from his early Autumn Records productions like "I Just Learned to Swim" through seven Epic studio albums, various rare single mixes, outtakes, live performances and curiosities.  The early material is among the most illuminating on the box set.  Stone's lithe, likeably funky Autumn-era instrumentals serve as prologue to the birth of the Family Stone on the rare 1967 Loadstone Records single "I Ain't Got Nobody (For Real)" b/w "I Can't Turn You Loose."  The A-side is a rhythmic, funked-up blues with a bit of proto-rap and an attack that would make Otis Redding proud.  And in fact, the flipside (also included here) is a brassy, mostly straightforward take on "I Can't Turn You Loose" distinguished by its soulfully groovy vocals and palpable energy.  The box's all-encompassing approach reveals that the band's first album wasn't exactly A Whole New Thing as the title promised, but a natural extension of the sound Sly Stone had been honing and was finally ready, with his Family Stone, to unleash upon a wider public.
That album didn't catch on, but the seeds of eventual success had been planted.  Sly's music was already strongly informed by his interest in the goings-on of the day both in the personal and the political sense.  The dark "Underdog" - an odd choice for the band's first Epic single - sympathized with the plight of anyone who might identify himself as such.  An undercurrent of menace marked its arrangement as it turned "Frere Jacques" on its head.  (A previously unissued instrumental  from 1967 entitled "Undercat" is a further exploration of the same musical concept; Stone frequently revisited, referenced and modified his past works in the manner of a jazz musician.)  On "Trip to Your Heart" - with its woozy vocals and cacophonous opening - Stone tapped into the psychedelic zeitgeist that the band would soon perfect.  Those were just two sides of Sly Stone, songwriter, however.  He was also unafraid to be unabashedly goofy, and more often than not, composed feel-good anthems that compelled listeners to empowerment - think not just "Underdog," but "Everybody is a Star" and "You Can Make It If You Try" - as well as to the dance floor.
Though Stone was the sonic auteur, he wrote and arranged to the strengths of the entire Family Stone, giving each member plenty of room to show off his or her versatility and impeccable musicianship.  Future Graham Central Station star Larry Graham was just one member to benefit from Stone's canny musical "casting."  He brought his resonant vocals to the band's sound as well as his bass guitar on tracks like "Bad Risk" and the torrid "Let Me Hear It From You."  With vocals shared by Sly, Freddie and Larry, A Whole New Thing boasted an aggressive, strong sound, if not a particularly traditionally melodic one.  So, armed with the directive to try something a bit more commercial, Sly and the Family Stone delivered - and how! - via a little song and album called Dance to the Music.
Even in the context of a box set, "Dance to the Music" explodes from the speakers.  It's included in its brash, brassy mono single version for maximum effect.  In the liner notes, Stone credits Dave Kapralik with instructing him to "just do something simple.  Because I had to sell records."  With that mission in mind, Stone distilled the elements of A Whole New Thing into a more accessible sound.  "Dance" was no less unorthodox than the material on A Whole New Thing.  It eschewed standard song form, with Sly addressing his bandmates to literally assemble the song as it went along.  The musicianship was so impeccable, the beat so infectious and the call to the dancefloor so stirring that the "simple" song proved impossible to ignore to radio programmers and record buyers.
Once again, Sly used his big success as a springboard for more musical invention. "Ride the Rhythm," on the Dance album, boasts some inventive wah-wah from Freddie and has many of the same elements as "Dance."  The 1968 follow-up LP Life even more closely references the sound and style of "Dance" with both "Love City" and especially "M'Lady."  But when Life failed to build on the success of its predecessor, the band upped the ante.  Higher! includes five of eight tracks from 1969's Stand!, or seven, if you count live versions of the anthemic title track and "You Can Make It If You Try."   Stand! , also the group's first Top 20 LP, introduced the Pop and R&B chart-topper "Everyday People" as well as "Sing a Simple Song" (Kapralik's advice set to music?) and "I Want to Take You Higher."  (That song's lyrical conceit is not a rare one on the box set; you'll also hear "Higher," a San Francisco spin on Stax soul, "I Get High on You" and "High.")  Like "Dance to the Music," mono single masters have been utilized for "Everyday People," "I Want to Take You Higher," "Sing a Simple Song" and more tracks here, bringing a welcome new dimension to some very familiar songs.
This was a period not only of hit records but of extreme creativity and inspiration.  "Sing a Simple Song" was, of course, anything but, demonstrating just how funky the band could be.  But Stone could be counted on to surprise, as he did with the hit 1969 single "Hot Fun in the Summertime."  It's perhaps the most "pure pop" song he ever recorded, an intoxicating and thoroughly groovy production with dreamy vocals, a catchy piano riff and his first use of strings on a record.  The sequencing of "Hot Fun" following "Sex Machine" from Stand! underscores the band's versatility.
And no sound was off-limits in the studio.  The box set reprises some tracks originally included on the Legacy expanded remastered albums that might not have been deemed suitable for the original LPs, but in this context sound just as vibrant as the released material.  These include "Seven More Days"- with its tribal drums, insinuating horns, tight harmony vocals, and a melody that threatens to go into pop territory then veers off - and "Pressure," with its Beatle-esque guitar part recalling "Drive My Car."
Waves were also being made on the stage.  When Sly and the Family Stone appeared at Woodstock in August 1969, they were at the vanguard of rock and soul.  While the Woodstock performances, already released by Legacy as The Woodstock Experience, aren't included on this box, the following year's performance at the Isle of Wight Festival is represented by four songs, two of which are previously unreleased.  (This is the same festival which Bob Dylan and The Band played, with their set just released in full on The Bootleg Series Vol. 10: Another Self Portrait.)
By the time 1970 rolled around, however, the band had begun to fracture, with Stone living in LA and the rest of the band remaining in the Bay Area.  The aforementioned "Hot Fun" and the double A-sided single of the sweet, positive "Everybody is a Star" with the sublime, bass-driven "Thank You (Falettinme Be Mice Elf Agin)" marked a transition for Sly and the Family Stone.  (All three songs were subsequently included on the band's Greatest Hits, and are presented here in their mono single versions.)  "Thank You" and "Star" marked their final recordings of the 1960s; when they returned in 1971 with "Family Affair," the sound was different - and considerably darker.  And so there's an inevitable wistful quality to Higher! by the time its fourth and final disc rolls around.  Covering the period of 1971-1977, it includes songs from the epochal funk-soul masterpiece There's a Riot Goin' On (1971), but only two more albums would follow: Fresh (1973) and Small Talk (1974).
It's impossible not to be jolted out of whatever torpor you might be experiencing when you hear "Family Affair."  Deep and dark, it employed electric piano and the then-rare device of a rhythm box, or drum machine, for its singular sound, while guests Billy Preston and Bobby Womack contributed organ and guitar, respectively.  This frighteningly resigned rumination anchored There's a Riot Goin' On, a moody, unflinching, dark and at-times disillusioned look at America circa 1971 written, produced, sung and played by the increasingly tortured Stone.  The LP is represented by six songs which emphasize that Riot (a No. 1 album on both the Pop and R&B charts) wasn't one-note; "Brave and Strong" is actually upbeat and poppy.   But Stone's slurred vocals and stoned (no pun intended) grooves - like "Spaced Cowboy," with its yodeling, sterile drum machine rhythm and murky atmosphere - proved that the sixties was, indeed, over.  The original band was over, too, with the departure of Greg Errico in 1971 and Larry Graham in 1972.  Work began on follow-up LP Fresh late in 1972.  (Graham would depart during its recording.)  The album was somewhat brighter than its predecessor, allowing for the ironic inclusion of Doris Day's signature "Que Sera Sera" in an unusual reinvention.  (It was the only cover song on an original Sly LP, and it's unfortunately not included here.)  But Higher! does preserve the best of Fresh with five tracks, the best of which is "In Time," showcasing new drummer Andy Newmark on another funk workout.  Mono single mixes are used for "If You Want Me to Stay," "Frisky" and "If It Were Left Up to Me."
Sly and the Family Stone's Epic tenure came to an end with 1974's considerably mellower Small Talk, with its cover photograph of Stone, his then-wife and child.  Its music was diverse, but topping the high-octane music that preceded it was no small task.  Higher! ambles to its own conclusion with a couple of Sly Stone solo sides recorded for Epic (such as single "Le Lo Li" with swelling strings, a gently danceable groove, tropical guitar and Dawn Silva's backing vocals), a 45 side by the "new" Family Stone with just Cynthia Robinson from the original band, and two unreleased tracks recorded between 1975 and 1977.  No material is included from Stone's remaining Epic and Warner Bros. albums, with or without the new Family Stone, or any of his subsequent, all-too-sporadic comebacks.
Those two songs, "Hoboken" and the inevitable "High" are just two of the seventeen previously unissued tracks on this collection.  Most impressive is the inclusion of nine shelved recordings from the band's July/August 1967 sessions, only two of which have been previously released.  The spare, jazz-inflected ballad "Silent Communication" beguiles with its off-kilter sensibility and delivery.  "I Get High on You" features stacked harmony vocals, and country-esque guitar licks.  (Another version from 1968 also makes its debut here.  Sly attempted the song yet again for his Warner Bros. album High on You in 1975.)  In another vein, "I Remember" is an unusually intimate relationship ballad.  The Graham-sung "What Would I Do" is one of the more commercial tracks on this box, with a straight-ahead lyric and memorable melody.  "I Know What You Came to Do" is pure gutbucket soul.  A rare cover was even attempted during this period, of folkies Jim and Jean's "What's That Got to Do with Me," and Stone revisited his Autumn catalogue with the instrumental "My Woman's Head," inspired by a Mojo Men track.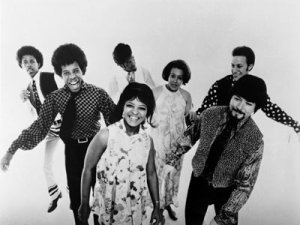 Of the remaining odds and sods, there's the Family Stone backing Epic artist Johnny Robinson on an unissued track "Dynamite," which explicitly references "Dance to the Music."  A thunderous band outtake entitled "Wonderful World of Color" - no relation to the Walt Disney program, natch - surfaces from 1968, with searing guitar, blaring horns, colorful organ, and pounding drums.  Reflecting in the liner notes on another instrumental standout, "Feathers," Cynthia Robinson actually recalls Sly feeling some of his tracks were too funky for mass consumption!
Housed in a 10 x 10" folder with slots for each disc, Higher! is a marvel to behold, largely thanks to its 106-page book that exceeds all expectations.  It's colorful and lavishly illustrated with photographs, images of 45s and memorabilia, sleeves and other miscellany related to the band's Epic tenure, and features an essay by Jeff Kaliss as well as indispensable track-by-track liner notes by Edwin and Arno Konings, edited by Alec Palao, drawing on quotes from the band members.  A historical timeline puts it all in perspective.  The book is your travel guide while listening as there's plenty to savor.  Vic Anesini has beautifully remastered the music on all four discs.
More often than not, getting Higher has gotten Sly Stone into trouble, and his personal demons and ensuing troubles over the years have been well-documented.  But Legacy's new box set puts all of that aside to concentrate on a decade-plus of consistent inspiration from one of the most powerfully-charged ensembles rock has ever known and its charismatic, prodigiously gifted leader.  And that just might be all that's needed to take you Higher!
Click here to order the Amazon-exclusive edition of Higher! at Amazon U.S., with a five-track bonus CD.  The standard box set is available to order at Amazon U.K. here.  A single-disc highlights version is also available (Amazon U.S. / Amazon U.K.)