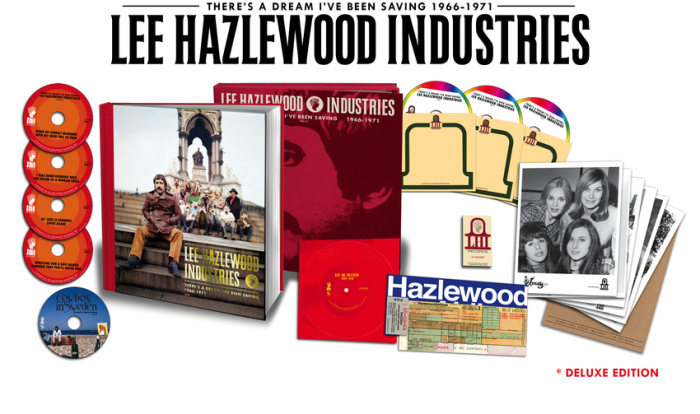 If you've been following Light in the Attic's ongoing Lee Hazlewood Archive Series, you've discovered a treasure trove of wild 'n' wooly music from the country-pop maverick.  But the past releases in the series are proving to be delicious appetizers for the just-announced main course.  On November 26, Light in the Attic will unveil There's a Dream I've Been Saving: Lee Hazlewood Industries 1966-1971.  This seven-years-in-the-making deluxe box set will be available as a 4-CD/1-DVD/1-flexidisc edition and an even more elaborate version adding three data DVDs containing WAVs and MP3s of 17 albums and 140 A and B sides from the LHI catalogue.
The Lee Hazlewood Industries label was a natural extension of the work Hazlewood created as a writer, producer and vocalist for a variety of artists at labels including MGM and most notably, Reprise.  At The House That Frank Built, Hazlewood taught Nancy Sinatra how to sing "like a 16-year old who goes out with 45-year old truckers" updated the Chairman's own sound with hits like "This Town," and delivered "Houston" to Dean Martin.  It's been  a Hazlewood renaissance in recent years; the Ace label has compiled collections dedicated to the psychedelic cowboy's songs and outside productions as well as his complete 1965-1967 recordings for MGM (made in between stints at Reprise) while Rhino Handmade has surveyed the Reprise years.  In 1966, however, Hazlewood founded LHI, where he not only recorded his own singular, off-the-wall brand of country/folk/pop/rock but released numerous albums and singles by a wide range of hand-picked artists.
What, exactly, will you find on this comprehensive compendium?  Hit the jump for more details including the track listing and pre-order link!
There's a Dream I've Been Saving celebrates LHI's brief but fertile period of creativity in lavish style, with a hardcover, clothbound, LP-sized book (12" x 12") joining its four CDs and one DVD.  Written by Jessica Hundley, the book tells the LHI story via interviews with Hazlewood and label alumni including Suzi Jane Hokom, plus a timeline, 27 artist profiles, and reassessments of key LHI albums.  Over 150 photographs can also be found in its pages.
The four CDs boast a total of 107 tracks, 14 of which are previously unreleased.  Discs 1 and 2 offer the entirety of Lee's solo LHI recordings, including every single and album (Cowboy in Sweden, Forty, The Cowboy and the Lady, and Requiem for an Almost Lady) plus a brace of previously unissued tracks.  These discs also cover his memorable duets with Suzi Jane Hokom and Ann-Margret.  Discs 3 and 4 sample the rest of the LHI catalogue, with tracks from artists such as Hokom, The Kitchen Cinq, Ann-Margret, Honey Ltd., The International Submarine Band, Arthur, The Aggregation, Sanford Clark, Lynn Castle, The Surprise Package, Virgil Warner, Don Randi, The Shacklefords and Hamilton Streetcar.  All tracks have been remastered; 95% have been derived from the original master tapes while the remaining 5% have been transferred from pristine vinyl sources.
The region-free DVD premieres a new digital transfer from the original 16mm master negative of Hazlewood's never-before-available 1970 film Cowboy in Sweden, fully restored with remastered sound.  Rounding out the package are a couple pieces of Lee-centric swag: a flexidisc capturing unheard studio chatter from Hazlewood, and a reproduction of his original embossed LHI business card.  In addition, five boxes will be packaged with a Golden Ticket for a free subscription to Light in the Attic's ongoing Hazlewood Archive Series.
If that's not enough Lee for you, LITA has a super deluxe version on tap.  This set adds three DVDs.  On the first disc you'll find the near-entirety of the LHI catalogue in 320 Kbps MP3 format (17 albums and 140 single sides, for a total of 305 songs).  (The International Submarine Band's LP is the only LHI album excluded here.)  DVD 2 includes the albums in WAV format, and DVD 3 has the singles as WAVs.  This edition is housed in a gold-foil clothbound clamshell box, and also adds six glossy photographs and a 1970 ticket from Hazlewood Airlines!
Light in the Attic will bundle online orders from the label's site with a limited edition 45 RPM single featuring two previously unreleased songs: "For a Day Like Today" (Take 4) by Suzi Jane Hokom b/w "Sweet Ride" (Demo) by Lee himself.  Pre-orders will begin shipping on November 19 per LITA's website.  Pre-orders are not yet being accepted at Amazon.com, but you can order directly from LITA – and check out sound samples – at the link below!  There's a Dream I've Been Saving: Lee Hazlewood Industries 1966-1971 is available on November 26.
Various Artists, There's a Dream I've Been Saving: Lee Hazlewood Industries 1966-1971 (Light in the Attic LITA 109, 2013) (Amazon U.S. - Standard Edition)
CD 1: Woke Up Sunday Morning with My Head Full of Pain
Pray Them Bars Away - Lee Hazlewood
Leather and Lace - Lee Hazlewood & Nina Lizell
Forget Marie - Lee Hazlewood
Cold Hard Times - Lee Hazlewood
The Night Before - Lee Hazlewood
Hey Cowboy - Lee Hazlewood & Nina Lizell
No Train to Stockholm - Lee Hazlewood
For a Day Like Today - Suzi Jane Hokom
Easy and Me - Lee Hazlewood
What's More I Don't Need Her - Lee Hazlewood
Vem Kan Segla (I Can Sail Without the Wind) - Lee Hazlewood & Nina Lizell
Trouble Maker - Lee Hazlewood
Califia (Stone Rider) - Lee Hazlewood & Suzi Jane Hokom
Alone - Lee Hazlewood & Suzi Jane Hokom
I'll Never Fall in Love Again - Lee Hazlewood & Suzi Jane Hokom
No Body Like You - Lee Hazlewood & Suzi Jane Hokom
First Street Blues - Suzi Jane Hokom
I'm Glad I Never - Lee Hazlewood
If It's Monday Morning - Lee Hazlewood
L.A. Lady - Lee Hazlewood
Won't You Tell Your Dreams - Lee Hazlewood
I'll Live Yesterdays - Lee Hazlewood
Little Miss Sunshine - Lee Hazlewood
Stoned Lost Child - Lee Hazlewood
Come On Home to Me - Lee Hazlewood
Must Have Been Something I Loved - Lee Hazlewood
I'd Rather Be Your Enemy - Lee Hazlewood
CD 2: I Was Born Running Wild the Victim of a Woman Child
Sleep in the Grass - Lee Hazlewood & Ann-Margret
Chico - Lee Hazlewood & Ann-Margret
Am I That Easy to Forget - Lee Hazlewood & Ann-Margret
Only Mama That'll Walk the Line - Lee Hazlewood & Ann-Margre
Greyhound Bus Depot - Lee Hazlewood & Ann-Margret
Walk On Out of My Mind - Lee Hazlewood & Ann-Margret
Hangin' On - Lee Hazlewood & Ann-Margret
Victims of the Night - Lee Hazlewood & Ann-Margret
Break My Mind - Lee Hazlewood & Ann-Margret
You Can't Imagine - Lee Hazlewood & Ann-Margret
Sweet Thing - Lee Hazlewood & Ann-Margret
No Regrets - Lee Hazlewood & Ann-Margret
Dark End of the Street - Lee Hazlewood & Ann-Margret
It Was a Very Good Year - Lee Hazlewood
The Bed - Lee Hazlewood
Paris Bells - Lee Hazlewood
Wait Till Next Year - Lee Hazlewood
September Song - Lee Hazlewood
Let's Burn Down the Cornfield - Lee Hazlewood
Bye Babe - Lee Hazlewood
Mary - Lee Hazlewood
For Once in My Life - Lee Hazlewood
I Just Learned to Run - Lee Hazlewood
Me and the Wine and the City Lights - Lee Hazlewood
Nothin's Gonna Blow My Mind - Lee Hazlewood
CD 3: Ol' Zues is Running Loose Again
Rose Colored Corner - Lynn Castle w/Last Friday's Fire
Need All the Help I Can Get - The Kitchen Cinq
You Better Go - Raul Danks & Jon Taylor
I Can't Help the Way I Feel - Last Friday's Fire
Tomorrow Your Heart - Honey Ltd.
Come On Sunshine - Suzi Jane Hokom
Little War - Suzi Jane Hokom
If You Climb on the Tiger's Back - Danny Michaels
The Street Song (New York's My Home) - The Kitchen Cinq
I Want You - The Kitchen Cinq
Puppetry - Raul Danks & Jon Taylor
Pastel Dreams - Michael Gram
And They Are Changing - Danny Michaels
Does Anybody Know - A Handful (Kitchen Cinq)
Wasn't It You - A Handful (Kitchen Cinq)
Silk 'n' Honey - Honey Ltd.
Invisible People - Hamilton Streetcar
Flash - Hamilton Streetcar
Maharishi - The Aggregation
Flying Free - The Aggregation
Something's Happening - Last Friday's Fire
You Turned My Head Around - Ann-Margret
It's a Nice World to Visit (But Not to Live In) - Ann-Margret
Sam - Ann-Margret
New Way Home - The Surprise Package
The Lady Barber - Lynn Castle w/Last Friday's Fire
When We're Talked About Tomorrow - Colleen Lanza
Sunshine Soldier – Arthur
CD 4: Whistling for a Dog Named Kindness That You'll Never Find
The Black Widow Spider - Sanford Clark
Dying Daffodil Incident - A Handful (Kitchen Cinq)
Lady Bird - Virgil Warner & Suzi Jane Hokom
Summer Wine - Virgil Warner & Suzi Jane Hokom
Emmy - Ray Chafin
Luxury Liner - International Submarine Band
California Sunshine Girl - The Shacklefords
It's My Time - The Shacklefords
Hands - Danny Michaels
Same Old Songs - Suzi Jane Hokom
Reason to Believe - Suzi Jane Hokom
The Man I Was Yesterday - Virgil Warner
Dusty Roads - Eve
Hello L.A., Bye Bye Birmingham - Eve
Warm Miami Sunshine - Joe Cannon
Lonesome Wheels - Joe Cannon
Cold Hard Times - Joe Cannon
Peppermint Morning - Rabbitt
Goin' On - Phoenix 70
Friday's Child - Billie Dearborn
I Feel Love Coming On - Jon Christian
Ten or Eleven Towns Ago - Barbara Randolph
Miracle on 19th Street - Barbara Randolph
Cheap Lovin' - Barbara Randolph
Chain of Fools - Don Randi
Angry Generation - The Woodchucks
The Start - Larry Marks
Deluxe Edition:
Adds LHI catalogue as both WAVs & MP3s (320 Kbps) – covering 17 albums and 140 A&B sides. 3 DVDs exclude The International Submarine Band LP.  Contents as follows:
DISC 1: LHI catalog (MP3 w/cover art)
DISC 2: LHI LPs (WAV w/cover art)
DISC 3: LHI 45 Singles (WAV w/label art)