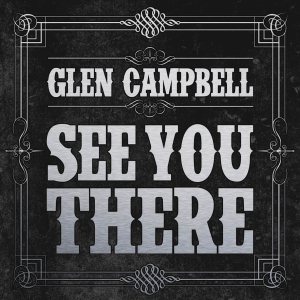 Since 1967, it's been difficult to think of Glen Campbell without thinking of Jimmy Webb – and vice versa. When the ace session guitarist interpreted the young songwriter's "By the Time I Get to Phoenix" on the album of the same name, the result wasn't just a Grammy-winning hit single, but the beginning of a partnership that's survived through six decades. Campbell scored successes with a string of Webb's songs in the late 1960s ("Wichita Lineman," "Galveston," "Where's the Playground, Susie"), celebrated his friend's ouevre with the 1974 LP Reunion, and tapped Webb for the title song of 1979's Highwayman, later recorded by Johnny Cash, Waylon Jennings, Kris Kristofferson and Willie Nelson. When Campbell departed Capitol for Atlantic Records in the early eighties, Webb was there with "I Was Too Busy Loving You" (Old Home Town), "Cowboy Hall of Fame" and "Shattered" (It's Just a Matter of Time). The 1987 MCA album Still Within the Sound of My Voice notched Campbell a Top 5 Country hit with its title song, penned by Webb, and the following year's Light Years was almost a proper sequel to Reunion, with eight of ten tracks from Jimmy. And when the singer took an even greater leap to the realm of contemporary Christian music, the Oklahoma-born minister's son joined him with compositions like "Where Am I Going," "The Four Horsemen" and "Only One Life."
Flash-forward to the present day. Campbell, in a valiant fight with Alzheimer's, recorded a "farewell"-style album, 2011's Ghost on the Canvas (a stark collection of original compositions and songs new to Campbell, all helmed by producer Julian Raymond) and completed his victorious "Goodbye Tour." But Surfdog Records revealed earlier this year that, during sessions for Ghost, Campbell found time to re-record a number of classics from his back catalogue. These vocal tracks, augmented with spare new instrumentation by producers Dave Darling and Dave Kaplan, form the basis of Campbell's latest (final?) studio album, See You There. In what can only be described as a coincidence, Jimmy Webb released his most recent studio album less than a month following Campbell's. His Still Within the Sound of My Voice – titled after his finest interpreter's 1987 hit – also revisits his own past triumphs in stripped-down fashion. Both albums are nostalgic but fresh reinterpretations by two venerable musicians who have created a songbook for the ages.
On See You There (Surfdog 1-18012), Campbell's voice is placed out front. It's still robust when called for, but most often burnished and wizened. The arrangements are spare, especially when compared to the grand orchestral productions of the 1960s, but envelop Campbell in an earthy, dark-hued blend of acoustic guitars, dirty electric ones, thick bass, slide, pedal steel, banjo, dobro and occasionally retro percussion. The result emphasizes the intimacy and directness in Campbell's weathered voice, and is frequently heartbreaking. It also spiritually recalls Johnny Cash's late-career American Recordings made under the aegis of Rick Rubin. "The road of life is a long, long road, when you walk alone," he intones on "Hey Little One," a rootsy take on the 1968 Top 20 Country/AC hit. He's piercing as he confesses, "Then I found you, and I found a love/A love I've never known," his age adding a completely new, sadder dimension to the familiar Dorsey Burnette/Barry DeVorzon song.
Three recent songs co-written by Julian Raymond and Campbell are reworked to equally strong effect including the touching "There's No Me...Without You," which sounds as timeless as any of the staples that have preceded it, and the powerful "What I Wouldn't Give." Their third collaboration, "Waiting on the Comin' of My Lord," is heard in both its original outtake version from Ghost on the Canvas and the stripped-down version. As Campbell confidently asks Jesus to "take my hand and guide me to the Promised Land," assuring us that "this is just a temporary stop for me, 'cause I'm on that train to Jordan town....," he's facing his mortality with a brave and reassuring face.
Four Webb songs are tackled ("Wichita Lineman," "By the Time I Get to Phoenix," "Galveston" and the lesser-known "Postcard from Paris," originally a bonus track on Ghost on the Canvas under the alternate title of "Wish You Were Here". Campbell is particularly affecting on a mournful reading of "Phoenix," and he likewise mines the deep well of emotion on "Wichita Lineman" even when flubbing the lyrics' "main road/overload" rhyme as "main roads/overload." Viola and gentle background vocals enhance the "Wish you were here" refrain of the wistful "Postcard from Paris." A thumping, muffled drum adds to the raw and yearning "Galveston," as powerful an anti-war statement as any, and one with particular resonance today.
After the jump: more on Glen Campbell, plus Jimmy Webb's new Still Within the Sound of My Voice!
The biggest surprises are the stark takes on Elmer Bernstein and Don Black's movie theme "True Grit" and especially Larry Weiss' big seventies-pop hit "Rhinestone Cowboy." The former lives up to its title more than it did even on its original recording, with Campbell solemnly imparting the wisdom of Black's lyrics to the "little girl" he addresses: "One day, little girl, the sadness will leave your face/As soon as you've won your fight to get justice done...Some days, little girl, you'll wonder what life's about/But others have known, few battles are won alone..." But "Rhinestone Cowboy" is the revelation. Gone is the glossy AM pop production, replaced with a distorted guitar alone. The bravado Campbell once had, too, is absent, replaced by a fragility tempered with steely resolve. The song sounds less triumphant than guardedly optimistic, with a determination to make the lyrics true from someone who won't be washed away by the snow or the rain or anything else in his way. In short, the smile's not hiding the pain any longer.
Jimmy Webb works similar feats of magic on Still Within the Sound of My Voice (eOne E0M-CD-2395), a follow-up to Just Across the River. On that 2010 album, Webb welcomed numerous friends to join him on new renditions of favorite tunes, most in a country-and-western vein. These all-star matches included Billy Joel on "Wichita Lineman," Lucinda Williams on "Galveston," Jackson Browne on "P.F. Sloan," Linda Ronstadt on "All I Know," and Glen Campbell on "By the Time I Get to Phoenix." Though none of the songs on the first volume are repeated on Still Within the Sound of My Voice, this is most definitely not an album of diminishing returns or lesser material. If anything, it's a little more adventurous than its predecessor. This time around, Webb welcomes a wide variety of guest artists such as Carly Simon, Brian Wilson, Art Garfunkel, David Crosby and Graham Nash, Rumer, Keith Urban, Kris Kristofferson, Joe Cocker and Lyle Lovett. The songs, too, are drawn from all periods of Webb's career, but are unified by their compositional sophistication and lyrical elegance.
Webb's longtime friend Fred Mollin produced the album's tracks in Nashville with a crack band playing piano, acoustic and electric guitars, bass, piano/organ/keyboard, drums, fiddle, mandolin, accordion, steel guitar and dobro. These musicians – Matt Rollings, Bryan Sutton, John Willis, Pat Buchanan, Larry Paxton, Greg Morrow, Stuart Duncan, Jeff Taylor and Paul Franklin – instinctively understand that Webb's songs are true "Americana," adaptable to various genres and idioms as the best folk songs or Tin Pan Alley standards are. On the rise in the 1960s, the young composer-lyricist bridged the gap between pop and rock and country, and today his songs once described as "MOR" are rightfully recognized as part of the same pivotal chapter of American popular song as Burt Bacharach or Paul Simon, not to mention their forebears.
So many of Webb's great movies-in-miniature explore the recesses of memory, finding tremendous beauty in melancholy. "Elvis and Me," originally recorded on his Suspending Disbelief album, is an affectionate recollection in tribute to The King, made doubly touching by the presence of Presley's longtime backing group, The Jordanaires. (The recording is the final one made by the last surviving original member, Gordon Stoker, who died early in 2013.) Webb's rough-hewn voice is expressive on "Elvis and Me" and throughout the entire album. Though others from Campbell to Sinatra might have sung his music more mellifluously, Webb's own, sure sense of storytelling has always made his a welcome voice on record. The memory of an ex-lover is a particularly vivid theme explored by Webb on numerous occasions. David Crosby and Graham Nash bring their unmistakable harmonies to support him on "If These Walls Could Speak," the kind of poetic interior monologue that nobody writes like Jimmy Webb. Just as gripping is "Still Within the Sound of My Voice," gorgeously recast as a duet with Rumer. The younger singer, who recently scored a hit in the U.K. with Webb's "P.F. Sloan," provides her creamy vocals in contrast to his huskier sound. Another remarkable duet reinvention comes from Carly Simon. She brings her smoky, sensual tone to "Easy for You to Say," the reflection of a lover acerbically confronting his ex. The song – rendered by Simon and Webb as a duet by two onetime partners now out of love – is so intimate that you might feel you're uncomfortably eavesdropping. It's subdued, with tension bubbling just beneath the surface - and all the more impressive considering Webb and Simon didn't record their vocals in the same room!
Keith Urban lends his warm presence to another portrait of a fragile relationship, "Where's the Playground Susie." One of the sad, evocative songs Webb effortlessly crafted for Campbell in the late sixties, "Susie" uses vivid childhood imagery in its mature rumination. A country hero of an earlier generation, the venerable Kris Kristofferson, adds gravitas to the twangy "Honey Come Back." Webb reveals in his terrific, detailed track-by-track liner notes that the old-fashioned, three-hanky weeper was never a favorite of its originator, Glen Campbell, due to its "talkin' part." But Kristofferson brings a smile with his gravelly recitation of the maudlin opening monologue. A western-themed country-rock original, "Rider from Nowhere," is graced with the subtle support of two gents who know the territory well: Gerry Beckley and Dewey Bunnell of America. Lyle Lovett duets on "Sleepin' in the Daytime," an environmental lament given a roots-rock makeover.
So many of the artists represented here (including many mentioned above) have long histories with Webb. Art Garfunkel introduced "Another Lullaby" on his 1973 album Angel Clare; here, it's sung with Marc Cohn, but Garfunkel shows up for "Shattered," one of a number of Webb's songs on Linda Ronstadt's 1989 Cry Like a Rainstorm, Howl Like the Wind. That album also featured a hit rendition of "Adios," on which Webb is joined here by Amy Grant, the female voice of his Animals' Christmas cantata opposite...Art Garfunkel. Further underscoring the history between Webb and so many of this album's guests, Ronstadt was backed on the original recording by Brian Wilson. The Beach Boys leader pops up here, too, on Webb's most divisive song, the epic "MacArthur Park." The stripped-down version on Webb's Ten Easy Pieces album of 1996 was a revelation to those only familiar with Richard Harris' grandiose original or Donna Summer's chart-topping disco floor-filler. Now as then, Webb treats his lengthy composition with a sad, tender simplicity and passion that renders its lyrics far from oblique or psychedelic. Wilson pitches in with ethereal harmonies, joined by his band's Jeffrey Foskett, and Jerry Douglas adds color with his dobro. (Douglas is also heard on "Easy for You to Say.")
If you've ever left a cake out in the rain, wondering whether you'd ever have that recipe again, chances are you'll relate to the universal songs of love and loss on Glen Campbell's See You There and Jimmy Webb's Still Within the Sound of My Voice. Do these new recordings replace the originals? Of course not. But great music is ageless, and the songs on these two discs have stood the test of time. To experience them in a new light is an opportunity worth taking.
You can order both discs by clicking on the album covers!