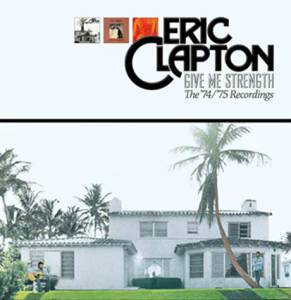 What's better than one deluxe edition of an Eric Clapton album?  How about three?  And how about if they're housed in one package?
On November 26 December 10, Universal Music Group will unveil the 5-CD/1-Blu-ray box Eric Clapton – Give Me Strength: The '74/'75 Recordings, featuring remastered and expanded versions of 461 Ocean Boulevard, There's One in Every Crowd and E.C. Was Here, plus additional material and a Blu-ray of surround mixes.  Housed in a hardbound 60-page book, the box set is an exhaustive compendium of Clapton's seminal "comeback" recordings between April 1974 and June 1975.  Give Me Strength follows Universal's past boxes dedicated to Derek and the Dominos' Layla and Other Assorted Love Songs and Clapton's 1977 Slowhand, and includes:
88 remastered, remixed, rare unreleased and live recordings, including session outtakes, from studio albums 461 Ocean Boulevard and There's One in Every Crowd, and live album E.C. Was Here on 5 CDs;
A new, never-before-released 5.1 surround sound mix of 461 Ocean Boulevard by Elliot Scheiner, and original quadraphonic mixes of 461 Ocean Boulevard and There's One in Every Crowd.
When Clapton scored in 1974 with 461 Ocean Boulevard and its chart-topping single "I Shot the Sheriff," both on Robert Stigwood's RSO label, the guitar god was emerging from a period of relative inactivity.  Following the November 1970 release of Derek and the Dominos' sole long-player Layla and Other Assorted Love Songs and the ensuing tour at the end of that year, Clapton kept a low profile for much of 1971 and 1972 to battle an ongoing drug problem.  (His participation in The Concert for Bangla Desh was one appearance during that dark period.)  Two January 1973 concerts yielded the September release of Eric Clapton's Rainbow Concert, on which he was joined by fellow rock royalty including Pete Townshend, Ronnie Wood, Ric Grech, Steve Winwood and Jim Capaldi.  In early 1974, he found time to appear in Ken Russell's starry film adaptation of Townshend's Tommy.  But Clapton signaled that he truly was out of the darkness – for the time being, at least – with the arrival of 461 Ocean Boulevard, so named for a Golden Beach, Florida residence where the cover photograph was shot.
We have plenty more after the jump, including the full track listing and pre-order links!
The Tom Dowd-produced 461 Ocean Boulevard, recorded at Miami's Criteria Studios, featured Clapton as leader of a band including George Terry, Dick Sims, former Domino Carl Radle, Jamie Oldaker, and Jesus Christ Superstar songstress Yvonne Elliman.  (Trivia Note: There are a few Bee Gees connections to the album.  The Gibb Brothers also called RSO home and recorded many of their most memorable hits at Criteria.  Elliman would go on to achieve a U.S. No. 1 hit with the Gibbs' "If I Can't Have You," while their frequent collaborators Karl Richardson, as engineer, and Albhy Galuten, playing piano and keyboards, also worked on Ocean Boulevard.)  Anchored by the smash hit reinterpretation of Bob Marley's "I Shot the Sheriff," the LP soared to No. 1 in the United States and No. 3 in the United Kingdom.  Universal's 2004 2-CD Deluxe Edition added five bonus tracks and a Live at Hammersmith Odeon, London disc recorded on December 4 and 5, 1974.  Of the five session outtakes appended there, all of which had been previously released on various Clapton compilations, all but one ("B Minor Jam") is reprised on the new box set.  The Hammersmith disc also hasn't been included, though tracks from the concert were included on E.C. Was Here.
In March 1975, just months after the July 1974 release of Ocean Boulevard, Clapton issued There's One in Every Crowd, recorded with the same band and producer. Following the success of the reggae-flavored "I Shot the Sheriff," the group traveled to Jamaica to record the LP.  It didn't meet the same success as its predecessor, however, perhaps because that album was still fresh on listeners' minds.  The single "Swing Low, Sweet Chariot" – a reggae version of the gospel staple - did make the Top 20 in the U.K., as did the album itself.  In the U.S., the album only reached No. 21 on the Billboard 200.  For its first expanded edition in this box set, Universal has added five outtakes (two previously unreleased) and both sides of the 1975 single "Knockin' on Heaven's Door" b/w "Someone Like You."
E.C. Was Here followed There's One in Every Crowd, and the live record – preserving 1974 and 1975 tour performances with his Ocean Boulevard/Crowd band – served as a reminder that Clapton hadn't lost any of his primal blues power as a guitarist.  Though the original album, released in August 1975, included just six tracks, two were from Clapton's Blind Faith Days – "Presence of the Lord" and "Can't Find My Way Home."  Recent hit "I Shot the Sheriff" wasn't even included on the album overseen again by Tom Dowd.  Over the years, more tracks recorded for E.C. Was Here have trickled out on various compilations and boxes.  For its appearance on Give Me Strength, E.C. Was Here has been expanded to 16 tracks over 2 CDs, and has also been fully remixed.  Four never-before-heard tracks from the Long Beach Arena concert of July 20, 1974 are among the added treats here.  The setlist is now much more diverse, with additions from the Cream catalogue ("Badge"), Ocean Boulevard ("I Shot the Sheriff," "Willie and the Hand Jive/Get Ready") and One in Every Crowd ("The Sky is Crying").
The fifth CD, The Freddie King Criteria Studios Sessions, collects four tracks – including the full-length, 22-minute "Gambling Woman Blues" - recorded when one of Clapton's heroes, guitarist-singer King (1934-1976) joined him in Miami for a rip-roaring jam session.  The Blu-ray premieres surround guru Elliot Scheiner's new 5.1 mix of 461 Ocean Boulevard plus a couple of bonus tracks as well as the original quadraphonic (4.0) mix.  A wholly different 5.1 mix produced by Simon Climie and mixed by Mick Guzauski was issued on SACD in 2004.  The quad mix of There's One in Every Crowd is also included; it was previously available on a DTS disc so the BD appearance is a significant sonic upgrade.
John Lynskey provides new liner notes for Give Me Strength's book, which also includes photographs and behind-the-scenes images.  In addition to the CD box set, the original three albums will be reissued on vinyl as a 3-LP set.  You can order Give Me Strength: The '74/'75 Recordings, due in the U.S. on December 10, at the links below!
Eric Clapton, Give Me Strength: The 1974/1975 Recordings (Polydor/UMe, 2013) (Amazon U.S. / Amazon U.K.)
* denotes previously unreleased tracks
Disc 1: 461 Ocean Boulevard (released as RSO Records SO 4801 (U.S.)/3803 038 (U.K.), 1974) and bonus material
Motherless Children
Give Me Strength
Willie and the Hand Jive
Get Ready
I Shot the Sheriff
I Can't Hold Out
Please Be with Me
Let It Grow
Steady Rollin' Man
Mainline Florida
Ain't That Lovin' You (from Crossroads - Polydor 835 261-2, 1988)
Meet Me (Down At the Bottom) (from Blues - Polydor 314 547 178-2, 1999)
Lonesome Road Blues (Walkin' Down the Road) (from Crossroads 2: Live in the Seventies - Polydor/Chronicles 314 529 305-2, 1996)
Getting Acquainted *
Getting Acquainted 2 (Too Late) *
Eric After Hours Blues (from 461 Ocean Boulevard: Deluxe Edition (Polydor/UMe B0003722-02, 2004))
Please Be with Me (Acoustic) *
Give Me Strength (Dobro 1) *
Disc 2: There's One in Every Crowd (released as RSO Records SO 4086 (U.S.)/2479 132 (U.K.), 1975) and bonus material
We've Been Told (Jesus is Coming Soon)
Swing Low Sweet Chariot
Little Rachel
Don't Blame Me
The Sky is Crying
Singin' the Blues
Better Make It Through Today
Pretty Blue Eyes
High
Opposites
Burial *
Whatcha Gonna Do (from Crossroads - Polydor 835 261-2, 1988)
I Found a Love (from Crossroads - Polydor 835 261-2, 1988)
(When Things Go Wrong) It Hurts Me Too (from Crossroads - Polydor 835 261-2, 1988)
Fools Like Me *
Knockin' on Heaven's Door (single A-side - Polydor 2090 166 (U.K.), 1975)
Someone Like You (single B-side - Polydor 2090 166 (U.K.), 1975)
Discs 3-4: E.C. Was Here Remixed and Expanded (released as RSO Records SO 4089 (U.S.)/2394 160 (U.K.), 1975)
Smile (Live @ Long Beach Arena, Long Beach, CA - 7/20/1974) +
Have You Ever Loved a Woman(Live @ Long Beach Arena, Long Beach, CA - 7/20/1974)
Presence of the Lord (Live @ Long Beach Arena, Long Beach, CA - 7/20/1974)
Crossroads (Live @ Long Beach Arena, Long Beach, CA - 7/20/1974) *
I Shot the Sheriff (Live @ Long Beach Arena, Long Beach, CA - 7/20/1974) *
Layla (Live @ Long Beach Arena, Long Beach, CA - 7/20/1974) *
Little Wing (Live @ Long Beach Arena, Long Beach, CA - 7/20/1974) *
Can't Find My Way Home (Live @ Long Beach Arena, Long Beach, CA - 7/20/1974)
Driftin' Blues/Ramblin' on My Mind (Live @ Long Beach Arena, Long Beach, CA - 7/20/1974)
Ramblin' on My Mind/Have You Ever Loved a Woman (Live @ The Hammersmith Odeon, London - 12/5/1974)
Willie and the Hand Jive/Get Ready (Live @ Long Beach Arena, Long Beach, CA - 7/20/1974) **
The Sky is Crying/Have You Ever Loved a Woman/Ramblin' on My Mind (Live @ The Hammersmith Odeon, London - 12/5/1974) **
Badge (Live @ Nassau Coliseum, Uniondale NY - 6/28/1975) **
Driftin' Blues (Live @ Providence Civic Center, Providence, RI - 6/25/1975) **
Eyesight to the Blind/Why Does Love Got to Be So Sad (Live @ Providence Civic Center, Providence, RI - 6/25/1975) **
Further On Up the Road (Live @ Nassau Coliseum, Uniondale NY - 6/28/1975) **
+ possibly from Timepieces Vol. II - 'Live' in the Seventies (Polydor 811 835-2 (U.S.)/RSO Records 8022 (U.K.), 1983)
** from Crossroads 2: Live in the Seventies (Polydor/Chronicles 314 529 305-2, 1996)
Disc 5: Freddie King/Criteria Studios Sessions
Sugar Sweet (from Burglar - RSO Records SO 4803 (U.S.)/2394 140 (U.K.), 1974)
TV Mama (from Freddie King 1934-1976 - RSO Records 1-3025 (U.S.)/Polydor 2934 192 (U.K.), 1977)
Boogie Funk (from Texas Flyer 1974-1976, Bear Family BCD 16778, 2010, previously unreleased in U.S.)
Gambling Woman Blues (Full-Length Version) (edited version from Freddie King 1934-1976 - RSO Records 1-3025 (U.S.)/Polydor 2934 192 (U.K.), 1977) *
Disc 6: Blu-ray
461 Ocean Boulevard - 5.1 Surround Mix by Elliott Scheiner *
Ain't That Lovin' You - 5.1 Surround Mix by Elliott Scheiner *
Meet Me (Down At the Bottom) - 5.1 Surround Mix by Elliott Scheiner *
Lonesome Blues (Walkin' Down the Road) - 5.1 Surround Mix by Elliott Scheiner *
461 Ocean Boulevard - Quadraphonic Mix (released as RSO Records QD 4801, 1974)
There's One in Every Crowd - Quadraphonic Mix (released as RSO Records QD 4806, 1975)