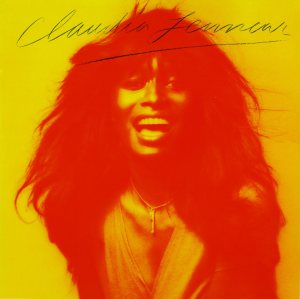 Claudia Lennear might have spent much of her career 20 Feet from Stardom, as per the acclaimed documentary of that title.  But on her 1973 Warner Bros. solo debut album, the onetime background singer and member of Leon Russell's Shelter People was front and center.  That LP was titled Phew!, perhaps not the most likely name for a heady brew of funk, rock and soul by the striking singer who gave inspiration to both David Bowie and Mick Jagger.  But "Phew!" is an accurate expression of relief now that Lennear's only solo platter has finally arrived on CD from Real Gone Music.  And it actually has the feel of two distinct records.  Ian Samwell (Cliff Richard, America, Small Faces) is credited with producing the entire LP, and he indeed called the shots on the rocking Side One.  But the second side was written, arranged and overseen by New Orleans' own Allen Toussaint.  And when Toussaint promised "everything I do gonna be funky," he wasn't one to mess around.  Each side has its own pronounced vibe –gutsy rock on Side One, and soulful New Orleans rhythm and blues on Side Two.
For Side One's greasy, Rolling Stones-esque rockers, Samwell enlisted none other than Ry Cooder as the frontline guitarist.  The stellar line-up also included Jim Dickinson and Tommy McClure of the Dixie Flyers on guitar/piano and bass, respectively, plus Milt Holland on percussion, John Craviotto on drums, Charles Grimes on guitar and Mike Utley on Hammond organ.  Samwell and Lennear chose two songs from singer-songwriter Ron Davies to kick off the album, and both tracks set the down and dirty tone.  Lennear's throaty lead on "It Ain't Easy" ("...to get to heaven when you're going down") – also memorably recorded by David Bowie on his landmark Ziggy Stardust and the Spiders from Mars –teeters on vocal cord-shredding territory, matching the pounding piano and searing guitar licks for intensity.
Davies also contributed the torrid groove of "Sing for the Children."  Lennear imbues it with an earthy, no-nonsense sensibility as she begs, "Please keep me satisfied" with primal fervor.  Activist Angela Davis, also the subject of John Lennon and Yoko Ono's "Angela" as well as The Rolling Stones' "Sweet Black Angel," inspired Lennear to pen her own "Sister Angela," which she sings in a sympathetic, pained howl.  With Samwell, the singer also wrote "Not at All," the fieriest track on Side One.  She aggressively wails and growls through this rocker aimed in Mick Jagger's direction.  In Pat Thomas' interview with Lennear for Real Gone's reissue, she reveals that she had discussed travelling to Australia for Jagger's Ned Kelly press junket. She fiercely and furiously asks of him in song, "Did you think I'd go 'round singin' the blues cause you're on the wanted list and I'm all alone?"  The cry of "Not at all!" is a defiant one.
There's more on Phew! after the jump!
Concluding the first portion of the album, Furry Lewis' spoken/sung blues "Casey Jones" ("he dead and gone!") doesn't give Lennear much of a chance to show off the power of her vocals.  In fact, the rather muddy mix of the overall LP (as faithfully heard on this reissue) sometimes buries Lennear's vocals, especially on the first side.  Lennear also observes to Thomas of the lack of background vocals and string arrangements on Phew!, "The only person [at Warner Bros.] I didn't get a chance to tap was Van Dyke Parks.  That would really have been a feather in the cap had we been able to work with others like Jack Nitzsche to do string arrangements and that kind of thing, because if you notice, the album was no background singing and no strings.  I don't think that was done on purpose.  I think something happened along the way and that's where the ball stopped rolling."   The thought of "finished" or more fully developed tracks makes for a tantalizing might-have-been.
Allen Toussaint, on piano, led a much larger band for his half of the disc.  Each song blends seamlessly into the next in this tailor-made soul suite.  Toussaint was joined by the great N'awlins arranger-composer Harold Battiste, Jr. on saxophone along with other luminaries including Jim Keltner on drums and Spooner Oldham on electric piano for a set that's less raw than Samwell's, but more riveting.  Holy Moses, Toussaint's "Goin' Down" – on which he also joins Lennear on vocals – positively cooks, with sizzling horns adding to the excitement level.  The rave-up of "Goin' Down," though, segues into a haunting reading of "From a Whisper to a Scream," with mesmerizing flute and insinuating brass – the latter a true Toussaint trademark.  Riding the contours of melody and lyrics, Lennear delivers it in a style that's alternately intimate and larger-than –life.  So tightly arranged are these five songs that it's difficult to know where one song ends and another begins.  By the time the declaration of "Everything I Do Gonna Be Funky From Now On" is stated, it needn't have been said – that Lennear and Toussaint were gonna be funky was a happily foregone conclusion.  The rough edges of her voice bring the requisite drama to "What'd I Do Wrong" before a brassy reprise of "Goin' Down" ties up the suite, and album, with a bow.
Solid as a number of Samwell's tracks are – particularly the from-the-gut tracks written by Lennear – there's more magic in the Toussaint recordings, and one wishes an entire album had resulted from this pairing of singer and songwriter-arranger.  For a taste of Lennear with a third producer, however, Real Gone and reissue producer Pat Thomas have also appended "Two Trains," a non-LP single written by Little Feat's Lowell George and produced by Ted Templeman.  The proto-disco strings and "Ooh-ooh-oohs" of the backing vocalists on his uptempo production place Lennear in a very different territory than either Samwell or Toussaint, and she's expectedly convincing and sassy on this slick slab of danceable R&B.
Thomas' liner notes consist of a brief introduction and a lengthier, informative interview with Lennear in which she openly and frankly reflects on the making of the album.  No remastering engineer has been credited, but the sound is crisp throughout.  Claudia Lennear, after having spent years as a teacher, is planning a return to music.  Until a new album emerges, Phew! stands as her one solo statement – and it happens to be an expressive and enjoyable one.