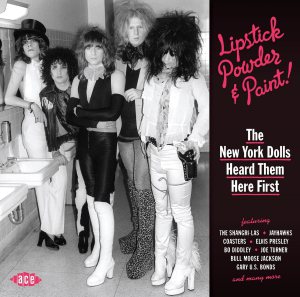 "While I was layin' in a hospital bed/A rock 'n' roll nurse went to my head/She says, 'Hold out your arm, stick out yo' tongue/I got some pills, boy, I'm 'a give you one!"  It was no surprise that The New York Dolls – crown princes of debauchery, seventies-style – would include a cover of Bo Diddley's oddly jaunty 1961 single "Pills" on their 1973 debut album.  While The Dolls – lead vocalist David Johansen, rhythm guitarist Sylvain Sylvain, bassist Arthur "Killer" Kane, lead guitarist Johnny Thunders and drummer Jerry Nolan (who replaced the late Billy Murcia) – might have emerged as a response to the studied musicianship of so-called progressive rock and the bright, sanitized sounds of bubblegum pop, their primal, savage and uninhibited style was descended from any number of influences.  Motown, Blues, doo wop, soul, rockabilly, and especially Brill Building-era girl groups all figured into the Dolls' heady, deliciously trashy rock-and-roll punk brew.  On the occasion of the fortieth anniversary of that seismic debut New York Dolls, Ace has anthologized the music that inspired the flamboyant band with Lipstick, Powder and Paint!  The New York Dolls Heard Them Here First.
The 24-track anthology compiled by Ian Johnston and Mick Patrick brings together the original versions of songs covered by the Dolls and the solo Johansen and Thunders.  These range from expected choices such as "Pills" or The Jayhawks' "Stranded in the Jungle," to tracks that might surprise a casual fan like Erma Franklin's "Piece of My Heart" or Gary U.S. Bonds' "Seven Day Weekend."  The latter, recorded by The Dolls on a 1973 demo released in 1992, has the raucous, hedonistic spirit that The Dolls so admired.  Bonds' throaty vocal brings grit to the infectious Doc Pomus/Mort Shuman tune with its doo-wop backing vocals and honking saxophone solo.  It's far from the only track here from that early rock-and-roll era.  The Coasters, those supreme R&B jokesters, are heard with 1963's "Bad Detective," recorded in primitive style by Johansen and co. on 1974's Too Much Too Soon.  It has the bop-shoo-bops, boogedy-boogedy-shoos and rama-lama-ding-dongs lampooned in the musical Grease, and it's at least a spiritual cousin in comedy to another song also covered for that same album, The Jayhawks' goofy, spoken/sung "Stranded in the Jungle" (1956).
The blues is a less obvious inspiration on debut New York Dolls and Too Much Too Soon, the second and final album by the original iteration of the group.  But in addition to Bo Diddley's "Pills," the group also demoed Otis Redding's Stax burner "Don't Mess with Cupid" and Muddy Waters' immortal "I'm Your Hoochie Coochie Man."  Similarly, one might not think to draw a line between The New York Dolls and the smooth Philadelphia soul from the team of Kenny Gamble and Leon Huff, but Ace does just that by selecting Archie Bell and the Drells' "(There's Gonna Be a) Showdown" and Wilson Pickett's Memphis-by-way-of-Philly "International Playboy."  The Dolls brought a slow, menacing feel to the former on Too Much Too Soon, while David Johansen's lounge-singin', novelty-slingin' alter ego Buster Poindexter recorded the rough-hewn (by Philly standards, at least!) "Playboy" for 1989's Buster Goes Berzerk.
There's much more after the jump, including the complete track listing with discographical annotation, and order links!
It's not the only track on Lipstick, Powder and Paint! recorded by the solo Johansen.  Under his own name, the lead singer tackled Holland-Dozier-Hollland's "Reach Out I'll Be There" for 1982's Live It Up.  The Four Tops' majestic single has warranted inclusion here.  Some might find it a relief that Buster's once-ubiquitous cover of Arrow's "Hot Hot Hot" isn't here; Johansen himself once dubbed the song "the bane of my existence."  Instead, you'll hear the smoking soul of Bert Berns' "Are You Lonely For Me" as recorded by "Hey Girl" singer Freddie Scott, which was reinterpreted by Poindexter in his fashion on 1987's self-titled set.  The compilers have also found room for the originals of comedy trifles like Bull Moose Jackson's "Big Fat Mamas are Back in Style Again" and Dave Bartholomew's "Who Drank Beer While I Was in the Rear."  Both of those were rather cheekily recorded for 1994's Buster's Happy Hour.  And having already sung of "Pills" with the Dolls, Johansen-as-Poindexter turned his attention to The Kinks' dark, cabaret-esque "Alcohol" for his Happy Hour.
Johnny Thunders revisited many of his old favorites on his solo albums including the 1988 collection of oldies recorded with Patti Palladin, Copy Cats, and 1990 compilation Bootlegging the Bootleggers.   Though "(I'm Not Your) Stepping Stone" might be most associated today with The Monkees, the Boyce and Hart song was originally recorded in a harder-rocking version by Paul Revere and the Raiders.  That track, which may well have inspired Thunders to cut the song, is included here.  So is The Chambers Brothers' "Uptown (To Harlem)," a torridly funky number written by Betty Mabry, later to become Miles Davis' second wife.  Thunders and Palladin also covered one of the oddest tracks recorded by Elvis Presley, "Crawfish," from his movie King Creole.
The New York Dolls only recorded two albums in their heyday, and by 1977, the band was through.  Those two records, however, inspired everyone from The Smiths to Guns 'n' Roses, and so a reunion might have been inevitable.  Thunders died of a drug overdose in 1991, and Nolan passed from a stroke the following year.  But despite these setbacks, Johansen, Sylvain and Kane – the three surviving members – came together in 2004.  Yet there still was a cloud over the band.  Suffering from leukemia, Kane passed in July of that year.  But the following year, Johansen and Sylvain regrouped.  Since then, the "new" New York Dolls have recorded three albums including 2009's Cause I Sez So which also reunited them with New York Dolls' producer Todd Rundgren.  A few tracks here have been selected from this latter-day version of the band, including the jumpin' Joe Turner song that gives this compilation its title, the 1946 (!) ballad "I Sold My Heart to the Junk Man," and The Shangri-Las' "Out In the Streets."  The Shangri-Las' legendary producer George "Shadow" Morton (recently celebrated by Ace on Sophisticated Boom Boom: The Shadow Morton Story) helmed Too Much Too Soon for the Dolls, who made no secret of their appreciation of the girl group's theatrical mini-melodramas.
Lipstick, Powder and Paint! captures the many sides of the glammed-up, proto-punk Noo Yawk rockers.  Ian Johnston supplies a comprehensive history of the band in the 20-page full-color booklet, which also contains numerous images of the albums and singles from which the 24 tracks have been drawn.  Duncan Cowell has remastered all of the selections, and in most cases, original mono sources have been utilized.  This disc makes a fine companion to past Heard Them Here First volumes from artists including Elvis Presley, Cliff Richard and The Ramones, but moreover, it reveals – gasp! – the good taste of The New York Dolls!
Various Artists, Lipstick, Powder and Paint!  The New York Dolls Heard Them Here First (Ace CDCHD 1377, 2013) (Amazon U.S. / Amazon U.K.)
Seven Day Weekend – Gary U.S. Bonds (Legrand 1019, 1962)
Pills – Bo Diddley (Checker 985, 1961)
Don't Mess with Cupid – Otis Redding (Volt 136, 1966)
Don't Start Me Talkin' – Sonny Boy Williamson (Checker 824, 1955)
Bad Detective – The Coasters (Atco 6300, 1963)
I'm Your Hoochie Coochie Man – Muddy Waters (Chess 1560, 1954)
(There's Gonna Be A) Showdown – Archie Bell and the Drells (Atlantic 2583, 1968)
Stranded in the Jungle – The Jayhawks (Flash 109, 1956)
Somethin' Else – Eddie Cochran (Liberty 55203, 1959)
Reach Out I'll Be There – The Four Tops (Motown 1098, 1966)
(I'm Not Your) Steppin' Stone – Paul Revere and the Raiders (Columbia LP 9308, 1966)
Too Much Monkey Business – Chuck Berry (Chess 1635, 1956)
Are You Lonely For Me – Freddie Scott (Shout 207, 1966)
Crawfish – Elvis Presley (RCA LP LPM 1884, 1958)
Uptown (To Harlem) – The Chambers Brothers (Columbia 44296, 1967)
She Wants to Mambo – The Chanters (RPM 415, 1954)
International Playboy – Wilson Pickett (Atlantic 2765, 1970)
Alcohol – The Kinks (RCA LP SF 8243 (U.K.), 1971)
Big Fat Mamas are Back in Style Again – Bull Moose Jackson (King 4412, 1950)
Who Drank My Beer While I Was in the Rear? – Dave Bartholomew (Imperial 5210, 1952)
Out in the Streets – The Shangri-Las (Red Bird 10-025, 1965)
Piece of My Heart – Erma Franklin (Shout 221, 1967)
I Sold My Heart to the Junk Man – The Basin Street Boys (Exclusive 225, 1946)
Lipstick, Powder and Paint – Joe Turner (Atlantic 1100, 1956)