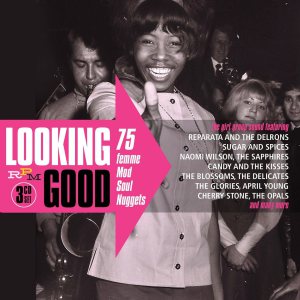 What is "femme mod soul," you might ask?  Cherry Red's RPM imprint has the answer with a new 3-CD box set, Looking Good: 75 Femme Mod Soul Nuggets.  This set aims to chronicle the girl group sound "from and for the underground."  As Lois Wilson points out in an introductory essay, the box doesn't paint a full picture of the girl group era.  Not only have there been countless compilations on the theme, but Rhino's four-CD box set One Kiss Can Lead to Another: Girl Group Sounds Lost and Found remains the definitive, Grammy-nominated gold standard.  Indeed, Wilson doffs her hat to that delicious 2005 collection which was presented in a hat box!  Looking Good serves as a complement to that comprehensive set, placing "the girl group sound in a club soul setting.  It's aimed at the hand-clappin', finger-poppin' mamas and foot-stompin', finger-clicking daddies."  The box, loaded with rare and hard-to-find treats in an uptempo Northern Soul vein, is designed in the style of RPM's previous Looking Back: 80 Mod, Freakbeat and Swinging London Nuggets.
Despite the emphasis on hidden gems, the box still features numerous familiar names and even some hit records from labels including Columbia, Warner Bros., ABC-Paramount, United Artists, Cameo, Scepter and Wand.  The Three Degrees brought sweet soul to "T.S.O.P. (The Sound of Philadelphia)" in the seventies; Looking Back opens with "Do What You're Supposed to Do," the B-side of their 1964 Swan debut single.  Before Sheila Ferguson joined the Three Degrees, she recorded with The Kittens as well as solo.  From her solo discography comes 1965's "And in Return," written by Norman "General" Johnson of the Chairmen of the Board.  Among the other well-known artists here are The Toys of "A Lover's Concerto" fame, heard with the 1968 flipside "I've Got My Heart Set on You"; Candy and the Kisses with their infectious 1964 hit dance record "The 81"; Reparata and the Delrons with their immortal "I'm Nobody's Baby Now" as well as "Panic"; Barbara "Hello, Stranger" Lewis with her No. 11 hit "Make Me Your Baby" from 1965; and Skeeter "The End of the World" Davis with 1964's "Let Me Get Close to You."  The Blossoms – Darlene Love, Fanita James, Gloria Jones, and sisters Annette and Nanette Williams – were recognized for their lengthy C.V. as background vocalists in the 2013 documentary 20 Feet from Stardom.  Two of their solo singles have been selected, both from the Challenge label: 1961's "Write Me a Letter" and "I Gotta Tell It," unreleased until 1995.
"Let Me Get Close to You" came from the pen of Gerry Goffin and Carole King; the work of numerous other top-tier songwriters are heard here.  The Brill Building scene also yielded Jeff Barry's song "I'm Nobody's Baby Now" for Reparata and the Delrons and Barry and Ellie Greenwich's "That Boy  is Messing Up My Mind," recorded by The Orchids.  Barry Mann, Cynthia Weil and Phil Spector's "Baby Baby You," originally known as "You Baby" for The Ronettes, is heard here in a version by The Lovenotes.  Gary Geld and Peter Udell, known both for pop hits like "Hurting Each Other" and the Broadway musicals Purlie and Shenandoah, wrote "Here's to Our Love," recorded by Cathy Carroll.  And Al Kooper teamed with onetime writing partner Irwin Levine ("This Diamond Ring") for "Bobby's Come a Long, Long Way" by the oddly-named Eight Feet.  Even singer-songwriter Bob Lind of "Elusive Butterfly" fame got into the girl group act with Ronnie and Robyn's "Blow Out the Candle."
After the jump: more details on what you'll find in Looking Good, plus the full track listing with discographical annotation and order links!
Soul was also a major part of the girl group equation.  On the Philly front, Kenny Gamble teamed with Jerry Ross for not only "The 81" but The Sapphires' "I've Got Mine, You Better Get Yours," The Swans' "You Better Be a Good Girl Now," and Honey Love and the Lovenotes' "We Belong Together."  Gamble's future partner Leon Huff composed Audrey Slo's "Gonna Find the Right Boy" and co-wrote Candy and the Kisses' "Two Happy People."  Other notable R&B songwriters represented in the new box include Van McCoy (Sandi Sheldon's "Baby You're Mine," Yvonne Carroll and the Roulettes' "I'm Stuck on You") Curtis Mayfield (The Opals' "You Can't Hurt Me No More" and "You're Gonna Be Sorry") and Nickolas Ashford and Valarie Simpson (The Camp's "Marching," The Yum Yums' "Looky Looky (What I Got)") .
Looking Good includes a thick 36-page full-color booklet with track-by-track liner notes from John Reed and numerous photographs, sleeve art and label scans.  Each disc is housed in its own individual sleeve.   It's been compiled and designed by Joe Boy, with remastering from Simon Murphy at Another Planet Music.  Mark Stratford and Glenn Gunton produced the set for RPM.  These 75 sassy and frequently sweet femme mod soul nuggets are available for order now at the links below!
Various Artists, Looking Good: 75 Mod Soul Nuggets (RPM RMPBX521, 2013) (Amazon U.S. / Amazon U.K.)
CD 1
Do What You're Supposed to Do – The Three Degrees (Swan S 4197, 1963)
Put Yourself in My Place – Azie Mortimer (Swan S 4158, 1964)
Someone to Treat Me (The Way You Use To) – The DeVons (King 45-6226, 1969)
Mister Loveman – Yvonne Carroll (Challenge 59297, 1965)
I've Got Mine, You've Better Get Yours – The Sapphires (Swan S 4177, 1964)
Poor Unfortunate Me – Gigi and the Charmaines (Columbia 44246, 1966)
Hear You Talking – Beverley Jones with The Prestons (Swan S 4202, 1965)
You're So Fine – Dorothy Berry (Challenge 59221, 1965)
Run Run – The Persianettes (Swan Records, rel. 1996)
Handsome Boy – The Ladybirds (Lawn L 231, 1964)
You Better Be a Good Girl Now (Swan S 4151, 1963)
Just a Feeling – Irma and the Fascinators (Scepter SCE 12100, 1965)
Little Baby – Kathy Lynn and the Playboys (Swan S 4209, 1965)
I'm No Runaround – Ginger Davis and the Snaps (Swan S 4090, 1961)
Blow Out the Candle – Ronnie and Robyn (Sidra S 9007, 1966)
Magic Island – Kathy and Larry (Challenge 59374, 1967)
Stop Shovin' Me Around – The Delicates (Soultown S 101, 1966)
You're Gonna Be Sorry – The Opals (Okeh 4-7202, 1964)
He's So Fine – The Corvells (Lupine L 104, 1962)
Nothing To Write Home About – The Francettes (Challenge 59255, 1964)
I'll Be Crying – Gwen Owens (Velgo VO 1, 1966)
Write Me a Letter – The Blossoms (Challenge 59122, 1961)
I Promise – Flo Fay (Lawn 206, 1963)
You Ain't So Such a Much – Bette Renne and the Thrillers (Lawn L 246, 1964)
Here's to Our Love – Cathy Carroll (Musicor MU 1056, 1965)
CD 2
Never in a Million Years – The Honey Bees (Garrison GAR 3005, 1966)
And In Return – Sheila Ferguson (Swan S 4225, 1965)
I Got My Heart Set on You – The Toys (Musicor MU 1319, 1968)
You've Got the Power – Gail Wynters (Hickory P 1461, 1967)
Gotta Find a Way – Naomi Wilson (Swan S 4227, 1965)
Gonna Find the Right Boy – Audrey Slo (Swan S 4262, 1966)
I'll Remember Jimmy – Miss Cathy Brasher (ERA 3129, 1964)
My Special Boy – Kathy Lynn and the Playboys (Swan S 4193, 1964)
Two Happy People – Candy and the Kisses (Cameo C 336, 1965)
I Gotta Tell It – The Blossoms (Challenge Records, rel. 1995)
So Many Days – The Vonns (King 5793, 1963)
Looky Looky (What I Got) – The Yum Yums (ABC Paramount 10697, 1965)
Teardrops – Sugar and the Spices (Swan S 4208, 1965)
He Walks Softly – Cherry Stone (Dial 4032, 1966)
If the World Only Know – Dee Dee Dorety (ERA 3162, 1966)
They're Trying to Tear Us Apart – Mary Moultrie (King 6038, 1966)
Still True to You – Gwen Owens (Velgo VO 2, 1966)
Stuck on You – Yvonne Carroll and the Roulettes (Domain 1018, 1963)
Dream World – Donna Loren (Challenge 59203, 1963)
I Want to Get Married – The Delicates (Challenge 59267, 1964)
Try – Barbara Mills (Hickory 1392, 1965)
The Boy I Love – Renee Medina (Challenge 59226, 1963)
I'm Nobody's Baby Now – Reparata and the Delrons (RCA 8820, 1966)
Dressed in Black – The Pussycats (Columbia 43587, 1966)
All Cried Out – Diane and Annita (Wand WND 1123, 1965)
CD 3
I Stand Accused (Of Loving You) – The Glories (Date 1553, 1967)
Panic – Reparata and the Delrons (Mala 12000, 1968)
Marching – The Camp (Scepter SCE 12159, 1966)
The 81 – Candy and the Kisses (Cameo C 336, 1965)
We Belong Together – Honey Love and the Lovenotes (Cameo C 380, 1963)
I'm Gonna Pick Up My Toys (And Go Home) – Devonnes (Colossus CS 142, 1971)
Love's What You Want – Marissa Gatti (Poo Pan P 101, 1966)
Gonna Be a Big Thing – The Yum Yums (ABC Paramount 10697, 1965)
Evil One – The Sapphires (ABC Paramount 10693, 1965)
Baby Baby You – The Lovenotes (Cameo C 409, 1966)
My Boyfriend – Becky and the Lollipops (Epic 9736, 1964)
Gonna Make Him My Baby – April Young (Columbia 43285, 1965)
You Don't Have to Be in Love – Gail Wynters (Hickory P 1478, 1967)
Breakaway – Linda Lloyd (Columbia 43486, 1966)
Make Me Your Baby – Barbara Lewis (Atlantic A 9083, 1965)
Don't Say Nothin' (If You Can't Say Anything Nice) – Sherrill Roecker (Swan 4173, 1964)
Bobby's Come a Long, Long Way – Eight Feet (Columbia 43505, 1966)
I Want Your Love – The Pussycats (Columbia 43272, 1965)
That Boy is Messing Up My Mind – The Orchids (Columbia 42913, 1963)
Let Me Get Close to You – Skeeter Davis (RCA Victor 45-8397, 1964)
Baby Sitting – The Corvells (Lupine 104, 1962)
So Glad Your Love Don't Change – The Little Foxes (Okeh 7312)
You Can't Hurt Me No More – The Opals (Okeh 7202, 1964)
Baby You're Mine – Sandy Sheldon (Okeh 7277, 1966)
I'm So Young – Naomi Wilson (Swan 4227, 1965)