You can't keep a Kool man down.  This week, Robert "Kool" Bell (now known as Muhammad Bayyan) leads the legendary funk-soul-R&B-disco outfit Kool and the Gang through its latest studio album, the Best Buy/Wal-Mart exclusive Kool for the Holidays.  But for nearly 45 years, the music of Kool and the Gang has been celebrated for all seasons.  Big Break Records last revisited the Kool catalogue in 2011 with an expanded edition of 1976's Open Sesame, but the label is returning to the group in a big way with deluxe reissues of all four of Kool and the Gang's classic albums produced by Brazilian jazz great Eumir Deodato.  Between 1979 and 1982, Deodato steered Kool and the Gang to three U.S. platinum sellers and one gold disc: Ladies' Night (1979, Platinum), Celebrate! (1980, Platinum), Something Special (1981, Platinum) and As One (1982, Gold).  The first two titles are out now, with the last two due on November 25.
Formed in Jersey City, New Jersey as The Jazziacs, Kool and the Gang signed with De-Lite Records in 1969, scoring a hit single right away with an eponymous instrumental single.  The No. 59 Pop/No. 19 R&B entry signaled the arrival of a band that could deftly blend soul, pop and jazz into a cohesive whole.  Their successes continued apace, with highlights including the 1974 gold-selling Wild and Peaceful ("Funky Stuff," "Jungle Boogie," "Hollywood Swinging"), the Grammy-nominated gold disc Light of Worlds (1975) and  Open Sesame, with its title track achieving disco immortality on the soundtrack to Saturday Night Fever.  But the best was still yet to come.  Enter Eumir Deodato.
Keyboardist/multi-instrumentalist Deodato began his career as a major proponent of the bossa nova scene in his native Brazil, and soon became a sought-after arranger for the likes of Roberta Flack, George Benson, and even The Chairman of the Board himself, Frank Sinatra.  Although he had been a solo recording artist since the early 1960s, Deodato's solo career took off at Creed Taylor's CTI label at the dawn of the new decade.  In addition to a high-profile collaboration with Astrud Gilberto and Stanley Turrentine (1971's Gilberto with Turrentine), Deodato scored an unexpected crossover hit the next year with his jazz-funk rendition of Richard Strauss' "Also Sprach Zarathustra."  When the classical composition and 2001: A Space Odyssey theme was released as a single, it shot to No. 2 Pop.  It eventually netted a 1974 Grammy Award for Best Pop Instrumental Performance.  More solo work followed for CTI (including 1974's Deodato/Airto in Concert with fellow Brazilian, drummer Airto Moreira), MCA and Warner Bros., but a chance encounter with Kool and the Gang in West Orange, New Jersey's House of Music studio proved fateful.  The band invited Deodato to produce their next album, and despite some false starts, the project that eventually became Ladies' Night came together.
We have full details on all four albums, plus track listings and order links, after the jump!
Of his many contributions to the group's sound, perhaps the most key was Deodato's insistence that the group find a solo vocalist.  ("They always used unison vocals with everyone singing the same line," Deodato recalled of Kool and the Gang's previous approach in Steven E. Flemming, Jr.'s new liner notes.)  New Jersey's James "J.T." Taylor fit the bill.  Despite his impeccable jazz credentials, Deodato also steered the band away from their jazziest leanings.  They landed squarely in pop-disco territory, making the most of the group's brassy, horn-laden line-up.  There were only six songs on the original LP, all written by Earl Toon Jr. with either Ronald Bell or George M. Brown, but two became the band's most significant singles yet: "Ladies' Night" (No. 1 R&B/No. 8 Pop/No. 5 Disco) and "Too Hot" (No. 3 R&B/No. 5 Pop).  Third single "Hangin' Out" fared slightly less well (No. 36 R&B/No. 103 Pop/No. 5 Disco) but the cumulative success propelled the album all the way to No. 1 R&B and No. 13 Pop.  The "new" Kool and the Gang was on its way.  BBR has added a full six bonus tracks to the album including the single versions of all three A-sides, the single "Ladies' Night" B-side "If You Feel Like Dancin'," and twelve-inch mixes of "Ladies' Night" and "Hangin' Out."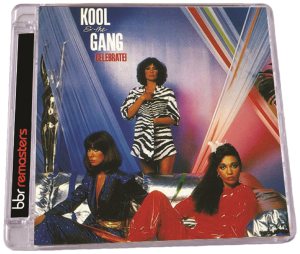 Could Kool and the Gang top Ladies' Night?  The group arguably did with 1980's Celebrate!.  The nine-piece outfit survived the disco backlash, and the eight tracks on the new LP continued the sound of Ladies' Night with up-tempo dance material mixed with pop ballads.  Earl Toon and Ronald Bell's chart-topping, era-defining "Celebration" took its inspiration from a number of places.  Ronald Bell, now known as Khalis Bayyan, recalled getting the germ of the song from a line in the Quran.  Deodato pushed the writers to simply the melody of their good-time anthem before embellishing it with a guitar introduction in the spirit of The Jackson 5.  The resulting record topped the Pop, R&B and Disco charts and led the album all the way to No. 2 R&B/No. 10 Pop.  Follow-up singles "Take it to the Top" and "Jones vs. Jones" both made splashes on the R&B survey, but Celebrate! will always be remembered for its iconic near-title track.  A generous five tracks have been appended to BBR's reissue including all three single A-sides, the Spanish version of "Celebrate" entitled "Celebremos," and the extended version of the album's breezy instrumental "Morning Star."
Though Kool and the Gang could have rested on their laurels, celebrating Celebrate!, the band and producer Deodato pressed forward.  They entered West Orange's House of Music to record 1981's Something Special, and most would agree the album lived up to its title.  "Get Down on It," a favorite of Eumir Deodato's, broke the band through in the U.K., and it didn't disappoint in the U.S., either, going Top 10 Pop and Top 5 R&B.  The dance-party anthem was just what record buyers wanted from the funky and soulful troupe.  "Take My Heart (You Can Have It If You Want It)" was a more pure R&B outing, and though it handily topped that chart stateside, it missed the Pop chart.  "Steppin' Out," the bouncy album opener, barely missed the R&B Top 10 at No. 12, and placed at No. 89 Pop.  The album itself was also another feather in the band's cap, reaching No. 1 R&B/No. 12 Pop in the U.S. and No. 10 across the pond.  A heaping helping of seven bonus tracks have been added to BBR's reissue: 12-inch mixes and the single versions of all three A-sides, plus "Stop!," originally added to Something Special as the lone bonus on Mercury's 1998 CD release.
By the time of 1982's As One, the fourth title in BBR's current program, synthesizers and New Wave-inspired production had given a new sound and style to what was considered R&B.  Eumir Deodato, for his fourth and final outing with Kool and the Gang, stresses in Steven E. Flemming's new liner notes that the band felt no "pressure to change anything."  He added, "We tried to make what we were doing better instead of making it different.  Just because other people are doing it differently doesn't mean we have to do it differently...you can't possibly follow everything."  So Kool and the Gang marched to the beat of their own drummer, subtly incorporating electronic flourishes but adhering to the blueprint they had already established.  As One featured pretty balladry and party jams but also nodded to reggae ("Let's Go Dancin' (Ooh La La)") and rap (the of-its-time "Street Kids").  Loyal fans appreciated the stylistic consistency, and the album ascended to No. 29 Pop/No. 5 R&B.  It managed to go Gold, though it missed the Platinum mark; its three U.S. singles placed respectably, with "Big Fun" the most successful at No. 6 R&B/No. 29 Pop.  By this point, tension had crept into the band's relations with their co-producer Deodato, and he opted not to return for Kool and the Gang's next album.  The problems weren't with the band itself but with De-Lite Records, Deodato stresses today.  The split worked out for both parties; Kool embraced the sleek eighties sound and triumphed with songs like "Joanna" and "Cherish," while Deodato continued to work in both the R&B and jazz fields with the success befitting an elder statesman.  BBR has added six bonus tracks to As One: U.S. single A-sides "Big Fun," "Let's Go Dancin' (Ooh La La La)," and "Street Kids," plus U.K. A-side "Hi De Hi, Hi De Ho," and 12-inch remixes of "Let's Go Dancin'" and "Street Kids."
Kevin Reeves at Universal Mastering has remastered all four titles, with additional mastering from reissue producer Wayne A. Dickson.  Steven E. Flemming, Jr. has written detailed notes for each title.  Celebrate! and Ladies Night are out now; Something Special and As One are due on November 25 (one week later in the U.S.) and can be pre-ordered below!
Kool and The Gang, Ladies Night (De-Lite LP DSR-9513, 1979 - reissued Big Break CDBBR0146, 2013) (Amazon U.S. / Amazon U.K.)
Ladies Night
Got You Into My Life
If You Feel Like Dancin'
Hangin' Out
Tonight's the Night
Too Hot
Ladies Night (12" Promo Disco Mix) (De-Lite 12" single MK 108, 1979)
Hangin' Out (12" Disco Mix) (De-Lite 12" single DDS 502, 1979)
If You Feel Like Dancin' (Single Version) (De-Lite single DE 801, 1979)
Ladies Night (Single Version) (De-Lite single DE 801, 1979)
Too Hot (Single Version) (De-Lite single DE 802, 1979)
Hangin' Out (Single Version) (De-Lite single DE 804, 1980)
Kool and the Gang, Celebrate! (De-Lite LP DSR-9518, 1980 - reissued Big Break CDBBR0149, 2013) (Amazon U.S. / Amazon U.K.)
Celebration
Jones vs. Jones
Take It to the Top
Morning Star
Love Festival
Just Friends
Night People
Love Affair
Celebration (Single Version) (De-Lite single DE 807, 1980)
Take It to the Top (Single Version) (De-Lite single DE 810, 1980)
Jones vs. Jones (Single Version) (De-Lite single DE 813, 1981)
Morning Star (Long Version) (source TBD)
Celebremos (12" Spanish Version) (De-Lite 12" single DDS 503, 1981)
Kool and the Gang, Something Special (De-Lite LP DSR-8502, 1981 - reissued Big Break CDBBR0156, 2013) (Amazon U.S. / Amazon U.K.)
Steppin' Out
Good Time Tonight
Take My Heart (You Can Have It If You Want It)
Be My Lady
Get Down on It
Pass It On
Stand Up and Sing
No Show
Steppin' Out (12" Mix) (De-Lite 12" single MK 186, 1981)
Get Down on It (12" Mix) (De-Lite 12" single MK 194, 1981)
Take My Heart (You Can Have It If You Want It) (12" Mix) De-Lite 12" single MK 179, 1981)
Stop! (from Mercury CD 314 558 354-2, 1998)
Steppin' Out (Single Remix) (De-Lite single DE 818, 1981)
Get Down on It (Single Version) (De-Lite single DE 818, 1981)
Take My Heart (You Can Have It If You Want It) (Single Remix) (De-Lite single DE 815, 1981)
Kool and the Gang, As One (De-Lite LP DSR-8505, 1982 - reissued Big Break CDBBR0161, 2013) (Amazon U.S. / Amazon U.K.)
Street Kids
Big Fun
As One
Hi De Hi, Hi De Ho
Let's Go Dancin' (Ooh La, La, La)
Pretty Baby
Think It Over
Big Fun (Single Version) (De-Lite single DE 822, 1982)
Let's Go Dancin' (Ooh La, La, La) (Single Version) (De-Lite single DE 824, 1982)
Street Kids (Single Version) (De-Lite single DE 825, 1983)
Hi De Hi, Hi De Ho (Single Version) (De-Lite (U.K.) single DE 14, 1982)
Let's Go Dancin' (Ooh La, La, La) (U.S. 12" Promotional Dance Remix) (De-Lite 12" single MK 226, 1982)
Street Kids (U.S. 12" Dance Remix) (source TBD)