As the old expression goes, all good things must come to an end.  And so Nancy Wilson's 37-album, 20-year tenure at Capitol Records ended in 1980 with the release of Take My Love.    At Capitol, Wilson had proved her mastery of Broadway, Hollywood, traditional vocal jazz, fusion jazz, pop and soul, and had collaborated with the likes of George Shearing, Cannonball Adderley, Kenny Gamble and Leon Huff, Thom Bell, and Oliver Nelson.  On her final Capitol LP, Wilson enlisted producers Larry Farrow and Carolyn Johns with whom she had worked on Life, Love and Harmony (also reissued by SoulMusic as part of the series that has so far seen fifteen Nancy Wilson albums on CD, many for the first time).  Farrow and Johns composed the near-entirety of Take My Love for Wilson, incorporating just two songs from outside sources: Tim Stevens' "The Sadness in My Eyes" and Leon Ware's "I Loved You All the Time."
Contemporary pop-soul was the preferred genre for the versatile Wilson, Farrow and Johns this time out, though supporting players ranged from a jazz quartet to a 50-plus piece orchestra.  The title track was a bid for the crossover audience of, say, Earth, Wind and Fire, as was the majestic modern R&B workout of "Let's Hold Onto Love" featuring vocals by Bill Champlin of Sons of Champlin and Chicago.  "Someone Else" channeled MOR soul à la The Doobie Brothers.  For the final three tracks on the album, Farrow and Johns crafted a mini-concert suite to be performed "live" in the studio, concluding with a specialty-composed playoff of the type one might hear when a diva exits the stage after a concert.  Such was the idea, for Wilson to literally take a bow to the newly-written "Bows," ending her 20 years at the Capitol Tower.  There are no bonus tracks on the new CD (one single was issued from the LP, "Let's Hold On to Love" b/w "Welcome Home") but A. Scott Galloway has supplied a comprehensive new liner notes essay.  Alan Wilson has remastered.
After the jump: what's new from The Dramatics and D.J. Rogers? Plus: full track listings with discography, and order links for all titles!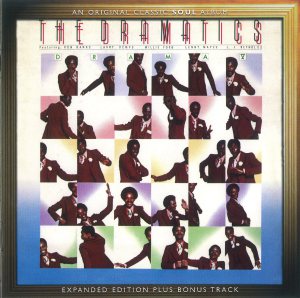 Unlike Nancy Wilson, The Dramatics are new to the SoulMusic roster.  Though originally from Detroit, the group had its biggest success on Memphis' Volt label (an imprint of Stax) with 1972's "Whatcha See is Whatcha Get."
The success of the 1971 single, included on an album of the same name, didn't keep the group from experiencing personnel changes, however.  (A revolving door had plagued The Dramatics since their formation in 1962 as The Dynamics.)  The Dramatics at the time of "Whatcha See" consisted of Ron Banks, William "Wee Gee" Howard, Elbert Wilkins, Willie Ford, and Larry Demps.  Before long, though, Howard and Wilkins departed the group to be replaced by L.K. Reynolds and Leonard "Lenny" Mayes.  (1973's A Dramatic Experience has all four gentlemen on it.)  But Reynolds and Mayes weren't through with The Dramatics, forming their own version of the group and even charting a minor R&B hit with "No Rebate on Love."  As a result, the main group became known for a period as Ron Banks and The Dramatics.
The Ron Banks-led core version of The Dramatics signed to ABC Records for 1975's The Dramatic Jackpot and remained at the label for the duration of the decade.  Joining fellow Detroit alumni The Four Tops at ABC, The Dramatics were poised for success.  SoulMusic has recently remastered and expanded the R&B vocal greats' second and third ABC long-players, Drama V and Joy Ride.  Both albums featured contributions from The Dramatics' longtime executive producer Don Davis as well as from songwriter-producers Tony Hester and Michael Henderson, whose association with The Dramatics dated back to the Stax days and "Whatcha See is Whatcha Get."  Ron Banks and L.J. Reynolds also made production contributions to 1975's 9-song set Drama V.  Hester's "You're Fooling You," the album's opening track, went Top 10 R&B; it was one of four tracks from his pen.  Michael Henderson, the great bassist and a solo artist in his own right, offered up two songs, "Dramatics Theme/Treat Me Like a Man" and "Just Shopping (Not Buying Anything)."  ("Treat Me Like a Man," sans its instrumental introduction, was issued as the second single from the LP.)  Renowned jazz guitarist Earl Klugh contributed licks to Drama V, and Funk Brothers Jack Ashford and Earl Van Dyke were also among the players.  David Van De Pitte (What's Going On) was among the arrangers.  Despite the impressive line-up and strong material, Drama V only reached No. 93 on the Billboard 200.  Typical for The Dramatics, it fared better on the R&B chart, reaching No. 10.  SoulMusic's new reissue adds the single version of "You're Fooling You."
The next year, The Dramatics returned with Joy Ride.  The 10 tracks were split between vocal group balladry and up-tempo disco tracks, and much of the personnel from Drama V again participated.  Tony Hester wrote and produced two tracks including the single "Finger Fever" (R&B No. 23), and Henderson supplied "Be My Girl" (No. 3 R&B) and "After the Dance," both of which were co-arranged by David Van De Pitte.  Don Davis helmed the third single, "I Can't Get Over You" (R&B No. 9), one of his three productions on the album.  Jimmy Roach and The Dramatics' Banks and Reynolds rounded out the producers.  Norma Toney, who wrote "I Was the Life of the Party" on Drama V, penned "Sundown Is Coming (Hold Down the Night)" here.  It was selected as the B-side of "I Can't Get Over You," and the single version is one of two bonus tracks on this expanded reissue.  The other is the single edit of "Be My Girl."  Joy Ride nearly matched its predecessor's success on the R&B Albums Chart, hitting No. 11.  It only got as far as No. 103 on the pop survey, however.  Both Drama V and Joy Ride have been remastered by Alan Wilson, and feature new essays by Quentin Harrison and Janine Coveney, respectively.
California-born singer, songwriter and multi-instrumentalist D.J. Rogers made his first splash at Leon Russell and Denny Cordell's Shelter Records label in 1973 before moving onto RCA.  Three albums resulted at RCA between 1975 and 1977, and Rogers charted a No. 51 R&B hit with the ballad "Say You Love Me."  Touring and making numerous appearances including on Don Kirshner's Rock Concert, Rogers caught the eye of Earth Wind and Fire's leader Maurice White.  With his contract up at RCA, Rogers signed to White's Kalimba Productions and Columbia Records.  SoulMusic has just reissued Love Brought Me Back, Rogers' fifth overall album and first for Columbia, and has expanded it with five bonus cuts.
The title track, like all but one track on the rest of the album, was written, produced, arranged and conducted by Rogers, who also played keyboards and wrote the horn arrangements.  (Jerry Peters was brought in for string charts.)  Rogers' move to Columbia paid off when "Love Brought Me Back" sailed to a Top 20 R&B berth in 1978.  A few special guests dropped in during the sessions; Patrice Rushen added string synthesizer to "Yesterday Never Returns," and Deniece Williams sang backgrounds on "Hold Me."  The varied album of soul grooves also included a mostly-instrumental track that was a favorite of Maurice White's, "You Take Me Higher (Brazilian Lover)" and a stirring gospel closer, Walter Hawkins' "Changed."  SoulMusic adds five tracks to its reissue: both Part 1 and 2 of the "Love Brought Me Back" single, the song's 12-inch mix, and both parts of the "All My Love" single.  D.J. Rogers followed Love Brought Me Back with two more Columbia albums for Maurice White's ARC label (also home to Deniece Williams); a final ARC album written and produced by Nickolas Ashford and Valarie Simpson remains unreleased.  Now a minister, Rogers plans to release his first secular album in over three decades on his own OTK (Old Time Kool) label.  It will reportedly include a new version of "Love Brought Me Back."  In the meantime, the original can be savored via Alan Wilson's remaster.  A. Scott Galloway has written the liner notes.
All titles can be ordered below!
Nancy Wilson, Take My Love (Capitol LP ST-12055, 1980 - reissued SoulMusic Records CD SMCR 5109, 2013) (Amazon U.S. / Amazon U.K.)
Take My Love
Someone Else
Welcome Home
The Sadness in My Eyes
Let's Hold On to Love
I Loved You All the Time
Not Afraid to Love (Live)
I'm Coming Home (Live)
Bows (Live)
The Dramatics, Drama V (ABC LP D-916, 1975 - reissued SoulMusic Records CD SMCR 5104, 2013) (Amazon U.S. / Amazon U.K.)
You're Fooling You
She's a Rainmaker
I Was the Life of the Party
Things Are Changing
I'm Gonna Love You to the Max
Dramatic Theme/Treat Me Like a Man
Just Shopping (Not Buying Anything)
Come Out of Your Thing
I'll Make It So Good
You're Fooling You (ABC single 12150, 1975)
The Dramatics, Joy Ride (ABC LP D-955, 1976 - reissued SoulMusic Records CD SMCR 5108, 2013) (Amazon U.S. / Amazon U.K.)
Finger Fever
Richest Man Alive
Stand Up and Move
Sing and Dance Your Troubles Away
I Get Carried Away
Be My Girl
After This Dance
Say the Word
I Can't Get Over You
Sundown is Coming (Hold Back the Night)
Be My Girl (ABC single 12235, 1977)
Sundown is Coming (Hold Back the Night) (ABC single 12258, 1977)
D.J. Rogers, Love Brought Me Back (Columbia LP ST-35393, 1978 - reissued SoulMusic Records SMCR 5110, 2013) (Amazon U.S. / Amazon U.K.)
Love Brought Me Back
Joy From You
When Love is Gone
Yesterday Never Returns
Sold on You
You Take Me Higher (Brazilian Lover)
Hold Me
All My Love
Changed
Love Brought Me Back Pt. 1 (Columbia single 3-10754-A, 1978)
Love Brought Me Back Pt. 2 (Columbia single 3-10754-B, 1978)
Love Brought Me Back (Columbia 12-inch single AS 475, 1978)
All My Love Pt. 1 (Columbia single 3-10838-A, 1978)
All My Love Pt. 2 (Columbia single 3-10838-B, 1978)