If you're looking for another chance to "dance your ass off," look no further.  Big Break Records has returned to the mighty catalogue of Salsoul Records for another three "made in Philadelphia" classics from the soulful disco label.
"C'mon, Vince, play your vibes!"  Loleatta Holloway exclaimed before the leader of The Salsoul Orchestra, Vince Montana Jr., stepped forward for a solo on "Run Away," the third track on the powerful unit's third non-holiday long-player.  1977's Magic Journey follows its predecessors The Salsoul Orchestra and Nice 'n' Naasty in receiving the deluxe BBR treatment.  By the time of Magic Journey, Montana had perfected the formula of showcasing each side of the so-called "disco orchestra" - and given the pedigree of the musicians involved, there were many sides.  The album featured MFSB veterans Earl Young, Charles Collins, Michael "Sugar Bear" Foreman, T.J. Tindall, Bobby Eli, Larry Washington, Don Renaldo and Jack Faith, and many others, along with the Sweethearts of Sigma - Barbara Ingram, Yvette Benton and Carla Benson - on backing vocals and arranger-conductor Montana himself on timpani, bells, chimes, marimba and vibes.
Though the second side of the original LP took listeners on the trip promised in the title, the first side offered one enjoyable pop-disco treat after another.  The bright scene-setter "It's a New Day," co-written by Montana, and a campy revival of Bob Gaudio's "Short Shorts," however, were mere appetizers for the sublime Philly soul of "Run Away."  Sung by Holloway backed by the Salsoul Orchestra, "Run Away" was then - and is now - one of the finest songs to emerge on Salsoul.  With its infectious melody, shimmering arrangement and urgent vocals, it's unfathomable that the song stalled at R&B No. 84 and didn't even dent the pop chart.  It's the undisputed highlight here, along with "Themes from Montreal Olympics 1976 - Farewell Song and Ballet of the Closing Ceremony."   The lush orchestral sound of "Farewell Song" could be mistaken for a Stylistics backing track crafted by Thom Bell, and its immaculate blend of horns and strings is as far-removed from the conventional notion of disco as possible.  Only at about the 3-1/2 minute march does this soft and lovely piece musically nod at something as anthemic or victorious as the title would indicate.  Few tracks better show off the immaculate musicianship of The Salsoul Orchestra, not to mention just how much Vince Montana had grown as an arranger since his early MFSB days.
Besides "Short Shorts," a couple of other pop covers pepper the album: a lightly disco take on the Cuban folk song-turned-Sandpipers hit "Guantanamera" and a funky reworking of Earth Wind and Fire's "Getaway."  Smoky saxophone leads the horn section, while taut guitar, Philly-style strings and the Orchestra's trademark Latin percussion add up to a track that might best the EWF original for sheer excitement.
After the jump: more on Magic Journey, plus the scoop on BBR's new reissues from Loleatta Holloway and Bunny Sigler!
On the LP's second side, however, Montana indulged his wilder sensibilities.  He took inspiration from classical composer Igor Stravinsky for "Magic Bird of Fire," studying Stravinsky's original Firebird Suite before condensing it into a five-minute disco format.  It's over the top, yes, and at times a bit more ominous than typical Salsoul Orchestra fare, but shows the breadth of the conductor's ambition - and it's not all high-minded.  There's even some boogie-woogie piano!  How to follow "Magic Bird," you might wonder?  Montana opted to end Magic Journey with two more instrumentals (Pasquale J. Spino's "Journey to Phoebus" and Peter DeAngelis' "Alpha Centauri"), both of which conjure up a futuristic galaxy far, far away - albeit a galaxy with good taste in brassy, danceable R&B!  "Alpha Centauri" is the stronger of the two closing songs, sounding like a disco spin on a melodic sci-fi theme that never was!  DeAngelis arranged his own song, as did Spino.
Two remixes have been appended as bonus tracks to this reissue of Magic Journey.  Danny Krivit's re-edit of "Run Away" extends the original track to some 8-1/2 minutes while Walter Gibbons' Disco Madness remix of "Magic Bird" is a more radical, percussion-heavy, dance-oriented reinvention of the original song running around eight minutes' length.  Steve E. Flemming pulls it all together with a new essay drawing on vintage quotes from Montana, and Wayne A. Dickson of BBR has remastered.
Fans of Loleatta Holloway won't want to "Run Away" from BBR's second Salsoul offering of the month, a reissue of 1980's Love Sensation, her fourth and final album for Salsoul's Gold Mind imprint.  Holloway is frequently overlooked among the great soul vocalists, but this reissue should go a long way in making sure the considerable contributions to R&B and disco made by the late vocalist aren't soon forgotten.
Following the template established by her Gold Mind debut Loleatta (also recently reissued on BBR), Love Sensation wasn't of a piece musically, though it cohered due to the strength and character of the singer's vocals.  Its eight tracks were culled from sessions with various producers at studios including Philadelphia's Sigma Sound and the equally-renowned Muscle Shoals Sound Studios in the Alabama town of that name.
The album's title was derived from Dan Hartman's song of the same name.  It reunited songwriter-producer Hartman with Loleatta after the chart-topping Disco success of his 1979 "Relight My Fire," on which she was featured a guest vocalist.  Hartman's production of "Love Sensation" was set to a typically luxuriant Norman Harris arrangement, with Holloway holding up her part of the deal via a throaty, urgent, immediate vocal.  Hartman and Holloway were rewarded with another Disco No. 1.
Gold Mind founder Harris was equally adept at smooth symphonic soul and aggressive disco, and Love Sensation carved out room for both.  Harris' production and arrangement of "Long Hard Climb to Love" falls squarely into the former category.  He supported Holloway's passionate, rough-hewn voice with sweet strings, angelic backing vocals and reflective horns.  The ballad "Two Became a Crowd" is another choice moment for Harris at his most exquisitely wistful (after all, this is the same man who scored Blue Magic's "Sideshow"), and a few years earlier, the Gary Wright/Gene Allan track might have crossed over to pop, too.  Holloway brought her personal stamp to the song via a spoken segment: "Well, like the old saying, two is a couple, three is a crowd...well, what do you do when it comes to this?"  Though Love Sensation was released in the early days of the 1980s, the sound of these ballads was pure seventies-soul.   Harris and the Sigma Sound crew closed out the album with the perky grooves of "I'll Be Standing There," co-written by Harris and Philly stalwart Ron Tyson.  (Tyson's Salsoul album with Love Committee was also among BBR's recent Salsoul reissues.)
Another bona fide R&B legend, Bobby Womack, contributed three productions, as well.  The raw, funky "Short End of the Stick" actually isn't sonically too far from the Philly tracks, with its prominent string orchestration.  Holloway rides the nonstop beat of the disco ode "Dance Whatcha Wanna," and savors the slow jam "My Way" (not the Paul Anka/Frank Sinatra song).  Womack's deft, contemporary production on "My Way" is another undisputed highlight.  The track might have fit into a Quiet Storm format, but there was nothing quiet about Holloway's thunderous gospel-inflected vocal.
Holloway's husband Floyd Smith's lone track as producer is a straightforward cover of Otis Redding's "I've Been Loving You Too Long."  With a sublime vocal and an appropriately southern-soul flavor, it also was augmented by strings.  Though perhaps a predictable choice, it was nonetheless a natural match for Holloway, who wraps the track up with an insistent spoken-word rap.
Four versions of the storming "Love Sensation" round out this handsomely expanded presentation: both Tom Moulton and Shep Pettibone's 12-inch mixes (Moulton also mixed the album version, and his 12-inch reinterpretation is faithful), Moulton's "Long Remix," and the short single version.  (As is common with Salsoul tracks, one could likely fill an entire disc with versions of "Love Sensation"; a cappella, instrumental, mono and numerous other mixes exist of the song.  A few of these other versions were included on a Japanese remaster in 2012.)   Flemming and Dickson repeat their honors on liner notes and remastering, respectively.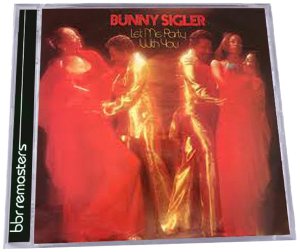 As it was titled Let Me Party with You, the primary objective of Bunny Sigler's 1977 Gold Mind debut wasn't exactly hidden.  The message in the music from the former Philadelphia International recording artist was simply to have a good time.  And by all accounts, he succeeded!
Sigler's outsized personality shines through via his colorful quotes in J. Matthew Cobb's entertaining and insightful liner notes which accompany this reissue.  Sigler minces no words defending his choice to intentionally ape Marvin Gaye's "Got to Give It Up" for the album's title track, a funky disco jam that climbed to the R&B Top 10 and just outside of the Pop Top 40.  Cobb brings the story up to the present day by invoking Robin Thicke's controversial "Blurred Lines," another descendant - or rip-off? - of Gaye's famous Motown floor-filler.  Whatever its origin, though, Sigler's "Party" was an invitation that few disco fans could resist.
The vibe of "Let Me Party with You" continues right through the second cut on the LP, "Your Love is So Good," with guest vocals from Instant Funk's James Carmichael.   Sigler had collaborated with Instant Funk at Philadelphia International and would later helm the band's self-titled 1979 Salsoul No. 1 Disco album, and the band's Raymond Earl (bass), Kim Miller (guitar), Scotty Miller (drums) and Dennis Richardson (piano) provided the backing for the Party album.  "So Good" rides the same funky contours of "Let Me Party," but adds a soaring Philly-style group vocal sound to it.  (Though he recorded the album in Philadelphia, Sigler opted not for Sigma Sound and the Salsoul Orchestra/former MFSB crew, but for the Philadelphia Sound Works and Alpha International studios.)
There's no question as to what Sigler's got in "I've Got What You Need," a steamy bedroom ballad that affords a brief respite from the funky stuff.  The uptempo grooves return with the fun "I'm a Fool," which features the feminine touch of Marcia Ann Taylor on duet vocals, and "It's Time to Twist."  The latter is a brassy update of the sixties dance craze.   Gregory Herbert's "Don't Even Try (Give It Up)" is the closest thing to a traditional Philly-soul ballad here, and its lushly romantic sensibility is a welcome change of pace.  It would have fit snugly on one of Sigler's PIR platters, as well.  It's also the only song on Party not written or co-written by Sigler.
Two bonus tracks bolster the original 6-song LP, as remastered by Wayne Dickson: the 1978 non-LP single "Only You," a smoldering duet with Loleatta Holloway (yes, Loleatta appears on all three of these reissues!), and the single edit of "Let Me Party with You."
All three titles are available now, and can be ordered at the links below!
The Salsoul Orchestra, Magic Journey (Salsoul LP SZS-5515 - reissued Big Break Records CDBBR 0252, 2013) (Amazon U.S. / Amazon U.K.)
It's a New Day
Short Shorts
Run Away - featuring Loleatta Holloway
Guantanamera
Themes from Montreal Olympics 1976: Farewell Song and Ballet of the Closing Ceremony
Getaway
Magic Bird of Fire
Journey to Phoebus
Alpha Centauri
Run Away (Danny Krivit Re-Edit) (also included on Magic Journey, Unidisc AGEK-243, 2006)
Magic Bird of Fire (Walter Gibbons Disco Madness Remix) (also included on Magic Journey, Unidisc AGEK-243, 2006)
Loleatta Holloway, Love Sensation (Gold Mind LP GA-9506, 1980 - reissued Big Break Records CDBBR 0250, 2013) (Amazon U.S. / Amazon U.K.)
Love Sensation
Long Hard Climb to Love
Short End of the Stick
I've Been Loving You Too Long
Two Became a Crowd
Dance What'cha Wanna
My Way
I'll Be Standing There
Love Sensation (Tom Moulton 12-Inch Remix) (Gold Mind single GG 505, 1980)
Love Sensation (Shep Pettibone 12-Inch Remix) (Salsoul single SG  415, 1980)
Love Sensation (Tom Moulton Long Remix)
Love Sensation (Short Remix)
Bunny Sigler, Let Me Party with You (Gold Mind LP GZS-7502, 1977 - reissued Big Break Records CDBBR 0249, 2013) (Amazon U.S. / Amazon U.K.)
Let Me Party with You
Your Love is So Good (Guest Vocalist: James Carmichael)
I Got What You Need
I'm a Fool (Guest Vocalist: Marcia Ann Taylor)
It's Time To Twist
Don't Even Try
Only You (Duet with Loleatta Holloway) (Gold Mind single GZ 4012, 1978)
Let Me Party with You (Party, Party, Party) (Single Version) (Gold Mind single G7 4008, 1977)