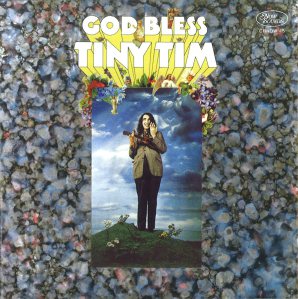 Welcome to my dream, and how are you?  Will you be here long, or just passing through?  Brush off that stardust, where have you been?  Don't tell me my rainbow was late getting in...
When Herbert Buckingham "Tiny Tim" Khaury, 37, married Victoria May "Miss Vicki" Budinger, 17, on December 17, 1969 before Johnny Carson, Ed McMahon, The Rev. William Glenesk and a studio audience filled with 268 of the happy couple's closest friends, roughly 40 million people were watching.  It was a high point for Carson's Tonight Show, and some 44 years later when TV Guide counted down television's 60 Greatest Talk Show Moments, the wedding of Tiny Tim and Miss Vicki made the Top 15.  Indeed, Tiny Tim fascinated the nation from his first appearance on Rowan and Martin's Laugh-In.  Introduced as "The Toast of Greenwich Village," the 6'1" jacketed figure with the mane of long hair entered, pulled a ukulele out of a shopping bag, and proceeded to warble "A-Tisket, A-Tasket" and "On the Good Ship Lollipop" in perhaps the strangest falsetto ever.  The audience roared at both Tim's performance and co-host Dick Martin's comically dumbfounded glare at his new discovery.   A star – of a kind not seen before and not likely to be seen again – was born.
An early fan of this most peculiar man was Peter, Paul and Mary's Peter Yarrow.  He introduced Reprise Records' legendary honcho Mo Ostin to Tim, and Ostin signed the former "Larry Love, The Singing Canary" to The House That Frank Built.  Tiny Tim recorded three albums for Reprise, and now, his 1968 Top 10 debut LP God Bless Tiny Tim has just been reissued in a deluxe expanded mono edition from Now Sounds.  The late singer-comedian-enigma died in 1996, aged 64, but his outsized personality and outré, time-displaced style live on here.  Even those who own the 2006 Rhino Handmade stereo box set God Bless Tiny Tim: The Complete Reprise Studio Masters...and More will find much new to discover.
Dear friends, join us after the jump for more, won't you?
Bing Crosby introduced Jimmy Van Heusen and Johnny Burke's "Welcome to My Dream" in the 1946 film Road to Utopia, serenading Dorothy Lamour at the piano with a smooth croon.  It opens God Bless Tiny Tim, with Tim's quavering, disembodied vibrato cutting through the silence, then ceding to Artie Butler's haunting orchestral arrangement.  A familiar ukulele soon brings us down to earth (?).  It's "Tip-Toe Thru the Tulips," Tiny Tim's signature song.  Introduced in 1929's Gold Diggers of Broadway and reprised in the very first Looney Tunes short in 1930, "Tip-Toe" gained a new lease on life when performed by Tiny Tim in his distinctively shrill falsetto.  Though the sight of the not-so-diminutive star singing and strumming the ukulele in grand camp fashion yielded laughs on television, on record it's rather otherworldly.  As only the second track on the album, it practically demands listeners make a decision: turn the damn thing off or come along for the ride.  If you make the latter choice, you may well find the album produced by Richard Perry (Nilsson Schmilsson, Ringo, Stoney End) and arranged by Artie Butler ("Copacabana," "I'll Never Love This Way Again," "Laughter in the Rain") to be a beguiling curiosity – either because of, or in spite of, Tiny Tim's unique vocal stylings.  But if you're inclined to make the former choice, Now Sounds hasn't left you in the lurch, either.  Keep reading...and listening!
That a rendition of "Tip-Toe Thru the Tulips" hit the Billboard Top 20 in 1968 isn't altogether shocking.  Standards were in vogue in the latter half of the 1960s, thanks to the likes of The Happenings ("I Got Rhythm"), Harpers Bizarre ("Anything Goes"), The Fifth Estate ("Ding Dong, The Witch is Dead"), The Four Seasons ("I've Got You Under My Skin") and others.  That Tiny Tim went all the way to the Top 20 may be more surprising, but this proudly unabashed outsider clearly struck a chord with his numerous appearances on Laugh-In and The Tonight Show.  He's a most genial host on God Bless Tiny Tim, with his over-the-top spoken song introductions giving the album the feel of a dreamlike radio play.  A modern-day listener might think of Dame Edna when Tim intones with formality, "Hello, my dear friends...well, here I am on record at last!  And it feels so wonderful to be here with you on my first album!"
Tim, producer Perry and arranger Butler compiled a groovy collection of tunes both drawn primarily from Tim's beloved classic repertoire (think: the underground of the Great American Songbook) plus a smattering of contemporary material.  The most infectious of the lot may well be "Livin' in the Sunlight, Lovin' in the Moonlight" from the team of Al Lewis and Al Sherman.  Today, Al Sherman is best-known as the father of Disney legends Richard M. and Robert B. Sherman (Mary Poppins, "It's a Small World").  But Al was no slouch as a tunesmith himself.  Butler's brassy arrangement builds off Tiny Tim's ukulele, creating a groovy spin on vaudeville for the tune previously recorded by Maurice Chevalier and Bing Crosby.  Go ahead and try to dislodge this one from your brain!
Tim, Perry and co. turned a number of these chestnuts on their ears.  The most shocking track is "Stay Down Here Where You Belong," in which Irving Berlin – writer of "God Bless America" and "White Christmas" – goes the psychedelic-rock route.  And Berlin was lyrically in tune with the now generation, too.  The 1914 song depicts a conversation between the Devil and his son, with Lucifer Sr. imploring Junior to "stay down here where you belong" because "the folks who live above you don't know right from wrong/To serve their king, they've gone off to war/And not a one of them knows what they're fighting for!"  Berlin's World War I sentiment – which the patriotically-minded songwriter later repudiated – held resonance in Vietnam-era America.
If Berlin could go underground (to Hell, in fact!), why couldn't George M. Cohan go country?  Tim and Artie Butler transformed (and considerably rewrote) the Yankee Doodle Boy's 1902 "Then I'd Be Satisfied with Life" with tinkling piano, twangy guitar and the singer's voh-de-oh-doh gusto.  (S.H. Dudley's 1903 Victor version can be heard online at the National Jukebox of the Library of Congress!)  Here and on numerous other tracks, Tim ditches the falsetto in favor of a multitude of other voices.  At times, it seems like he's trying to outdo Mel Blanc for the title of The Man of a Thousand Voices.  On Bobby Heath and Arthur Lange's bouncy "On the Old Front Porch," Tim plays both the male and female roles, and his gender-bending impishness continues for a bizarre camp deconstruction of Sonny and Cher's "I Got You Babe."  Tim switches voices and roles on Artie Wayne's maudlin and unquestionably twee "Daddy, Daddy, What is Heaven Like?"  as well as on Diane Hildebrand and Jack Keller's "The Coming Home Party."  Tiny's maniacal laughter introduces "The Other Side," from writer Bill Dorsey.  It's an alternately ominous and rousing psychedelic journey ("The icecaps are melting, the tide is rushing in/All the world is drowning to wash away the sins") with Tim as your guide.
There are pure pop moments, too.  "Strawberry Tea," written by Curt Boettcher associate Gordon Alexander, has a spellbinding, baroque-flavored orchestration and is one of God Bless' most straightforward attempts as lush contemporary pop.  And if you ever wanted to hear Tiny Tim fronting a garage band, try "Ever Since You Told Me That You Love Me, I'm a Nut" on for size, with his falsetto joined by a fuzz guitar.  Perry and Butler, however, don't allow God Bless Tiny Tim to remain stagnant or predictable for a moment, so this rocking track adds fiddles, as well!  (Ed Morton's 1913 Victor recording is also available on the Library of Congress' Jukebox!)  An early Paul Williams composition with Biff Rose, "Fill Your Heart," neatly sums up Tiny Tim's positive philosophy.  Less successful is "The Viper," a spoken-word piece with a punchline sure to induce a few winces and groans.  Tim closes out God Bless with a visit to the cabaret for "This Is All I Ask," accompanied by cocktail piano and, naturally, strings.  It's a big dramatic finish, and allows Tiny an opportunity to conclude the album with the requisite thank-yous and goodbyes befitting an artist of his refinement and stature!
Reissue producer/designer Steve Stanley has expanded God Bless Tiny Tim with eleven bonus tracks including both sides of Tiny Tim's 1966 pre-Reprise single for Jerry Leiber and Mike Stoller's Blue Cat label.  "April Showers" b/w "Little Girl" was financed and produced by Richard Perry.  The familiar falsetto is on display on the A-side, and Tim even does his best Jolson impression in the spoken portion.  Though written for the forgotten musical Bombo and introduced by Jolie in 1921, today "April Showers" might be most recognized as another Looney Tunes musical specialty.  Huddie Ledbetter's "Little Girl" is even odder.  Tim croons in his shaky baritone ("Don't you lie to me/Tell me where you sleep tonight...") as the song's organ part recalls The Animals' recording of "House of the Rising Sun," of all things.  The falsetto, though, is back for a cover of Sopwith Camel's "Hello, Hello," from a 1968 Reprise non-LP single.  "Bring Back Those Rockabye Baby Days" is another vaudeville throwback and an ode to the days of Al Jolson, "Mammy" and "Swanee."  (For "Hello, Hello" and "Rockabye," the arrangements were not by Butler but by John Andrew Tartaglia.  Perry shared credit for "Hello.")  Tiny's versions of contemporary songs, however, lacked the same capacity to shock as his vintage material which seemed to have been from another world, much like the singer.
The real raison d'etre for Now Sounds' reissue, though, just might be the six never-before-released instrumental bonuses.  Stanley has included Butler's backing tracks for the LP's "Livin' in the Sunlight," "Stay Down Here Where You Belong," "On the Old Front Porch," "Tip-Toe," and "Fill Your Heart," plus Tartaglia and Perry's for "Hello, Hello."  The album cuts are a testament to Butler's often unheralded talent, as his atmospheric and evocative work finds room for organ, harpsichord, piano, woodwinds, strings, saxophones, celli, vibes, harp, pedal steel, guitars, accordion, trumpets, trombones and a plethora of instruments and special effects.  It didn't hurt that many Wrecking Crew and session vets were playing for Butler and Perry, including Bill Pittman, Tommy Tedesco, Mike Deasy, Mike Melvoin, Pete Jolly, Larry Knechtel and Jim Gordon.  The bucolic sounds of "On the Old Front Porch" come alive, and the intricate layers of "Stay Down Here Where You Belong" are revealed in greater detail, too.  For those fans of sixties pop-psych who find Tiny Tim's voice(s) too much of an acquired taste, these elaborate tracks are reason enough to take the plunge on God Bless Tiny Tim.
What makes a cult record most?  Musician and writer Kristian Hoffman tells all in his entertaining liner notes which run the gamut from hyperbolic to heartfelt.  Tiny Tim, no fan of subtlety, surely would have approved of Hoffman's informative, affectionate assessment and history.  Steve Stanley has designed the period-perfect package to Now Sounds' usual high standards, and Alan Brownstein has impeccably remastered in appropriately old-fashioned mono, as well.  If a psychedelic music hall existed, Tiny Tim might well have been the headliner.  God Bless Tiny Tim welcomes you to his strange yet oddly appealing dream.
Tiny Tim, God Bless Tiny Tim: Deluxe Expanded Mono Edition (Reprise LP RS 6292, 1968 – reissued Now Sounds CRNOW 45, 2013) (Amazon U.S. / Amazon U.K.)
Welcome to My Dream
Tip-Toe Thru the Tulips
Livin' in the Sunlight, Lovin' in the Moonlight
On the Old Front Porch
The Viper
Stay Down Here Where You Belong
Then I'd Be Satisfied with Life
Strawberry Tea
The Other Side
Ever Since You Told Me That You Love Me (I'm a Nut)
Daddy, Daddy, What is Heaven Like?
The Coming Home Party
Fill Your Heart
I Got You Babe
This is All I Ask
Hello, Hello (Reprise single 0769, 1968)
Bring Back Those Rockabye Baby Days (Reprise single 0760, 1968)
April Showers (Blue Cat single BC 127, 1966)
Little Girl (Blue Cat single BC 127, 1966)
Tip-Toe Thru the Tulips with Me (Mono Single Version) (Reprise single 0679, 1968)
Livin' in the Sunlight, Lovin' in the Moonlight (Instrumental)
Stay Down Here Where You Belong (Instrumental)
On the Old Front Porch (Instrumental)
Tip-Toe Thru the Tulips with Me (Instrumental)
Fill Your Heart (Instrumental)
Hello, Hello (Instrumental)