If you're in the mood for funky jazz played by two piano giants, Cherry Red's Robinsongs label has a couple of recent releases just for you.
The late Richard Tee (1943-1993) may be best known for his session work; the pianist/arranger's credits include pivotal recordings by Marvin Gaye, Paul Simon, Billy Joel, Aretha Franklin, George Harrison, Daryl Hall and John Oates, The Bee Gees, Dionne Warwick and many others.  For much of the seventies, if you needed electric piano, keyboards or organ on a session, Richard Tee was your go-to man.  In addition to the aforementioned pop and R&B work, Tee played with jazz artists such as Hank Crawford, George Benson, Hubert Laws, Grover Washington Jr. and Stanley Turrentine.  In 1976, Tee formed the jazz/funk group Stuff, also featuring guitarists Cornell Dupree and Eric Gale and drummer Steve Gadd.  Stuff recorded three studio LPs with Tee between 1976 and 1979.  But the solo bug called to Tee, too.  So when he decided to take the plunge into solo recording, he turned to Bob James' Tappan Zee Records label (then distributed by Columbia).  Like Tee, James was a veteran of Creed Taylor's CTI label.  James produced Tee's Tappan Zee debut Strokin', which has just been combined by Robinsongs on one CD with its follow-up, Natural Ingredients, also produced by James.
The line-up on Strokin' reads like a studio "Who's Who." Gale and Gadd from Stuff joined Chuck Rainey on bass, Ralph MacDonald on percussion, Tom Scott on saxophone and lyricon (an electronic wind instrument), Hugh McCracken on harmonica, and The Brecker Brothers, naturally leading up the horn section.  Tee arranged and conducted seven tracks including covers of Stevie Wonder's "Jesus Children of America" and Billy Strayhorn's classic "Take the 'A' Train."  Tee and Bill Withers co-wrote "Every Day," Tee went it alone for "Virginia Sunday," and Rainey brought along "First Love." MacDonald joined with frequent partner William Salter for "I Wanted It, Too."  The funky fusion continued on Natural Ingredients.  Matthew Bragg subbed for Chuck Rainey, but Steve Gadd, Hugh McCracken, Ralph MacDonald and Tom Scott all returned, as did Randy Brecker.  Lani Groves and Valarie Simpson contributed to the background vocals.  Tee and Withers co-wrote "The Nut's Off of the Screw," and MacDonald and Salter supplied "What a Woman Really Means."  Willie Dixon's "Back Door Man" and Mendelssohn's (!) "Spinning Song" are among the more surprising song selections.
While neither of these albums charted, they should pack plenty of appeal for fans of the R&B-tinged jazz of The Brecker Brothers, Bob James or Tom Scott.  Tee continued to sporadically record solo (in between engagements with superstars like Paul Simon) until his untimely death from prostate cancer.  Robinsongs' two-for-one reissue adds liner notes by Lois Wilson, and both albums have been remastered by Alan Wilson.
After the jump, we're in with Ramsey Lewis' in-crowd!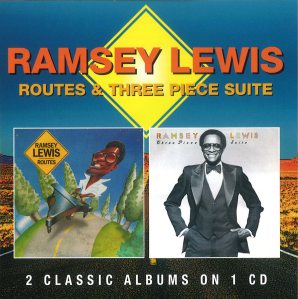 Chicago-born Ramsey Lewis (1935-) has had one of the lengthiest and most successful careers in the entire jazz realm.  He was signed to the blues-oriented Chess label in 1956, where he remained until 1972 (first on the Argo imprint and then on Cadet) and scored his biggest hit: a cover of Dobie Gray's pop hit "The In Crowd."  Lewis' Grammy-winning rendition of the Billy Page song reached No. 2 R&B and No. 5 Pop, propelling the album of the same name to No. 1 R&B and No. 2 Pop on the Billboard albums chart. Further crossover hits like a cover of Bert Berns and Wes Farrell's "Hang On, Sloopy" (a vocal smash for The McCoys) followed, but fame put pressure on The Ramsey Lewis Trio and the unit soon split, with Eldee Young and Red Holt heading off to form Young-Holt Unlimited.  The reconstituted trio with Cleveland Eaton and future Earth Wind & Fire leader Maurice White hit the Pop Top 20 and R&B Top 5 in 1966 with "Wade on the Water."  Though this trio line-up wasn't long-lived, Lewis continued to play with new musicians, and in 1972, signed to Columbia Records.  He would follow his 16 years at Chess with 17 at Columbia, where he recorded the two albums just reissued on one CD by Robinsongs: Routes (1980) and Three Piece Suite (1981).
Lewis' career was revitalized by the success of 1974's Sun Goddess album, which reteamed him with Maurice White.  For Routes a few years later, production and arrangement duties were shared by Earth Wind & Fire keyboardist Larry Dunn and New Orleans legend (and another tremendous pianist) Allen Toussaint.  Dunn wrote or co-wrote six of the album's ten tracks, with Toussaint writing or co-writing the remaining four.  Maurice White contributed to the LP, co-writing "Colors in Space" and supplying vocals, and EWF's Philip Bailey played percussion on a number of tracks, as well.  Both Dunn and Toussaint played keyboards/synths as well.
Robinsongs has paired Routes with 1981's Three Piece Suite, a jazzier effort produced and arranged by Earth Wind & Fire horn arranger Tom Tom 84 (a.k.a. Tom Washington).  Among its ten selections, it featured Lewis' cover of Tom Bahler's "She's Out of My Life" (best known in Michael Jackson's recording), and three songs from Leroi Marlo Henderson ("Lakeshore Cowboy," "Don't Ever Go Away" and "So Much More").  Lois Wilson has annotated Robinsongs' single-CD reissue, and Andy Pearce has remastered.  Wilson's notes bring Lewis' story up to the present day; his most recent studio album Taking Another Look was released in 2011.
Both Richard Tee's Strokin'/Natural Ingredients and Ramsey Lewis' Routes/Three Piece Suite are available for order now at the links below~
Richard Tee, Strokin'/Natural Ingredients (Robinsongs CDMRED592, 2013) (Amazon U.S. / Amazon U.K.)
First Love
Every Day
Strokin'
I Wanted It Too
Virginia Sunday
Jesus Children of America
Take the "A" Train
What a Woman Really Means
Now
The Nut's Off of the Screw
Tell it Like It Is
Us
Back Door Man
Spinning Song
Tracks 1-7 from Strokin', Tappan Zee LP JC 35695, 1979
Tracks 8-14 from Natural Ingredients, Tappan Zee LP JC 36380, 1980
Ramsey Lewis, Routes/Three Piece Suite (Robinsongs CDMRED593, 2013) (Amazon U.S. / Amazon U.K.)
Whisper Zone
High Point
Tondelayo
Caribbean Blue
Looking Glass
Come Back Jack
Colors in Space
Crystals 'n' Sequence
You Are the Reason
Hell on Wheels
Lakeshore Cowboy
Romance Me
Will You
Love Is
Michelle
Don't Ever Go Away
So Much More
Can't Wait Till Summer
She's Out of My Life
Expansions
Tracks 1-10 from Routes, Columbia JC 36423, 1980
Tracks 11-20 from Three Piece Suite, Columbia FC 37153, 1981