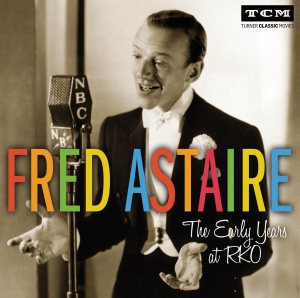 Today, more than 25 years after his passing, the name of Fred Astaire still instantly conjures up a world of top hat, white tie and tails; of sheer elegance, easygoing charm and abundant grace.  His enduring talents have recently been celebrated by Sony's Masterworks label and Turner Classic Movies on the latest in their series of joint CD releases, Fred Astaire: The Early Years at RKO.  (Previous titles have been dedicated to Doris Day and Mario Lanza.)  This 2-CD, 37-song anthology spans the period between 1932 and 1938 during which time the Omaha, Nebraska-born Astaire (1899-1987) established himself as both an artistic innovator and one of Hollywood's most consistent moneymakers.
The RKO years chronicled on Masterworks/TCM's new CD, however, were actually part of the legendary entertainer's second act.  Fred and his older sister Adele Astaire (1896-1981) began treading the boards in vaudeville at the ages of five and eight, respectively, with their brother-sister dance act.  Despite some fallow periods, they played in vaudeville through 1917, including tours on the fabled Orpheum Circuit.  In 1917, the lights of Broadway beckoned to the Astaires, and their performances in the revue Over the Top at the Roof Garden of the onetime Weber and Fields' Music Hall led to a series of acclaimed musicals on both sides of the Atlantic.  Fred and Adele starred in musical comedies by George and Ira Gershwin (Lady Be Good, Funny Face) in both New York and London, and Howard Dietz and Arthur Schwartz (The Band Wagon) in New York alone.  Astaire, who never thought of himself as much of a singer, introduced such future standards as "Fascinating Rhythm" and "Funny Face" while burnishing his reputation as the premier dancer in America and beyond.  In 1930, Robert Benchley quipped, "I don't think that I will plunge the nation into war by stating that Fred is the greatest tap-dancer in the world."
Following The Band Wagon's run at Broadway's New Amsterdam Theatre (soon to be the home of Disney's Aladdin), Adele announced her retirement from show business to marry Lord Charles Cavendish.  Astaire pressed on, starring opposite Claire Luce in both New York and London in Cole Porter's The Gay Divorce, in which he introduced the immortal "Night and Day."  He then pursued a career in Hollywood at RKO Radio Pictures, but before RKO placed him in a film, the studio lent him to MGM for a role as himself opposite Joan Crawford in the Crawford/Clark Gable starrer Dancing Lady.  Returning to RKO, he took fifth billing in the 1933 musical Flying Down to Rio, just behind the fourth billed Ginger Rogers.  With his future in Hollywood a promising one, Astaire reportedly had just one wish: he was to fly solo, so to speak.  In his book Astaire Dancing – The Musical Films, John Mueller cites a letter written by Astaire to his agent: "I don't mind making another picture with her, but as for this 'team' idea, it's 'out!' I've just managed to live down one partnership and I don't want to be bothered with any more!"
But even Fred Astaire couldn't deny his chemistry with Ginger Rogers, with whom he danced the "Carioca" in their first onscreen pairing.  They would star in eight more films together before splitting in 1939, including such influential pictures as Top Hat (1935, with an Irving Berlin score) and Swing Time (1936, with a Jerome Kern/Dorothy Fields score).  (In 1949, Astaire and Rogers reunited at MGM one last time, for The Barkleys of Broadway.)  His inventive choreography co-created with Hermes Pan, effortlessly elegant dance style, and unique approach to filming – insisting his directors shoot his routines with one single shot, if possible, rather than the fancy camerawork and multiple angles of, say, a Busby Berkeley – ensured his place in the Hollywood pantheon.  But Astaire also built on his legacy in the Great American Songbook thanks to these films and his first performances of "Cheek to Cheek," A Fine Romance," "Let's Face the Music and Dance," "The Way You Look Tonight," "Nice Work If You Can Get It, "They Can't Take That Away from Me," and many others.  Fred Astaire may have introduced more American standards than any other singer...which was no small feat for someone who didn't care for the quality of his own voice.
After the jump: we'll take a closer look at what you'll find on The Early Years at RKO!  Plus: order links and discography!
This new compilation serves as a perfect complement to Turner Classic Movies/Rhino's 1998 Fred Astaire and Ginger Rogers at RKO: Motion Picture Soundtrack Anthology.  That indispensable volume compiled the actual film performances of Astaire and Rogers' collaborations from Flying Down to Rio through 1938's Carefree, concluding with one track (Harold Arlen and Johnny Mercer's "One for My Baby (And One More for the Road)," yet another American Songbook cornerstone written especially for Astaire) from RKO's 1943 film The Sky's the Limit in which Astaire starred opposite Joan Leslie.  In contrast, The Early Years at RKO draws on the music of the same motion pictures (only Roberta, represented on the Rhino set, is not heard here) but via Astaire's original 78 RPM recordings for the Columbia, Victor and Brunswick labels.  (Astaire was an established recording artist by the time of his RKO signing; he made his first commercial recordings in London in 1923, and between 1923 and 1933, recorded 19 titles for the HMV and Columbia labels.)
And so you'll hear, in sparkling remasterings by Tim Sturges at Sony's Battery Studios, staples penned by Cole Porter, Irving Berlin, Kern and Fields, Vincent Youmans with Edward Eliscu and Gus Kahn, and the Gershwins.  Bandleaders include future MGM music department head Johnny Green, Leo Reisman and Ray Noble.  Each track proves that Astaire was as influential and assured a singer as he was a dancer, despite his protestations to the contrary.  His singing was as much an extension of himself as his dancing: breezily charming, distinctive, sincere and stylish.  (When he re-recorded a number of these songs for Verve's 1957 The Astaire Story, backed by Oscar Peterson, Ray Brown, Flip Phillips, Charlie Shaver, Barney Kessel and Alvin Stoller, he wrote in his liner notes, "I sincerely hope my end of this job will please you, but if I hit a note here or there which doesn't sound just right, well, all I can say is, 'It's too late to do anything about it now!'"
Few, of course, would change a single note of these vintage recordings: "Night and Day" (recorded in 1932 for Victor and sung onscreen when Astaire reprised his Gay Divorce role in the retitled The Gay Divorcee, 1934), "Top Hat, White Tie and Tails" and "Cheek to Cheek" (Top Hat, 1935), "Let Yourself Go" and "Let's Face the Music and Dance" (Follow the Fleet, 1936), "Pick Yourself Up," "The Way You Look Tonight," "A Fine Romance" and "Never Gonna Dance" (Swing Time, 1936), "They All Laughed," "Let's Call the Whole Thing Off," "Slap That Bass," "They Can't Take That Away from Me" and "Shall We Dance" (Shall We Dance, 1937), "A Foggy Day" and "Nice Work if You Can Get It" (A Damsel in Distress, 1937) and "I Used to Be Color Blind" and "Change Partners" (Carefree, 1938).  In addition, Sturges and his co-producer Didier C. Deutsch have added six bonus tracks, spread across both discs.  The first CD includes rare alternate takes of "A Fine Romance" and "Waltz in Swing Time," and the second adds an alternate of "They Can't Take That Away from Me," Carefree's "The Yam (Steps Explained by Fred Astaire"), and Ginger Rogers' solo singles of "The Yam" and "I Used to Be Color Blind."
Michael Feinstein provides a new appreciation of Astaire for this set, praising the "authenticity, simplicity, truthfulness and elegance to these performances" of songs Astaire himself recorded numerous times during his career.  (Indeed, in 1975, the still-debonair 76-year old entertainer headed to London to record three albums in three weeks, including a duets project with Bing Crosby.  Besides bringing his touch to contemporary songs by Carly Simon, Don McLean, Harry Nilsson and John Kander and Fred Ebb, he revisited the scores to Flying Down to Rio, The Gay Divorcee, Top Hat, Swing Time, Shall We Dance and A Damsel in Distress.)  Feinstein also delineates the variations in the alternate takes.  All that's missing is, rather shockingly, any discographical information as to the recording dates and original issues of these recordings.  Such information would seem essential to a collectors-oriented release such as this and we've endeavored to provide the basics below.  [Note should be made that the standard and alternate versions of "They Can't Take That Away from Me" on Disc 2 are reversed, with the alternate take with its rarely-sung verse appearing as Track 5 and the standard version in the bonus section as Track 14.]
Fred Astaire's Early Years at RKO is a very welcome treat, and one hopes that "Things Are Looking Up" and 2014 will bring further volumes from TCM and Masterworks.  Astaire's magic onscreen is well-known, but perhaps this release will bring deserved attention to his place in the pantheon of recording artists, too.  "Beginner's Luck" or no, Astaire's early years are at the very foundation of American popular song.
Fred Astaire, The Early Years at RKO (Turner Classic Movies/Masterworks 88883 78614 2, 2013) (Amazon U.S. / Amazon U.K.)
CD 1
Music Makes Me (Columbia single 2912-D, 1933)
Flying Down to Rio (Columbia single 2912-D, 1933)
Night and Day (Victor single 24193, 1932)
No Strings (Brunswick single 7486, 1935)
Isn't This a Lovely Day (Brunswick single 7487, 1935)
Top Hat, White Tie and Tails (Brunswick single 7487, 1935)
Cheek to Cheek (Brunswick single 7486, 1935)
The Piccolino (Brunswick single 7488, 1935)
We Saw the Sea (Brunswick single 7609, 1936)
Let Yourself Go (Brunswick single 7608, 1936)
I'd Rather Lead a Band (Brunswick single 7610, 1936)
I'm Putting All My Eggs in One Basket (Brunswick single 7609, 1936)
Let's Face the Music and Dance (Brunswick single 7607, 1936)
Pick Yourself Up (Brunswick single 7717, 1936)
The Way You Look Tonight (Brunswick single 7717, 1936)
A Fine Romance (Brunswick single 7716, 1936)
Bojangles of Harlem (Brunswick single 7718, 1936)
Never Gonna Dance (Brunswick single 7718, 1936)
A Fine Romance (Alternate Take with verse) (alternate of Brunswick single 7716, 1936 – first issued on first issued on Fred Astaire, The Great American Songbook, Columbia/Legacy CD 82796 94492 2, 2006)
Waltz in Swing Time – Johnny Green and His Orchestra (Alternate Take with taps) (alternate of Brunswick single 7716, 1936)
CD 2
(I've Got) Beginner's Luck (Brunswick single 7855, 1937)
Slap That Bass (Brunswick single 7856, 1937)
They All Laughed (Brunswick single 7856, 1937)
Let's Call the Whole Thing Off (Brunswick single 7857, 1937)
They Can't Take That Away from Me (Brunswick single 7855, 1937)
Shall We Dance (Brunswick single 7857, 1937)
I Can't Be Bothered Now (Brunswick single 7982, 1937)
Things Are Looking Up (Brunswick single 7983, 1937)
A Foggy Day (Brunswick single 7982, 1937)
Nice Work If You Can Get It (Brunswick single 7983, 1937)
I Used to Be Color Blind (Brunswick single 8189, 1938)
The Yam (Brunswick single 8190, 1938)
Change Partners (Brunswick single 8189, 1938)
They Can't Take That Away from Me (Alternate Take with verse) (alternate of Brunswick single 7855, 1937 – first issued on Fred Astaire, The Great American Songbook, Columbia/Legacy CD 82796 94492 2, 2006)
The Yam Steps (Explained by Fred Astaire) (Brunswick single 8190, 1938)
The Yam – Ginger Rogers (Bluebird single 7891, 1938)
I Used to Be Color Blind – Ginger Rogers (Bluebird single 7891, 1938)